NetEase's (NASDAQ:NTES) pig rearing subsidiary Weiyang recently raised 160 million yuan ($23.5 million). It was China's first ever fund raising for a farming business. Days before that, Weiyang also received Beijing's endorsement, thus heralding an era of China's internet farming. As the core business of NetEase is online games, it is expected to spin off the farming unit in three to five years.
Announced on April 28, Weiyang's first round of funding had two lead investors O2O major Meituan-Dianping and Sinovation Ventures. They were joined by ecommerce giant JD.com (JD) and three other local venture capitalists: Beijing-based Fengyun, Weiguang and Zhejiang's Silicon Paradise.
The fund raised will be used to promote Weiyang's method of rearing black pigs aiming at providing Chinese people safe and delicious pork. Weiyang investors also hope to explore Chinese ecological farming with government and the community support.
Pork is the main source of animal protein for Chinese. Each year China consumes more than 600 million pigs. According to 2015 statistics, Chinese pork market was valued at 1.4 trillion yuan.
China produces 49.9% pork of the world, but its pig farming and pork producing industry face perennial problems of food safety and farm pollution. After decades of rapid economic growth and urbanization, middle class now amounts to 21.1% of Chinese population. That means 290 million Chinese people (similar to the US population) now demand farm products of brand name and high quality. If any company can turn an agricultural produce into a famous brand name product, it will bring a high added-value.
NetEase has spent more than 100 million yuan on its pig farm since it entered the business in 2009. Now the company has developed a copyable pig rearing model that brings high production efficiency, product safety, environmental protection and energy-saving. NetEase officially launched its Weiyang brand black pork products by end of 2016. (See my previous article). The pork products have won applause on meat quality, safety and delicacy.
NetEase's Pig Farm Makes History Several Times In Past Six Months
The Weiyang black pork made a number of unprecedented achievements in the last six months in China's farming history . First, NetEase put five black pigs for auction early December and fetched astronomical prices. Then the Weiyang unit launched the first crowd funding in China's farming history. The unit then became China's first ecologically-run pig farm monitored by video 24/7.
Then on April 12, just days before the first round of fund raising, a team of domestic experts led by a top official from the Ministry of Agriculture inspected the pig farm. They praised the farm as a systematic innovation to China's farming model. The experts said they would study in greater depth the value of promoting Weiyang model nationwide.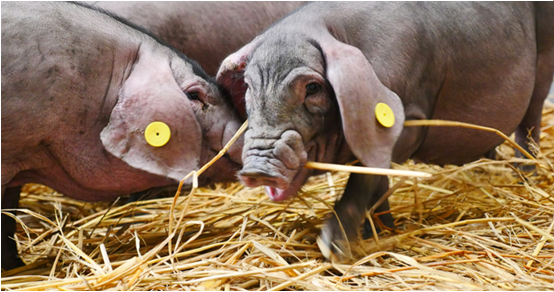 The black pigs reared by NetEase recently got the endorsement both from China's Ministry of Agriculture and investors. Source: Sohu.com
NetEase Enjoys Advantages On Rearing Pigs and Selling Pork
NetEase enjoys several advantages by entering China's pig rearing and pork market now. First, China has a huge opening in its pork market. An average Chinese now consumes 40kg of pork per year. With a fast expanding middle class, their demand for high quality pork is rocketing, giving birth to a high-end pork market now estimated at about 200 billion yuan a year.
Secondly, NetEase has developed China's most innovative and industry-leading technologies, e.g. in pig house construction, pig toilets, sewage treatment and liquid feeding. NetEase manages to create a zero-pollution and ultra-green livestock rearing farm.
Thirdly, NetEase provides an all-in-one service package. It rears the black pigs in its own farm; it turns the pigs into pork products; it does marketing itself and finally sells them through its own ecommerce websites directly to consumers. NetEase thus manages to gain a much fatter gross margin than its pig rearing peers.
Finally, after years of incubation, NetEase has developed a strong brand name and formed some high-end boutique ecommerce platforms. These platforms are now equiped a wide range of brand name resources and strong customer traffic.
Different Visions On Pig Rearing Business
Rearing pig is a pet project of Ding Lei, CEO and Founder of NetEase. He has stressed repeatedly that pig rearing is not an investment but an experiment by NetEase to develop a national pig rearing process that improves food safety and creates rural jobs.
"I will only rear 10,000 pigs. I won't expand the scale non-stop," stressed Ding, adding that the farm would ensure product quality by adhering to the principles of self-operation and constant technology improvement.
In a word, Ding wants to maintain the pig farm at its current size and keep it as a demonstration and experimental farm. With 2016 total revenue of $5.74 billion, NetEase can continue to spend tens of millions of yuan yearly on the pig farm without any income.
Hence, it is apparently that the recent unprecedented fund-raising was initiated by the venture capitals. The fact that Ding accepted their investment means he is now convinced that external investments will help building up more pig farms more quickly using Weiyang technologies. This will help promote Ding's model of ecological livestock rearing.
It is thus evident that the new investors of Weiyang, though willing to promote ecological farming, still have investment returns firmly in their sight. Sinovation Ventures partner Lang Chunhui pointed out that his fund was willing to provide financial, legal and marketing services to "help NetEase Weiyang expanding rapidly its production in order to reduce costs so that more people can eat Weiyang pig".
Fengyun Capital, another investor, also aims at the pig rearing farm's business potential. Senior investment manager Zhu Hong said he was firmly optimistic of China's ecological pig rearing industry. Zhu was confident of NetEase's brand and its ability to build the number one pork brand in China. He also praised Weiyang's high-tech and environmentally friendly model of pig rearing; as well as the managerment team's execution ability.
NetEase's Pork Business Potential: Sky Is The Limit
China now has a middle class population of 290 million. With each of them consuming about 40 kg of pork per year, they consume annually 11.6 billion kg of pork. If all middle class consumers buy high-end pork of around 50 yuan per kg, the total middle class market would be 580 billion yuan a year. So far, this high-end pork market is estimated by Chinese press at about 200 billion yuan.
According to the NetEase model, its current pig farm has a commercial rearing capacity of 20,000 pigs. With each black pig has a mature weight of 42 kg after a full rearing period of 300 days, each farm can supply 1 million kg of black pork each year. With each kg of pork sells for 48 yuan at NetEase's ecommerce website, each farm has an annual revenue of 48.38 million yuan.
So, NetEase has to operate 4,000 pig farms at full capacity in order to satisfy existing middle class high-end pork demand, not to mention the 380 million yuan potential market if other middle-class consumers turn to buy higher quality pork. Furthermore, China's middle class population may rise from now about 290 million to about 500 million in the next two decades.
In a word, NetEase does not have to worry about the demand for its black pork. As long as it can guarantee product quality and supply, it can build as many pig farms and sell as many pigs as it can.
Conclusion: Pig Farms Boost NetEase's Ecommerce Business
NetEase has set up an experimental pig farm since 2009. The first round of fund-raising completed in late April was an investor recognition of the farm's market potential. The pig farm's rearing model and process were also endorsed by China's Ministry of Agriculture. The fact that Ding Lei, founder of NetEase, did accept external investment suggests he has been convinced that more consumers should be able to taste his black pork in order to promote throughout China his model of ecological rearing of safe-to-eat pigs.
For the internet world, a first-round fund raising is the first step towards IPO. But Weiyang's process towards IPO will be long and involves huge capital resources and efforts. Firstly, as key investor Sinovation suggested, Weiyang has to undergo business transformation to prepare for expansion. Secondly, Weiyang's pig rearing model and process for commercial production should first get Beijing's full endorsement. Thirdly, Weiyang has to negotiate with local authorities to lease land and build new farms. Fourthly, Weiyang has to greatly expand its supply chain of piglets, livestock feeds, equipments as well as trained personnel.
Therefore, the first pigs from commercial production may be for sales by late 2019 or early 2020 at the earliest. An IPO will be possible at least two or three years later when commercial production achieves definite signs of success. Weiyang is thus expected to run four to five rounds of fund raising before being ready to seek IPO.
In the foreseeable future, pig rearing will thus remain a very small part of NetEase's business. But for a middle-class Chinese consumer, safe-to-eat pork is way more important than internet games. Being able to provide such pork will give NetEase a tremendous boost of brand loyalty, expecially for NetEase's ecommerce platforms where Weiyang pork will be sold.