A confirmed Hindenburg Omen is currently in effect. We got the first signal on May 4, 2017 and a second signal on May 31, 2017, officially confirming the Omen. The Hindenburg Omen is a simultaneous occurrence of several observations, which you can read about here. These observations, such as a significant number of new highs and new lows being made simultaneously, suggest that the market is undergoing a period of extreme divergence. That would well describe the market today, with only a handful of stocks leading markets higher.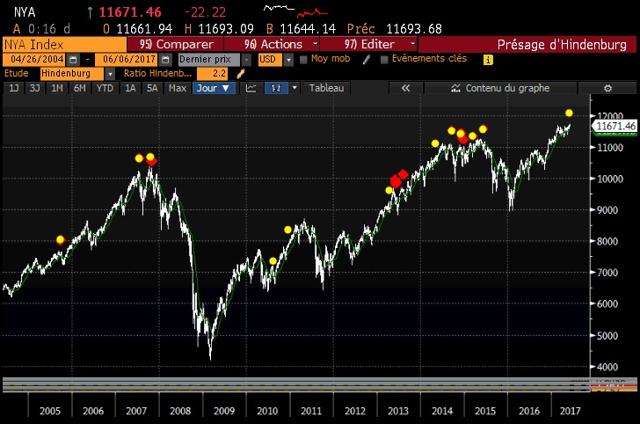 Given the equity market's precarious, cliff-like position, this omen just adds another reason why we are cautious in buying these 1-day dips in equities. Statistically, the Hindenburg Omen represents just an increased possibility of a market crash. Of the 42 completed Hindenburg Omens since 1985, only 9 resulted in market crashes...a 22% "success rate". Given the relatively low success rate of the omen, couple with the propensity of the Federal Reserve to pump liquidity into markets whenever equities fall out of bed, this Hindenburg Omen is not an invitation to load up on shorts. But perhaps it would be wise to take profits more aggressively in equity longs on market strength.
In an interesting corollary to the Hindenburg Omen, for the last 3-weeks our S&P 100 trading model has been reducing weight in high beta stocks and moving into low beta stocks such as Altria (NYSE:MO), Coke (NYSE:KO), Colgate-Palmolive (NYSE:CL), Duke Energy (NYSE:DUK), Exelon (NYSE:EXC), Johnson & Johnson (NYSE:JNJ), and McDonald's (NYSE:MCD). The last time our S&P 100 (NYSEARCA:SPY) trading model jumped into low beta stocks was December 2015. A nice rotation signal given the rough start to 2016.
Stay safe!
Disclosure: I/we have no positions in any stocks mentioned, and no plans to initiate any positions within the next 72 hours.
I wrote this article myself, and it expresses my own opinions. I am not receiving compensation for it (other than from Seeking Alpha). I have no business relationship with any company whose stock is mentioned in this article.