A supply deficit is a concept we seldom hear about today. Amid a rout in crude oil due to a supply glut and a rout in certain metals like iron ore also due to a supply glut, a rebalancing of these markets will take several quarters if not years. Thus, it's rare to find a market trading in a supply deficit, let alone show signs of having a wider supply deficit in the years to come. Zinc has all the fundamentals you want to see from a bullish perspective. After an incredible year for zinc in 2016 and a pullback to start 2017, I fully expect zinc to end the year higher as the zinc supply deficit widens.

Source: Teck Resources
Zinc's Favorable Fundamentals
Before breaking down the fundamentals, let's start with pricing data to gauge the current value of zinc. Zinc prices have been on a strong downtrend since peaking back in mid-February this year. They're currently trading at $163.20/mt, relative to the 52-week high around $197/mt. In terms of pounds, that's roughly $1.32/lb at the high but they've come down to about $1.13/lb. That's an effective discount of about 20%. So, zinc is not at its highs, which would normally deter continued investment because investors don't like to buy at multi-year highs. The chart below details zinc's last one year of trading, where you can see that zinc is clearly off its highs.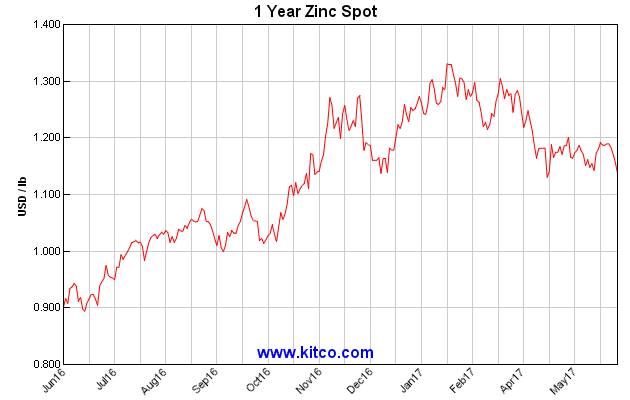 Source: Kitco
On the supply side, inventories are rapidly being depleted. Again, this is not something you see everyday and is one of the primary indicators that leads me to believe there's a great long-term opportunity. Normally, I'd play devil's advocate and say that because inventories have been declining the last five years, that there's the cyclical chance that they'll start to build as both prices are favorable and supply has an ample deficit to come back online. However, that's not the case here and the factor that makes zinc's supply deficit look like it is in its infancy is the lack of high grade mines in the world. These inventories will continue to decline because the closure of two major zinc mines last year - Century and Lesheen- as well as one from Glencore (OTCPK:GLNCY, OTCPK:GLCNF) due to a depletion of reserves. Currently, global demand is north of 14,000 tonnes per year, while supply is currently under 13,000 tonnes.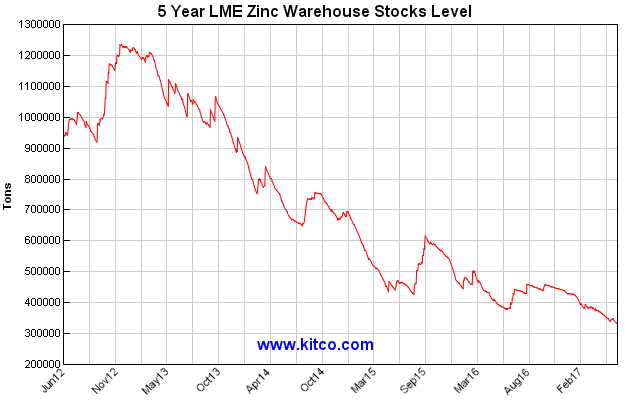 Source: Kitco
From the demand side, zinc works nearly identical to all other base metals in that China controls a hefty amount of demand for it. It's estimated that 43% of the global demand for zinc comes from China. Thus, monitoring trade data and public policy concerning China is critical in providing an accurate trajectory for zinc prices. It makes complete sense that zinc is down from its highs because the Q1 2017 GDP report out for China showed a slowdown in infrastructure spending. Yes, China's GDP was 6.9% in Q1 2017, which is near the upper end of the government's target range; however, a slowdown for infrastructure spending may be in the near future and comes as a potential risk to zinc prices. The rationale is that because China's national debt is nearly 3x that of GDP, credit is going to have to tighten. This was affirmed by Moody's downgrading China from Aa3 to A1.
Yet, there is the "One Belt, One Road" mission, which proposes nearly $1 trillion in infrastructure investments across Asia. A majority of the spending has yet to take place as the strategy is still under review, but should construction begin in the medium-term, zinc will have an impressive long-term catalyst from the demand side that will help to support prices. This also helps to take some of the pressure off of the alarming amount of debt present.
There are some less tangible fundamentals, like the potential demand boost for zinc from a $1 trillion infrastructure spending program by the Trump Administration. This is one of the core reasons base metals miners and smelters popped after the November 2016 election; however, there's not set time frame as to when this plan will be passed, let alone begin. So, investors keen on zinc shouldn't be relying on this as a core driver. There's even speculation that a resurgence in zinc battery research could lead to long-term development of zinc batteries, creating an all-new wave of demand.
There's additional signs that the zinc market is going to continue to experience a supply deficit. Teck Resources (NYSE:TECK), a diversified metals producer out of Vancouver, points to specific indicators that show the zinc market tightening. TCs, which are treatment charges paid by miners when competing for smelter usage, have been in long-term decline. Chinese smelters utilization, consequently, has also declined. Teck, here, reaffirms that LME stocks are declining and premiums for Zinc are picking up steam in higher grade categories.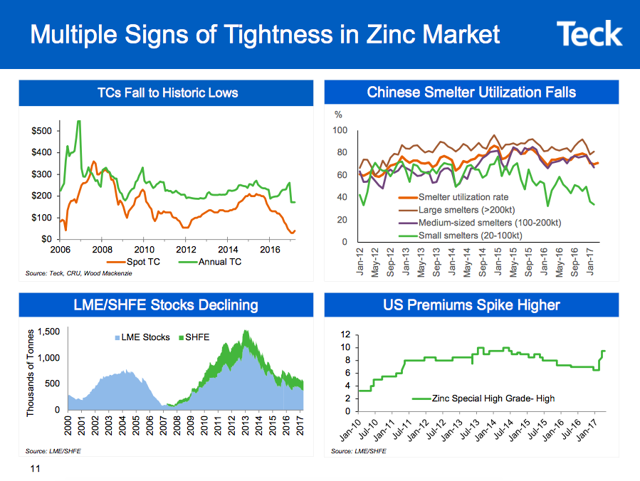 Source: Investor Presentation
How Do You Trade Zinc?
Zinc is definitely under the investment radar as there are few direct options when trying to gain access to this commodity. There's only a handful of pure play zinc companies, providing the correlation to zinc prices that investors are searching for, as the major globally diversified miners often have different base metal correlations. Thus, there's really two ways to access zinc as an investment. The first is to trade zinc in the futures market, which is a perfectly viable opportunity, but many investors have little to no experience with trading futures and it's not recommended without significant training. This provides the most direct and liquid access to zinc prices.
Most pure play zinc stocks are penny stocks, trading on very light volume on the pink sheets. Personally, I don't trade anything on the pink sheets nor would I normally advise investors to consider this as an option just due to the high level of risk involved. Of pure play zinc producers, the only recommendation I have is Zinc One because it tracks the price of zinc quite well and has a large internal catalyst playing out over the next twelve months.
Zinc One (OTCPK:ZZZOF) is listed on both the Toronto Venture Exchange and on the pink sheets. Volume with Zinc One is pretty high for the pink sheets, with most days seeing over 500k shares trading, which means there's better than expected liquidity. Zinc One really has one key catalyst and that's from the Forrester acquisition about two years ago. The acquisition gave Zinc One access to two zinc mines in Peru, Bongara and Charlotte Bongara. The grades are top of the line for these mines, as indicated below. As a baseline, a zinc grade higher than 20% is quite rare and considered to be top-end.Zinc One completed the Forrester acquisition back in 2015, but in 2H 2017, the company will confirm whether or not the grades are 20%+ and then move on to more assessments. This provides a great near-term catalyst for the stock.

Source: Zinc One
I've read speculation online that certain investors believe Zinc One will skyrocket in the coming weeks, but in the spirit of capital preservation, just know that trading penny stocks can quickly backfire. For example, one such speculator wrote,
Mark my words: At the time of this writing, [Zinc One] trades for CA$0.55, and in 30 days, now that the news release of the completed acquisition and financing has been released, I expect this company to trade north of CA$1.00.
In a final remark, I'd normally tell investors to trade the largest zinc producers in the world, like Korea Zinc, but the correlation that these stocks often have isn't direct to zinc futures. Another option is to invest in Teck Resources, which owns the Red Dog mine pictured at the beginning of this article. However, Teck, like many major metals producers is well-diversified and has significant production lines for both coal and copper, seen below.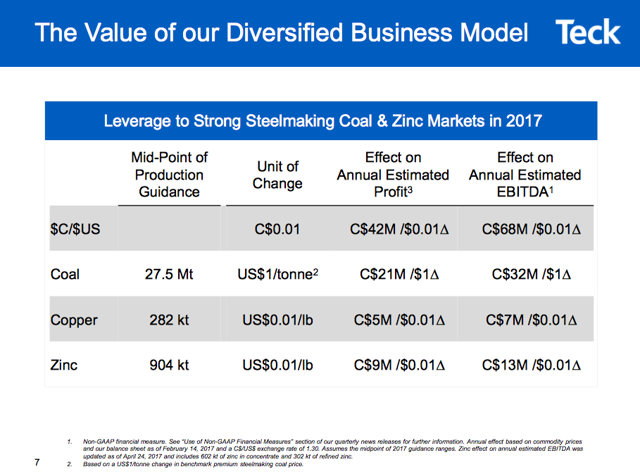 Source: Investor Presentation
Conclusion
Zinc is a seldom discussed base metal and often flies under investors' radars. Thanks to mine closures and strong infrastructure demand from China, the market for zinc has entered a supply deficit and will continue to trend that way for the long-term. Investment options are limited, but one penny stock, Zinc One, has a quality near-term catalyst with high-grade zinc that investors should consider for their portfolio.
Disclosure: I/we have no positions in any stocks mentioned, but may initiate a long position in ZZZOF over the next 72 hours.
Business relationship disclosure: I am receiving compensation from Online Business Services SA for this article. The views presented in this article represent my own opinion after extensive due diligence researching the market for zinc.
Editor's Note: This article covers one or more microcap stocks. Please be aware of the risks associated with these stocks.