Monster Beverage Group (NASDAQ:MNST) has gained an aggressive 12.5% return versus PepsiCo's (NYSE:PEP) return of 10.9%, Coca-Cola Co's (NYSE:KO) 8.6% return and Dr Pepper Snapple Group's (NYSE:DPS) return of just 2.9%. This should be mentioned in light of the Q1 2017 missed revenue and EPS figures of $742.2 million and $0.31 per share, respectively. As may be seen in the chart below, MNST has grown substantially even after such disappointing results:

(Source: Google Finance)
There is also no need to mention the number of consecutive quarters of growth as the company has not shown negative growth figures since its IPO. And while the Q1 2016 sales growth figure was disappointing at 8.5% versus 16.9% a year before, it accelerated to the Q4 2016 sales growth rate of 16.8% compared to 6.6% in Q4 2015. As it is a worldwide company with a strategic alignment with Coca-Cola's bottlers globally, it is highly diversified in terms of not only products but countries of presence, as well. The results in the Mexico market are strong as was stated in the Q1 2017 earning call:
"The transition to the KO bottler system in August 2016 resulted in significantly-wider availability of Monster in the traditional trade channel, mom-and-pop stores in Mexico. According to Nielsen, distribution of Monster grew from 10% in March 2016 to 24% in March 2017 in this channel. This translates to growth in Monster's value share of 9 percentage points versus March 2016 in the traditional channel"

(Source: Q1 Earnings Summary).
The company has been also spreading into new geographical areas and has been gaining market share there, as was mentioned in the call, as well:
"Monster's retail market share in value as compared to the same period last year grew from 13% to 15.5% in Great Britain, from 9.5% to 10.6% in Belgium, from 9.1% to 11.6% in Norway, from 21.5% to 23.7% in France, from 24.4% to 26.5% in Spain, and from 13% to 16.3% in Germany"

(Source: Q1 Earnings Summary).
There are some markets where the company has seen diminishing market shares. For example, it lost 1.6% and 0.3% in Netherlands and Sweden, respectively. Despite that, sales in Sweden have grown by 22.1% in the comparable period.

(Source: Thomson Reuters)
The gross margin is high at 64.8% compared to just 62.2% in Q1 2016 f due to the AFF's transaction and savings in the cost of goods sold. There have been changes in S&GA and operating margins which have put pressure on net income growth:

(Source: Thomson Reuters)
It is rational to assume that the accelerated growth in the top line should translate all the way to the bottom line in the mid-term.
When comparing Monster Beverage Group's margins to the market it is evident that the company is way ahead not only of the peer mean but even the strongest competitors such as Pepsi Co and Dr Pepper Snapple Group. It has a gross margin of 64.8% compared with the peer average of 40%, while its operating and net margins of 35.6% and 23.4% are wider than the competitors' figures of 11.3% and 6.5%, respectively. And yet, the ROE and ROA metrics of 17.1% and 14.2%, respectively, versus the average figures 23.9% and 9.3%, respectively, have room for improvement. However, some of the metrics are sacrificed for sales growth, and we should see mean reversion in them in the long-run.
All in all, the company is an interesting pick as it still has a lot to show in the future in terms of financial and operating results. As for the valuation multiples, there is a historical gap between the sector's P/E average and the stock's metric: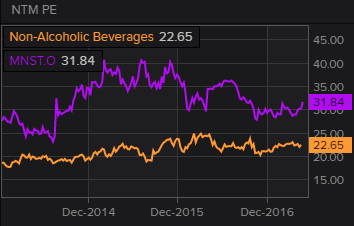 (Source: Thomson Reuters)
Conclusion
The Monster Beverage Group is a powerful beverage company with five-year average EPS growth of 19.75% which pretends to be a highly aggressive and competitive performer with strong margins and top line growth rates. Although the company has felt pressure on its bottom line and the cash balance, we are convinced it will get back to the previous highs as revenue growth slows down. The P/E ratio is above the benchmark and can be supported by better-than-average fundamentals. We think the decline in the value of the multiple is unlikely as its currently sits near the three-year bottom and has edged up from the recent lows. We see the Monster Beverage Group's stock as a buy and look forward to seeing an upside of around 25% based on the three-year average P/E ratio.
Disclosure: I/we have no positions in any stocks mentioned, and no plans to initiate any positions within the next 72 hours.
I wrote this article myself, and it expresses my own opinions. I am not receiving compensation for it (other than from Seeking Alpha). I have no business relationship with any company whose stock is mentioned in this article.