Ever since I acquired the ability to read financial statements, I have found that the cash flow statement is the most underappreciated. It is precisely this cash flow statement that is illuminating Occidental Petroleum's (NYSE:OXY) perilous position. Investors focus mostly one the income statement and sometimes glance at the balance sheet to establish a book value. These investors would see a profitable company that is trading at 2x book value.
The cash flow statement seems to be ignored. This is especially interesting since I consider the cash flow statement to be the most important for income investors. It is the statement that most clearly represent whether a company will be able to pay its dividends. It is easy for companies to inflate earnings. But, with cash, it is there or it is not. Those who have looked at OXY's cash flow statement, would not buy the company for its income.
The cash flow statement
So let's take a look at OXY's cash flow statement. Consider the chart below: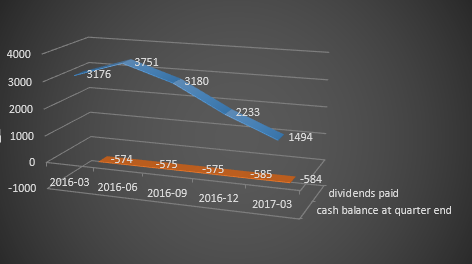 The blue line represents the net cash balance left at the end of the quarter. As can be seen, the company burned through $1.7 billion in a years' time. Most of this has been as a result of the dividend payment which the company has held steady at around $580 million a quarter.
The company is guiding for capex to be at the upper end of $3 -$3.6 billion for 2017 while it expects cash flow from operations to total $400 million. Furthermore, management is expecting $600 million from an asset sale and an additional $700 million from a tax refund which jointly reduces the cash deficit by $1.3 billion. After subtracting available cash (net of working capital) the company is short about $800 million. The company is planning to sell more non-core assets to fund this.
While I agree that the company has plenty of non-core assets to sell, it still constitutes an erosion of the balance sheet. The company still has to fund its dividend of $2.4 billion.
Management is too vague and too optimistic
The company projects that it can produce $6 billion in operational cash flow, enough to fund its capex and dividend. But I am highly skeptical. The numbers just don't tell the same story unless the company is assuming a much higher oil price, which it's not. Management expects to be able to generate $6 billion at a WTI price of $50. Last, year management was expecting $4.5 billion in operational cash flow at an oil price of $50. That's a curious development, and I was not the only one who wondered:
Philip M. Gresh, JPMorgan Securities LLC: OK. So if I look at that slide then and I take $3.6 billion or something slightly higher and the dividend of about $2.4 billion, that would imply CFO of around $6 billion at $50 WTI. And, Chris, I know a couple quarters ago for this year you talked about I believe at $50 it's $4.5 billion. So I was just wondering what drives a one-third increase in the implied CFO to get to that breakeven.

OXY CEO: What drives it higher is the better margins and better productivity and better wells that we're seeing in the Permian Basin, number one, better margins and the refocus of the capital that we've discussed today from South Texas and from other things going forward. What drives it is the improvement relatively versus several quarters ago in the Chemicals business. What drives it is the improvement in the Midstream business that we're seeing that we had not seen several quarters ago.
Make of this what you will. But, to me, this is not much of answer. It is obvious that this is supposed to be driven by higher margins since the company is projecting more or less the same revenue. A first-year accountancy student would have said the same. Higher margins can be driven by many things.
And "from other things going forward"? What does this mean? And while management may speak of improvement in its businesses versus a couple of quarters ago, the cash flow statement tells a different story: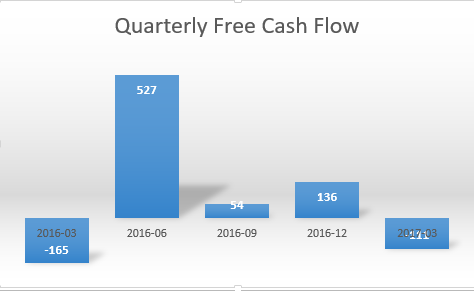 As can be seen from the chart above, the free cash flow is relatively flat year over year. There is nothing concrete here from management.
So the final calculation goes like this:
$3.6 capex + $2.4 dividend = $6 billion
The company will have different sources of cash to fund this number:
$6 billion - $0.4 operating cash flow - $0.7 tax refund - $0.6 asset sale - $1.1 available cash on balance sheet = $3.2 billion unfunded, of which $800 million relates to capex and $2.4 billion relates to the dividend.
Conclusion
I do believe that the company can sell some more assets or leverage the balance sheet some more to fund the dividend. So, if one is relating dividend safety to a company's ability to make its payment, then, yes, the dividend is technically safe. If one considers the effect that this dividend payment will have one the stock price than the dividend is absolutely not safe. Keeping the dividend payment requires severe erosion of the balance sheet both in terms of added debt and lower asset base and earnings power. This will eventually translate into the share price. There is no point to 5% income with a 5% capital depreciation.
Disclosure: I/we have no positions in any stocks mentioned, and no plans to initiate any positions within the next 72 hours. I wrote this article myself, and it expresses my own opinions. I am not receiving compensation for it (other than from Seeking Alpha). I have no business relationship with any company whose stock is mentioned in this article.