The announcement yesterday with relation to Amazon's (NASDAQ:AMZN) decision to lower the price of "Prime" for families on government assistance should not come as a huge surprise to investors. Jeff Bezos knows that if he really wants to differentiate his Prime offering from the competition, he needs more services, which ultimately means he needs volume or more customers in the near term. The decision to introduce the monthly payment option last year has resulted in more lower-income families signing up to Amazon Prime in droves.
Now Bezos seems to be doubling down on this shift in Prime growth (from mid to high-income families to lower-income families) by introducing a discounted version of Prime for eligible shoppers. This initiative is for one purpose and one purpose only. As we know Jeff Bezos is not interested in income his company generates in the near term for example but wants to build a serious asset that will destroy the competition over time.
The more numbers and cash flow Amazon Prime can spit out, the more services and benefits he will add to the program over time. This is clear. Bezos can afford to add serious quality to the program when it makes sense to do so. The more services he adds, the better the chance of capturing new long-term customers. Wal-Mart (NYSE:WMT) (which we are long) dipped yesterday when Amazon's discounted Prime offering was announced. In saying this, I believe both stocks should continue charging northwards over the next 12 to 18 months at least.
What investors (especially value investors) need to accept is the following. The stock market (SPX) does not look like it is going to slow down any time soon. Both the robo-ratio (see below) and recent commitment of trader report illustrate to me that US equities in general are nowhere near bubble status yet. Although we now have had four weekly reports where commercial long contracts have surpassed short contracts, we still don't have a Blees rating over 50, which means there are still plenty of shorts remaining in the market.
In the 30th of May report, there was 50,584 commercial long contracts along with 39,605 short contracts, which gave a Blees rating of 49. I feel we will need a Blees rating pinned at 100 for a good few reports before we can even entertain the idea of a permanent bull top. If my thesis is correct, Amazon should continue to outperform due to its relentless growth nature.
Company valuation in one respect could go out the window until we reach that cyclical top, which is why strict value investors may see their investments underperform in the near term. What a Wal-Mart gives you though is protection when the market begins to head south. Eventually, declines in the S&P 500 will not be rescued as they have been up until now. This is when holding something like a Wal-Mart is beneficial as its share price should hold up better than other stocks in the S&P 500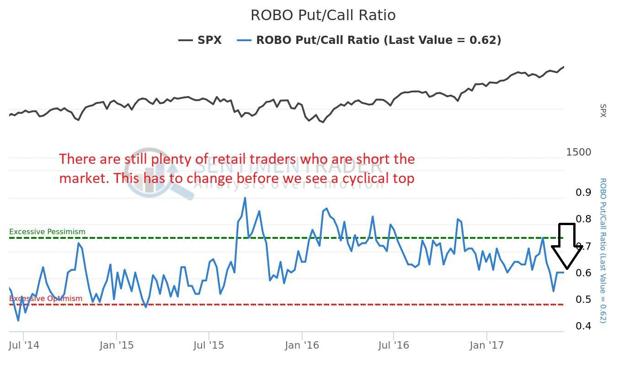 Source: Sentimentrader.com
I believe the one outlier for Amazon though is the price of oil, which few analysts are focusing on. Amazon which continues to invest heavily in its last mile delivery service has a lot more to lose here than the likes of Wal-Mart for example where many of its customers avail of its curb side collection offering or its huge footprint of stores.
Crude oil is in its timing band for a new intermediate cycle and with sentiment levels returning to levels we saw back at the lows in May, I believe crude oil has bottomed and should grind higher from here. What is bullish in my view is that long-term sentiment has gotten more bearish but price has not retraced to the same degree.
Furthermore, the weekly slow stochastics remain heavily oversold especially in energy stocks (NYSEARCA:XLE), which have diverged from the price of oil of late. If my thesis is correct, crude oil should take out the January highs of around $55 in this cycle, which has to over time put pressure on Amazon's margins. Amazon needs sustained low crude oil prices to enable the company bypass offline businesses and go direct to the customer. The combination of a rising stock market and falling oil prices would be perfect for Amazon's share price, but I feel Jeff Bezos is not going to get all his own way.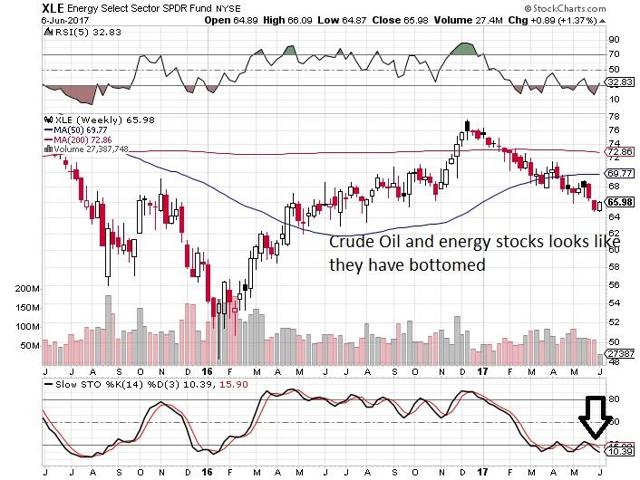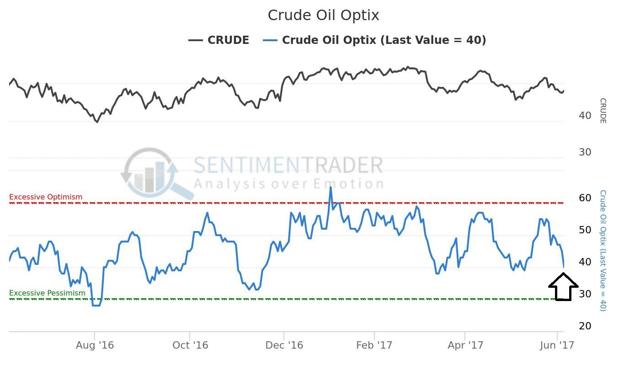 Source: Sentimentrader.com
In Amazon's latest quarter, the company reported year-over-year revenue growth of just under 5%, which was below average numbers over the past few years. I just feel the combination of rising interest rates and rising oil prices may put a damper on Amazon's online sales before long. Amazon is definitely benefiting from the ecommerce tailwind at present but consumer spending growth is pretty sluggish and will deteriorate even further when interest rates rise I believe. With a price to book ratio of 22.1, this stock is priced to perfection. Can its online division keep this growth going indefinitely? I'm not so sure long term.
Disclosure: I/we have no positions in any stocks mentioned, but may initiate a long position in AMZN over the next 72 hours.
I wrote this article myself, and it expresses my own opinions. I am not receiving compensation for it (other than from Seeking Alpha). I have no business relationship with any company whose stock is mentioned in this article.