Marathon Oil's (NYSE:MRO) drop since the start of the year gives a good opportunity to investors looking for a long-term investment. The company has been enhancing its liquidity position and strengthening the balance sheet through non-core asset sales. Last year's equity issue also resulted in improving the credit profile of the company. Marathon Oil is extremely sensitive to oil prices, and I believe the improved cost structure and the rising oil prices will allow it to grow its key metrics. Let's first look at some key metrics and how they have been behaving in the last three years.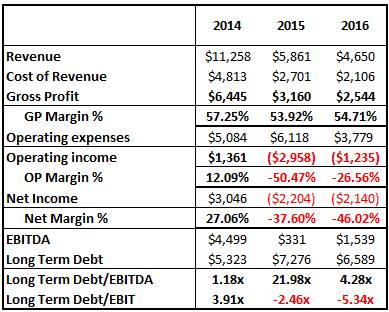 Data sourced from SEC filings
Marathon has been able to generate gross profit even in the worst times when oil prices were extremely low. It shows that the company has a favorable cost structure. Gross margin has remained between 53-57% over the last three years. Gross margin has been rising in the past two quarters. For the fourth quarter of 2016, it was around 63%, and for the first quarter of 2017, it went up to 74%. Marathon's operating expenses are substantial and the company has had an operating loss for the last two years. This has now come down to just $16 million for the first quarter of 2017. However, the company is still generating negative operating income. This trend is mirrored in the net margin.
Debt metrics and debt maturities have been an issue for the company. Non-core asset sales over the last few months have been mainly for these two reasons. Marathon Oil had substantial debt maturing in 2017 and 2018. The business is not generating enough cash flows to meet these debt maturities as well as the capital program. By the end of the first quarter, the company was left with $5.7 billion in long-term debt. Just two quarters before, it was more than $7.2 billion. Over the next year, Marathon will have to pay $1.5 billion in debt repayments. $682 million worth of senior unsecured notes will be due in the fourth quarter of the current year, while $854 million will be needed in the first quarter of 2018 for another senior unsecured issue.
If there is no additional debt and these payments are made from the internally generated funds and non-core asset sales, then Marathon Oil's credit profile will be enhanced considerably. Its long-term debt will be just over $4.2 billion. Leverage ratio (Debt/EBITDA) was over 4.28x at the end of the year. However, since then, the company has reduced long-term debt by around $800 million and its quarterly EBITDA has also reached to $618 million. If the EBITDA figure remains robust throughout the year, then Marathon Oil will have a leverage ratio of less than 3x (based on EBITDA expectations of $1.5-1.8 billion for the full year).
Cash balance of over $2.4 billion and unused credit facility of $3.3 billion makes its liquidity profile extremely strong. In the wake of rising oil prices, I believe Marathon Oil can meet its debt repayments without additional borrowings. These cash balances and rising operating cash flows due to the recovering oil prices will allow the company to meet its cash needs for capital program and debt repayments. Ratings agencies are certainly happy with the company as debt is coming down. Most of these agencies have kept Marathon Oil's ratings outlook at stable, which shows that they are confident in the company's ability to generate cash flows and improve credit metrics. If the credit metrics move in line with my estimates, we are going to see a ratings upgrade in the next few months.
Marathon Oil's focus on its US assets and short-cycle projects will generate substantial cash flows for the company due to its efficient cost structure. The company raised its full-year production guidance. It is a wise move as the rebounding oil prices offer a good opportunity to grow revenues and cash flows. Getting out of Canadian oil sands operations is also an astute decision. These are high-cost assets and would have had a negative impact on the overall cost structure of the company. These proceeds will be better used in bringing down the debt, enhancing liquidity and supporting the capital program.
Marathon also pays a small dividend, which is a good addition to the expected capital gains. The company has streamlined its operations, which should enhance profitability. The focus on short-cycle US assets should bring in more revenue and cash flows. This increased cash flow should allow the company to reduce its debt and strengthen the balance sheet. Marathon Oil has been making wise moves, and as oil prices continue to show recovery, Marathon will benefit considerably. Current unrest in the Middle East is spooking crude oil traders. There are fears that Saudi-led opposition of Qatar might create rift among the OPEC members and they may not be able to meet their production cut targets. However, I believe this should be a short-term issue, and as Qatar has negligible crude oil production, this issue should not affect the workings of OPEC. Marathon Oil will benefit from rising oil prices which should support its fundamentals. As a result, the stock should start to move higher. It is a good stock to consider at current price levels
Disclosure: I/we have no positions in any stocks mentioned, and no plans to initiate any positions within the next 72 hours.
I wrote this article myself, and it expresses my own opinions. I am not receiving compensation for it (other than from Seeking Alpha). I have no business relationship with any company whose stock is mentioned in this article.