Introduction
Tesla (NASDAQ:TSLA) held its annual shareholder meeting on Tuesday. The biggest revelation from the meeting, in my view, is that Tesla plans to build 10 to 20 Gigafactories worldwide, which would amount to an annual production capacity of approximately 10 to 20 million cars. All of the key takeaways are divided into three parts below:
Part 1: Energy, Factories, and Self-Driving

Part 2: Model 3, Model Y, and Tesla Semi

Part 3: Stores, service, Superchargers, factory safety, the non-existent Tesla airplane, and the Board
Part 1: Energy, Factories, and Self-Driving
Tesla: a vertically integrated energy company
Tesla is becoming a vertically integrated sustainable energy company: Solar Roof, Powerwall and Powerpack, Model S, X, and 3.

CEO Elon Musk: this integrated solution can "scale for the whole world" and can last as long as human civilization lasts.

Solar Roof: the stained glass windows in some cathedrals has lasted for over 500 years. Tesla expects the Solar Roof to last longer than the houses they are installed on.
Traditional solar panels remain an important part of Tesla's solar business since they are better suited a) to flat roofs, where aesthetics don't matter and b) for people who don't want to replace a recently installed roof. The focus is on designing installation kits "like Lego", in order to make installations efficient.
Powerwall (home scale): energy storage is needed for grid stability as solar electricity generation scales. It also makes the energy system more resilient. Homes can remain powered in the event of natural disasters that take down the grid. This increases safety and security.
Powerpack (industrial scale): the entire island of American Samoa (population 55,000) is powered by Powerpacks. Since "a continent is a big island", this solution can scale to power the entire planet.
Installing a Solar Roof, a Powerwall, and a

home charger for a Tesla car all at once will result in a cost savings of $2,000-$3,000 for Tesla that will be passed on to the customer. This creates an incentive for customers to go all-in on the Tesla ecosystem.

Solar Roof, Powerwall, and Model 3. Source: Tesla.
Achieving civilizational scale: 10 to 20 Gigafactories worldwide
Gigafactory 1 in Nevada is "staggeringly enormous", resulting in high economies of scale. The outcome is that Tesla's batteries have the lowest cost per kWh in the world.

According to Musk, Tesla's batteries also have the most advanced performance characteristics.

Economies of scale for battery production is a fundamental part of Tesla's strategy.

Musk is not aware of any other company in the world attempting battery production on a similar scale.

Tesla plans to build "eventually 10 or 12, maybe 20" Gigafactories around the world.

Assuming each Gigafactory has the same production capacity as Gigafactory 1 is expected to have in 2020, then Tesla could produce 10 to 20 million cars per year, as well as millions of Powerwalls and Powerpacks.
Drone footage of Gigafactory 1 in Sparks, Nevada. Source: The Innovation Channel.
Self-driving and Autopilot
"Maybe as soon as next week", Autopilot for Hardware 2 cars will exceed feature parity with Autopilot for Hardware 1 cars.

From that point, the capabilities of Autopilot for Hardware 2 will "advance very rapidly."

Musk reiterated Tesla's goal to send a Hardware 2 car on a fully autonomous coast-to-coast road trip across the United States by the end of 2017.

Why this is so important: self-driving is likely the single greatest financial opportunity for Tesla. I'll be closely watching the pace of its software development.
A demonstration of Tesla's full self-driving hardware and software. Source: Tesla.
Part 2: Model 3, Model Y, and Tesla Semi
Model 3
Tesla is on track to deliver the first production Model 3 in July.

The Model 3 configurator will go live in July.

The initial configurations will be very simple: essentially just colour and wheel size.

Musk said that the Model X had "way too much complexity right at the beginning." It was a "very foolish" way to make a car. Tesla is starting with as much simplicity as possible with the Model 3.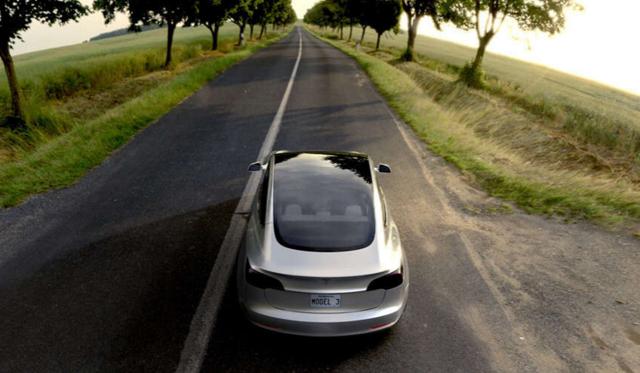 The Model 3. Source: Tesla.
Model Y
With the Model Y, Tesla will introduce major manufacturing improvements. The plan is to "build a car in a way that a car's never been built before."

Musk anticipates that the Model Y will require half as much capital expenditure as the Model 3.

Model Y production is slated for approximately 2019. (Previously, Musk has said late 2019 or 2020.)

Musk believes that Model Y demand will probably exceed demand for the Model 3.

A new factory will be built for Model Y. Gigafactory 1 in Nevada will supply battery packs, powertrains, and power electronics. However, a new location will be built for the rest of the Model Y. The current factory in Fremont, California is already overcrowded.

In response to criticism Tesla has received for planning to build the Model Y on a new platform, Musk said that he believes it was a mistake to build the Model X on the Model S platform: "design an SUV the way an SUV should be designed; design a sedan the way a sedan should be designed."
Tesla Semi
Tesla's biggest prospective customers for the Semi are helping to design the Semi.

Volume production will begin in about two years.

Stay tuned for the Semi unveiling in late September.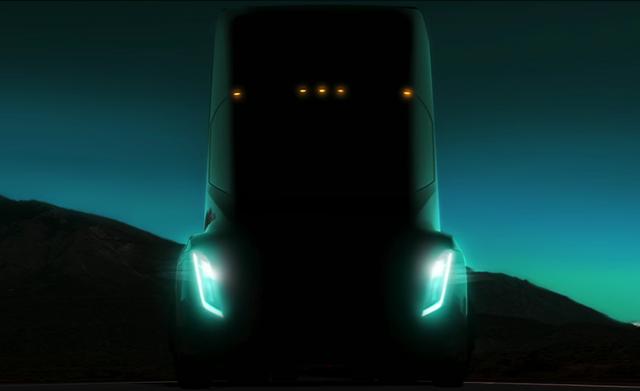 Teaser shot of the Tesla Semi. Source: TED.
New features: audio updates and battery upgrades
An over-the-air update to the audio codec in the Model S, Model X, and Model 3 will improve audio quality. No specific timeline given.
Musk hinted at expanded music selection and better music discovery (taste-based matching algorithms) in Tesla's cars. I'm not sure what exactly this means. Tesla cars already have a Spotify (MUSIC) app.

Physical battery upgrades will eventually be available. (Not software upgrades, which already exist.) Customers will be able to replace their battery pack without replacing the entire car.
Car insurance
Musk: if you use AAA insurance, switch your insurance provider. You will be able to get a lower rate.

Without an engine block, electric cars have larger crumple zones and are therefore safer than gasoline cars. The safety data vindicates Tesla.
Part 3: Stores, service, Superchargers, factory safety, the non-existent Tesla airplane, and the Board
Stores, service, and Superchargers
Tesla's long-term target: 1 store for every 500,000 people. That's 660 stores in the United States. Tesla plans to build "several thousand" stores worldwide.

Service wait times have "gone down dramatically."

Tesla mobile repair teams will provide service "essentially anywhere on Earth."

The number of Superchargers will double from 2016 to 2017, and increase by 50% or double again from 2017 to 2018.

Tesla is also expanding its network of destination chargers to accommodate prospective customers who can't charge at home.

A Tesla Store, service centre, and Supercharger. Source: Tesla.
Factory safety
Tesla is currently 32% below the auto industry average for factory injury rates. The company's aspiration is to get to half the industry average and become "the safest automotive company in the world."

Last year, Tesla added a third shift which reduced exhaustion and lowered the injury rate.

Tesla is improving factory ergonomics, which helps avoid repetitive stress injuries.
There's no Tesla airplane (yet)
Previously, Musk has said that he has an idea for an electric airplane. In the Q&A session, Musk was asked if Tesla would build one.

Musk said it's "not inconceivable" that Tesla would work on an electric airplane, but Tesla currently has no plans to build one.

Musk said that battery density needs to reach 400 or 500 watt hours per kilogram before it would be feasible. It will be at least 4 or 5 years, Musk predicted, until battery density reaches 500 watt hours per kilogram.
Elon Musk's cameo in Iron Man 2, followed by Galileo Russell's analysis. Source: Hyperchange TV.
The Board of Directors
At the shareholder meeting, three Board-recommended motions were passed:

a motion to re-elect three members of the current Board of Directors, including chairman (and CEO) Elon Musk

a non-binding advisory motion to approve executive compensation

a motion ratifying PricewaterhouseCoopers as Tesla's accounting firm for 2017

A non-binding advisory motion on the frequency of executive compensation voting resulted in a plurality voting for a frequency of three years, as the Board recommended.

One shareholder motion to declassify the Board failed, also in accordance with the recommendation of the Board.

After the vote results were announced, Musk said that Tesla will add two or three independent directors to the Board. The appointees will be announced in the next month or two.
Conclusion
The biggest news by far from the meeting was that Tesla is planning to build 10 to 20 Gigafactories worldwide. This shows the scope of Tesla's aspirations: annual production of approximately 10 to 20 million vehicles. Tesla is not content to simply be a large automaker. It wants to disrupt the auto industry.
Moreover, about one third to one half of Gigafactory 1's battery production capacity will be devoted to energy storage products. Assuming the same is true for future Gigafactories, Tesla is also positioning itself to become a global energy giant.
In my view, Tesla represents perhaps the largest growth opportunity in the current cohort of large cap companies. This year's shareholder provided still more reason to feel confident in Tesla's vision, strategy, and product architecture.
My recommendation: buy TSLA and hold on a very long-term basis.