If we agree with the premise that Gold and Silver will both prosper in the coming years as the dollar declines in value, we can then focus our attention on the two metals and consider the merits of an allocation towards gold or silver related investments in our portfolio. Important aspects to consider:
The global hoard of gold is much larger than silver, this reduces volatility and helps stabilize the value of this asset. Many silver investors point to the lack of above-ground supplies of silver as a bullish indicator. However, this is not particularly bullish. It means that no one cares to accumulate silver when they can accumulate gold instead. It is only in the final stages of a precious metals bull market that smaller investors who cannot afford gold will pile into silver temporarily spiking the price.
Silver's use as an industrial metal can harm its price during economic slowdowns, it's secondary use as a monetary metal can benefit it's price during periods of decreasing faith in government. Silver is significantly more abundant than gold in the earth's crust, this makes it easy to find new supply and silver mines will come on line to drive the price back down if there is a sudden burst of demand. This could provide silver a period of a year or two where it outperforms gold. This can be measured using the gold/silver ratio. When the gold/silver ratio drops below 40, I HIGHLY SUGGEST selling everything related to precious metals, as that number has historically indicated a massive public rush into the metals, which results in the prices reaching a long-term peak in value.
Given the above facts, I feel it is better to own gold in periods of economic weakness and silver in periods of growth. Silver is more appropriate to use as a speculative vehicle, while gold is more appropriate as a means of saving and protecting wealth. If you've ever tried selling a few thousand ounces of silver, it's a hassle! Selling the equivalent value in gold is quite easy. The same argument applies to hiding/storing large amounts of gold and silver.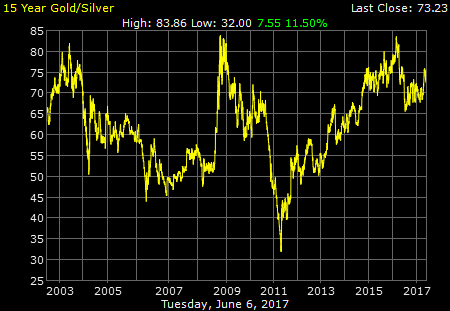 The current gold/silver ratio is around 72. This means it is definitely appropriate to accumulate silver and silver related investments at this time as a means to speculate in the financial markets. As the number declines (from around 70-50), it indicates the public is becoming interested in the monetary metals. As interest peaks (let's say, around 30-40), one must be prepared to sell their speculative positions. Gold will decline less than silver when the peak has been reached, suggesting one should cut all speculative positions in silver and gold related assets and potentially hold just a small core position in physical gold.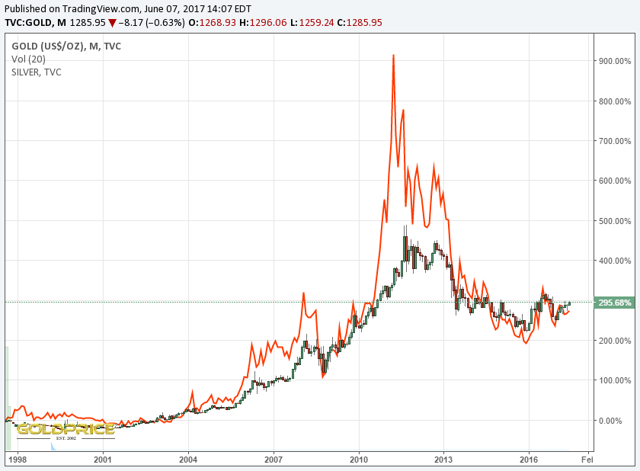 In summary, gold and silver related investments are both a good buy at this time. Gold will have less volatility due to the large above ground stockpiles. Silver will likely outperform gold at some point, but when it does, you must sell, because the outperformance is a temporary phenomenon and will not continue indefinitely. Both investments have strong fundamentals supporting them. Understanding the underlying drivers for the price of gold and silver helps us to allocate our investments appropriately at different times in the investment cycle. The current gold/silver ratio above 70 indicates a healthy allocation towards silver related investments is appropriate at this point in the cycle.
Disclosure: I am/we are long GOLD, SILVER, GOLD STOCKS, SILVER STOCKS.
I wrote this article myself, and it expresses my own opinions. I am not receiving compensation for it (other than from Seeking Alpha). I have no business relationship with any company whose stock is mentioned in this article.