Intuitive Surgical (NASDAQ:ISRG) stock is headed over $1000 in a hurry. The strong combination of the growth of robotics and how well positioned Intuitive Surgical is within the field will lead it to new highs. I would recommend the stock for any investor looking for solid capital gains, and recommend buying as soon as possible. It is unlikely investors will see a pullback in the next 3 to 6 months due to the explosive growth and momentum of the stock.
Growth of Robotics
The chart below shows the project growth of robots in the workplace.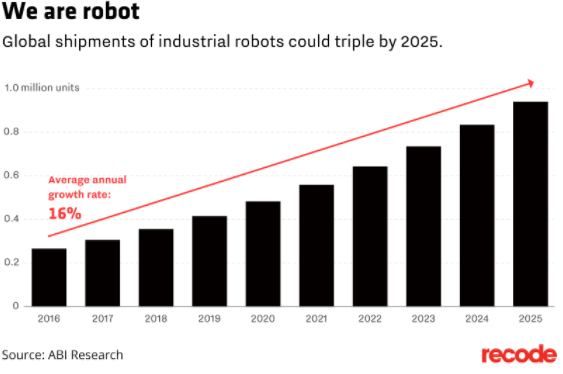 As you can see from the chart the trend is only going to continue, leading to growth for Intuitive Surgical. Even though the stock has had a nice run up to this point, it has much more upside potential.
There is extreme growth in the amount of surgeries being performed by robots, with healthcare robot shipments estimated to increase from 3,400 in 2016 to 10,500 by 2021. This exponential growth in robotics makes Intuitive Surgical stock well positioned to go higher.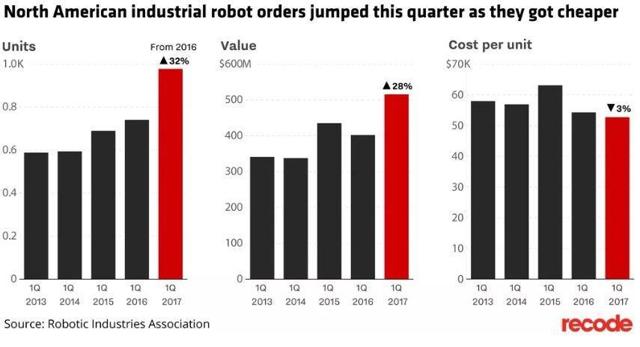 As manufacturer's are able to produce the robots for cheaper the sales volume increase as well. It can become significantly cheaper to employ one robot that needs little maintenance and can work virtually any hours than a human surgeon, not to mention robots are also significantly faster and more efficient.
Why Intuitive Surgical?
Intuitive Surgical is one of the leading sellers of healthcare robots, and will only continue to grow larger as more hospitals decide to invest in the hyper efficient technology.
Financially the company is very strong with EPS of 19.84 a share, and projected EPS growth of over 20% this year. It currently trades at $924.36 and is within 1% of its all time high. Technically it is trading 28% above its 200 day moving average and 11% above its 50 day which signals very strong support for the stock.
I believe the growth in robotics, specifically medical will exceed expectations, leading Intuitive Surgical stock higher along with it. Robotics are here to stay and Intuitive Surgical is at the forefront of the transition, which is why I have given it an $1100 price target which implies 15% of upside potential. I would recommend to any investor to buy now, as its unlikely to see any significant pullback in the next few months.
Disclosure: I am/we are long ISRG.
I wrote this article myself, and it expresses my own opinions. I am not receiving compensation for it (other than from Seeking Alpha). I have no business relationship with any company whose stock is mentioned in this article.