Quick Take
Property intelligence provider CoreLogic (NYSE:CLGX) has announced its acquisition of a minority interest and future right to acquire full control of Mercury Network.
Mercury has developed an appraisal and collateral management suite for small and medium-sized lenders and appraisal management companies.
CoreLogic's balance sheet isn't very impressive with its high debt and goodwill, but I am impressed with the strategic sense of this deal.
Target Company
Oklahoma City, Oklahoma-based Mercury was founded in 2002 to provide tools for property lenders and appraisal management companies to streamline their appraisal processes and manage the quality of loan collateral.
Management is headed by Will Clemens, who has been with the company since 2015 and was previously Senior Operating Executive at Serent Capital, which is the seller of Mercury Network.
Serent (Lance Fenton) acquired Mercury in April 2015 for an undisclosed amount and said it would 'further enhance the value Mercury Network delivers to the mortgage industry by bringing additional resources to support technology innovations for clients and partners.'
Mercury has developed a SaaS suite of capabilities that 'allows lenders and AMCs (Appraisal Management Companies) to manage their valuation operations in compliance with banking regulations, while reducing expenses and improving overall quality.'
The company sees itself as the 'middleware' layer between lenders, AMCs, and individual appraisers: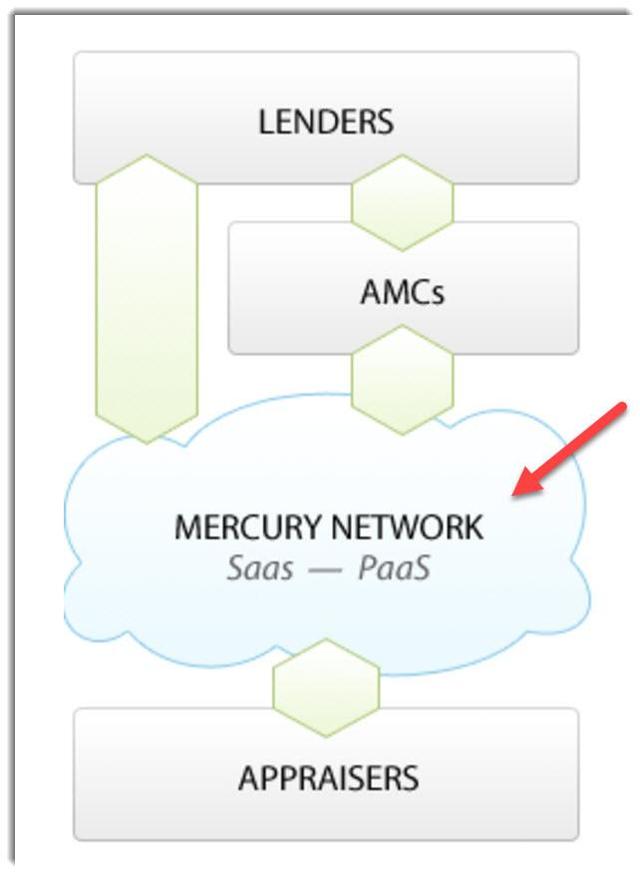 (Source: Mercury Network)
One of the main advantages of the Mercury system is that all business logic controls remain with the lender or AMC, so their operations teams don't need to change much of their existing workflow to adopt the system.
Acquisition Terms and Rationale
Neither company disclosed the transaction amount or detailed terms.
CoreLogic initially has acquired 45% of Mercury in the form of a passive minority stake but has finalized an agreement to acquire the remaining interests by the end of 2017.
Notably, in its deal announcement, CoreLogic management stated,
The acquisition of Mercury Network is expected to be accretive to adjusted EPS and provide organic growth synergies to the Company on a go forward basis.
'Adjusted EPS' is a non-GAAP measure than can be just about anything management wants it to be and is usually a more favorable presentation to the company than GAAP, so I presume that GAAP EPS effects may either be less accretive, neutral, or possibly negative.
CoreLogic hasn't filed an 8-K indicating a material change in condition, so it appears the transaction was not material to CLGX' $3.6 billion market cap.
The CLGX balance sheet as of December 31, 2016, showed $72 million in cash and equivalents and $2.9 billion in total liabilities.
Goodwill was $2.1 billion, indicating the company has paid hefty prices for its acquisition appetite. The table below shows an active M&A history in recent years: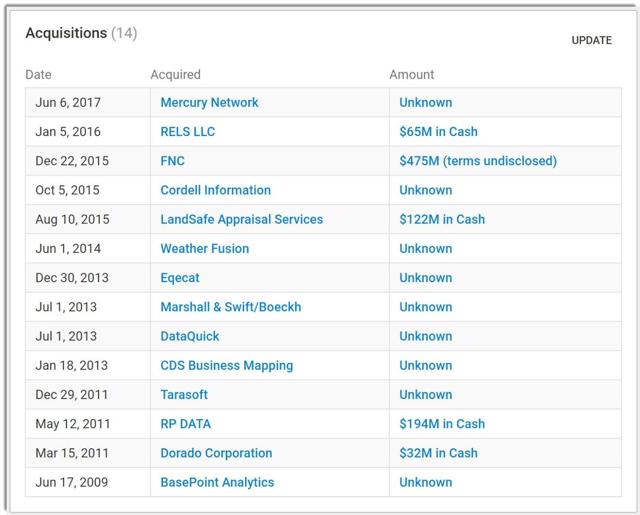 (Source: Crunchbase)
The deal for Mercury is a companion to CoreLogic's FNC buy, a real estate collateral and analytics system that it acquired in 2016 for $475 million.
As Frank Martell, CoreLogic's president and CEO stated in the Mercury transaction announcement,
Mercury Network's platforms complement the CoreLogic appraisal technology platforms and analytics business acquired from FNC in 2016. They will broaden the reach of CoreLogic's valuation technology products and services to smaller and medium-sized lenders and AMCs. Through this acquisition, CoreLogic will improve its value proposition and go to market strategy for its broad range of valuation-related data and analytics to this important and growing segment of the industry.
The Mercury piece will be aimed at smaller lenders and AMCs, while the FNC system will continue to be marketed to larger lenders.
Mercury claims more than 800 lenders and AMCs among its clients, so it appears CoreLogic's strategy is to provide solutions for any size lender or AMC.
Although I'm not a fan of CLGX' balance sheet and the lack of visibility into the transaction price, the deal for Mercury makes sense from a strategic standpoint and will enable it to pursue cost and sales synergies to monetize the acquisition cost and achieve great visibility throughout the appraisal and collateral management industries.
I write about M&A deals and IPOs. Click the Follow button next to my name at the top or bottom of this article if you want to receive future articles automatically.
Disclosure: I/we have no positions in any stocks mentioned, and no plans to initiate any positions within the next 72 hours.
I wrote this article myself, and it expresses my own opinions. I am not receiving compensation for it (other than from Seeking Alpha). I have no business relationship with any company whose stock is mentioned in this article.