Note: This article was originally published as a guest article April 20th on Value Investor's Edge, a Seeking Alpha subscription service.
This article is about liquefied petroleum gas ("LPG") shipping and focuses on the economics of the largest vessels on long haul trades. The largest ship variant is a VLGC, or very large gas carrier, an LPG ship with a capacity of about 84k cubic meters (cbm). LPG shipping has shown very large growth rates over the past couple of years, but an overbuild of vessels, with deliveries scheduled between 2014 and 2017, has resulted in an oversupplied market and low day rates. In this article, I look at the dynamics from a macro point of view.
The normal article layout would be an overview of market dynamics with a conclusion at the end of the article. However, this time, I reversed it because I think the outcome of my simple market model will induce a heightened level of investment interest.
My model for future supply and demand characteristics in the LPG VLGC market
The graph pictures the total global fleet of VLGCs, with currently around 250 vessels on the water. The red line shows my approximation off the demand for these ships. Currently, the market is severely oversupplied, and to make matters worse, there is still a fairly large number of deliveries left in 2017. Gladly, the demand for these vessels is quickly growing, and I anticipate that the market will move from an oversupplied market in January 2018 to an actual shortfall of vessels by the end of 2018. If companies do not start ordering these vessels soon, this will turn into a heavily undersupplied market by mid-2019 and presumably high day rates.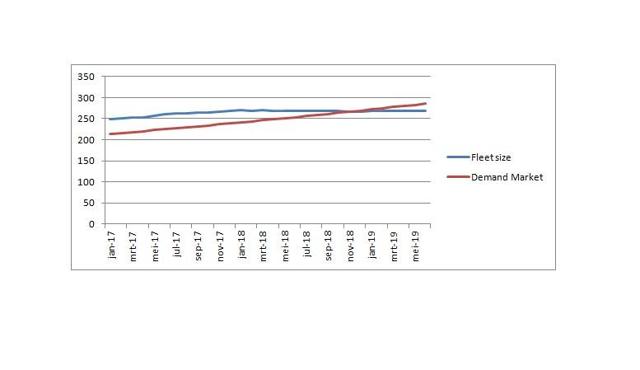 The inputs for the graph are as follows:
Fleet size of 247 per end of 2016
Order book delivery dates 2017 as detailed by Avance Gas (OTCPK:AVACF)
Current fleet utilisation at start of 85%
Scrap percentage per year of 2%
Tonne mile growth rate of 12%
I did not include any non-delivery or slippage. Including that would only make the picture more optimistic.
I expect that people would think these numbers are wildly optimistic. The most important input variable is the tonne mile growth rate. Adjusting the other figures will just speed up or delay the market balance by a couple of months; any change will quickly be neutralized by the huge 12% growth rate. In the remaining of the article, I will try to give a full market overview and show why I believe these input variables are quite realistic.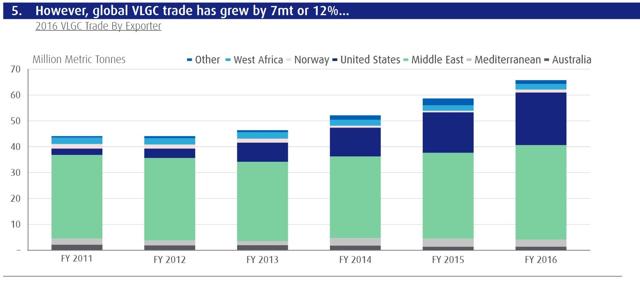 According to the BW LPG annual report, the global VLGC trade actually grew 12% during 2016, which was a slowdown from 2014-2015 growth. They actually report a 2013-2016 tonne mile average annual growth of 14%. The first clue about what is happening in the graph is the quick appearance of the U.S. as a major LPG exporter due to the shale oil boom.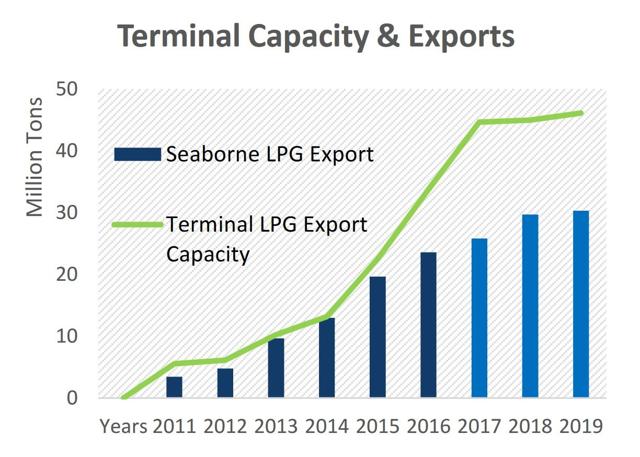 Source: NVGS presentation
VLGC fleet developments
The setup for LPG shipping was amazingly good since 2012, with huge growth of tonne mile and the potential for giant profits for shippers. In the early years, LPG shipping rates have indeed boomed. Nevertheless, like often in shipping, these booming years resulted in massive new build orders, which swiftly killed the market upswing to a point where almost all LPG shippers were losing money.

Source: BW LPG annual report
It should be obvious from the graph above that there was a huge new build growth during 2015-2017. By the end of 2014, the global VLGC fleet was 168 vessels large. That number skyrocketed towards 247 by the end of 2016, a growth of 47% in just two years. In addition, even for 2017, there still are 26 more ships planned for delivery.
The good news is that there is also some scrapping potential. If vessels older than 30 years will be scrapped during 2017, we will see five carriers removed from the fleet (that is why I used a 2% scrapping rate in my model at the top of the article). If the VLGC fleet indeed grows by 21 (26 new builds with five old vessels scrapped) vessels in 2017, it would grow by 8.5% this year. After the end of 2017, the order book looks very light, but for 2019 and 2020, there is of course still shipyard capacity to increase the deliveries, if companies would start to order again.
A relevant development for the scrapping potential of the LPG fleet is the upcoming Ballast Water Treatment regulation. In the latest BW LPG (OTCPK:BWLLF) earnings call, it estimates that it would cost $0.81 million to retrofit a VLGC to comply with the new regulation. This should push some older marginal tonnage towards scrap.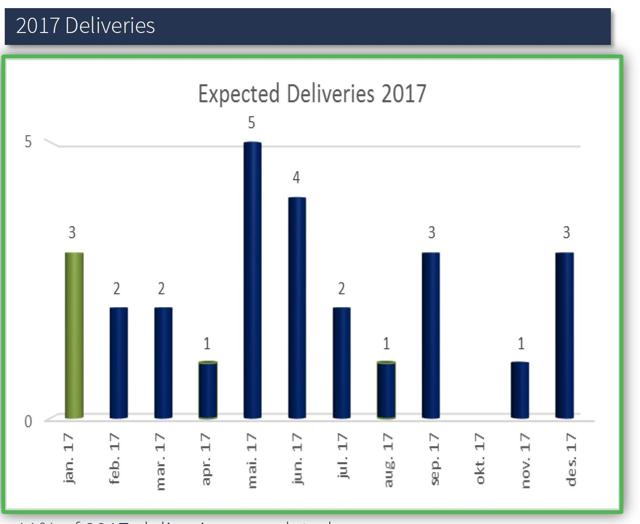 Source: Avance Gas Q4 presentation
In the model on top of the article, I used the above data on VLGC deliveries in 2017. I note that May and June this year look heavy. Nine new carriers, approximately 3.6% fleet growth in just those two months. In my model on top of the page, I did not assume any non-delivery and slippage. If the market for these VLGCs remain over supplied, one would expect some of these vessels delayed into 2018, which would only improve the supply/demand picture from the model.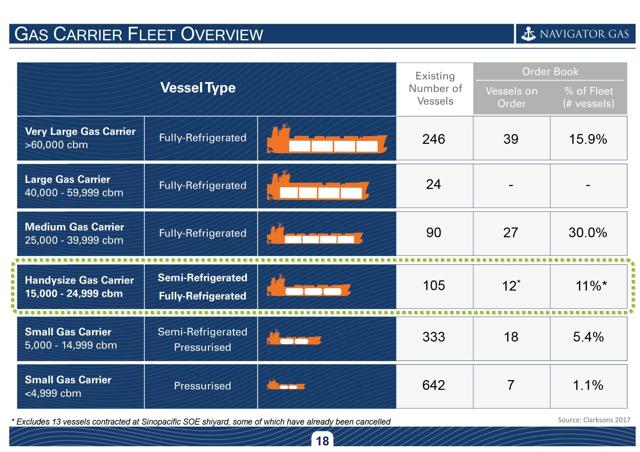 If I expand the scope a bit wider to the full LPG fleet by using this sheet from the latest NVGS presentation, I note that there are also still some Medium size Gas carriers left in the order book. The order book for small LPG Gas Carriers is looking very clean right now. I published my first article on Seeking Alpha on this segment by highlighting StealthGas (NASDAQ:GASS). Since I wrote that article, there were many positive developments, but the share price is actually weaker now. Both Q4 and Q1 have been much stronger than I anticipated in the article. Fleet utilisation was improving quickly for small LPG coaster vessels, and the company has actually been reporting earnings profits. Shipping analyst Drewry published a report with similar conclusions than mine.
Results of the massive new build madness
The logical result after a 47% VLGC growth in just two years (2015-2016) is an oversupplied market and low utilization.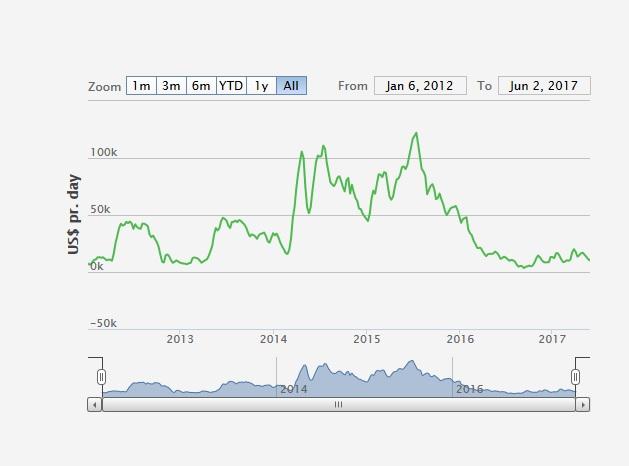 Source: Avance Gas
The Avance Gas index can be interpreted as a quote for average VLGC spot rates. The long-term graph clearly shows the bull years 2014-2015 and the market crash due to the massive influx of new builds. Most VLGC owners need between 15k and 25k/day rates to be cash flow neutral on these ships (more if you would include depreciation of ships). A large part of 2016 has clearly been money losing for ships operating on spot markets. I also take from the graph that the spring period is the strongest period of the year each time but 2016. I believe 2016 is the anomaly due to new builds (and reducing U.S. shale production).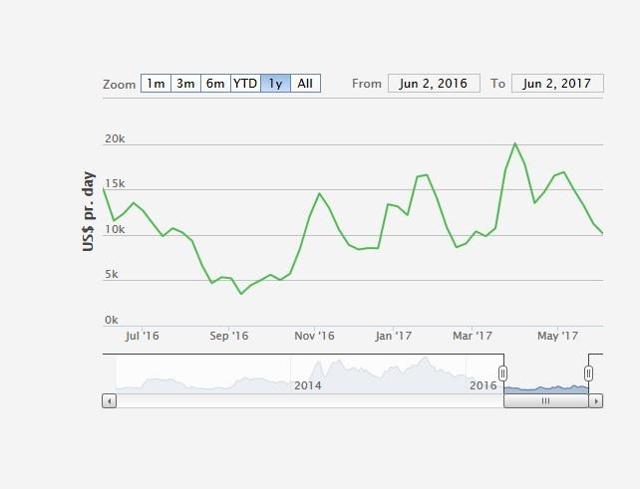 Despite a fleet growth from 207 to 247 vessels in 2016 and a few more in early 2017, the VLGC day rates have moved up a bit from the 2016 lows but are hardly impressive or money generating. But the point of this article is not to show that markets are strong right now; it is that they are projected to improve a lot over the next years.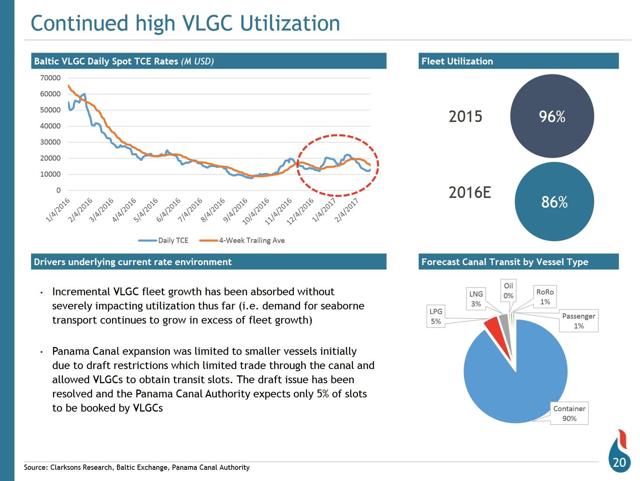 Source: Dorian LPG presentation
There are two more 2016 developments worth discussing. First is oversupply of vessels. Dorian LPG (NYSE:LPG) estimates that the global fleet had an 86% utilization for 2016 (I used 85% as a start point in my model on top of the page). Companies with modern fleets like Dorian LPG, BW LPG, and Avance Gas, of course, had reported much higher utilisations, but some peers have older and less efficient vessels. According to the same presentation, 26 carriers are currently over 25 years old (slightly over 10% of the current fleet), and these are the most likely candidates to be underutilized.
The latest Dorian LPG earnings call even mentioned a 90% current global fleet utilization (emphasis mine):
The addition of the Phillips 66 Export Terminal at Freeport, Texas will increase further export of LPG from the U.S. Gulf in 2017 by four to eight VLGC cargoes per month. While the 2018 - in 2018 we expect Marcus Hook and enterprise to complete some expansions into our export capacities adding, five to nine VLGC cargoes a month. The new Panama Canal VLGC traffic was second only to contain the vessels and accounted for about 30% of total canal transits.

VLGC fleet utilization steadily increased over the quarter to a high 90%, notwithstanding the significant number of new building VLGCs added to fleet.

It has been high utilization rates even through the zap of the low rates in the middle of last summer, relatively speaking I think it dipped below 90% but not much and I think it indicates that it's a factor of increasing trade which John alluded to and which has been absorbing the huge number of ships that we had delivered last year at a more successfully than perhaps would most of us thought they might be. So I think it is a confidence building going forward, the order book is stippling down and I think it's one of the best indicators we have.
Another major change during 2016 was the opening of the Panama Canal. This resulted in shorter trips from the U.S. toward Asia. This both made U.S. exports more competitive, allowing for more long-haul LPG trade (more on that later), but also reduced tonne miles for U.S. exports as the trip got a lot shorter.
Order book developments going forward
Normally, the time between a VLGC new build order and actual delivery would be at least 2 years. But the current open shipyard capacity is large, and I expect that the earliest new build slots might be for delivery in Q4 2018 or Q1 2019 already. My model on top of the page shows that this would exactly be the timing of the VLGC market changing into an undersupplied picture. There might still be the possibility to kill the 2018 turnaround story with an influx of new builds. Happily, there have not been significant VLGC orders in a long time, and every month that passes now would mean a more tight market by the end of 2018. If the demand for these ships actually would grow 12% annually, as my model assumes, every month without new orders would make the balance between supply and demand 1% tighter.
Therefore, there still might be a possibility that the late 2018 and early 2019 order book is filled with new vessels. However, is that realistic? Listed firms BW LPG, Dorian LPG, and Avance Gas, collectively control over 35% of the total VLGC fleet. Reading these companies' earnings calls and assessing the general situation lead me to believe that these firms are highly unlikely to order new ships over the next nine months. These firms have been facing rapidly deteriorating quarterly earnings, massive dividend cuts, crashing equity prices, and in some cases, new share issues. They also are very busy streamlining a very large fleet size growth that they undertook during 2015/2016. These companies seem more focused on surviving the expected weak 2017 than on booking new growth.
One would assume that many of the other firms that operate VLGCs have similar positions. Many are integrated firms with improving but still under pressure bulker/container/LNG vessels. I also think that it is hard to raise private equity money for this sector right now, as rates are still very low and new build orders crashed the VLGC market earlier.
There is always potential for new build orders from some speculative parties, or some semi-state supported deals like Japanese firms ordering new builds in Japan or the same idea in Korea. I am not aware of impending orders in the VLGC LPG market, and my model shows that, as long as the Tonne mile demand really grows at something like 12% a year, these new build orders are actually needed soon to prevent an undersupplied market at the end of 2018.
LPG energy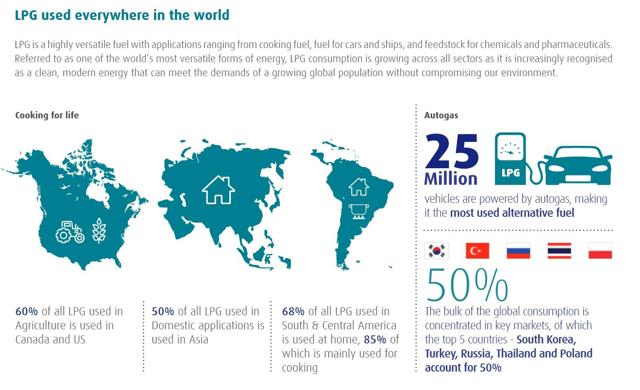 This snapshot from the BW LPG annual report gives a great overview on what LPG usage around the world. LPG is a versatile energy source that is usually much cleaner and less polluting than alternatives. In many areas around the world, there are active government stimulation programs for the use of LPG. One key element from the snapshot above is that in two large net importing areas of the world, Asia and South America, it is very popular for domestic (cooking) use. Both of these areas of the world can be characterized by rising populations and growing middle classes. I think this is a major safety backdrop for a growing future demand.
LPG is perceived as a cleaner source of energy. Both China and India are struggling with pollution issues and a low air quality. In the long run, Asian countries are likely to reduce dependency on polluting energy sources like coal and increase their usage of cleaner sources like LNG and LPG.
Supply of LPG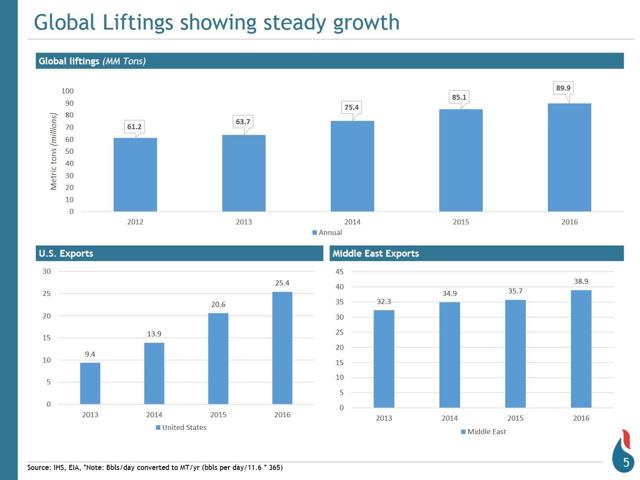 The Dorian LPG presentation shows that the Middle East is the largest exporter of LPG. Between 2013 and 2016, it grew exports from 32.3M ton to 38.9M ton. A large factor for the growth in 2016 from 2015 levels was the return of LPG supply from Iran. A future factor might become that the Middle East has been investing heavily in new refinery capacity, and much of the additional LPG production growth might end up as feedstock for these extra domestic petrochemical facilities. Another dynamic is of course the OPEC oil supply cut.
During the Avance Gas earnings call, it discusses the 2017 Middle East supply (emphasis mine):
It's interesting to see that Iran reached the highest level of exports in 2016 since we started this company in 2007. We do expect Middle East LPG production and export to come down this year, mainly because of the OpEx cuts in crude oil production and it's mainly Saudi Arabia and Kuwait producing LPG from crude oil. But we do expect that the Middle East will come down towards 31, 32 million tonnes in 2017.
U.S. exports, on the other hand, have been quickly expanding. The USA shale boom resulted in quickly rising production volumes of NGLs (wet gasses). The shale boom actually turned the U.S. from a net importer of LPG to the second largest exporter. I think it is likely that they will overtake the Middle East over the next decade.
A couple of heavy production growth areas like the Permian and Marcellus are known for producing a relatively large cut of NGLs. The growth of the Permian production, the big investments in LPG export infrastructure (pipes and export facilities), and a flat domestic demand from the U.S. resulted in an impressive LPG export growth from 20.6M to 25.4M ton. I think it is very noteworthy and impressive that the U.S. maintained this growth during 2016, when the first half of the year could be characterized by a much lower oil/gas rig count and declining oil production.
Going forward, I am going to assume, readers are aware that the North American rig counts have been quickly increasing again. Most shale drillers have reported impressive production growth guidance's for 2017-2018, supported by heavy hedge books and U.S. shale production is already sharply rebounding. Some background information can be found here.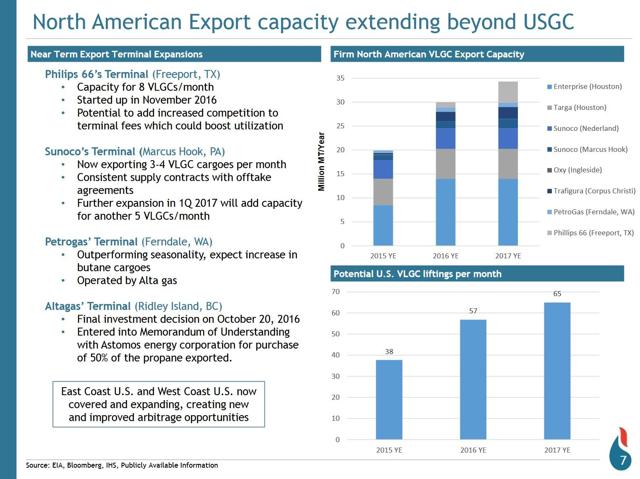 The U.S. LPG export capacity is set to increase significantly again in 2017. Many projects are underway to get these NGLs from the drill sites to the export facilities and many investments in progress to allow loading onto the huge VLGC export class. With domestic LPG use only increasing very slowly, I think most people would agree that U.S. LPG exports would continue growing the next two years.
The latest BW LPG earnings call had a very interesting discussion on U.S. LPG exports in the next years (emphasis mine):
Here we provide an updated snapshot of the EIA's outlook for LPG balances in the U.S., which now also includes 2018 forecast. U.S. LPG production grew by 2% in 2016 while the domestic U.S. consumption declined by 2%. For 2017, the EIA expect net U.S. LPG exports of 24.9 million tonnes while production is forecast to grow by 2.9% to 78.6 million tonnes and domestic consumption to remain flat at 54.2 million tonnes.

Looking ahead to 2018, EIA's forecast call for stronger LPG production growth of 6.1% and minimal domestic consumption growth of 0.8%. Net exports are forecast to grow by 12.3% in 2018, hitting 28 million tonnes.
With the rig count continuously rising last weeks and oil prices well above 50$ currently, I suspect these EIA growth projections might be adjusted upwards. But the key note here is that LPG production is set to increase the coming years and domestic use is flat. The logical outcome would be export growth.
Why is growth in U.S. production this important?
In the paragraphs above, I specifically highlighted many U.S. developments. In the areas below, I will be highlighting demand growth from Asia. Combining these two factors implies that I expect huge growth in U.S. to Asia LPG trade. This is of paramount importance for the future rebalancing of the VLGC fleet. James Catlin recently published a very insightful article on LNG shipping patterns. He highlighted the importance of U.S. to Asia growth by giving some outstanding examples. These examples apply directly to LPG shipping too, so I quote the relevant examples.
Qatar represents the longest haul of major suppliers to the East Asian market:

From Qatar to Japan the voyage would take approximately 23 days covering approximately 6,700 nautical miles.
Qatar to South Korea would take just under 21 days covering approximately 6,100 nautical miles.
Qatar to Shanghai, China comes in at just under 20 days at approximately 5,800 nautical miles.

Now, let's take a look at the U.S., keeping in mind the impact on rates as ton mile distance increases.

Sabine Pass to Japan, utilizing the Panama Canal, takes about 30 days 12 hours covering almost 9,000 nautical miles.
Sabine Pass to South Korea, utilizing the Panama Canal, takes 32 days 18 hours and covers about 9,600 nautical miles.
Sabine Pass to Shanghai, utilizing the Panama Canal represents an approximate 10,000 nautical mile voyage which takes 34 days and 10 hours.
It should be obvious that U.S. to Asia, utilizing the Panama Canal with all the potential delays in that canal, is a very long haul trade. This should do wonders for total VLGC tonne miles.
Demand growth in Asia
With current sentiment on U.S. shale revival, it is easy to argue for LPG supply growth ahead. The next part focuses on the demand part of the equation; that actually was an area where I was more reserved in the past. My background research for this article made me much more bullish on demand growth in Asia. I will go through a selection of countries.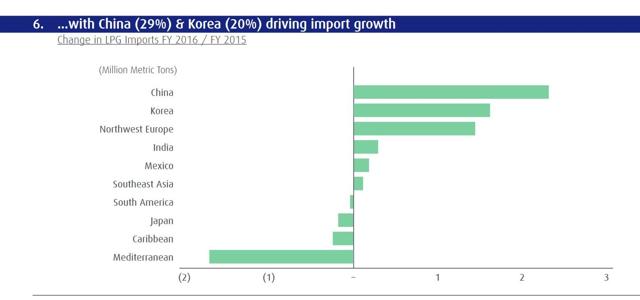 Source: BW LPG annual 2016 report
The picture above shows the changes between 2015 and 2016 LPG imports.
Japan/South Korea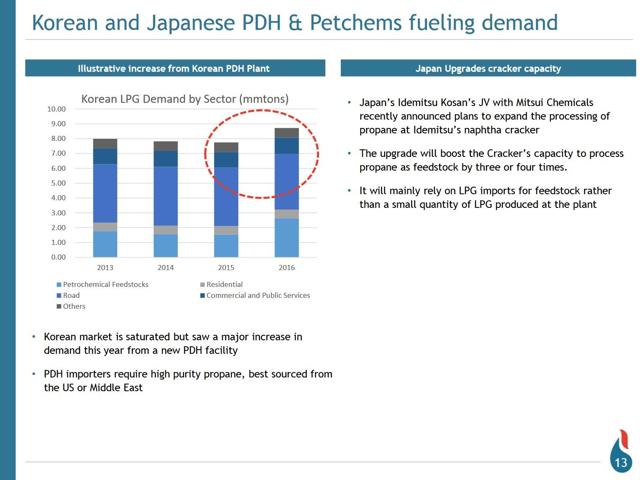 The more mature Asian economies of Japan and South Korea have historically been very important LPG importers. Demand from these countries can be characterized saturated and steady, but especially Korea increased the use of LPG recently by investing in the petrochemical industry. Demand from Korea is mainly from the heavy penetration of LPG driving cars in the country, but recently also from increased petrochemical use. In comparison to other countries, there is very little residential use of LPG.
China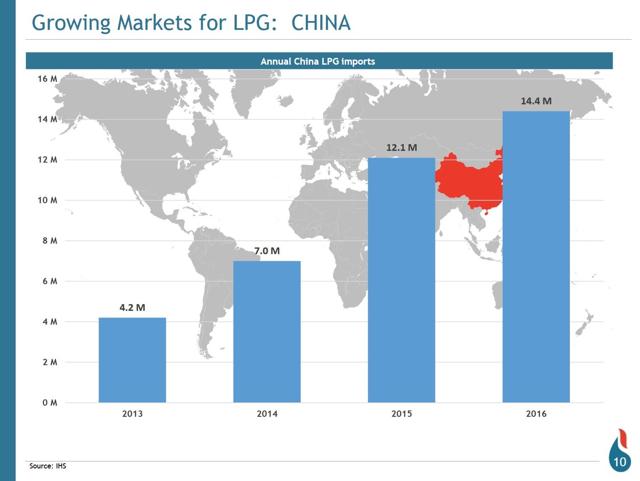 LPG demand in China has been rising very quickly.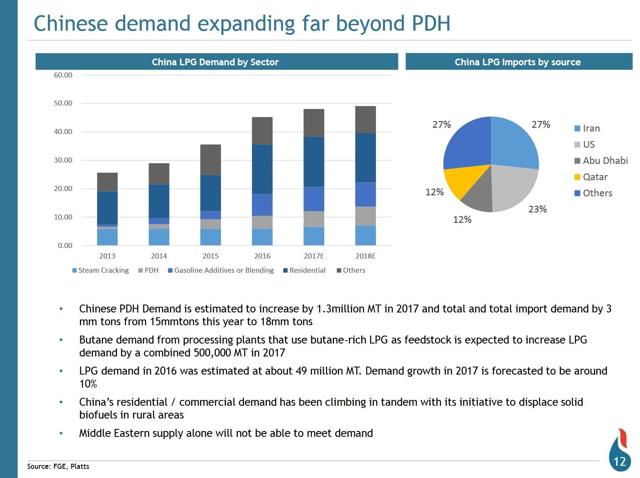 The bars from the latest Dorian LPG presentation indicate the end use of the LPG imports. The bottom three colors, Steam Cracking, PHD (propane dehydrogenation), and gasoline additives or blending are clearly petrochemical uses of LPG. China is still investing in more refinery capacity as well as more PHD facilities, but the problem here is that this demand source is usually quite price sensitive and "arbitration spreads," "crack spreads," and "naphtha spreads" are driving the growth of this demand. More on that later.
The good news of the Chinese demand is that almost half of the demand is from residential use. As the middle class is quickly growing in China, this part of the increased use of LPG will keep growing.
A recent Platts article on Chinese LPG demand had some very interesting remarks. The full article is very interesting, but I highlighted some quotes below (emphasis mine):
S&P Global Platts China Oil Analytics forecasts LPG demand growth in 2017 of around 10%, well below 2016's 24%.

Demand in 2016 - comprising domestic production and net imports - was estimated by Platts Analytics at around 49 million mt, up 24% from around 39.55 million mt in 2015, according to calculations based on data from the General Administration of Customs and the National Bureau of Statistics.

As a cleaner alternative to coal and fuel oil, LPG attracted more demand from the industrial sector in China in 2016 due to a tightening-up of environmental regulations, and this growth is expected to rise further in 2017, market sources said.

Demand from the industrial sector is estimated to account for around 20% of LPG consumption.

The incentive to switch from natural gas to LPG is expected to diminish in 2017, given higher crude oil prices, market sources said.

On the other hand, LPG demand from households, which accounts for around 40% of total Chinese LPG consumption, is expected to maintain moderate growth in 2017, analysts and other sources said.
India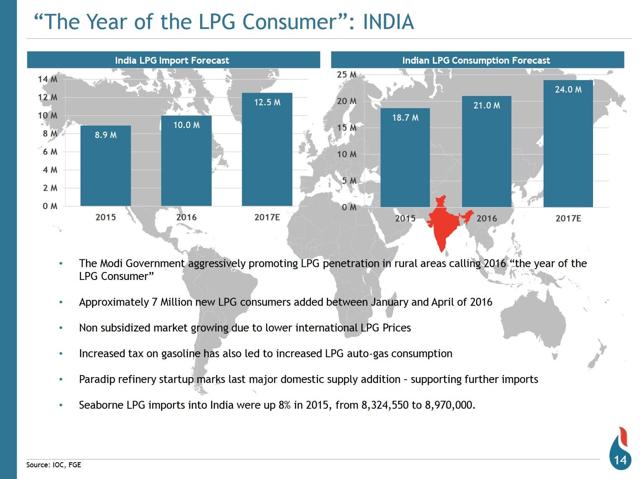 India is another area of rapid demand growth. Platts wrote on Indian LPG demand (emphasis mine):
A raft of government initiatives has propelled India's insatiable appetite for LPG to record highs, leading analysts to believe that growth is expected to hover close to double digit levels in the near to medium term as New Delhi intensifies its push towards cleaner fuels.

In its push towards making 2016 the 'year of LPG consumers,' the Indian government has set an ambitious target of opening 10,000 new LPG dealerships across the country this year, in addition to the 16,000 that already exist.

Indian Oil Minister Dharmendra Pradhan told Platts in an interview earlier this year that economics showed that LPG imports would be more competitive than producing the fuel domestically and the country would remain dependent on imports to meet about 50% of its domestic needs.

And to meet the growing imports, the country would be focusing on creating a solid distribution network and terminals to handle the additional volumes, Pradhan said.
Indonesia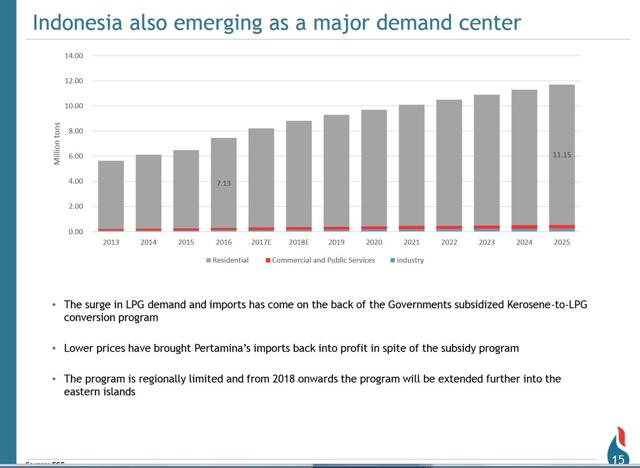 Platts had some very interesting quotes on the growth of Indonesian LPG demand:
Indonesian LPG consumption last year reached 6.4 million mt, 64% of which was met through imports, Purba said, adding the average rate of increase between 2011 and 2015 was 11%.

Annual LPG demand growth is projected at 5.7% from 2016-2019, and is expected to reach 7.4 million mt this year, 9 million mt in 2018 and just over 9 million mt in 2017.

Imports in 2016 are projected at 4.73 million mt, up from 4.17 million mt last year, and is forecast to rise to 5.83 million mt next year, 6.63 million mt in 2018 and 7.24 million mt in 2019, Purba told the conference.

This places Indonesia as the fourth-biggest LPG importer in Asia, behind China, Japan and India.

Purba told Platts that government efforts to convert household usage of kerosene or other polluting fuels to cleaner LPG have reached around 90% and the move is now being intensified across the archipelagic nation of 17,508 islands with a 255 million population.
In many places in Asia, like Vietnam and Indonesia, residential LPG use is a major source of demand growth. The government supports it because it is a much cleaner alternative, and rapidly growing populations and middle classes means a steady increase of demand for LPG.
Share prices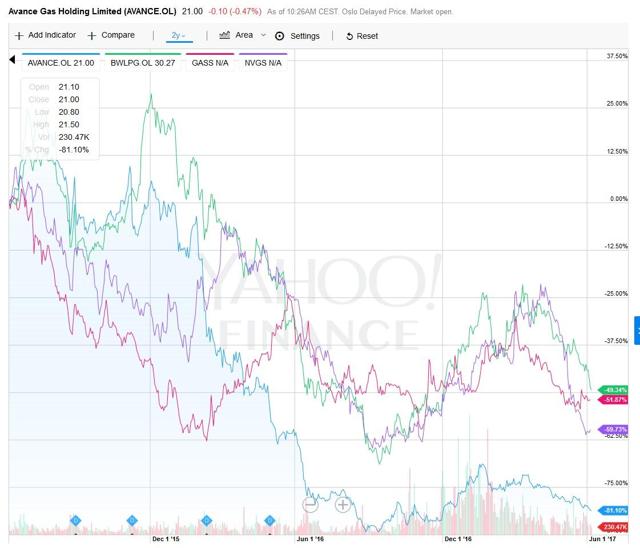 Source: Yahoo Finance
The graph above shows a two-year graph of a number of LPG shipping firms (others like Dorian LPG performed similarly bad). There are some neglected exchange rate effects between the Oslo listed firms and the U.S.-listed ones, but from the graph, it should be clear that these LPG firms traded really weak over the last years and have recently been revisiting levels close to the lows. I think buying these stocks now will turn into a great long-term position.
Arbitrage dynamic - A major risk factor to the thesis
Similar to LNG shipping, there are a number of fixed long term take or pay delivery contracts in LPG. These seem fixed and will transact, irrespective of the pricing of energy around the world. For spot contracts, however, it is very important that prices are low in areas with much LPG production and higher in major demand centers. If this arbitrage opportunity is open, there will be much more spot trades, and the supply and demand dynamic for these ships will be tight and day rates high. The latest Avance Gas earnings call had some interesting color on this important topic:
So what I am saying is that in a market where you have the spread between the FOB prices in U.S. Gulf and the CIF prices in Far East, when the spread is open there would be a lot more activity, and we will see the last few additional cargoes being lifted. This happened in fourth quarter and we saw the activity, as I said towards end of 2016 increase. Of course the spread was opening and people saw the lifting more tones, more cargoes. This continued into 2017 and activity in January was also quite interesting.

So, I'm saying that in order to have a full cargo capacity export of U.S. Gulf we are more dependent on the FOB/CIF differential, the spread to be open.
This is a key reason why I think it is very important that the rig counts in NGL heavy shale plays in the US are increasing this fast. The domestic LPG demand in the USA is relatively stable, so if we see quickly increasing LPG supply, prices will go down, global spreads would increase, and LPG export capacity quickly rises again.
The Dorian LPG call also had some interesting perspectives on the arbitrage opportunities in the market.
As you realized the excess cargos and capacitors coming out of the United States is finding a good home in the Far East and in China which is a combination of petrochemical and home demand, and in India which is mainly home demand. So the products I think are well priced in the Far East and that's what underpins the demand. And we expect that this market is going to continue especially if oil - crude oil remains high. It will always mean that naphtha will be at levels which are less competitive than propane.(Authors note; Propane is a major LPG export Gas). So we have to see how things develop in the next few months that the way the pricing has developed I think it underpins the propane market.
It is important to realise how leveraged these VLGC firms are to the oil price. A rising oil price will result in more LPG supply from the U.S., likely pushing domestic LPG prices down there. At the same time, competing oil products like naphtha are more closely linked to oil prices, so demand for LPG in Asia will increase.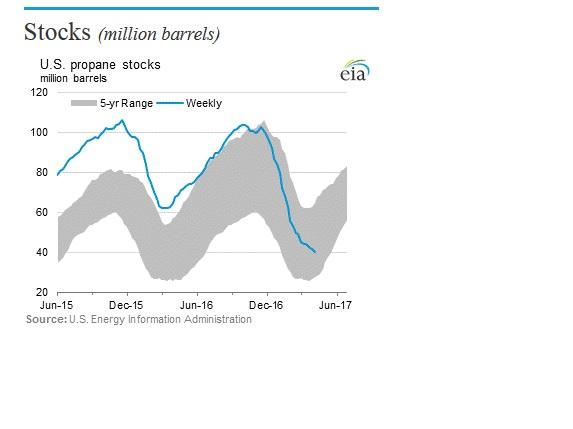 Source: EIA
U.S. inventory levels of propane are something that relate to the discussion above and are a major risk factor to the thesis. The EIA reports that current propane inventory levels are relatively low and spot priced much stronger than early 2016. For the best global arbitrage and shipping economics, you would like to see high inventory levels and low prices in the U.S. I anticipate that the currently quickly growing U.S. NGL production and rig count would start adding to propane inventories soon, but it is certainly worth keeping a close loop on.
The relative pricing of different fuel products and the relative pricing of LPG on different part of the world play a major role in the demand for these VLGC vessels. I think that the rising U.S. shale oil production and oil price is a very good development for LPG trade but also a major risk factor. If oil prices crash down again and LPG export growth in the U.S. stalls, then the market recovery might take a longer time.
Conclusion
When I look at the supply and demand developments for LPG, a clear trend emerges: rapidly increasing U.S. LPG exports to Asia. This is very important for VLGCs because it is a prime long-haul trade.
VLGC ton-mile demand grew 14% annually during 2013-2016, and despite the significantly reduced drilling activity in the U.S., the LPG trade still managed to grow by 12% in 2016. As the drilling activity accelerates again in U.S. shale and LPG production improves with it, I expect a continuing trend of large ton-mile demand growth through at least 2020.
After years with heavy VLGC new build ordering, the market crash of 2016 has resulted in very few recent orders. After 2017, the order book for VLGCs looks clean. If demand growth continues in the double digits, the current oversupply dissipates quickly.
Starting in mid-2017, I expect demand to grow far faster than the VLGC fleet, leading to a rapid tightening of the market into 2018. We should see a massive improvement in rates by mid-2018 if current trends continue.
To position myself for the improved LPG shipping markets, I have allocated heavily via long positions in Navigator Gas (NYSE:NVGS), StealthGas, and Avance.
Disclosure: I am/we are long GASS, NVGS, AVACF. I wrote this article myself, and it expresses my own opinions. I am not receiving compensation for it (other than from Seeking Alpha). I have no business relationship with any company whose stock is mentioned in this article.