Apple (NASDAQ:NASDAQ:AAPL) Pay Cash Card could increase Apple's take-rate by 9 times, thereby accelerating the future growth of Apple's Services revenue segment. With Apple Pay growing at 500% y/y, in a few years, Apple Pay Cash could add an incremental $1 billion to revenue. And given the infrastructure and cost per transaction not likely changing, we believe that most of this $1 billion will drop straight to the bottom line. That's a 2% incremental increase in net income in a few years.
Apple Pay
Apple Pay is the #1 contactless payment service on mobile devices. By the end of 2017, 50% of US retailers will accept Apple Pay.
At WWDC 2017, Apple announced a significant upgrade to Apple Pay, person-to-person payments coming in the Fall of 2017 when iOS 11 goes live.
Apple Pay revenue is reported under Apple's Services segment. In total Services consists of revenue from Digital Content and Services (iTunes, App Stores, iBooks, Apple Music), AppleCare, Apple Pay, licensing and other services. In 2Q17, Services generated $7 billion in revenue, +17.5% y/y and $26.5 billion in the last 12 months, +20% y/y.
Prior to the introduction of Apple Pay in October 2014, Services reported revenue of $18 billion in 2014. We believe Apple Pay has only been a small contributor to the growth of the last 2.5 years, but its contribution is all incremental.
The app will be integrated into the iMessage app, so sending money is only a couple of taps and a Touch ID authentication away, directly in your conversation.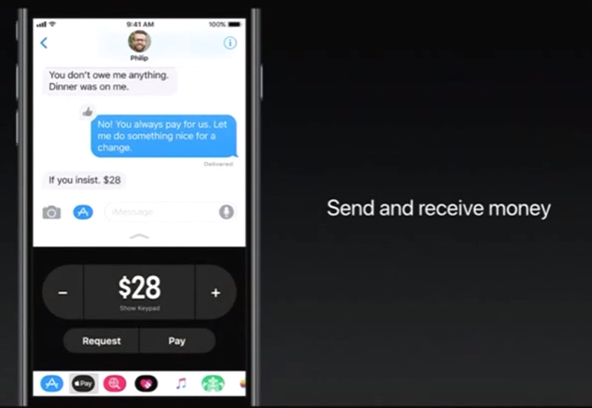 Source: WWDC 2017 Keynote
Challenges & Competition
Historically, Apple Pay has seen arguably slow uptake due to a lack of contactless payment adoption in the US. According to Plug and Play, mobile wallets like Apple Pay don't provide enough value to consumers and merchants, yet. When mobile wallets can convince consumers to leave their wallets at home, that is when adoption and usage will accelerate from the current state.
Another big hold up to the adoption in the US is that banks issued chip-enabled cards that did not have the dual purpose of contactless payments. When consumers don't have the capability to make contactless payments, merchants have less reason to adopt the technology to accept them. Ultimately, without merchant buy-in to contactless payment terminals, mobile wallets like Apple Pay cannot be used.
The future of Apple Pay will only get better as the adoption of contactless payments continues. Someday, we believe contactless payments will gain near 100% penetration with merchants, which currently accept card payments. When this happens, consumers may become comfortable leaving their physical wallet at home, or not even have a physical wallet anymore. Everything will be stored digitally on their smartphone.
Apple is helping accelerate a 100% contactless payment world with the introduction of new features like person to person payments. It is an incremental utility like this that will help consumers gain trust that a wallet is an option, not a necessity. In the meantime, Apple Pay will have to deal with slow adoption. Though we would say 500% y/y increase in transaction volume is not that slow.
We also note that person-to-person payments is not a new service. But rarely has Apple been the first to anything. It wasn't the first smartphone, tablet, or music player, but redefined the way all these products were used. Apple Pay Cash will face challenges from incumbent providers like PayPal (PYPL), Venmo, Square (SQ) Cash and Chase QuickPay, all with a similar person-to-person service.
The difference we see with Apple Pay Cash is the ability to make cash transfers right in your iMessage conversations and then take that cash and use it with Apple Pay on a device you always have by your side, your iPhone. With PayPal, Venmo, Square Cash and Chase QuickPay, you cannot use the cash immediately at a physical retailer without access to your debit card. But with Apple Pay Cash, you only need your iPhone.
Imagine a teenager is in a situation where they need to buy a bus ticket home but don't have a credit card, cash or debit card. Their parent can send them $10 through Apple Pay Cash and they can use Apple Pay to purchase the bus ticket, all with just their iPhone. The usability is seamless.
Apple is trying to keep users in the ecosystem
Few details were provided on how the person-to-person payments will work. However, an article from Recode indicates Apple is partnering with prepaid payment card company Green Dot (GDOT).
Apple is creating an Apple Pay Cash Card which can be linked to debit cards for free money transfers or credit cards for a 3% fee. This pricing is competitive with PayPal's Venmo person-to-person money transfer service.
The Apple Pay Cash Cards will likely become a place to store money you have received, as well as a place to store money you will give.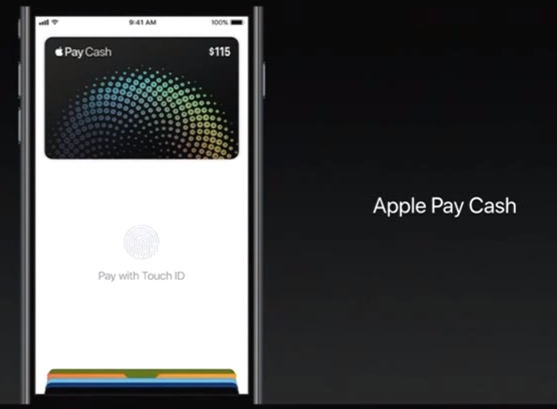 Source: WWDC 2017 Keynote
While the money on the Apple Pay Cash Card could be transferred to a bank account. We believe many users will keep a small balance, thereby staying in the Apple ecosystem.
Apple becomes a bank - storing cash balances
Juniper Research estimates Apple Pay had 45 million users in 2016 and forecasts it to have 86 million by the end of 2017 and 60% of total users from Apple Pay, Samsung (OTCPK:SSNLF) Pay, and Android Pay. Juniper also expects the trio to combine for over 500 million users by 2021. If Apple can maintain its 60% market share that would imply 300 million users.
If each user of Apple Pay on average stored $25 on the Apple Pay Cash Card, 300 million users would imply $7.5 billion in stored cash. While relative to the cash hoard Apple has on its balance sheet ($256 billion), this is small, but consider it an interest-free loan. Apple could add $75 million per year for every 1% interest it can generate on cash. During the last 3 years, Apple earned 1.73% on cash in 2016, 1.49% in 2015, and 1.11% in 2014.
Again, for Apple, this are small gains but all incremental.
Of course, to really add value, Apple wants these users to actually use that stored cash at a merchant or with them at the iTunes and App Stores.
The scenario we see potentially playing out
Apple Pay Cash Cards should be usable wherever Apple Pay is accepted. So regardless of this being more of a debit card than a credit card, it should be accepted like a credit card. But, since these are no longer credit card-based transactions, we would assume Apple will take a much bigger cut of the interchange. The credit card companies are bypassed or already paid at the time the Apple Pay Cash Card is loaded. Instead of getting 0.15%, as a report by the Financial Times, we believe Apple could see multiple increases, on payments not through a credit card.
How much could it be?
Currently, if a payment gateway provider like Stripe or PayPal processes a payment online, they take around 2.9% of the transaction value from the merchant for all card transactions. When that payment is processed using Apple Pay, Apple gets its 0.15% portion of that 2.9%. A substantial portion of the 2.9% is paid to Visa/MasterCard/AMEX depending on the type of credit card used. This can range from 1%-2.5%+. The rest is revenue for the payment gateway provider.
If Apple is going directly to the payment gateway provider with Apple Pay Cash Card, then Apple could split the interchange fee savings with the payment gateway provider.
In this scenario, Apple could increase its take rate to some amount between 0.15% and 2.9%.
Given Apple's negotiation power versus the payment processor, we assume Apple can get 1.5% of the 2.9% the payment processor is charging the merchant. The incremental benefit to Apple is then 1.35%.
At the end of the day, Apple could make 9 times more per Apple Pay Cash Card transaction than from a regular Apple Pay credit card transaction.
Potential financial impact - sensitivity analysis
In its first year, Apple Pay was used in $10.9 billion of transactions according to Apple Insider, during 2015. This level of volume was considered small at the time, especially with Apple only taking a 0.15% cut. That would have been only $16 million in revenue.
Market Intelligence estimates the top 4 person-to-person processors in the US processed $93 billion in 2015 up 28% y/y. While the data is a little dated, it shows the scale difference between Apple and the competition.
Now with Apply Pay available at 50% of US retailers by the end of 2017, we would expect a better start to their cash-based service.
In the 2Q17 earnings call, CEO Tim Cook said transaction volume is up 450% y/y continuing the trend from the 4Q16 earnings call, where he said
"Apple Pay transactions were up nearly 500% year-on-year for the September quarter. In fact, we completed more transactions in the month of September than we did across all of fiscal 2015."
For every 0.15%, Apple can increase its take rate with Apple Pay Cash, on $10 billion of transaction Apple can increase revenue by $15 million.
At 1.5% take rate on Cash, for every $10 billion transacted, Apple could make an incremental $135 million. This excludes the base 0.15% Apple would have made on a regular Apple Pay transaction.
When you consider Apple Pay is growing at 500% a year. You can see how big of a business this could be. In a few years, this could quickly become a $1 billion revenue opportunity.
Dropping to the bottom line
The cost of transactions with Cash is likely no different than a regular Apple Pay transaction from Apple's perspective. This means this incremental 1.35% drops to the bottom line. In a few years, Apple Pay Cash could add 2% to the bottom line.
The scenarios above are our opinions on how the economics could shake out. Actual results may differ. Apple could capture more or less than half of the transaction fee charged by payment gateways to merchants.
Conclusion
Apple Pay Cash Card is arriving during a time when Apple Pay is growing at 500% y/y. We forecast that for every $10 billion transacted with Cash vs. Credit, Apple could make an incremental $135 million or 9 times more. If this pace of Apple Pay growth continues, in a few years Cash could provide an incremental $1 billion in revenue mostly dropping to the bottom line.
Apple Pay Cash Card could add 2% to the bottom line in a few years.
To many reading, a billion dollars and 2% bottom line growth seems small for Apple. It goes to show, it is really hard to move the needle for Apple. But this is just one of many initiatives they are pursuing. Put together with some other projects like Apple Music, HomePods, AR, etc., and you can start to see the impact on the aggregate.
If you like our insight, please consider following us.