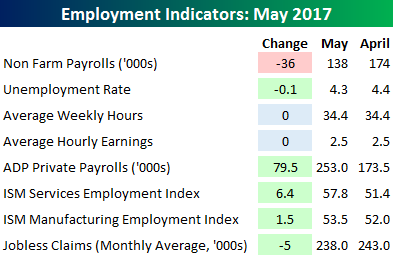 Leading up to each month's Non-Farm Payrolls (NFP) report, we always like to look at a variety of secondary employment-related indicators for a sign of what we might be able to expect from the main report. Because this month's payrolls report fell on the second day of the month, a number of the secondary indicators weren't released until after the actual report. However, in the accompanying table, we put together a compilation of them to show how they changed between April and May.
After last Friday's NFP report, we came across a number of stories suggesting that the miss in headline Non-Farm Payrolls was leading to skepticism on the part of investors regarding additional rate hikes following a widely expected hike in June. According to a Bloomberg story, "investors increasingly doubt the central bank's projection for additional hikes following soft reports on U.S. employment and inflation." What was puzzling about this line of reasoning was that despite the weaker-than-expected headline reading in Non-Farm Payrolls, every other indicator we tracked in our table to the right was either in line with or ahead of expectations. Additionally, in the cases of ADP Private Payrolls and the Employment component of the ISM Services report, the margin of upside surprise was actually quite strong.
In fact, in May's ISM Services report, the Employment component printed its fifth-highest level in the history of the report (since 1997) and the best single month in nearly two years (July 2015). Yes, NFP was on the weak side, but with every other indicator coming in line or to the upside, it's hard to call the labor market soft. Also, keep in mind that this table didn't include the most recent JOLTS report for April, which hit an all-time high.
Thanks for reading the article. Follow our account to get our articles as soon as they're posted to Seeking Alpha. To get our full newsletter, sign up for Bespoke Newsletter PRO. Subscribers to that service get access to Bespoke's model stock portfolios, actionable data-driven insights, and in-depth analysis of everything that drives the markets, among other things.