European equities have appreciated 14.5% YTD, driving over $13bn inflows to European equity ETPs. We are positive on Eurozone equities as earnings momentum and increased economic activity combined with attractive valuations and low investor participation could provide support to the asset class. With recent elections lessening political risk in the near term, key risks to monitor include a slowdown in global reflation, compression of the yield curve and euro volatility.
After a year of $34bn outflows in 2016, European equity ETPs have gathered just over $13bn globally in 2017 on the back of a 14.5% appreciation YTD of the MSCI Europe index.1 We continue to have a positive view on Eurozone equities due to a combination of stronger growth and earnings momentum, attractive valuations, light investor positioning, and diminishing political risk.
Earnings recession is over: Eurozone equities are experiencing a strong earnings season - EPS beats are the best in 7 years.2 The recent rebound in economic activity has helped improve the profitability of cyclical names. In addition, headwinds from recent years including extremely low inflation and weak emerging markets growth, seem to be abating. Earnings revisions are accelerating at one of the fastest rates in developed markets and could drive Eurozone equities' performance.
Figure 1. Exiting an earnings recession
Eurozone earnings revision ratio vs. 12M Forward Earnings, 2012-2017 (bar and line)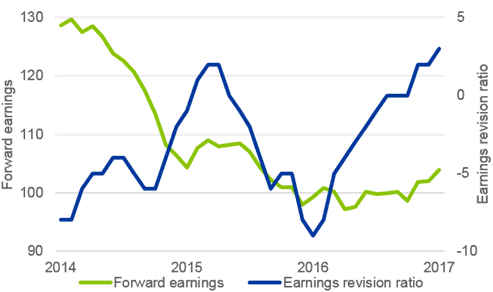 Source: BlackRock, Thomson Reuters, IBES, as of May 11 2017.
Notes: The index represented is the MSCI European Economic and Monetary Union (EMU) index. Earnings revision ratio is a 3 month moving average. Forward earnings are based on IBES estimates
Leading indicators of Eurozone growth have picked up to multi-year highs: The relatively weaker euro and improving sentiment has increased economic activity. Leading indicators are at multi year highs and our BlackRock GPS suggests that this momentum is likely to continue.
Figure 2. Encouraging macro signals
OECD leading indicator and Manufacturing PMI, 2012-2017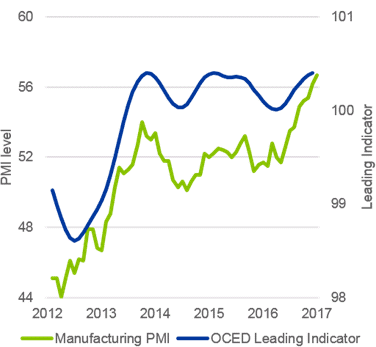 Source: Thomson Reuters, Markit, OCED, as of May 11, 2017.
Notes: The OCED leading indicator is an amalgamation of economic and survey data that creates an indicator for future growth conditions.
Valuations and positioning remain attractive: Since the French election, cash has come off the sidelines and into Eurozone equities. Still, on a P/B basis, Eurozone equities have been trading close to historical lows vs. broad developed markets. With regards to positioning, although the improving backdrop has led to some inflows in recent weeks, investor participation in the region remains low, especially after post-Brexit outflows, which outpaced those during the euro crisis.
Figure 3. Attractive valuations and light positioning
Europe vs. world discount and quarterly ETP flow, 2012-2017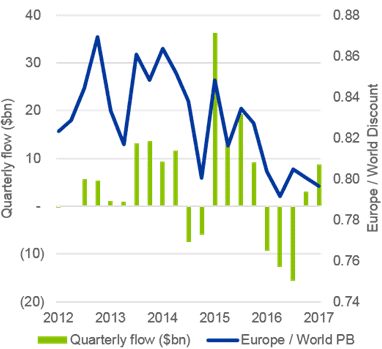 Source: BlackRock, Thomson Reuters as of May 11, 2017
Notes: Discount is the quotient of the MSCI Europe P/B divided by the MSCI World PB. Fund flow is for globally listed ETPs.
Conclusion
The defeat of anti-EU candidates in France and the Netherlands has greatly decreased political risk in the region. A slowdown in global reflation, flatter yield curves and sharp moves in the euro are factors to monitor going into 2017. That said, we expect the region to fare well in a better global growth environment and find current valuations to be a potential attractive entry point into Eurozone equities.
1 Source: BlackRock, Thomson Reuters, as of May 11, 2017. Notes: Performance is quote from MSCI Europe index.
2 Source: Bloomberg, UBS, as of May 2017.
Carefully consider the Funds' investment objectives, risk factors, and charges and expenses before investing. This and other information can be found in the Funds' prospectuses or, if available, the summary prospectuses, which may be obtained by visiting the iShares Fund and BlackRock Fund prospectus pages. Read the prospectus carefully before investing.
Investing involves risk, including possible loss of principal.
This material represents an assessment of the market environment as of the date indicated; is subject to change; and is not intended to be a forecast of future events or a guarantee of future results. This information should not be relied upon by the reader as research or investment advice regarding the funds or any issuer or security in particular.
The strategies discussed are strictly for illustrative and educational purposes and are not a recommendation, offer or solicitation to buy or sell any securities or to adopt any investment strategy. There is no guarantee that any strategies discussed will be effective.
The information presented does not take into consideration commissions, tax implications, or other transactions costs, which may significantly affect the economic consequences of a given strategy or investment decision.
This document contains general information only and does not take into account an individual's financial circumstances. This information should not be relied upon as a primary basis for an investment decision. Rather, an assessment should be made as to whether the information is appropriate in individual circumstances and consideration should be given to talking to a financial advisor before making an investment decision.
International investing involves risks, including risks related to foreign currency, limited liquidity, less government regulation and the possibility of substantial volatility due to adverse political, economic or other developments. These risks often are heightened for investments in emerging/ developing markets or in concentrations of single countries.
The Funds are distributed by BlackRock Investments, LLC (together with its affiliates, "BlackRock").
The iShares Funds are not sponsored, endorsed, issued, sold or promoted by Barclays, Bloomberg Finance L.P., Cohen & Steers Capital Management, Inc., European Public Real Estate Association ("EPRA® "), FTSE International Limited ("FTSE"), India Index Services & Products Limited, Interactive Data, JPMorgan Chase & Co., Japan Exchange Group, MSCI Inc., Markit Indices Limited, Morningstar, Inc., The NASDAQ OMX Group, Inc., National Association of Real Estate Investment Trusts ("NAREIT"), New York Stock Exchange, Inc., Russell or S&P Dow Jones Indices LLC. None of these companies make any representation regarding the advisability of investing in the Funds. BlackRock is not affiliated with the companies listed above.
Neither FTSE nor NAREIT makes any warranty regarding the FTSE NAREIT Equity REITS Index, FTSE NAREIT All Residential Capped Index or FTSE NAREIT All Mortgage Capped Index; all rights vest in NAREIT. Neither FTSE nor NAREIT makes any warranty regarding the FTSE EPRA/NAREIT Developed Real Estate ex-U.S. Index, FTSE EPRA/NAREIT Developed Europe Index or FTSE EPRA/NAREIT Global REIT Index; all rights vest in FTSE, NAREIT and EPRA."FTSE®" is a trademark of London Stock Exchange Group companies and is used by FTSE under license.
©2017 BlackRock, Inc. All rights reserved. BLACKROCK, BLACKROCK SOLUTIONS, BUILD ON BLACKROCK, ALADDIN, iSHARES, iBONDS, iSHARES CONNECT, FUND FRENZY, LIFEPATH, SO WHAT DO I DO WITH MY MONEY, INVESTING FOR A NEW WORLD, BUILT FOR THESE TIMES, the iShares Core Graphic, CoRI and the CoRI logo are registered and unregistered trademarks of BlackRock, Inc., or its subsidiaries in the United States and elsewhere. All other marks are the property of their respective owners.
This post originally appeared on the BlackRock Blog.