On June 6th, the management team at Chesapeake Energy Corp. (NYSE:CHK) came out with a final tally of a tender offer it had initiated back in May. Seeing how the results throw into question management's prior goal of decreasing debt, I figured it would be interesting to look at what ended up transpiring and giving my final thoughts on the deal and what it should mean for investors in the business moving forward.
A look back
Very briefly, I'd like to just mention what all happened last month. You see, on May 23rd, I published an article (I recommend you read it for more details) wherein I covered management's decision to issue $750 million in additional notes in a private placement. The transaction resulted in an added chunk of debt being placed onto Chesapeake's books at a rate of 8% per year and the due date for that would be in 2027.
The idea behind this approach was that management could use the capital in order to engage in a tender offer of other notes. In general, I am a fan of this, especially if it means lengthening the maturity of long-term debt. But I prefer a discount on that debt or at the least nothing more than a modest premium (a premium can be justified if it means extending out when that debt is due by a few years). However, in my article, I mentioned there was uncertainty because we do not know which securities will be tendered and which won't be.
Management got what it wanted
Unlike in prior tender offers, the management team at Chesapeake got precisely what it pushed for. You see, in pretty much every case I've seen of any firm initiating a tender offer for notes, the end result is generally a mix of securities, some of which are more favorable to management and others of which are less favorable. In Chesapeake's case, however, it got only what it wanted the absolute most.
As you can see in the image below, the E&P firm had three different tiers of preference in its tender. First and foremost, the company wanted as much of its 8% Senior Secured Second Lien Notes due in 2022. It had no cap there. Below that, the company wanted some of its 6.625% 2020 notes and its 6.875% 2020 notes. Then, last but not the least, the company wanted to take a crack at its 6.125% 2021 notes and its 5.375% 2021 notes.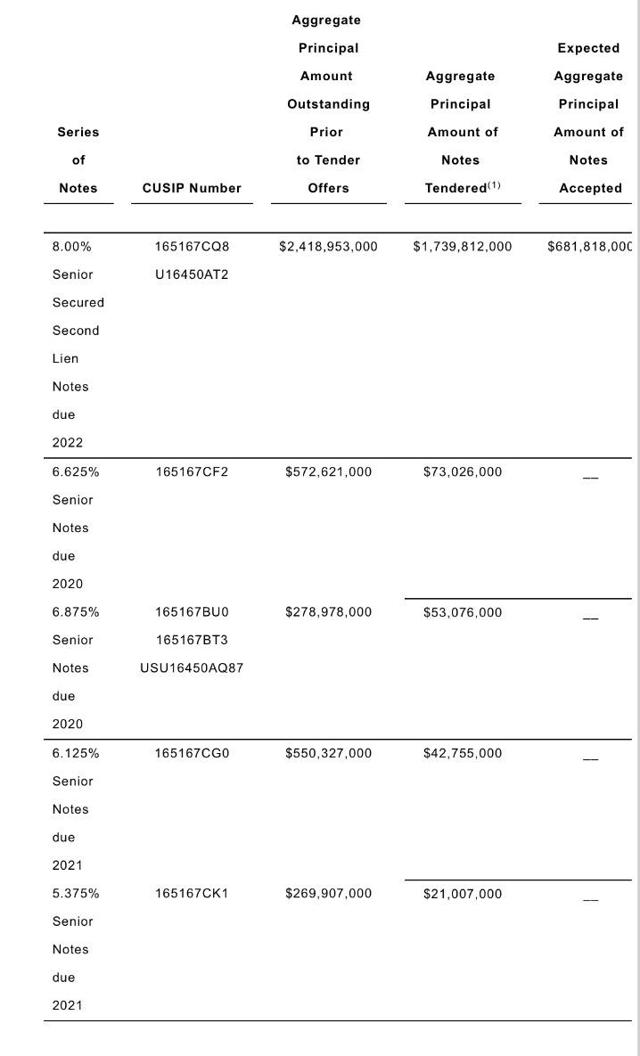 *Taken from Chesapeake
In order to lure debtholders to tender their units, however, the firm had to offer a specific price for their notes and, for each one, this price was different. That said, the highest offer was for a 10% premium (3.5% for an early tender and 6.5% for just a regular premium if tenders were made after-the-fact) for its 8% securities. I had warned in my article that this is a pretty penny to pay for debt that doesn't mature until 2022 (so it has plenty of time to wait), and it seems that the market reacted accordingly.
According to management, Chesapeake saw a total of $1.7398 billion of its $2.41895 billion worth of 8% notes tendered. This is approximately 71.9% of all outstanding notes and reflects the value that holders are receiving. For every $1,000 in notes tendered and accepted, Chesapeake will pay holders $1,100. That may be the largest premium I've seen in a situation such as this.
Due to the cap put into place by management, which calls for an aggregate purchase price on debt of $750 million, Chesapeake will only be able to buy back nearly $681.82 million worth of the notes. The difference here means that management is willingly taking on an extra $68.18 million worth of long-term debt onto the business's books. Even though this may not sound like a lot for Chesapeake, management had stated previously that its own goal is to reduce debt by between $2 billion and $3 billion over the next couple of years. Investor Relations has told me that such a move would almost certainly have to follow a meaningful asset sale (probably more than one), but now it has more work to do. On top of this, because of the difference in debt now, annual interest expense will increase, keeping all else the same, by $5.45 million compared to what it would have been if things had been left unchanged.
I can understand management doing this on shorter-term notes because that could literally mean the life or death of the firm, but it's hard to fathom notes that far out. After all, if energy prices don't recover, if costs and/or capital spending don't improve, and/or if management does not make a significant asset sale to either reduce debt or cover spending for the future, it's highly probable that Chesapeake, at current prices, won't survive until 2022. So what's the harm in letting that debt, if it had to pay the premium it offered, sitting on the books and to focus, instead, on something else?
Takeaway
Based on the data provided, it's pretty clear to me that Chesapeake saw this debt picture work out the way it wanted it to, but I'm still skeptical of the transaction. Extending maturities is a good thing, but the costs here just don't make me feel happy. Had the maturities been closer than 2022 and/or if the tender had been on different terms, I'd have been far happier, but that simply wasn't the case. Now, perhaps management will make another move that will make this seem insignificant and, if so, I will readily acknowledge my shortsightedness. But until I see that happen, I can't help but to be a little unenthusiastic about this picture because of its contradictory nature.
Disclosure: I/we have no positions in any stocks mentioned, and no plans to initiate any positions within the next 72 hours.
I wrote this article myself, and it expresses my own opinions. I am not receiving compensation for it (other than from Seeking Alpha). I have no business relationship with any company whose stock is mentioned in this article.