Wednesday, the Federal Reserve released the April Consumer credit growth data. And it was another splash of cold water in the face of the "Trump Reflation" school.
Consumer credit growth horribly missed expectations by economists. April saw only growth of $8.2 billion compared to an expected growth of $17 billion.
This was 50% below their estimates.
And this is far below March's revised $19.5 billion in credit growth...
The main source of credit growth, nonrevolving credit, which covers loans for education and cars, slowed sharply in April. This category rose at a tepid annual rate of 2.9% in April, which was also the slowest pace since August 2011 - MarketWatch
This is the slowest increase in consumer credit in the last 6 years.
After a disappointing Q1/2017, economists were hoping for a second-quarter rebound in spending. But this leaves them biting their nails.
The United States is a consumption-based economy. Roughly 70% of economic growth stems from consumer spending. And with Americans already choking on debt, it is looking dismal that they can continue borrowing more to consume more.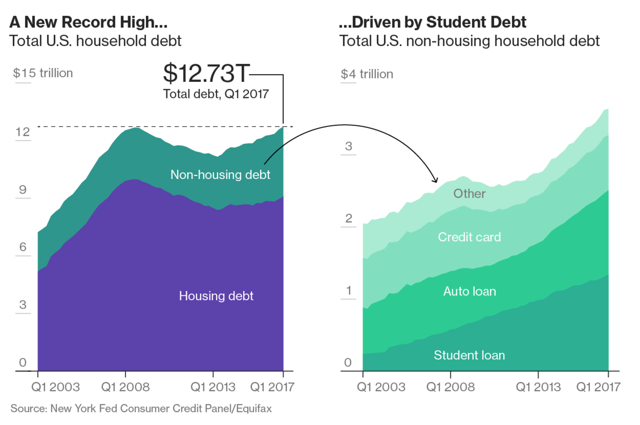 And just as I highlighted last week, the Commercial and Industrial (C&I) Loans market is signaling further growing concerns.
A tightening Fed is only putting individuals under greater stress.
Since 2009, borrowers have been addicted to the notion of simply refinancing their debt to get lower payments. But with interest rates rising, many won't be able to anymore. And unless asset prices continue to rise or real wages make miraculous year-over-year growth, they are left far more fragile to any minor financial hiccups.
A survey by UBS Group AG found that the pain may spread to other loan types. In the first quarter, 17 percent of U.S. consumers said they were likely to default on a loan payment over the next year, up from 12 percent in the third quarter, before the election, wrote strategists Matthew Mish and Stephen Caprio.

The percentage of debt that's at least 90 days delinquent rose to 3.37 percent in the first quarter, the second consecutive quarterly gain, according to data from the New York Fed. It's the first time those delinquency figures have risen twice in a row since the end of 2009 and beginning of 2010 - Bloomberg
Highlighting this fragility was further realized from a 2016 Federal Reserve report. I take such sampled surveys with a grain of salt, but the findings were staggering. . .
After surveying Americans, they found that nearly 50% could not come up with $400 for an emergency expense, or would need debt to cover it. And about one-third of the surveyed are simply "just getting by," or worse, "struggling to just get by" day-to-day. Also discovered was that 75% of the surveyed believed that credit would be readily available for them if they needed it. I found this most interesting.
It's very dangerous for consumers to borrow and spend with the confidence they can access more credit whenever need be. But I suppose after nearly a decade of cheap debt, this expectation is the norm.
With C&I loan originations and consumer credit growth missing expectations, it is important to monitor these numbers in the future. Because these flat and downward trends are far from signaling a growing economy.
Or even a healthy and confident consumer at that.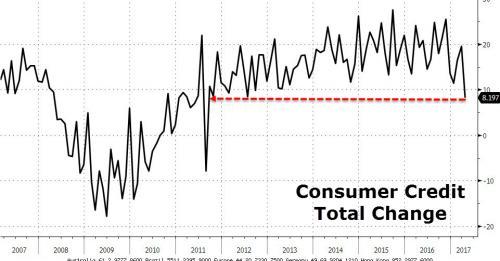 Disclosure: I am/we are short SPY, F.
I wrote this article myself, and it expresses my own opinions. I am not receiving compensation for it. I have no business relationship with any company whose stock is mentioned in this article.