Background
According to research at the National Institute of Health, global life expectancy is projected to increase by almost eight years (from 68.6 years in 2015 to 76.2 years in 2050). Moreover, the number of people aged 80 and older (in some Asian and Latin America countries) are expected to increase as much as four fold by the same year. With the aging world population comes the rising demand for personal wellness products (aka herbal/dietary supplements) to service the degenerative diseases (like osteoarthritis or the usual "wear and tear") that come with aging. That being said, USANA Health Sciences (NYSE:USNA), a firm based in Salt Lake City, Utah, is poised to capture this niche of growing demand.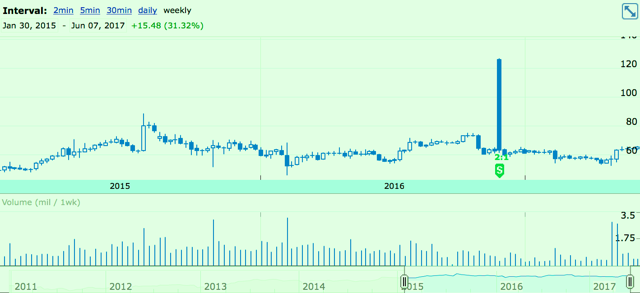 Source: Google Finance
And with the recent completion of its China manufacturing facility, USANA is gearing up for continuing its explosive growth in the Asia-Pacific regions. Of note, the Asian demographics tend to consume more herbal supplements than elsewhere in the world due to their cultural receptiveness toward complementary and alternative medicine. As a result, the oriental environment created the highly favorable market (and reinforced the entrenched moat) for USANA's business operations.
Low Costs/Less Regulatory Oversees
In contrast to a developmental-stage biopharma (that usually incurs approximately $1B to innovate a therapeutic from bench research to commercialization in a decade-long process), firms selling supplements like USANA have key advantages. Notably, there are no strict regulatory hurdles that can hamper corporate growth. Hence, the company is not required to run its products through the time-consuming and cost-burdening process of clinical studies (that are requisites for a biotech firm).
Aside from the minor manufacturing and other quality measures, USANA has very few regulatory constraints. Accordingly, the firm can rapidly launch its products with just the following compliance label:
"These statements have not been evaluated by the Food and Drug Administration. This product is not intended to diagnose, treat, cure or prevent any disease."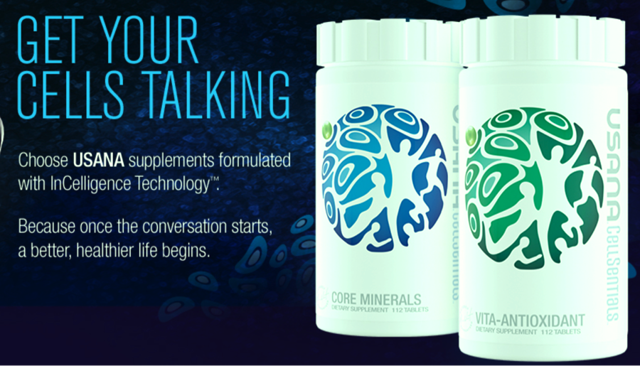 Source: USANA
About The Company
Thriving in a less stringent overseeing environment, USANA differentiates itself from competitors due to its sound business model. Founded in 1992 by Myron Wentz, Ph.D., the company "develops and manufactures high-quality, science-based, nutritional and personal care products with the goal of promoting long-term health and reducing the risks of chronic degenerative diseases." Operating in 20 markets worldwide, the firm delivers its products through the direct selling to preferred customers as well as the sales distribution to associates. As of Dec. 31, 2016, there are 471,000 active associates and 93,000 preferred customers worldwide.
Capturing The Strategic Market
As alluded, the Asian markets have extensive sales growth opportunity (and USANA has been campaigning to capture an increasing presence in this niche). As the fruits of its labor are realized, the company generated more than 75% of the total sales in Asia-Pacific in 2016. It is worthwhile to reiterate that as part of Asia-Pacific, the Chinese market has a vast number of highly receptive customers. And the recent completion of its manufacturing facility in China well positioned the firm for continued sales growth.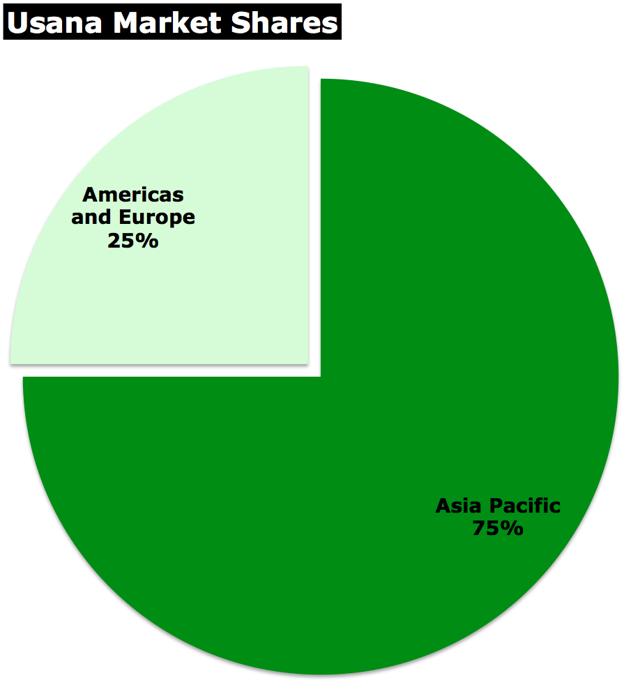 Source: Dr. Tran BioSci Advisory
For the period ending on Dec. 31, 2016, USANA reported a 15.3% increase and a 1% decrease in sales associates for Asia Pacific and Americas/Europe, respectively. For the same period, active preferred customers in the former region increased by 11.5% while those in the latter area were only 1.6% higher. With more sales associates and preferred customers, this translates into higher sales: 18.3% and 3.1% for Asia Pacific and Americas/Europe, correspondingly.
Stellar Brand Recognition/Product Awareness
Geography aside, the other growth catalyst for USANA resides in its stellar research and development, as well as its strong relationship with key scientists and research institutions. And by utilizing in-house manufacturing, the company ensures that only top quality products are being produced. Of noteworthy, quality is the key driver for continued brand awareness and sales growth.
Interestingly, USANA employs Olympic athletes for products promotion, which greatly fosters brand awareness and adoption. Perhaps, one of the greatest recipes for the firm's marketing success is its strategic sponsorship of Dr. Oz's show. With appropriate incentives, the flamboyant MD has been aggressively campaigning for USANA products. Any fan of Mehmet Oz can attest to his prodigious salesmanship. If he promotes a new product, sales volumes will be catapulted to a record high.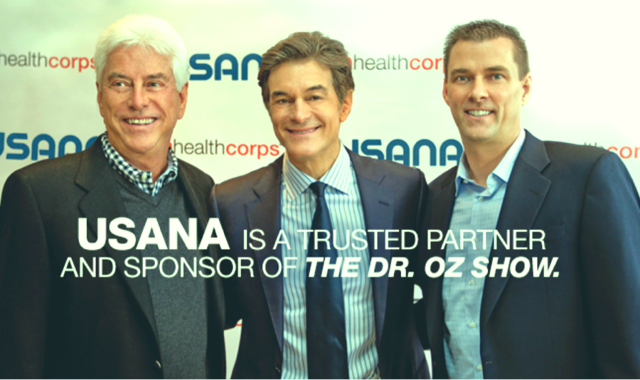 Source: USANA
Healthy Financials
Similar to the strength of its business moat, the company's financial metrics are also quite impressive. For fiscal 2016, the firm generated one billion dollars in revenues. More than 75% of which came from Asia Pacific, as alluded to. During the same period, the company spent $687M and procured $100M in net earnings.
Cash and equivalents also strengthened (from $143M in 2015 to $176M in the subsequent year). Furthermore, total debts remain nearly constant at $145M. As USANA is generating the ample cash cushion, it is not surprising that the shares outstanding remain roughly constant at 25M counts for the past five years. There is also no need for dilutive financing when revenues and working capital are growing aggressively while operational spending remains modest.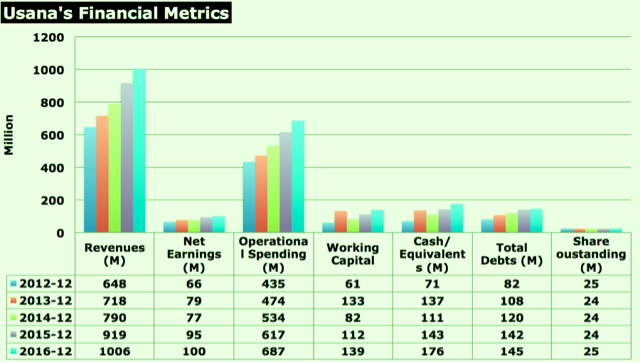 Source: Dr. Tran BioSci Advisory
Taken as a whole, the overall trends in revenues, net earnings, working capital, cash and shares outstanding (as indicated in the figure above) are all highly favorable. Those financial metrics signify that the company is healthy and growing aggressively.
World-Class Management
Chairman and Independent Director Myron W. Wentz, Ph.D., commenced his career as a microbiologist and immunologist. In 1974, he founded Gull Laboratories. Three years later, several of his diagnostic viral assays were FDA approved. Nearly three decades after his initial venture, the enterprising scientist sold his business to start USANA Health Sciences. Furthermore, Wentz's achievement spans beyond the dietary supplements and viral assays: he started Sanoviv Medical Institute (a holistic medical facility with full hospital accreditation located in Baja California). As a philanthropist, the chief also founded two medical centers/laboratories in Uganda and Cambodia (to alleviate the suffering of children afflicted by infectious diseases).
Market Outperformance
The stated cumulative results of strong moats, solid business foundation, stellar management, and continued growth have been handsomely rewarding shareholders. For half a decade, USANA has outperformed competitors as well as the market benchmark (S&P 500) by as much as 400% and +230% in share price appreciation, respectively.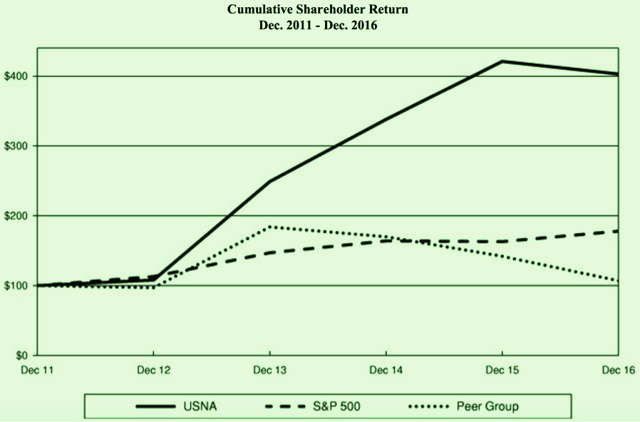 Source: USANA 2016 Annual Report
Potential Risks
According to the world renowned investor Peter Lynch, investing is both an art and a science. Therefore, no precision and accuracy can be guaranteed. That being said, despite promising prospects, investors should be aware of the baseline investing risks in USANA. Since China generated the most sales, certain regulatory changes relating to the direct selling and multi-level marketing can adversely affect operational outcomes. Furthermore, there are strong competitive pressures from Nu Skin Enterprises (NUS), Amway International, and Herbalife (HLF). Needless to say, we expect USANA's entrenched moat to help the firm in maintaining its competitiveness for years to come.
Conclusion
As the leader in the highly profitable personal wellness products market that has a strong moat, USANA is still in its aggressive growth phase. Started by a world-class scientist, the company marketed its products via elite athletes and stellar salesmanship (as well as the low cost and strong reputation of its sales associates). It is important for readers to be cognizant that a supplements business thrives on stellar marketing (and USANA is employing marketing approaches that are second to none). Additionally, the nature of the supplements business enabled it to bypass the high regulatory hurdles inherent to the biopharmaceuticals industry. As a result, this enabled the firm to promptly launch new products while incurring the lower costs of innovation and marketing (and to enjoy a premium profits margin).
Furthermore, the financial analysis suggests that USANA is aggressively expanding with healthy growth metrics. Despite being a highly profitable firm, the company is on sales at a bargain, as indicated by its P/E of 17. Last but not least, we expect the company to continue to generate substantial sales growth (and to reward the patience and intelligent shareholders) as the firm deepens its campaign into Asia-Pacific.
If you enjoy reading our research, be sure to click the follow button for latest insights. To receive premium coverage, please visit us at Dr. Tran BioSci Advisory.