I recently purchased a position in Pfizer (NYSE:PFE), mainly for its attractive dividend which has good growth potential, as well as due to the fact that Pfizer looks pretty inexpensive right now.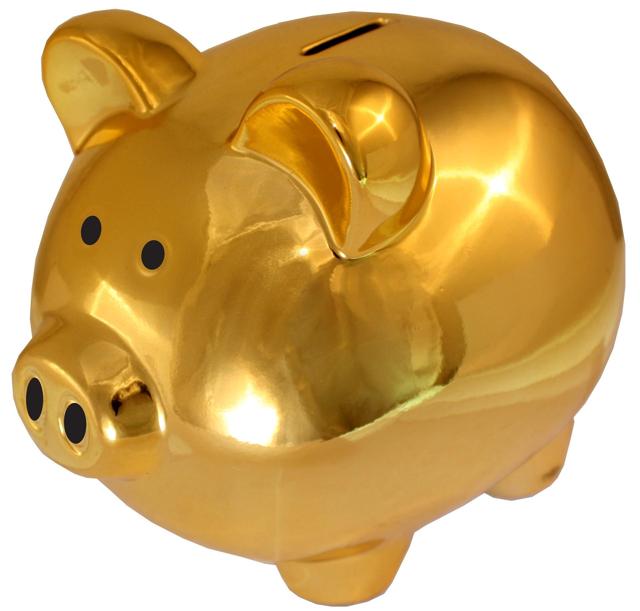 Pfizer had a good dividend growth story for decades, with two hiccups in between: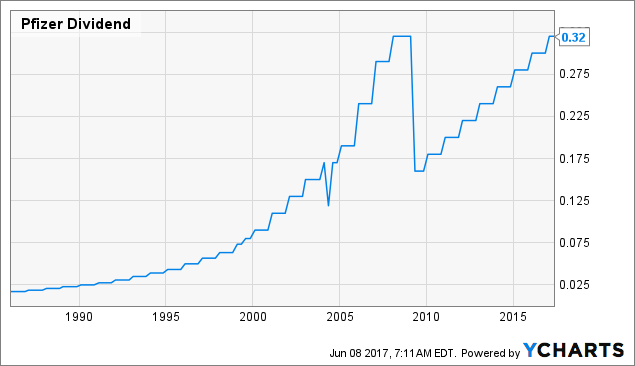 PFE Dividend data by YCharts
Pfizer cut its dividend substantially in 2009 when the company acquired Wyeth and wanted to focus on reducing its debt pile for a while, but has since raised its dividend each year.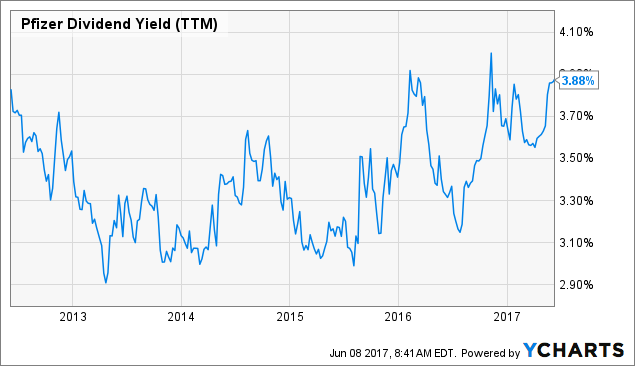 PFE Dividend Yield (TTM) data by YCharts
Pfizer's dividend yield is pretty high right now, the company's trailing dividend yield is 3.9%, which is almost the highest level in five years, the company's dividend yield based on the current payout of $0.32 per quarter is even higher though, at 4.0%.
That is more than twice the yield investors get from the broad market, and also much more attractive than holding Treasuries: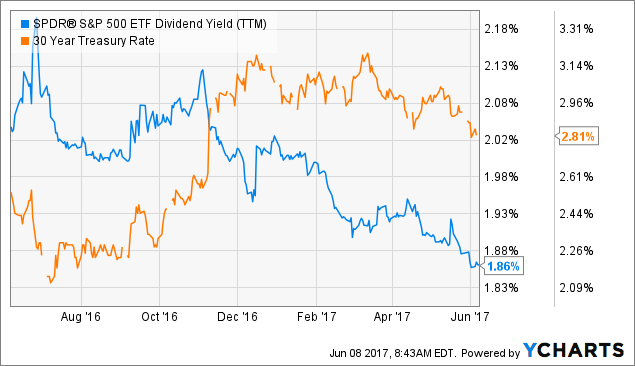 SPY Dividend Yield (TTM) data by YCharts
210 base points more than what investors can earn from the broad market, and 120 base points more than what we can get from 30 year Treasuries sounds like a very good reason to enter a position in Pfizer.
Pfizer has made two dividend payments at $0.32, thus after the next two payments another raise is in store. Pfizer has raised its payout by $0.02 in each of the last years, another raise by that amount would be equal to a 6.3% dividend growth rate and would bring Pfizer's dividend yield to 4.3%. When we further include the impact of dividend reinvesting (which means our share count would rise by 4% over the next year), our total dividend proceeds would rise by a little more than ten percent for a yield on cost of 4.4% after just one year.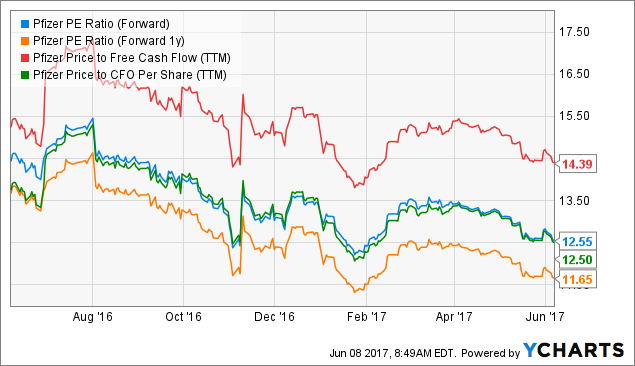 PFE PE Ratio (Forward) data by YCharts
Pfizer's valuation is relatively low right now, the company's shares trade at 12.6 times this year's earnings and 11.7 times next year's earnings. Even if earnings do not grow at all beyond 2018, investors could expect a total return in the high single digits, since Pfizer's earnings yield is 8.5% -- that's what Pfizer could theoretically return to its owners via dividends and stock buybacks.
Based on trailing cash flows Pfizer looks inexpensive as well, shares trade at 12.5 times operating cash flows and 14.4 times FCF, which means a free cash flow yield of 7% -- we see that the company's dividend payout of 4% is well covered by Pfizer's cash generation (much better than with many other income stocks).
Pharma companies sometimes come into a phase where growth is stalling, but Pfizer is trying its best to generate future growth organically: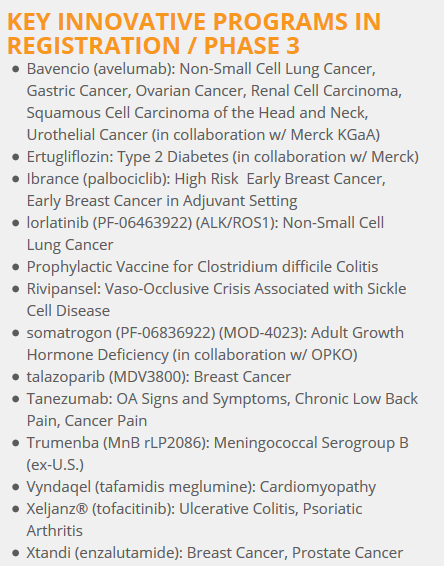 These are the company's current phase III programs, we see that Pfizer is investigating 13 different agents, many of those in several indications. Additionally Pfizer is investigating six different biosimilars (in phase III alone), among them biosimilars to (mega-) blockbusters such as Humira (NYSE:RA) and Herceptin (breast cancer).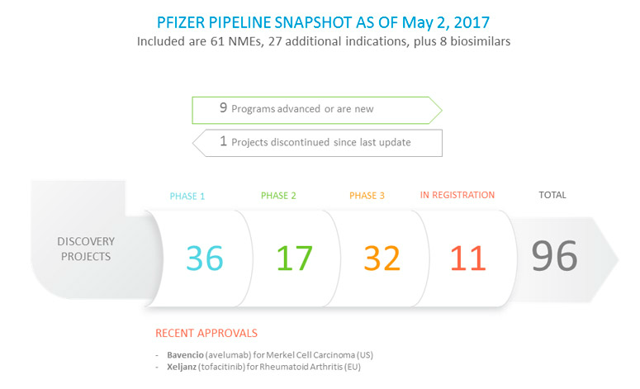 With a total of 32 phase III studies and 11 indications being close to approval, the outlook for Pfizer is not too bad. Pfizer also could make another big acquisition in the near future, as the $160 billion Allergan (NYSE:AGN) deal Pfizer was aiming for has not went through and Pfizer has held back since (apart from smaller acquisitions).
Takeaway
Pfizer provides a secure dividend that yields more than twice what investors can get from the broad market, and with a foreseeable growth trajectory that 4% yield was attractive enough for me to buy shares this week.
Pfizer's growth is not explosive, but with a deep pipeline the outlook is not bad for the company, whose shares are trading at a very inexpensive valuation -- despite the broad market pushing all time highs.
Author's note: If you enjoyed this article and would like to read more from me, you can hit the "Follow" button to get informed about new articles.
Disclosure: I am/we are long PFE. I wrote this article myself, and it expresses my own opinions. I am not receiving compensation for it (other than from Seeking Alpha). I have no business relationship with any company whose stock is mentioned in this article.