The past couple of years have been terrible for tactical managed ETF portfolios. As broad market indices have continued to move higher, the vast majority of strategies employing a tactical mandate have struggled to generate a positive rate of return. As a result, many of these managers have suffered startling losses in Assets Under Management (AUM), and investors have grown increasingly skeptical of this approach.
In this article, we will explain to our readers what has taken place and why, and further establish simple, yet efficient guidelines for how investors can optimize and implement tactical strategies going forward. We will even provide a step-by-step illustration of an elementary tactical portfolio proven to provide long-term outperformance over equity benchmarks, while taking on considerably less risk and volatility.
Little more than three years ago, tactical managed ETF portfolios were the most rapidly growing segment in the investment industry, increasing from $27 billion in assets under management (AUM) in 2011 to more than $100 billion by the middle of 2014, according to Morningstar. Then the unthinkable happened. The two largest asset managers in the space imploded. F-Squared at one point commanded more than a quarter of the category's assets, with $28 billion in AUM, as of September, 2014. In 2015, they filed for bankruptcy and lost 86 percent of their AUM in a year. Good Harbor, whom at their high was managing nearly $11 billion in AUM, suffered from poor performance, down -20.04% in 2014 when the S&P finished up +13.69%, and lost 83 percent of their AUM in a year.
Considering that the majority of tactical investors placed their bets with either of these two high-flying firms, it should come as no surprise that when you bring up "tactical" to the experienced advisor or individual investor, you might as well have insulted their mom and could very well walk away with a punch to the gut. Many investors in this space experienced lagging returns, or at worst got seriously burned by leveraged tactical strategies that in rising, more stable markets had looked unstoppable. Understandably, this has led the masses to fall back on the belief that tactical management does not work, chalking the approach up to little more than yet another failed attempt at market timing.
In 2013, I submitted a partial manuscript to Wiley for a proposed book discussing the burgeoning tactical marketplace. Within a month, I received a book deal to write,"Asset Rotation" (published in 2014). Ironically, since that time, tactical strategies once supported by more than 30 years of historical analysis, have failed to deliver for investors. The reality is that the investment landscape has changed and in this environment tactical strategies that do not account for these changes should be expected to post lagging, if not negative rates of return.
The success of any rotational discipline is dependent on the presence of relative stability in underlying market trends. Typically, even in more difficult stock market environments, there are sectors and asset classes generating stable returns. This has not been the case in recent years. I discussed this in depth in an article I wrote early last year, Why 2015 Was The Worst Market In The Past 25 Years.
Consider further the instability we have seen in the bond markets over the past several years. For over 30 years we were in a declining interest rate environment, supportive of escalating bond prices and generally stable returns. As the fear of interest rate increases from record lows began to surface, Treasury prices have become highly unstable. This started a few years back, even though we didn't see our first rate increase in over a decade until December of 2015.
Recall in August of 2011, Standard & Poor's reduced the credit rating on long-term U.S. Treasuries from AAA to AA. It sent the equity markets reeling, down -12% over the next two months, when ironically the iShares 20+ Year Treasury ETF (TICKER: TLT) shot up over +22%! After posting all-time highs by mid-2012, little more than a year later, in 2013 TLT had lost nearly -30%. Then TLT went on to post of total return of +27.48% in 2014, when the S&P 500 itself was only up +13.69%. In 2015, TLT posted a modestly negative rate of return, down -1.59%, which may not sound too bad, but the volatility spiked significantly. TLT began the year up +9.29% in January, then abruptly fell by nearly -6% the following month. In 2016, we continued to see extreme price instability in TLT. By July shares had once again achieved all-time highs, with a prices over $143/share, only to collapse to as low as $116 by year-end.
Gross instability between risk assets and traditional flight to safety assets such as Treasuries has wreaked havoc on tactical strategies in recent years. Further lack of stability in the underlying equity sectors of the market has only made things worse. It's not like anyone thought this environment was impossible, it's just that in more than 30 years prior to this point, these conditions never existed with any degree of permanence. The Achilles heel for any tactical approach that can either be fully invested in stocks or bonds, is a market environment with whipsawing price action between risk and flight to safety assets. Things get even worse when underlying sector trends are unstable. We've obviously now seen these conditions manifest themselves over an extended period, at which point, revisiting process becomes paramount.
Once you're able to put the landscape of the global markets over the past few years into context, it becomes surprisingly easy to see how we can avoid these pitfalls going forward. The more eligible securities a tactical portfolio has in its investment matrix, the greater the chance it will lag in a whipsawing environment. This can also dramatically increase trading costs. Additionally, if a strategy has the ability to either go completely in or out of an asset class, the chances of incurring losses in unstable environments is much greater. Conversely, tactical strategies with a limited number of holdings and eligible securities, that also hedges by maintaining exposure to both asset classes, produces far superior risk-adjusted returns - even in unstable environments.
As we have done in previous articles, we'll illustrate these points with a very basic model portfolio. Keep in mind this is not a recommended strategy, rather this model illustrates our key points in their root simplicity.
Basic Global Tactical Portfolio Construct:
Holds 3 securities at all times
2 Potential Allocations: 66.6% Equities / 33.4% Treasuries or 33.4% Equities / 66.6% Treasuries
Basic Single-Factor Screen: Hold the 3 best performing securities over the trailing 3-month period
Monthly Evaluation / Potential Reconstitution: Portfolio holdings are reviewed monthly on the last trading day of the month and potential changes are made at this time
If there are no changes made to the holdings, the portfolio is NOT rebalanced
Benchmark: MSCI World Index
Model Performance: 1/1/2003 - 5/31/2017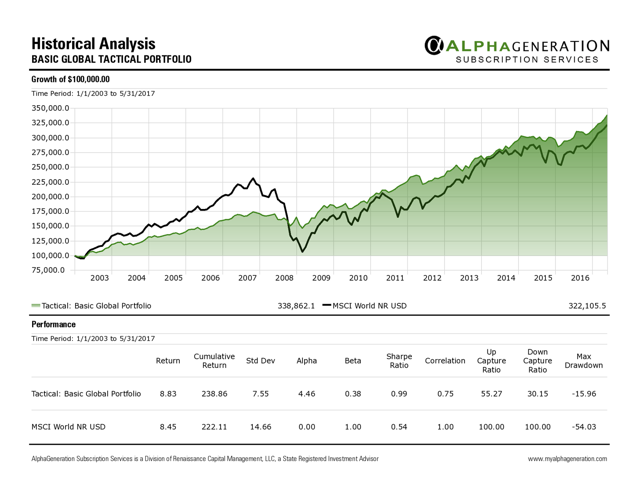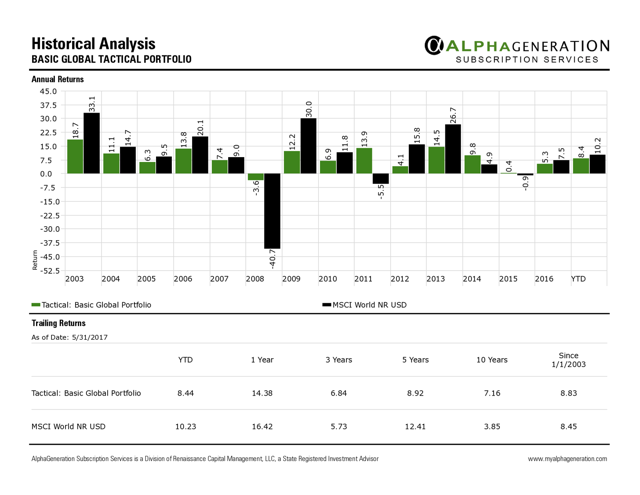 HIGHLIGHTS:
Average Annual Return: 8.83 vs 8.45
Standard Deviation: 7.55 vs 14.66
Alpha: 4.46 vs 0.00
Beta: 0.38 vs 1.00 (62% less risk)
Sharpe Ratio: 0.99 vs 0.54
Correlation: 0.75 vs 1.00 (75%)
Max-Drawdown: -15.96 vs -54.03
2008: -3.6 vs -40.7
2011: +13.9 vs -5.5
2015: +0.4 vs -0.9
Model Performance: 10 Years (6/1/2007 - 5/31/2017)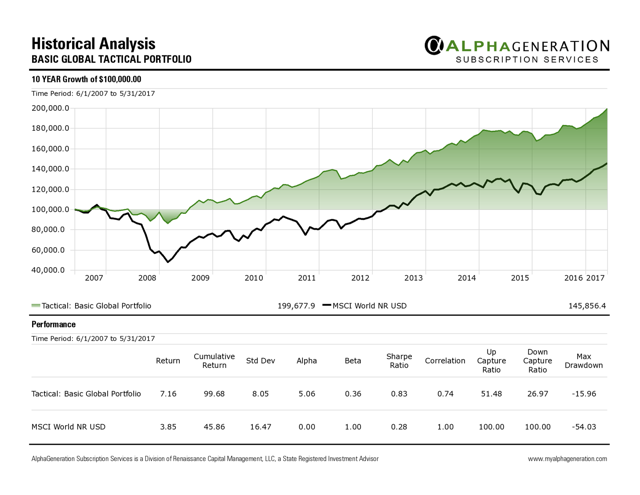 HIGHLIGHTS:
Average Annual Return: 7.16 vs 3.85
Standard Deviation: 8.05 vs 16.47
Alpha: 5.06 vs 0.00
Beta: 0.36 vs 1.00 (64% less risk)
Sharpe Ratio: 0.83 versus 0.28
Correlation: 0.74 vs 1.00 (74%)
Max-Drawdown: -15.96 vs -54.03
Model Performance: 5 Years (6/1/2012 - 5/31/2017)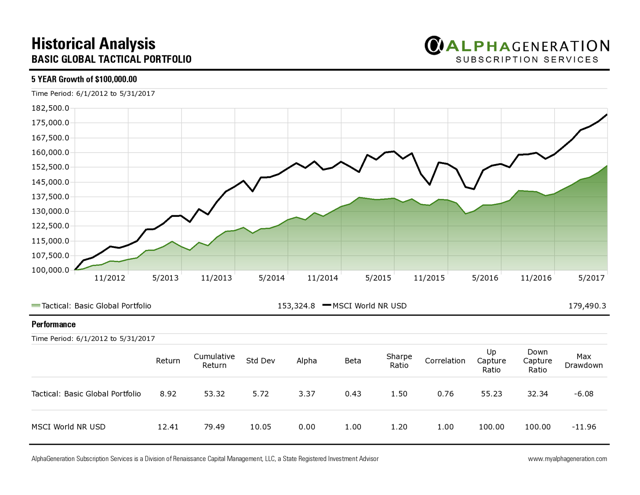 HIGHLIGHTS:
Average Annual Return: 8.92 vs 12.41
Standard Deviation: 5.72 vs 10.05
Alpha: 3.37 vs 0.00
Beta: 0.43 vs 1.00 (57% less risk)
Sharpe Ratio: 1.50 vs 1.20
Correlation: 0.76 vs 1.00 (76%)
Max-Drawdown: -6.08 vs -11.96
Model Performance: 3 Years (6/1/2014 - 5/31/2017)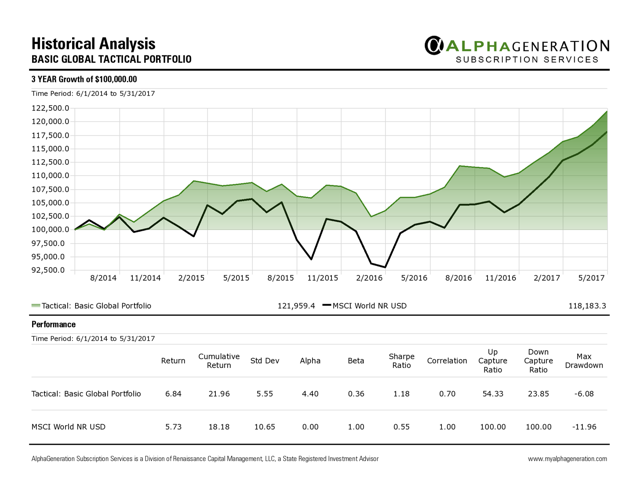 HIGHLIGHTS:
Average Annual Return: 6.84 vs 5.73
Standard Deviation: 5.55 vs 10.65
Alpha: 4.40 vs 0.00
Beta: 0.36 vs 1.00 (64% less risk)
Sharpe Ratio: 1.18 vs 0.55
Correlation: 0.70 vs 1.00 (70%)
Max-Drawdown: -6.08 vs -11.96
OBSERVATIONS
Over these highlighted measurement periods, our Basic Global Tactical Model Portfolio demonstrated:
Dramatic risk-adjusted out-performance versus the MSCI World Index
Roughly 1/2 of the volatility of our benchmark equity index
Alpha ranging from 3-5
Consistently less risk, 57-64% less than our benchmark
This model portfolio may never go more than 2/3 into equities. Therefore, it's no surprise that this basic elementary strategy underperformed in 2012 and 2013 (when equity markets were surprisingly strong).
SUMMARY
The vast majority of tactical strategies employing a tactical mandate have dramatically underperformed in recent years. As we know now, there are obvious reasons for this. Instability in underlying market trends in recent years has significantly hurt tactical strategies with larger numbers of eligible securities. Additionally, those with the ability to go either 100% in or out of an asset class have been whipsawed, and generally generated a negative rate of return for investors. However, when taking into consideration the potential ongoing persistence of this environment, investors can very easily adapt and employ tactical strategies that can not only generate superior risk-adjusted outperformance despite underlying instability, but that have also proven to generate top-line outperformance over longer term time horizons.
Considering what has happened to many of our industries most prominent tactical strategies over the past couple of years, it's easy to see why many investors have abandoned this segment of the market. Yet here we are, with the equity markets setting all-time highs and our risks for a significant market decline on the rise, at a time when a tactical portfolio may very well prove to be one's most worthwhile allocation.
It's been over eight years since the S&P 500 Index has posted a negative annual return. The record for consecutive annual gains currently stands at 9 years, and that has only happened once in more than a century. It only makes sense that investors should attempt to construct an overall portfolio that integrates strategies mindful of relative downside risk mitigation, but even more so now with the risk of incurring significant losses on the rise.
In this article we've outlined an extremely rudimentary tactical portfolio with a proven track record of superior performance. We recognize for some, the dramatic risk-adjusted outperformance illustrated may seem too good to be true. That is why we kept our model portfolio simple, so that it could very easily be authenticated. At which point, it only makes sense than by adding additional screening criteria and layers to this root methodology, one can improve upon these returns dramatically. For further examples, click here.
Disclosure: I am/we are long IWV, TLT, EFA.
I wrote this article myself, and it expresses my own opinions. I am not receiving compensation for it. I have no business relationship with any company whose stock is mentioned in this article.