Thesis
Macy's (NYSE:M) is offering a dividend yield that is looking very attractive, and at least for the foreseeable future that dividend looks very sustainable. The company is also engaging in activities that bolster its long term outlook.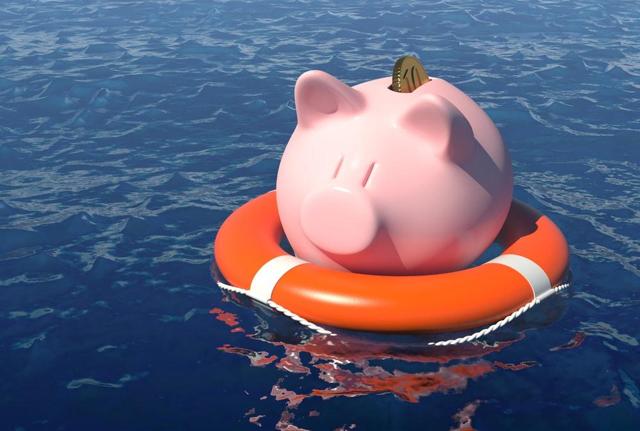 Macy's hasn't increased its dividend in more than a year, since the company is focusing on other cash uses, mainly deleveraging. But even without a dividend increase in the last year its yield is pretty high right now: With a quarterly payout of $0.3775 and its share price standing at a little below $22, Macy's is yielding 6.93% right now.
Let's look at that dividend yield versus other investments and their respective yields: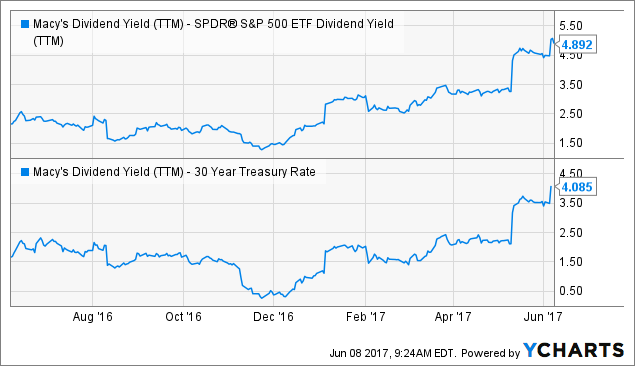 Fundamental Chart data by YCharts
We see that Macy's' dividend yield is 490 base points higher than the broad market's yield, and also 410 base points higher than the yield of 30 year treasuries. This spread hasn't been this high at any point over the last year, just last December the yield of Macy's shares and 30 year treasuries was almost on par.
The big rise in the spread showcases that Macy's has become much more attractive from an income investor's point of view over the last months, as shares now have the potential to generate more than three times the income of the broad market (when investing an equal dollar amount).
A high dividend yield doesn't help if the dividend is not looking secure, obviously, but on that front Macy's dividend is not looking too bad: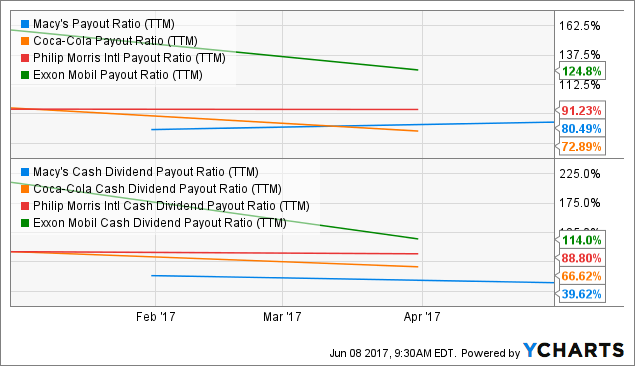 M Payout Ratio (NYSE:TTM) data by YCharts
Macy's' dividend payout ratio of 80% is not low, but the payout ratios of other, more traditional dividend stocks, such as Coca Cola (NYSE:KO), Philip Morris (NYSE:PM) or Exxon Mobil (NYSE:XOM) are around the same level or even higher.
When we look at the cash dividend payout ratio, which is the better metric to evaluate whether a dividend is sustainable, as companies need cash flows to pay their bills and their dividends (and not necessarily earnings), we see that Macy's has the lowest payout ratio among these four companies by far -- spending less than half of its cash flows on its dividend payments.
Even if Macy's cash flows were cut in half, its cash dividend payout ratio would be still below 100% by far.
These metrics are backwards looking, but to evaluate the safety of Macy's' dividend going forward we can look at the guidance the company's management has given us: Macy's will earn about $3.50 per share this year, which, in combination with its annual payout of $1.51, gets us to a 43% payout ratio for the current year.
Macy's' free cash flow has been growing over the last year (and was up in the most recent quarter as well), if this trend continues its free cash flow payout ratio will be even lower in the current year than the 40% we have seen in the last twelve months.
Due to Macy's' stock buybacks, which shrink the share count and thus also the total dividend payments, even a stagnant cash flow number would result in a declining cash payout ratio, as long as Macy's does not increase its dividend (which it will very likely not in the foreseeable future).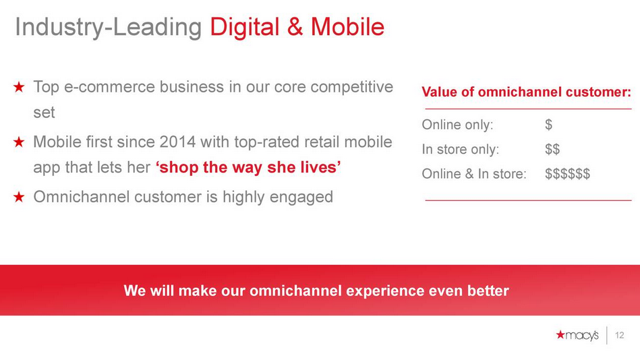 With a focus on digital & online sales, as well as with the rollout of a new loyalty program (available by the end of the year) Macy's is trying to turn its operations around from the comps sales declines we have seen over the last years.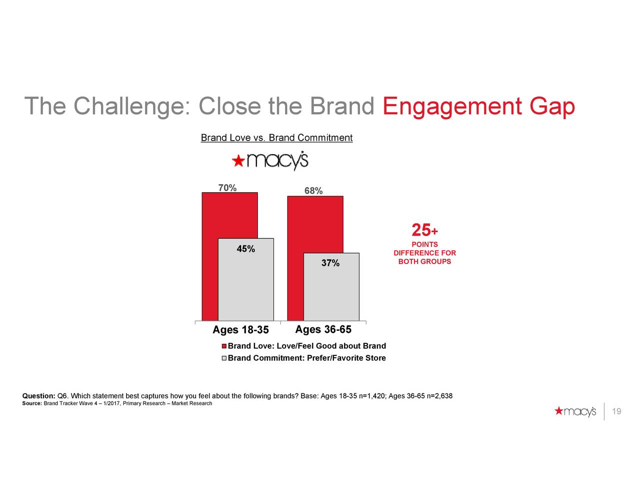 Macy's good position among millennials / younger shoppers, both regarding the love for the brand as well as the commitment to shop there, could be of use in its push towards combining digital and brick & mortar sales, and is an overall plus -- even in an Amazon (NASDAQ:AMZN) world younger shoppers tend to like Macy's even more than other generations.
Whether Macy's push plays out will only be visible in future earnings releases, but the chances are not bad, I believe. The company could also leverage its huge real estate portfolio (which alone is much more valuable than the company's enterprise value according to some calculations).
Takeaway
Macy will not increase its dividend in the foreseeable future, but even without any growth its 7% yield looks attractive -- especially when compared to what investors get elsewhere.
The dividend also looks safe for the near future, although it is not possible to forecast what Macy's operations will look like in five or ten years.
With its push towards digital / mobile and the brand being favored by younger shoppers, Macy's is not a lost cause though.
Author's note: If you enjoyed this article and would like to read more from me, you can hit the "Follow" button to get informed about new articles.
Disclosure: I/we have no positions in any stocks mentioned, and no plans to initiate any positions within the next 72 hours. I wrote this article myself, and it expresses my own opinions. I am not receiving compensation for it (other than from Seeking Alpha). I have no business relationship with any company whose stock is mentioned in this article.