I like to see investing/trading as a game of odds. In life, we calculate the odds of various possible outcomes before actually taking action. For example, we cross the road when the traffic light is green, as there is a lower probability of getting knocked down compared to crossing when the light is red. Investing/trading is no different.
When I look at the state of the markets for the various asset classes and ask myself "Where do I want to put my money?", equities have arguably been trending better than commodities and FX. After WTI collapsed from $100/bbl to sub-$30/bbl, it is now resting around $47/bbl. After EURUSD collapsed from 1.40 to 1.05, it is now resting around 1.12. Equities however, are still on an uptrend. Hence, I first establish that I want to BUY EQUITIES.
Next, the US market is undoubtedly the strongest equity market globally. It has consistently made new highs, whereas European and Asian markets are still trying to recover from their losses in 2016. Hence, I establish that I want to BUY US EQUITIES.
Which sector? In the past 1 year, the Technology Select SPDR Fund (NYSEARCA:XLK) has outperformed the other ETFs, in line with the Nasdaq's outperformance against the S&P 500 and Dow Jones Industrial Average. Hence, I establish I want to BUY US TECH EQUITIES.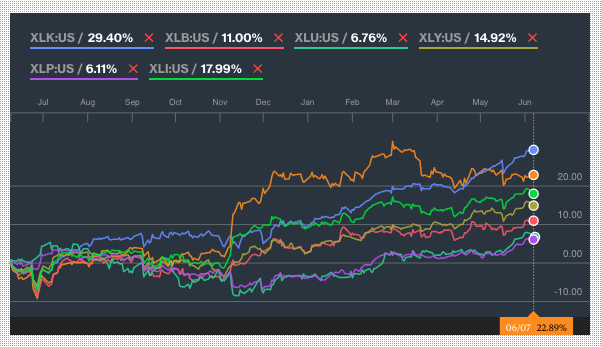 The orange line represents the performance of Financial Select SPDR Fund (NYSEARCA:XLF)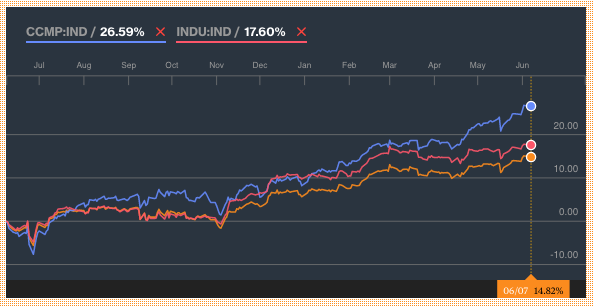 The orange line represents the performance of Dow Jones Industrial Average (DJI)
Next, because I prefer to keep my equities for 3-5 years, I want to look at long-term structural trends that the global economy is facing, and I have come up with 5 themes that I believe will be very prevalent in the years to come:
Theme #1: Artificial Intelligence
AI looks set to disrupt many industries, and replace many jobs. It includes virtual reality, robotics, self-learning machines and smart algorithms to discern consumer tastes and preferences etc. We have already seen Alphabet's (NASDAQ:GOOG) (NASDAQ:GOOGL) AlphaGo beat the world champion in Go, a game which is widely seen as a more complex challenge for a computer than Chess.
Theme #2: Autonomous Cars
The market for autonomous vehicles looks set to grow at an almost exponential rate, as seen from the chart below. Already, this technology is starting to penetrate various parts of the world.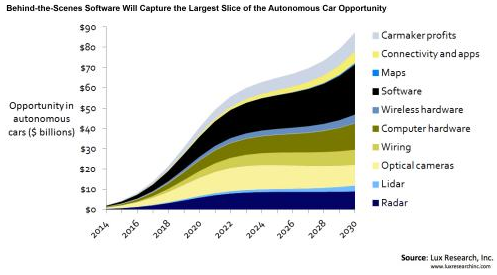 Theme #3: Cyber Security
Cyber security spending worldwide is expected to see strong growth rates in the years to come, especially with the very real threat of cyberhacking, as seen from the Ransomware attack in 2017 which affected over 100 countries worldwide.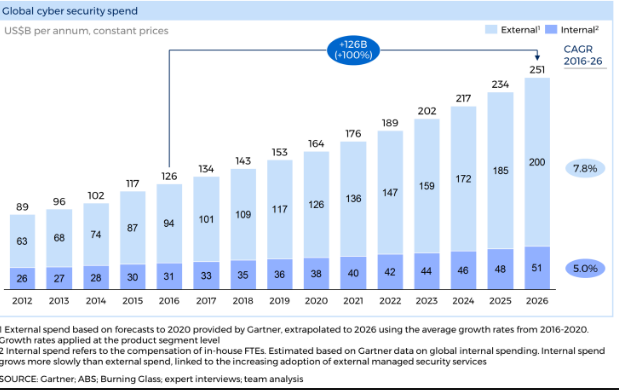 Theme #4: E-commerce
The rate of adoption of e-commerce platforms worldwide is growing fast, and this looks set to continue, possibly displacing the more traditional brick-and-mortar stores as more consumers recognize the convenience of shopping online. Amazon (NASDAQ:AMZN) is even looking at using drones to enhance its delivery service!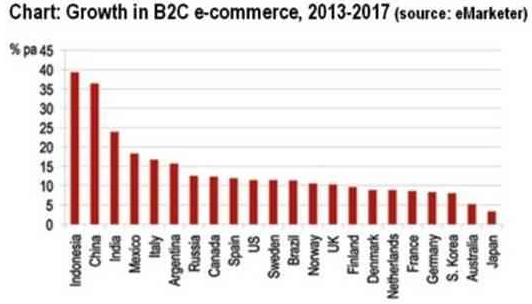 Theme #5: China
China is one of the fastest growing economies worldwide (even if GDP growth "slows down" to 6% per annum, that is still considered a lot). The growing affluence in China means there will be more disposable income to spend. See chart below for projected growth in China's disposable income per capita in urban areas.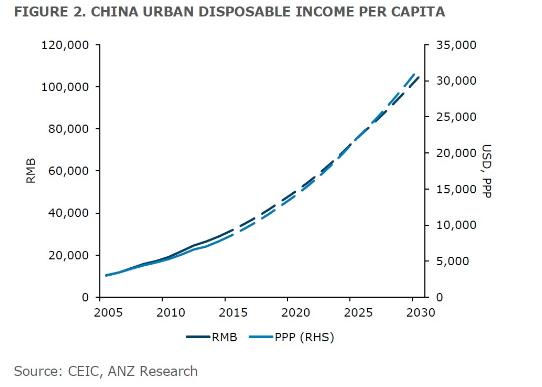 Hence, I want to put my money in US TECH EQUITIES that are well-positioned to benefit from these 5 structural themes that look set to stay for the years to come. Better still, if some of the equities have overlaps in the 5 themes. This is the shortlist of 10 stocks I have come up with, and the themes they are positioned in:

Alphabet
Unrivalled technology in AI, search engine, robotics, virtual reality. GOOGL is also involved in driverless cars via its Waymo project, and has maps to complement the self-driving technology. GOOGL has so many arms of growth, and is well-invested in potential breakthrough technologies.
Facebook (FB)
Employs deep learning to analyze customer information, preferences and tastes, so as to gain new insights into the habits of their consumers.
Tesla (TSLA)
Headed by maverick Elon Musk, Tesla is at the forefront of the electric car and self-driving technology. Is invested in technology to make driving safer, including sensors, radar, etc.
Amazon (AMZN)
AMZN is able to marry a very comprehensive and efficient e-commerce shopping platform with very strong logistics in delivery service. AMZN has Prime Now, its one-hour delivery service, and is exploring using drones to deliver items to consumers. A leader in its field.
Baidu (BIDU)
BIDU is China's largest search engine, is invested in AI to develop search algorithms, voice assistants, and is even in the field of making self-driving cars. Imagine the potential if its self-driving cars take off in the China market.
Alibaba (BABA)
Think of BABA as China's AMZN, but an early-stage one. The same way BIDU dominates search engines in China, BABA dominates e-commerce platforms in China.
PayPal (PYPL)
A beneficiary of higher volumes of online payments made globally, PYPL is one of the leaders in the digital payments sector.
NVIDIA (NVDA)
Started off as a graphics card company, NVDA is now also developing computing hardware for cars in the autonomous driving space. NVDA is in partnership with most notably, TSLA, to develop autonomous driving technology.
Tencent (OTCPK:TCEHY)
A giant in the social media/online gaming sector in China, TCEHY owns WeChat, an extremely popular social media platform in Asia, and is very successful in generating revenues from gaming and advertising.
HACK ETF (HACK)
Investing in individual cyber security companies may be volatile, and hence a solution is buying an ETF on the sector, so as to ride on the secular growth of the cyber security sector as a whole.
As can be seen, most of the shortlisted companies are listed in the US and are part of the technology sector, 2 markets which have seen tremendous upside momentum compared to other equity markets or industries. All of these stocks also fit into 1 or more of the 5 secular trends I have detailed, which I think will be very relevant in the next 3-5 years.
Disclosure: I/we have no positions in any stocks mentioned, and no plans to initiate any positions within the next 72 hours.
I wrote this article myself, and it expresses my own opinions. I am not receiving compensation for it (other than from Seeking Alpha). I have no business relationship with any company whose stock is mentioned in this article.
Editor's Note: This article discusses one or more securities that do not trade on a major U.S. exchange. Please be aware of the risks associated with these stocks.