CNBC: 10:55 EST

US index (NYSEARCA:SPY) market futures showed low volume and range-bound movement during the overnight session; movement has turned quite volatile (though still within a small range) during a public session of Senate testimony from former FBI Director James Comey.
At the time of this writing, gold (NYSEARCA:GLD) futures are down over 1.20%, having fallen off earlier this morning after failing to reach the 1300 milestone. The Japanese Yen is weaker by 0.36%.
Spot VIX is down slightly since the US session open, currently just staying inside of the 10-handle.


CNBC: Wednesday Close

Despite being mixed at several points during the trade day, stocks (NASDAQ:QQQ) finished marginally higher in unison as investors prepared for a full day of news events Thursday.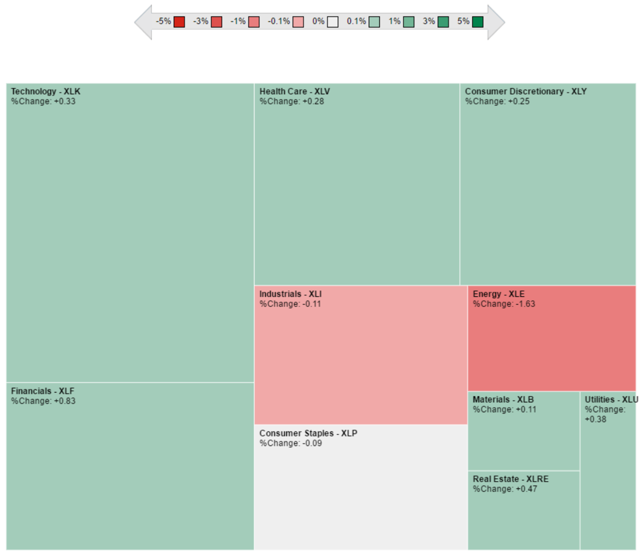 Source: SectorSPDR
Financials (NYSEARCA:XLF) put together the best performance yesterday, managing a gain of 0.81% while most other sectors finished marginally higher. Energy (NYSEARCA:XLE) stocks shed 1.64% after surprise inventory news sent crude oil (NYSEARCA:USO) futures down by nearly 5%.
Shout-Out
Recently we've seen quite a bit written regarding disconnects among certain markets that have traditionally held a stable correlation. Today we feature an article that addresses a growing discrepancy between the stock and bond markets. Written by SA contributor Gary Gordon, the piece titled Why Doesn't The Bond Market Believe The Stock Market? addresses the issue as he sees it.
Mr. Gordon begins the article by reminding readers of the roughly 22 months of extremely range-bound price action we witnessed in S&P 500 movement heading into the 2016 US Presidential Election.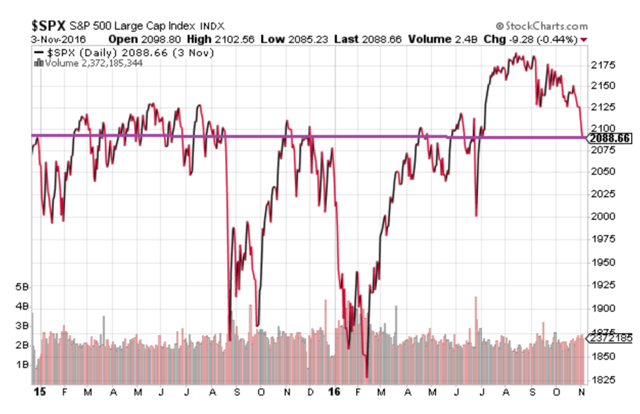 Once Trump was elected, a large part of the investing community began buying stocks and dumping bonds, reflecting expectations for future tax cuts and a generally friendly climate for the US economy and corporations.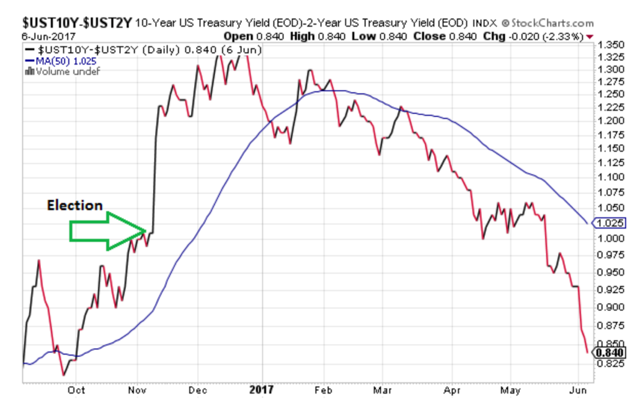 The author notes that after the November election, the spread between US 2-years and 10-year Treasury's spiked to well above 1%, though they have since fallen back to 0.84%. Mr. Gordon explains the discrepancy between stock and bond markets well in the following passage:
In spite of the queasiness expressed by bond believers, stocks have been hitting record highs on bad news and good news alike. In particular, if an economic data point is strong, speculators exclaim that corporations will be more profitable. If the economic data are weak, then speculators fall back on the notion that the Federal Reserve will always abstain from meaningful rate hikes. Similarly, global central banks will increase or at least maintain their bloated balance sheets in perpetuity. Good news? Bad news? Everything comes up rosy for stocks.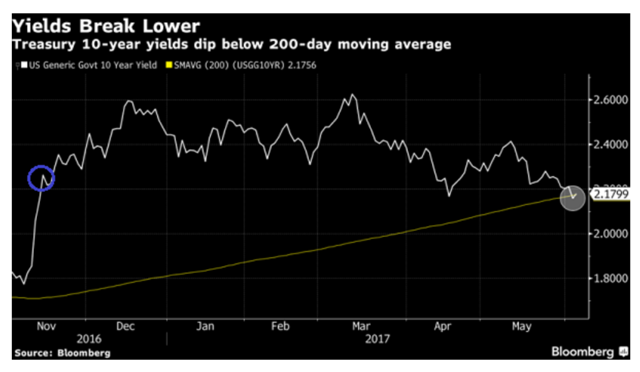 The author finishes up the article by discussing a few signs that conditions are not as favorable as they may seem for risk takers. Steadily decreased bank lending, and slowdown in YoY growth in business and consumer loans are among the items that should give investors reason to pause. Additionally, the number of stocks in the S&P 500 currently trading above their respective 200-day moving averages is decreasing.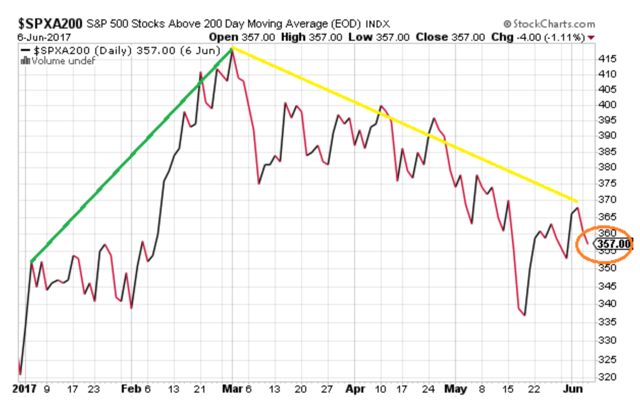 Mr. Gordon closes the article with the following:
Not surprisingly, there are many who do not care about standard deviations, Sharpe ratios, beta or alpha. For them, reward is reward regardless of the risk being taken. In contrast, my 30 years of success involves reducing risk when prices are higher and people are complacent, confident and/or greedy. In that manner, I'm able to take greater risks when prices are lower and people are panicky.
Thoughts on Volatility
Though heading into today, we faced quite the bevy of risk events, the market appears to be in good spirits. The ECB not only left interest rates unchanged this morning (as expected), but hinted at the potential for increased QE should the need arise. The Euro is currently down on the session, but has spiked higher since the ECB Press Conference began. Investors will also be watching the Pound closely over the next few days, to gauge investor reaction to the British general election.
Finally, US investors have been watching the Senate testimony of former FBI Director James Comey, which began at 10 AM EST Thursday morning. When a full transcript of Mr. Comey's prepared statements was released during the US trading session yesterday, stocks rose on the notion that the statements would not be as damaging as previously thought.

Viewing the price-action over the last week, it is difficult to see where the market priced in this potentially damaging information.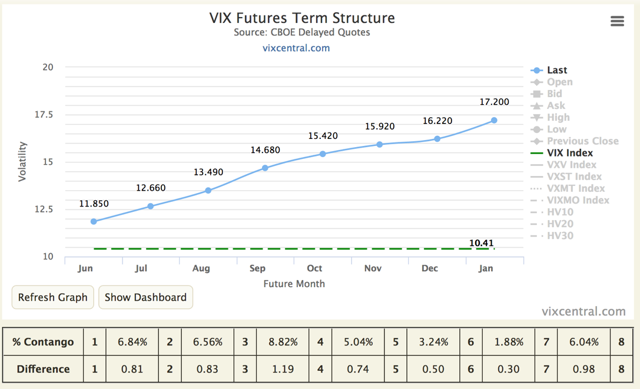 The current VIX futures curve does not appear concerned. As we showed yesterday, the term structure over the last month has failed to see any meaningful potential for risk, even several
months out.

Recent movement in mid-term volatility product VIXM shows much the same. While prices have increased slightly over the last week, they are still not seeing much in the way potential issues.

As we pen this - well into the Comey interview - spot VIX sits at this moment just below 10, after hitting a low of 9.86. Organic at-the-money vol has definitely come down as the day has progressed. Weekly vol in particular is down, but what is perhaps more interesting is just how much quarterly vol has declined over the course of a day; it is more difficult to get a "big move" out of quarterly volatility than weekly or monthly.
The ECB meeting passed as "benign"; the Comey interview has thus far been a series of grandstanding on behalf of senators left and right, but thus far not much "news".
Yesterday's "backwardation" between weekly-to-monthly vol has flattened out. As far as weekly vol is concerned, the fireworks are over. That said, we're still seeing levels above the low "6's" that we were seeing a few days back. This particular weekly contract includes the upcoming Fed meeting and is part of the famed "quad witching"; so perhaps it is understandable that the vols are holding up better than they otherwise would have.
Tracking the Trade
Last week, we will began a new trade to track. Earlier last week, we had a comment from a reader on a trade they wanted to see play out: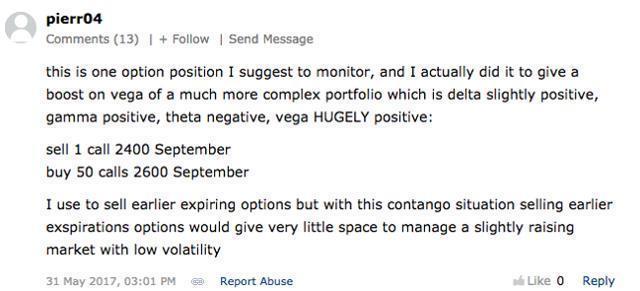 Normally, when we track a trade, we follow it for two weeks or so. Now there is nothing to say that we couldn't do two weeks for this trade as well. But what we've decided is that we will follow this trade (with a couple of modifications along the way) over the next quarter or so.

What we'll likely do is track this trade for a week or two and then head over to something else, keeping an eye on this every so often.
Remember, Tracking the Trade is meant to be educational. We do not put these positions on in reality, and we are not recommending that you trade these spreads. They're really meant to give you the reader exposure to different ways of thinking about risk and the richness of views the options market can uniquely accommodate.
Strategy: Thesis (Set out May 31)
Pierr04 seems to like this trade predominantly on the basis of the possibility of its strong vega exposure. Naturally, with 50:1, there is the potential for a lot of positive delta also.
You can read some of Pierr04's reasoning in the comment section here for a sense of why he believes this may be a good trade. We've left a message for him so that he can generate for readers a clear hypothesis. He's already said a good bit, but we'd rather not paraphrase for him; we prefer he has the opportunity to speak for himself.
Tactics
We modified Pierr04's suggestion quite significantly when we initiated last Friday.
Below is what his suggested trade (we'll call it the baseline) looked like at initiation.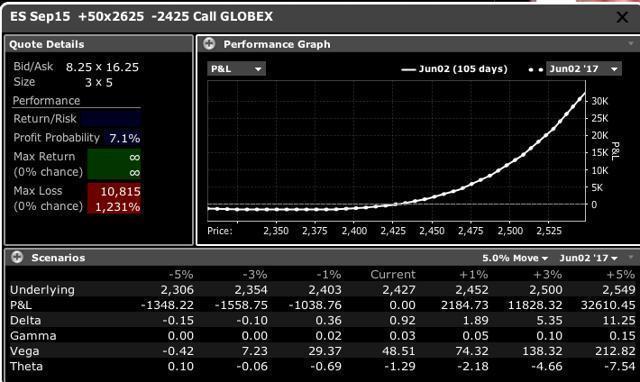 As you can see, there is a lot of upside vega, gamma, and delta on this trade. Furthermore, the theta is very powerfully negative, even here at the current level. This makes sense, as there are 50 upside options experiencing time decay against just one option providing relief. Granted, the 50 are far away and the one is close. But as of Jun2 theta was killing this trade at $1.38 a day; the theta is even stronger today at -$1.70, due to the fact that theta tends to accelerate (for now) as we approach the expiration date.
For a more detailed description of why we thought this trade may work better if it was rolled out gradually in modified form, read this recap in the Tactics section.
To show readers the differences in the initial position between "our" trade vs. the baseline, we offer this table: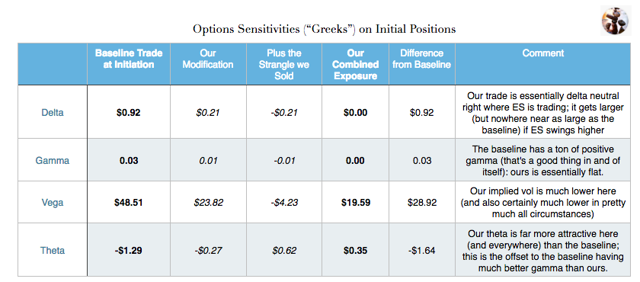 The two biggest differences between our modification and the baseline is the fact that we bought 30 calendar spreads in the 2600 region, rather than buying 50 naked calls at 2625.
Attached is the comparison that details prices paid and accompanying commentary. When trading for "longer periods" of time (i.e. not day-trading), it can be a good idea to leave a trade log with commentary that details one's thinking when a particular trade is taken.
The September calls have picked up a good amount of value; it will be informative the degree to which they hold up over the next several weeks. So long as ES heads higher, and/or the September calls remain bid, the baseline trade will continue to outperform our more muted version of the original.
Last week, reader atom & humber had this to say (I'm presuming about the baseline):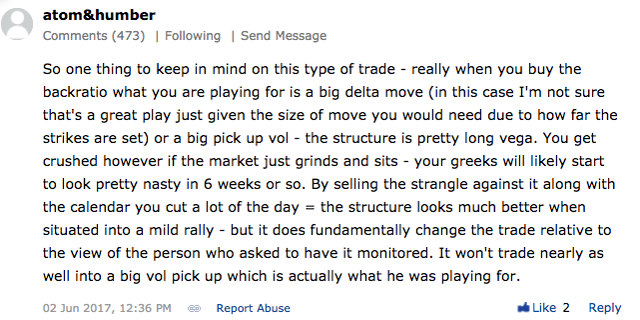 A&H's concise comment says plenty both about where pierr04's baseline trade runs into trouble, as well as suggesting that our mod fundamentally alters the trade (ie: the exposures are so different so as to not much resemble the original trade at all).
Fair statement.
Conclusion
Tomorrow we'll add to our scaling efforts on our modification. Vol seems deadish, but we do have a Fed meeting coming up next week, which could cause the market to stir up some.
Thank you for reading Market Volatility Bulletin, and we remind you that these trade ideas are really for educational purposes. They are not so much about making "sim money." We seek to show you how trades can play out, and offer you the reader a framework for understanding how to work with options Greeks, spreads, and the like.
Have any questions or suggestions? Let us know! We appreciate that.
Please consider following us.
Disclosure: I am/we are short SPY.
I wrote this article myself, and it expresses my own opinions. I am not receiving compensation for it (other than from Seeking Alpha). I have no business relationship with any company whose stock is mentioned in this article.
Additional disclosure: We actively trade the futures markets, potentially taking multiple positions on any given day, both long and short. It is our belief that the S&P 500 is meaningfully overvalued. As such, we typically carry a net short position using ES options and futures.