Optimism among individual investors about the short-term direction of the stock market rebounded but remained below average in the latest AAII Sentiment Survey. Neutral sentiment pulled back while bearish sentiment remained in its recent range.
Bullish sentiment, expectations that stock prices will rise over the next six months, rose 8.5 percentage points to 35.4%. Even with the increase, optimism is below its historical average of 38.5% for the 20th time out of the last 21 weeks.
Neutral sentiment, expectations that stock prices will stay essentially unchanged over the next six months, pulled back by 6.5 percentage points to 35.0%. This is a six-week low. Nonetheless, neutral sentiment is above its historical average of 31.0% for the sixth consecutive week and the 11th time in 12 weeks.
Bearish sentiment, expectations that stock prices will fall over the next six months, pulled back by 2.0 percentage points to 29.5%. The historical average is 30.5%.
During five out of the last six weeks, pessimism has stayed within a 2-percentage-point range of 29.5% to 31.5%. The only exception was May 17, when bearish sentiment rose to 34.3%.
New record highs for the S&P 500 and the NASDAQ encouraged some individual investors, but the Trump administration's ability (or lack thereof) to move forward on economic and tax policy remains on the forefront of many our members' minds. Also playing a role in influencing sentiment are earnings, valuations, concerns about the possibility of a pullback in stock prices and interest rates/monetary policy.
This week's special question asked AAII members how the record highs set by the S&P 500 and the NASDAQ this year have influenced their outlooks for the overall market. Slightly more than half of all respondents (51%) to the open-ended question described themselves as being either more pessimistic or more cautious. Many of these respondents cited prevailing valuations, the risk of a correction and the lack of progress by President Trump on his economic initiatives. Conversely, nearly 19% of respondents said they are optimistic about the direction of the stock prices due to momentum, earnings growth and economic growth. About 14% said the record highs were not influencing their outlook, either because they are long-term investors or because they are more focused on the political situation in Washington, D.C.
Here is a sampling of the responses:
"Waiting for the correction. Prices are fairly rich and President Trump's lack of accomplishment should hasten a downside move."

"Has made me more cautious about adding to my investments."

"It has not influenced my outlook since I am a steady contributor and am not looking to time the market."

"A feeling of uncertainty as to when the inevitable peak is coming, but not bearish yet."

"Earnings are good overall and there's no better place to put money."
This week's AAII Sentiment Survey results:
Bullish: 35.4%, up 8.5 percentage points
Neutral: 35.0%, down 6.5 percentage points
Bearish: 29.5%, down 2.0 percentage points
Historical averages:
Bullish: 38.5%
Neutral: 31.0%
Bearish: 30.5%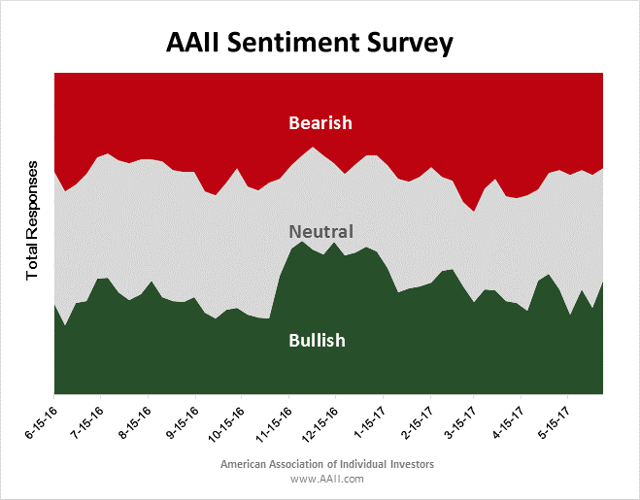 The AAII Sentiment Survey has been conducted weekly since July 1987. The survey and its results are available online.
If you want to become an effective manager of your own assets, consider a risk-free 30-day Trial AAII Membership.
Disclosure: I/we have no positions in any stocks mentioned, and no plans to initiate any positions within the next 72 hours.
I wrote this article myself, and it expresses my own opinions. I am not receiving compensation for it. I have no business relationship with any company whose stock is mentioned in this article.