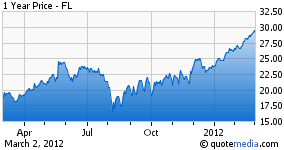 On the Valentine's Day this month, Foot Locker Inc. (NYSE:FL) increased the quarterly cash dividend to $0.18 per share, up by 9% compared to that of the previous quarterly dividend. It is love, love, and love for the investors all the way!
In addition to that, the previous $250 million common stock repurchase program was increased to a 3-year, $300 million common share repurchase program. Time for the price to move up a bit!
Following these two news, the company released its fourth quarter 2012 results yesterday. Let's take a look at how the last quarter of 2012 and the full fiscal year went for the company.
Revenue rose to $1.5 billion in the fourth quarter of 2011, up from $1.39 billion in the same period in 2010. And with efficient cost management, the operating income increased almost over $75 million, which is commendable.
Even annually, the operating income increased by $350 million (or, an operating margin of 5.09%), which is pretty good, compared to the quarterly operating margins of (0.79) % of Collective Brands Inc. (NYSE:PSS), 2.9 % of Brown Shoe Company (BWS) and 4.81% of Genesis Inc (NYSE:GCO).
It must be noted though that a few other brands such as DSW Inc (NYSE:DSW) records much better operating margin of around 9%. But Foot Locker definitely is on the path to improvement as it seems.
In the balance sheet, everything seems to be positive. Property and equipment assets improved to $427 million till date from $386 million in 2011. Even merchandise inventories have rose by $10 million in the last year. To be more specific, shareholder's equity increased to $2.1 billion last year, compared to $2 billion in 2010, which means more growth and return of investment for the investors.
Plus, the company opened 70 new stores, remodeled or relocated 182 stores, and closed 127 stores during fiscal 2011. At January 28, 2012, the Company operated 3,369 stores in 23 countries in North America, Europe, Australia, and New Zealand. In addition, 34 franchised stores were operating in the Middle East and South Korea.
You can say that things are going great for the people who trusted Foot Locker. We can only hope it continues on!
Disclosure: I have no positions in any stocks mentioned, and no plans to initiate any positions within the next 72 hours.