Yahoo - Verizon
(I sort of regret that I never worked at freestanding Yahoo. Wikipedia)
Yahoo's (YHOO) core internet business is going to Verizon (NYSE:VZ). And, after the deal's close, expected on June 13, legacy Yahoo will be called "Altbaba" in apparent reference to its holdings of Alibaba (NYSE:BABA) shares and to its future existence as an Alibaba alternative.
Marissa Mayer, one of the more interesting and best paid tech company CEOs, won't be heading to Verizon, according to a report by CNN Tech. Meanwhile, the online assets we're familiar with will link up with Verizon's AOL assets.
I've long perceived AOL and Yahoo's digital media operations as high churn, inefficient, and lacking in strategic direction. Now that they're housed inside a telecommunications giant, I see little reason to expect a change in that regard. But we may hear less and less about them now that they're shaded by a giant corporate umbrella.
See also: Yahoo shares up 8.8% on Alibaba revenue guidance.
Dodd Frank 'No Thanks'
(Where regulations happen and un-happen. Wikipedia)
There was a House vote set for today on a bill called the Financial Choice Act. The main thrust of the bill seems to be a repeal of much of the Dodd-Frank Act, which, according to Paul Ryan, has had a negative impact on Main Street. Democrats disagree. Other components of the bill, from our Breaking News item:
A rollback of Dodd-Frank provisions like regulators' orderly liquidation authority, the FSOC's ability to designate certain players SIFIs, and the Volcker rule. Also to be eliminated is the DOL's fiduciary rule.
There's also language allowing banks with a simple leverage ratio of 10% or more to be exempt for certain regulations - significant relief to costs heaped upon smaller lenders.
The bill would still have to pass the Senate. It's interesting that our presidential cycles have matched up fairly well with the last two economic cycles, and regulatory posture has been fairly dramatically adjusted with each previous change in leadership. Ex ante, the changes always seem arbitrary and abstract. Then, years later, some hugely salient consequences emerge, often tangled up with a bunch of other factors, and we start all over again.
See also: Treasury yields move higher as Comey testifies
Retail Watch
Nordstrom (NYSE:JWN) announced in a very tentatively worded press release that it was forming an exploratory group to consider going private. The market looked past the following disclaimer -
No assurances can be given regarding the terms and details of any transaction, that any proposal will be made by the Group, that any proposal made by the Group regarding a proposed transaction will be accepted by the Special Committee, that definitive documentation relating to any such transaction will be executed, or that a transaction will be consummated in accordance with that documentation, if at all.
- to send shares up 10%. Nordstrom bonds fell (in price, yields up), and according to MarketWatch, the story there is concern that a private Nordstrom would lever up.
How would a buyout look to you? EBIT is down 41% in the past five years, and net income has been cut more than in half, according to SA's financials page. Net margins have fallen from 6% to 2%. This is retail, though, so positive earnings are pretty nice. Revenue has grown, but operating efficiency is down.
Meanwhile, the company has grown its tangible assets base. PP&E up 51% in the past five years, buildings up 23%, land up 41%. Leverage has slimmed somewhat, but book value is down 55% in the trailing five-year period.
EV/EBITDA of 6 doesn't seem rotten when you're considering a full takeover. That might have to jump to around 7.5 with a takeover premium. I'd be slightly concerned that broad-based high stock valuations would make this a poorly timed transaction today, but there's not much the independent directors considering the deal can do about the stock market.
Anyway, why not go private? The company's over 100 years old, it's an American institution.
Snap Shorts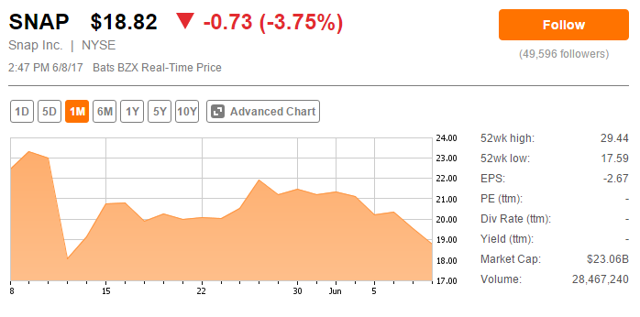 Yesterday, I explored what a dent in Snap's (NYSE:SNAP) growth story might do for its lofty valuation. Today, with short interest of 28% Snap is the most shorted tech IPO ahead of its lockup expiration.
Valeant Divestiture!
Congratulations to Valeant (VRX) on the agreement to sell iNova "to a company jointly owned by funds advised and managed by Pacific Equity Partners and The Carlyle Group for $930 million in cash."
With full understanding that Valeant's balance sheet is a shady thicket, let's do a rough update to the 3/31 balance sheet: Debit cash $930 million, increases cash to $2.14 billion.
From the iNova deal announcement:
"Valeant will pay iNova shareholders A$625 million upfront and up to an additional A$75 million in potential milestones based on the success of pipeline activities, product registrations and overall revenue."
Credit $700 million across other asset categories. Credit an additional $230 million to Stockholders' Equity as a gain on sale. That's 5.9% of 3/31 book value. The cash goes out the door to pay down debt, credit cash $930 billion, we're back to the $1.2 billion we started with. If term loan debt is long-term debt, then long-term debt drops 3.3% to $27.3 billion. Shares are up 9%, slightly higher than the 7% implied by the price to book ratio. Probably still some more right-sizing to do over there.
FinTwit Corner
Nivi (@nivi) has a one-Tweet guide to understanding Bitcoin. And I do want to understand Bitcoin.
Yesterday Dame Dash was talking about Afrezza, today Jason Zweig (@jasonzweigwsj) is trying out some currency raps. Time to remind everyone about highest best uses.
Adam Tooze (@adam_tooze) has some fun charts about income inequality in Russia.
To get this daily market recap as soon as it publishes, please click on my profile, hit the big, orange "Follow" button, and choose the real-time alerts option.
Disclosure: I/we have no positions in any stocks mentioned, and no plans to initiate any positions within the next 72 hours. I wrote this article myself, and it expresses my own opinions. I am not receiving compensation for it. I have no business relationship with any company whose stock is mentioned in this article.