Every week after the EIA releases their Weekly Petroleum Status Report I download the updated files, consolidate them, and ultimately link them to a simple excel dashboard file which you can download for free at Excel-Data-Junkies.com. Open it up to follow along below, then let's discuss it in the comments section below. For a methodology review, take a look the intro "Data Download."
EIA Headline: Petroleum inventories increased by 15.5 million barrels.
After hitting a peak in early February, petroleum stocks have been coming down at the leisurely pace of about 2.5M bbls a week. Not terribly impressive, but slowly but surely, we were working our way through a glut that took over two years to build. Then, last week out of nowhere, we get a huge 15.5M bbl build, at least that's what the headline would have you believe.
Digging into the details, we can see that of the 15.5M bbl build, 1.7M bbls was simply a transfer from the SPR to commercial tanks, and 4.1M bbls was a build primarily in propane, residual fuel, and "Other." That leaves us with a 9.7M bbl build in Primary Oils (Crude+Gasoline+Jet Fuel+Distillate). Without a doubt, this is still a big build, but looking back to just the week prior, we had a 9.0M draw in Primary Oils, so we are essentially flat for the last 2 weeks.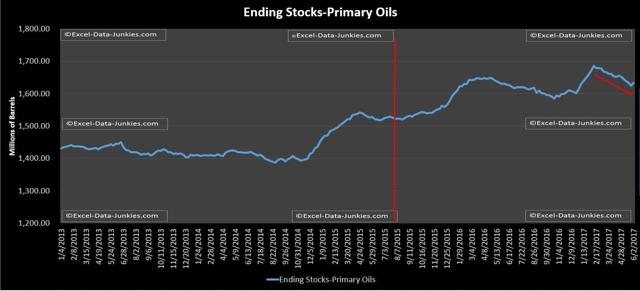 Of course flat inventories when we are expecting moderate declines isn't exactly bullish, but for now my opinion is that yesterday's collapse in the price of oil (USO) back down to ~$45 is not supported by the fundamentals. It will take more than a wild couple of weeks to break the ongoing trend, so for now I am still expecting solid draws on average for the rest of summer.
OPEC Cuts:
For the week, OPEC imports came in just under 3M bbl/d which is in line with their 2016 average but still not indicative of any cuts, despite the 9-month extension and promises to target the US going forward. Of course it can take months for Saudi oil to reach US shores, but as far as I am concerned it is all talk until I start seeing OPEC imports consistently under 2.5M bbls a day. I won't be holding my breath, but I will keep checking each week.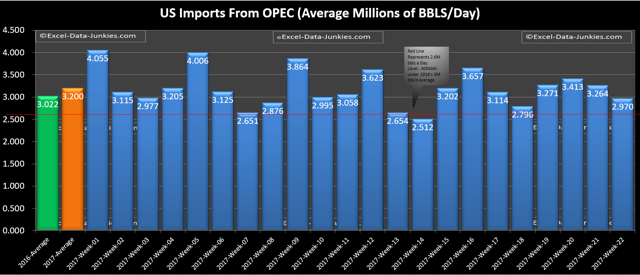 Coal Vs. Gas Electricity Update:
A few months ago I wrote "Back To The Future: King Coal Takes Back His Crown From Natural Gas" noting that as the price of natural gas soared toward $4 last December, coal had retaken the electricity market share title from natural gas and was likely to continue that streak into 2017.

We now have February data and for the third month in a row Coal has topped natural gas which fell 20% YOY, though ~4% of that can be blamed on the 2016 leap year. If current trends continue, coal will have topped natural gas in the trailing 12-month average market share by July and will have built a commanding lead by the end of 2017.
Coal Production:
Looking at the weekly coal production dashboard, we have another solid week at about 15 million tons. This is up nearly 25% higher than the same week last year when production of coal had collapsed to just 12 million tons, unable to compete with sub $2 natural gas.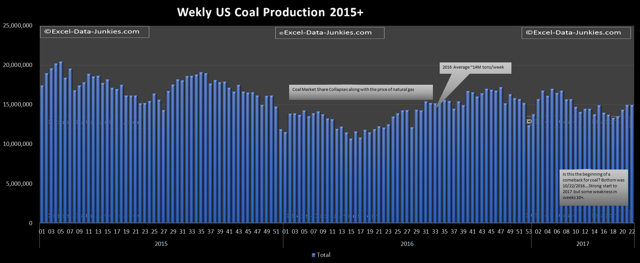 If we pencil out the math we find that, on average, 1 million tons of coal will produce about the same amount of electricity as 12.5 BCF of natural gas. A 3 million ton increase would then replace about 5 BCF/D of natural gas per week, though of course weekly production will not directly correlate with weekly consumption. For the full year, coal production is up 52 million tons through 22 weeks. This represents a 19% YOY increase in coal production and the potential to replace 650 BCF of natural gas or about 4 BCF/D on average.
While coal looks to be off to a great start in 2017, much of this is due to the extreme weakness in coal in the first half of 2016. Coal production had started recovering by the second half of 2016, so we are unlikely to continue to see 20% YOY gains for the full year unless production is pushed back up to around 17-18 million tons a week. We do know this is still possible since we hit 17 million tons a week as recently as February, but my guess is that this level of production would require natural gas prices closer to $4, while we are currently just barely clinging to $3.
Gut Feeling:
I think the oil collapse to $45 is overdone on a one-week data anomaly and it should start heading back to $50 as long as the next few weeks of data are back on trend. If that trend continues, I could see us burning down as much as 50M-75M bbls over the next 5 months. That may be a little aggressive but it is definitely possible, especially with a little help from OPEC.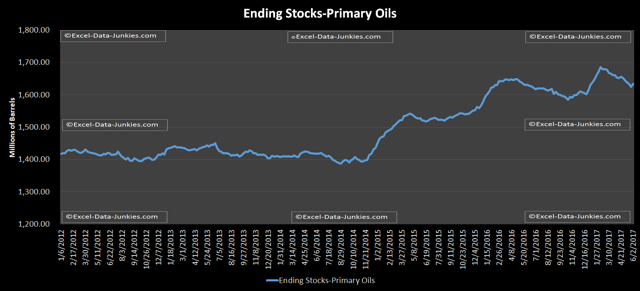 Looking at the historicals, from 2012-2014, primary oil stocks hovered around 1.4B bbl before spiking and topping out at 1.685B bbl just 4 months ago, for nearly a 300M bbl surplus. We have now drawn it down 50 to 1.635B bbl, and are very likely to see it under 1.6 by the end of October. That should be enough to keep oil around $50, though storms and political tensions could provide the catalyst for a run closer to $60. The bottom line remains, it took several years to build up this ~300M bbl glut, and it is likely to take a few more to burn it off.
Supporting Documents
Disclosure: I/we have no positions in any stocks mentioned, and no plans to initiate any positions within the next 72 hours.
I wrote this article myself, and it expresses my own opinions. I am not receiving compensation for it (other than from Seeking Alpha). I have no business relationship with any company whose stock is mentioned in this article.