I am a value investor and a dividend growth investor. I love to build my passive income through increasing dividend payments from high-quality stocks purchased at sound values. I also work full time as an electrical engineer and own a couple of rental apartments that I self-manage with my wife. We don't have kids yet, but imagine how much time we will have when babies are running around, drooling on our laps, and demanding something new to chew on? The answer is: very little to none!
So how does one, with a busy schedule, find the time to efficiently analyze a stock's financials to determine if a stock is a smart buy without spending a whole week ravaging through income statements and balance sheets while neglecting the kids? It's simple: Create a condensed rating system backed by fundamental criteria verbalized by a legendary investor. The creation of an effective rating system can save an investor valuable time, act as a screening process to weed out stocks that are overvalued and/or have poor financials, and ensure the investor is buying stock with a margin of safety.
Criteria
I am a value investor influenced by Benjamin Graham and his "Enterprising Investor" criteria found in his popular book The Intelligent Investor. In his book, Graham creates a short list of criteria that when followed give the investor a significant margin of safety when buying a value stock. Since Graham was a successful economist and professional investor who taught famous investors like Warren Buffett, I included his criteria in my system to help me score a stock's financials. The more a stock meets Graham's criteria, the more margin of safety the investor receives at time of purchase.
I am also a dividend growth investor. I have created my own dividend criteria to help me rate the strength of a stock's dividend. I added this dividend criteria to Graham's value criteria to make a fast and easy way to determine if a stock has strong financials, a sound valuation, a secure dividend, and a margin of safety at time of purchase.
The following is the list of Graham's value criteria (#1 through #7) and my dividend criteria (#8-#13) that I believe are the most important and time-saving financial metrics to look at when analyzing a stock.
Is Current Ratio >= 1.5?
Is Long Term Debt not more than 110% of Net Current Assets?
Positive Earnings for Each of the Past 5 Years?
1 Year of Uninterrupted Dividends?
Is EPS(ttm) > EPS from 5 years ago?
Is P/B <= 1.2?
Is P/E(ttm) less than 10?
5+ Years of higher dividends?
Is Current Yield >= 3%?
Is Payout Ratio <50%?
Does FCF cover the Dividend Payout?
Is 5 Year Dividend Growth Rate (DGR) >= 10%
Is 3 Year DGR divided by 5 Year DGR >= 1?
Criteria #1 helps determine if a company has a strong balance sheet. Current ratio is a liquidity and efficiency ratio that measures a firm's ability to pay off its short-term liabilities with its current assets. If a company has a current ratio of 1.5 or above, then in an emergency or a financial downturn, the company can pay off all short-term liabilities at once and still have liquidity left over to operate. Companies with high current ratios are at less risk and give the investor a margin of safety especially during distressed times.
Criteria #2 also helps determine if a company has a strong balance sheet. A company with too much long term debt in relation to net current assets can be problematic. Long term debt can take many years to pay off, and as debt grows, the amount of capital allocated to paying off interest increases as well. Using too much capital to pay off debt can hinder the growth of a company. And of course, if debt gets too high, the company becomes a bankruptcy risk. Companies with low long term debt in relation to net current assets are at less risk and give the investor a margin of safety.
Criteria #3 determines if a company is stable and profitable. A company that has great profitability one year, and no profitability the next year poses a huge risk to investors because it becomes harder to predict how a company will perform in the near future and if it will continue to be profitable. A 5 year track record of profitability eliminates risk for an investor.
Criteria #4 determines if a company pays a portion of its earnings back to its shareholders. Since I invest in dividend stocks seeking passive income, this is a requirement.
Criteria #5 determines if a company is growing its profitability over the long term. Companies with earnings growth are less risky and increase an investor's margin of safety.
Criteria #6 determines the value of the stock in relation to its current market price and book value. Book value is the net asset value of a company. Book value serves as the total value of the company's assets that shareholders would theoretically receive if a company were liquidated. A stock with a low P/B can indicate that a stock is undervalued and sheds some light on whether or not you are getting a good deal or paying too much.
Criteria #7 determines the value of the stock in relation to its current market price and current 12 month trailing earnings. A company with a low P/E can indicate or suggest that a stock is undervalued or that it is performing quite well relative to its past trends.
Criteria #8 determines if the stock has a sustainable and growing dividend. A company that has increased its dividend for 5 years straight has shown that delivering a portion of its profits to shareholders is a top priority. It also suggests that the company has the ability to grow earnings so that it can fund a growing dividend.
Criteria #9 determines if a stock is paying a high dividend. I have targeted 3% because it is significantly higher than the yield from the average savings account, CD, or broad based index fund. I want to get paid more income for taking on more calculated risk.
Criteria #10 determines if the dividend is sustainable. A payout ratio is the percentage of earnings paid out as dividends to shareholders. A payout ratio greater than 100% or more indicates that a company is paying out more dividends than it makes through earnings. A company with a low payout ratio indicates that the company has a safe and stable dividend that the company can afford. I have targeted 50% and below as my threshold because it gives a company plenty of breathing room to pay a dividend even when earnings take a dip.
Criteria #11 also determines if a dividend is sustainable. FCF is an assessment of the amount of cash a company generates after it accounts for all capital expenditures. This excess cash can be used to pay a dividend. Essentially, if a company can cover its dividend with FCF, then the dividend payout has no negative impact on maintaining or expanding its asset base. Companies that can cover their dividend payment with FCF indicate that the dividend is safe and sustainable and the company can continue to grow.
Criteria #12 indicates that a dividend is growing and is sustainable. Because I am a dividend growth investor, I expect a dividend raise every year from my investments. A 10% growth rate or more indicates that a company's financials are healthy, is committed to its shareholders, and can suggest the occurrence of future dividend raises. A shrinking dividend can indicate that there are problems with the company's financials.
Criteria #13 determines the trend of the dividend and its sustainability. A ratio of 1 or more shows that the 3 year dividend growth rate (DGR) is greater than the 5 year DGR. This would indicate that the company has been growing its dividend at a faster rate than in the past. If a company meets this criteria, it is a strong indication that the financials of the company are healthy and growing, its dividend is sustainable, and that the company is committed to its shareholders.
My thought process behind my criteria is that if I combine all 13, I can effectively tell if a stock is trading at an attractive value, has strong financials, and has a sustainable and growing dividend in a matter of minutes of my time. If a stock meets all criteria or comes close, I can assume that I am investing in a strong company with a margin of safety. This screening process or rating system can help eliminate weak companies in a matter of minutes.
Quantitative Analysis
I find Valero Energy Corp (NYSE:VLO), a petroleum refining and marketing company, to be an intriguing investment opportunity. But is it really a strong company, and can I justify its current share price and know that I am getting a good deal with a margin of safety? Let's run my screen and rating system to see how well I fair.
VLO stock price as of writing = $62.73.
The figure above shows the data I need to calculate criteria #3, #4 #5, #6, #7, #9, #10 & #11. The majority of the data needed for my stock screen can be found with one click of a button, talk about quick and easy.
*Note that VLO has announced its latest dividend payment so its current dividend is 2.80 vs. 2.50.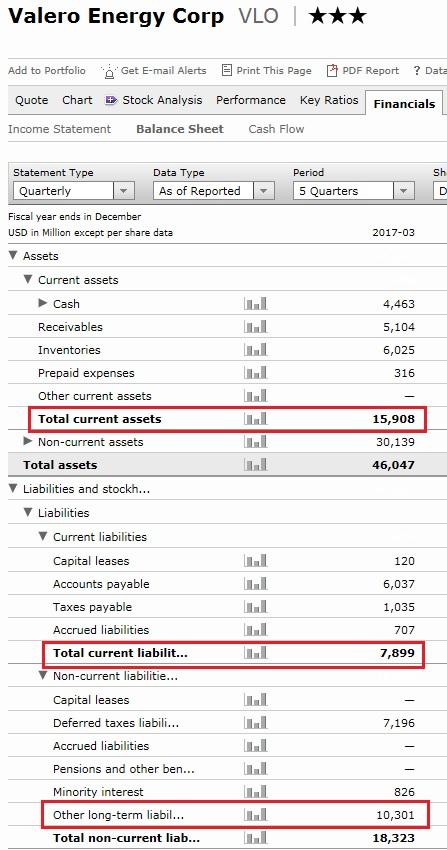 Source: Morningstar
The figure above provides data for criteria #1, #2.
Criteria #8, #12, #13 can be found in Seeking Alpha contributor David Fish's free U.S. Companies with +25 Straight Years Higher Dividends database (he lists all U.S. Companies with 5+ Straight Years as well). This is an excellent resource that is a must-use for every dividend growth investor.
Here are the results from my analysis:
Criteria

VLO data

Pass/Fail?

Score

#1 Current Ratio >=1.5

2.01

Pass

100%

#2 Long Term Debt/Working Capital <= 1.10

1.29

Fail

83%

#3 Positive EPS Streak of 5 Years

5

Pass

100%

#4 Dividend > 0

2.8*

Pass

100%

#5 Current EPS > 5 Years Ago

4.57>3.75

Pass

100%

#6 Price/Book <= 1.2

1.42

Fail

82%

#7 P/E(ttm) < 10

13.73

Fail

63%

#8 Higher Dividend Streak > 4 Years

7

Pass

100%

#9 Current Yield >= 3%

4.46%

Pass

100%

#10 Payout Ratio < 50%

54.7%

Fail

91%

#11 FCF/Dividend Payout >=1

3.06

Pass

100%

#12 5 Year DGR >= 10%

54.30

Pass

100%

#13 3 Year DGR/5 Year DGR >= 1

0.78

Fail

78%

Final Score:

92%
Scoring System
So your first question is probably how I give each criteria a score. Well, remember we want to keep things simple and easy? If a criteria passes, a 100% is awarded. If it does not pass then we divide the difference by the desired amount to output a score less than 100%.
For instance Price/Book is 1.42 for VLO but is only 0.22 (1.42 minus 1.20) away from 1.20. So 0.22 divided by 1.20 equals 0.183. 1 minus 0.183 equals 0.817 or 82%. See, its only 5th grade math!
If the difference away from the desired amount is more than 100% (i.e. a payout ratio is 200% instead of the desired 50%), I score that criteria 0%.
All criteria is weighted the same, so I take all 13 scores and average them out to receive the final score. I chose to weight all criteria the same because I believe all metrics are equally important. Since about half of the criteria regard valuation and the other half regard dividend strength, I am building an aggregate scoring system that rates each category equally without favoring one over the other. Plus, I want to keep this system as simple as possible and eliminate as much time spent calculating these figures.
VLO scores a 92%. I typically consider investing in any dividend growth stock that rates above an 80%. I shoot for above 90% but during all time stock highs, it's hard to find any dividend stocks rated above 90%. I actually would not mind a stock market pullback because I feel most stocks are overvalued and scoring low numbers these days. A 92% in my super quick-and-easy but kind-of-fancy scoring system indicates that the current stock price of VLO is attractively valued, has a strong dividend, and is worth considering for purchase with a built-in margin of safety. Due diligence like researching management, reviewing recent headlines, etc. is still recommended, but all the necessary financial analysis needed has been completed in a timely fashion using this rating system, and should be the most influential information used when deciding to make a purchase or not. Markets move mostly on emotion, but the financial numbers do not lie (unless the company is illegally posting fraudulent financials of course).
This rating system and stock screener is used for dividend-paying companies only. However, many dividend-paying companies within the financial sector do report current assets and current liability numbers on their balance sheets. Because of this, I decide to eliminate criteria #1 and #2 and run the rating system with only 11 criteria. I still take a look at a financial company's debt levels and decide if they are a concern or not. I typically make sure that a company's total assets are greater than their total liabilities.
Companies that tend to meet the criteria or score high are usually companies that have a strong track record of paying consistent dividends and are not sold at high P/E ((ttm)) premiums.
Comps
In the figures and chart below I have included two oil companies for comparison: Hemerich & Payne Inc (NYSE:HP) and Chevron Corp (NYSE:CVX). At time of writing HP's current market price is $50.22 and CVX's is $104.36.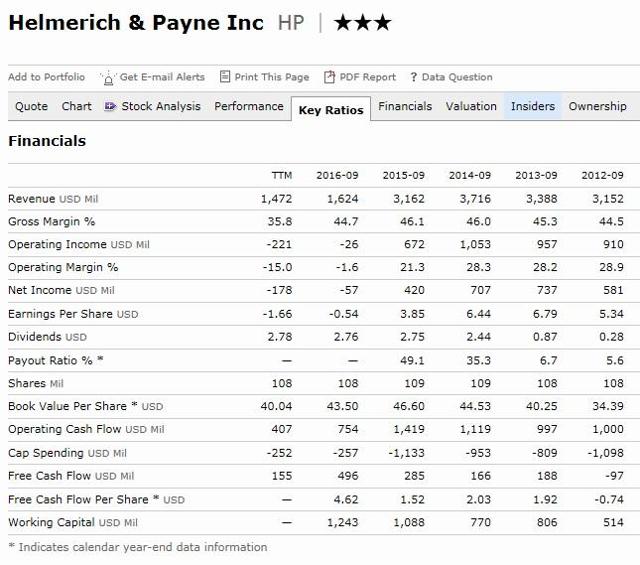 Source: Morningstar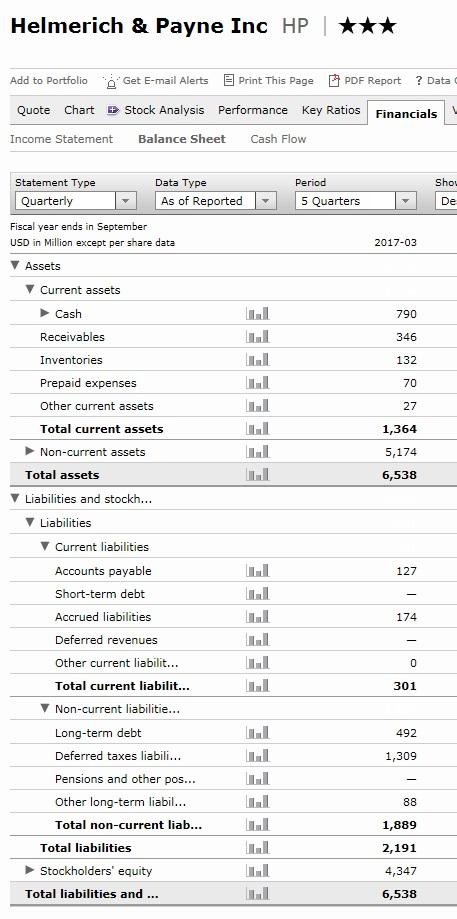 Source: Morningstar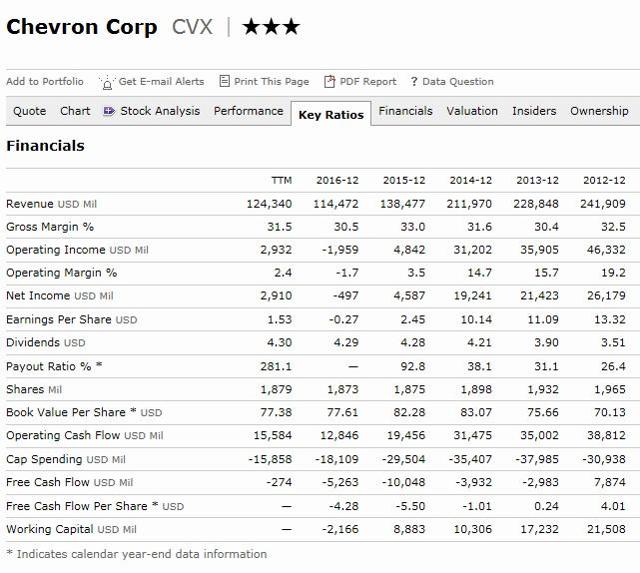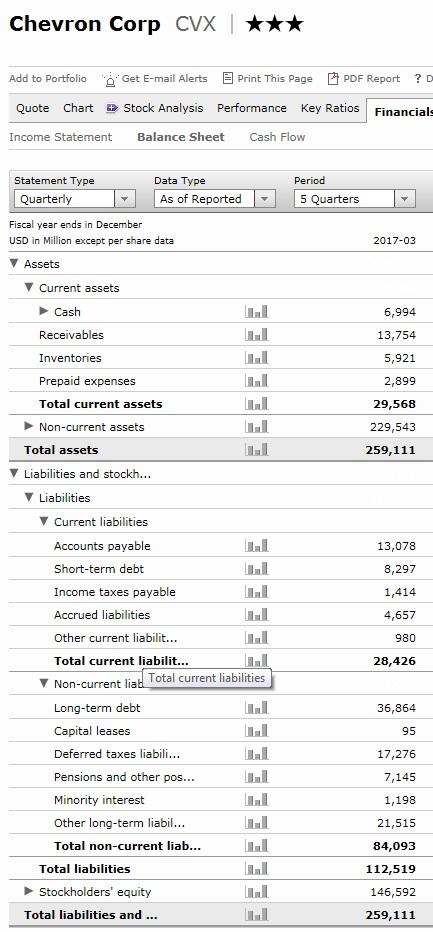 Source: Morningstar
Criteria

HP Data

HP Score

CVX Data

CVX Score

#1 Current Ratio >=1.5

2.69

100%

1.04

63%

#2 Long Term Debt/Working Capital <= 1.10

0.57

100%

32.28

0%

#3 Positive EPS Streak of 5 Years

4

0%

4

0%

#4 Dividend > 0

2.80*

100%

4.32*

100%

#5 Current EPS > 5 Years Ago

-1.66<5.34

0%

1.53<13.32

0%

#6 Price/Book <= 1.2

1.22

98%

1.35

88%

#7 P/E(ttm) < 10

-30.25

0%

68.21

0%

#8 Higher Dividend Streak > 4 Years

44

100%

29

100%

#9 Current Yield >= 3%

5.58%

100%

4.14%

100%

#10 Payout Ratio < 50%

-

0%

281.1%

0%

#11 FCF/Dividend Payout >=1

0.51

51%

-0.03

0%

#12 5 Year DGR >= 10%

60.6%

100%

6.8%

68%

#13 3 Year DGR/5 Year DGR >= 1

0.48

48%

0.47

47%

Final Score:

61%

Score:

44%
*Note: HP and CVX reported their most recent dividend payment which is not included in the above figures.
As you can see from the chart above VLO looks like a much stronger buy than both HP at 61% & CVX at 44% scores. This only took me 10 minutes to do, yet I can already see that HP has an unsafe dividend with no payout ratio and not enough FCF to pay the dividend. CVX has balance sheet concerns with too much long term debt in relation to working capital and a poor current ratio. Both scores of these comparison stocks show that you get less margin of safety, a riskier dividend, and an overvalued price in relation to earnings if bought at current market prices. If you had to decide between buying 1 of these stocks, VLO's financials win by a long shot with its 92% score indicating their financial strength.
Summary
Financial analysis does not need to take weeks of work nor does it need to be performed by a professional with fancy algorithms and an expensive degree from an Ivy League school. Systems like the one outlined above can make financial statement analysis for a dividend stock quick, easy, and fun.
Valero Energy is a high quality company that should be considered in your portfolio - not necessarily because it rates a 92% in my system, but because of what that 92% actually represents. That 92% tells us that VLO has a strong balance sheet, stable and growing earnings, a fairly attractive market price, and a growing and sustainable dividend. It may not meet all of my lofty criteria and Graham's criteria, but it is very close. Plus, if you compare it to some competitors in the oil industry, VLO looks like a much stronger buy with less risk than HP and CVX.
Today's valuation is a fair price for VLO for a passive and growing income stream. However, today's valuations of HP and CVX are not trading at fair prices at this time.
Additional disclosure: I am not a financial professional. Please consult an investment advisor and do your own due diligence prior to investing. Investing involves risks. All thoughts/ideas presented in this article are the opinions of the author and should not be taken as investment advice.
Supporting Documents
Disclosure: I am/we are long "VLO","HP","CVX".
I wrote this article myself, and it expresses my own opinions. I am not receiving compensation for it (other than from Seeking Alpha). I have no business relationship with any company whose stock is mentioned in this article.