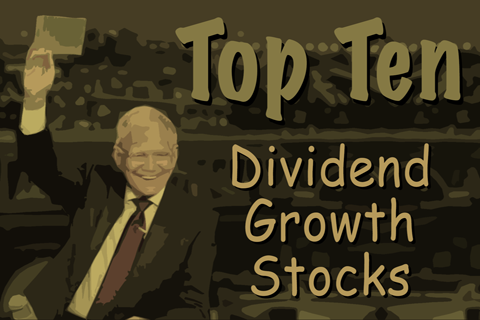 As a dividend growth investor, I love David Fish's CCC list of dividend growth stocks trading on U.S exchanges. Updated every month, the CCC list it contains more than 800 stocks trading with at least five consecutive years of higher dividend payments. The accompanying spreadsheet provides key statistics of the CCC stocks.
In my monthly 10 Dividend Growth Stock series, I identify 10 CCC stocks worthy of further research. To create the list, I trim the CCC list using various screens. I rank the trimmed list and assign a 7-star rating to each stock. Stocks rated 5 stars or better are worthy of further analysis.
Trimming The CCC List
The latest CCC list (dated 5/31/17) contains 826 stocks. This month, rather than using screens to trim the CCC list, I used a weighed average of normalized ranks for each of the following factors:
Dividend yield (weight: 3)
Most recent dividend increase (weight: 2)
Estimated 5-yr EPS growth (weight: 1)
Market capitalization (weight: 1)
3-yr dividend growth rate (weight: 3)
5-yr beta (weight: 2)
What do I mean by normalized rank?
Let's consider dividend yield, for example. First, I sorted the 826 CCC stocks and assigned a value to each stock based on its relative position in the sorted list. (I used the Excel function Rank.Avg and divided the rank by 826 to get normalized ranks). Doing so assigns a normalized rank of 1.0 to the highest yielding stock and 0.0 to the lowest yielding stock.
Similarly, I assigned normalized ranks for each of the factors 2-5. For factor 6, however, I reversed the order because lower beta values are better.
Using normalized values allows me to assign weights based on how important I think each factor is. For example, I chose to make dividend yield three times as important as market capitalization.
The weighted average of normalized ranks are normalized values, too, and higher values are better candidates. I selected the top 100 candidates for my usual ranking process.
The Ranking Process
First I ranked the 100 candidates using data available in the CCC spreadsheet. This preliminary ranking helped me to further trim the list of candidates. I selected the top 50 candidates and ranked them using data from the CCC spreadsheet and additional sources like Morningstar, S&P Capital IQ, and F.A.S.T. Graphs.
My ranking system favors established dividend paying stocks with strong fundamentals and stocks potentially trading at or below fair value. Dividend safety is another important factor.
Here are the top 10 ranked stocks for June 2017:

Stocks I own in my DivGro portfolio are highlighted.
Only three stocks from last month's top 10 appear in this month's top 10. The stocks are identified with a subscript that represents last month's ranking. For example, HRL1 means HRL was ranked first last month.
Ratings and Sectors
The following table presents the top 10 ranked stocks by sector, along with my star ratings for each stock. This month, all but one of the stocks earned a 6-star rating. I consider stocks with a 5-star rating or better worthy of further analysis:
| | | | |
| --- | --- | --- | --- |
| Rank | Company | Rating | Sector |
| 1 | Hormel Foods Corporation (HRL) | ✭✭✭✭✭✭✩ | Consumer Staples |
| 2 | VF Corporation (VFC) | ✭✭✭✭✭✭✩ | Consumer Discretionary |
| 3 | CVS Health Corporation (CVS) | ✭✭✭✭✭✭✩ | Consumer Staples |
| 4 | Texas Instruments Inc (TXN) | ✭✭✭✭✭✭✩ | Information Technology |
| 5 | Valero Energy Corporation (VLO) | ✭✭✭✭✭✭✩ | Energy |
| 6 | TJX Companies Inc (TJX) | ✭✭✭✭✭✭✩ | Consumer Discretionary |
| 7 | Arthur Daniels Midland (ADM) | ✭✭✭✭✭✭✩ | Consumer Staples |
| 8 | Lowe's Companies, Inc (LOW) | ✭✭✭✭✭✭✩ | Consumer Discretionary |
| 9 | Qualcomm Inc (QCOM) | ✭✭✭✭✭✭✩ | Information Technology |
| 10 | Cisco Systems, Inc (CSCO) | ✭✭✭✭✭✩✩ | Information Technology |
Key Statistics and Fair Value Estimates
The table below presents some key statistics as well as fair value estimates for the top 10 stocks. To estimate fair value, I use a multi-stage DDM analysis with proprietary adjustments. I set a required rate of return of 10% and use estimates of the annual EPS growth rate for the next 5 years. Thereafter, I taper the growth rate to a perpetual growth rate of 3% after 10 years. Adjustments to the calculated fair value are based on various factors, including an assessment of dividend safety.

In the table, Yrs are the years of consecutive dividend increases, Payout is the EPS (earnings per share) payout ratio, and Debt is the ratio of debt to equity. The compound dividend growth rate over a 5-year period (5-Yr DGR) is provided, where available. Morningstar's Moat and Standard and Poor's Credit Rating, as well as Value Line's Safety and Financial Strength ratings also are provided. Finally, I present my own estimate of Fair Value, along with a calculation of the current discount to fair value (Discount). Unless otherwise indicated, data are from the CCC spreadsheet.
Top 10 Snowflakes
Simply Wall St offers various analysis and visualization tools. A particularly useful infographic is the so-called Snowflake, a visual summary of 30 different checks that the company performs when analyzing stocks.
______________________

Each snowflake represents Value, Future, Past, Health, and Dividend scores.

The Value score indicates how undervalued a stock is. The Future score represents growth expectations based on analyst estimates, while the Past score captures a stock's past performance. The Health score considers a company's balance sheet and debt levels, and the Dividend score measures the quality and sustainability of a company's dividend.

The color of each snowflake changes from red to green depending on the number of checks a stock passed.
Below is a snowflake matrix of this month's Top 10 stocks. I included an overlay of the scores for value, future, past, health, and dividend so readers can get a sense of how shapes correlate with scores.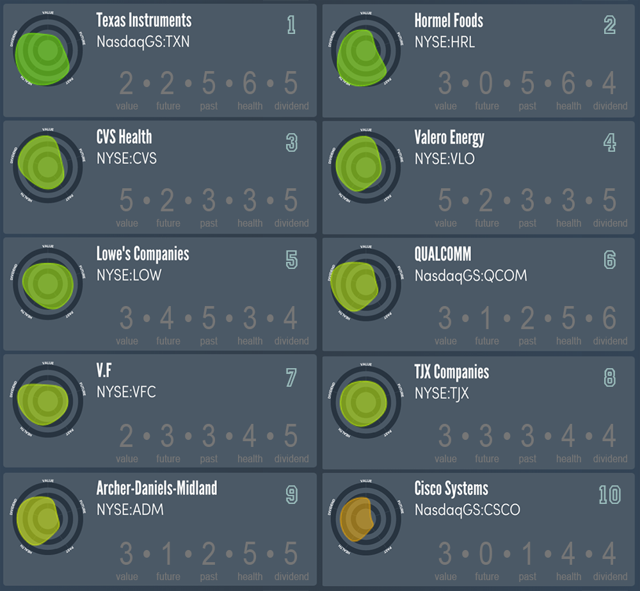 What I like about these snowflakes is how easy it is to recognize quality stocks. Specifically, stocks with greener snowflakes passed more checks than stocks with yellower snowflakes.
Looking Back
Since the one-year anniversary of my monthly 10 Dividend Growth Stocks article series, I've been looking back to see how my year-ago selections performed. Here's a chart showing the price performance of my top 10 ranked stocks from June 2016: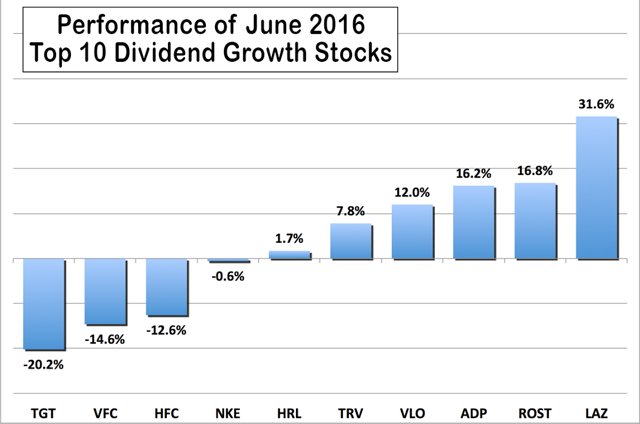 The arithmetic average of these returns is 3.8%. In comparison, the Vanguard Dividend Appreciation ETF (VIG) returned 13.2% over the same period.
The performance of my year-ago selection was dragged down by Target Corporation (TGT), HollyFrontier Corporation (HFC), and VFC.

Please note that I'm comparing the performance of last year's top 10 ranked stocks to VIG's performance for fun.
Concluding Remarks
With my monthly 10 Dividend Growth Stocks articles, I rank a selection of the CCC stocks and present the top 10 ranked stocks as candidates for further analysis. This month I favored higher yielding dividend growth stocks with strong recent dividend growth and favorable earnings growth forecasts.
I'm not particularly interested in any of the top 10 ranked stocks that I don't own yet. CVS and VLO look interesting, though, trading at discounts of about 17% and 19%, respectively. Perhaps I'll revisit these stocks and see if I want to increase my holdings.
Please note that the top 10 ranked stocks are candidates for further analysis, not recommendations.
Thanks for reading! If you liked this article and would like to read similar articles in future, please click the Follow link at the top of this article.
Disclosure: I am/we are long HRL,CVS,VLO,QCOM,CSCO,TGT. I wrote this article myself, and it expresses my own opinions. I am not receiving compensation for it (other than from Seeking Alpha). I have no business relationship with any company whose stock is mentioned in this article.