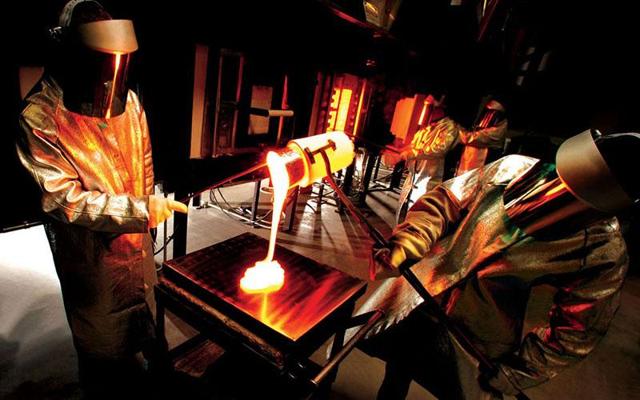 Credit: Corning
In a great story from The Generations of Corning: The Life and Times of a Global Corporation by Davis Dyer and Daniel Gross, an early television network devised a peculiar reward for efficient Corning (NYSE:GLW) glassworkers of the 1950s:
At one point, DuMont promised lobsters to workers in Corning's A Factory if they could make 120 twenty-inch television bulbs in a day - an incentive that worked.
One presumes that similar enticements are not required today to eke out a few more Gorilla Glass panes!
Corning is one of the oldest and most innovative companies in America. It has successfully negotiated its way through the ages of radio, television, space and the computer.
In this modern world of social media, cloud services and augmented reality, how is this old dog faring? And should it interest the dividend-minded investor?
This article will examine Corning's recent news, earnings, debt load, dividend and valuation.
About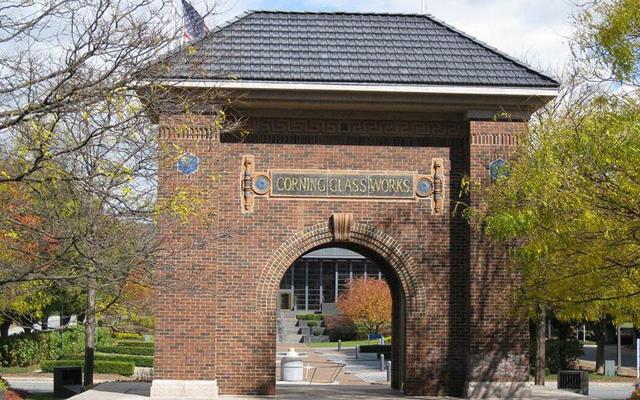 Credit: Doug Kerr
Corning takes its name from the city in New York where it was founded in 1851. It was incorporated as Corning Glass Works in 1936, but shortened the name in 1989.
GLW has been at the forefront of various technologies over the past century-and-a-half; the incandescent light bulb, cathode ray tube television, fiber optic cable and even the mirror for the Hubble Telescope.
Today, it has five reportable segments: Display Technologies, Optical Communications, Specialty Materials, Environmental Technologies and Life Sciences.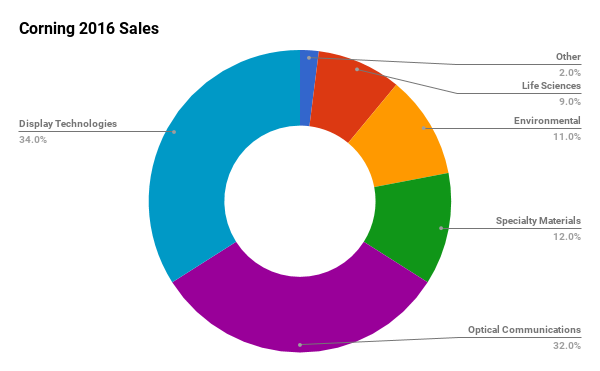 Credit: High Plains Investor
It is currently known for producing LCD TV panels, fiber optic cables, Gorilla Glass for mobile phones and tablets, filters for catalytic converters and lab equipment amongst a myriad of other products.
GLW has a market cap of $27 billion and is led by CEO Wendell Weeks.
Recent Developments
- In May, Corning's Gorilla Glass plant in Kentucky received $200 million from Apple's (NASDAQ:AAPL) $1-billion manufacturing fund. Gorilla Glass has been used in the iPhone since its inception.
- Verizon (NYSE:VZ) agreed to pay Corning at least $1 billion for 12.4 million miles of fiber optic cable annually. The deal will run from 2018 to 2020 and help the telecommunications giant beef up its broadband capabilities.
- At the end of 2016, Corning acquired STRAN Technologies, a firm that specializes in resilient fiber optic technology for use in military, aerospace and energy applications.
Earnings
After a significant decline in earnings in 2015 - primarily caused by weakness in TV displays, IT and mobile devices - sales rebounded strongly in 2016.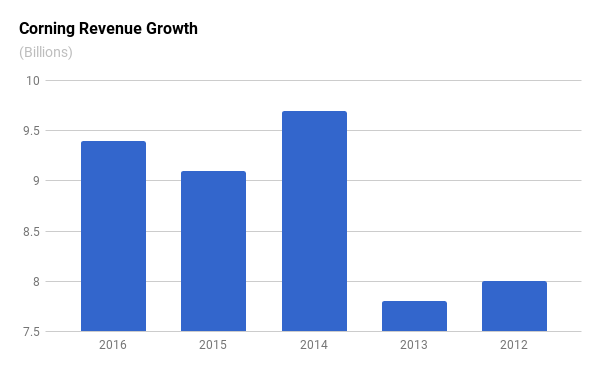 Credit: High Plains Investor
As mentioned earlier, Corning divides its business into five segments, each with its own challenges and opportunities.
Display Technologies
Prices for LCD display panels have declined in recent years due to competition and oversupply. Corning has weathered this turmoil due to its dominant position in the market and economies of scale. Management expects glass volumes to rise in 2017 even as prices continue to fall.
Optical Communications
This has been a very strong growth segment for the company with 2017 Q1 sales 34% higher than the previous year's. GLW is profiting from continued investment by telecommunications companies in their networks, as is the case with the recent Verizon deal. Revenues are expected to swell by low teens this year as the shift to 5G accelerates.
Environmental Technologies
The continued robust demand in cars is good news for Corning's air filters department. Management expects revenues to be flat or slightly higher in 2017 but has particular excitement over a new filter for gasoline direct-injection vehicles.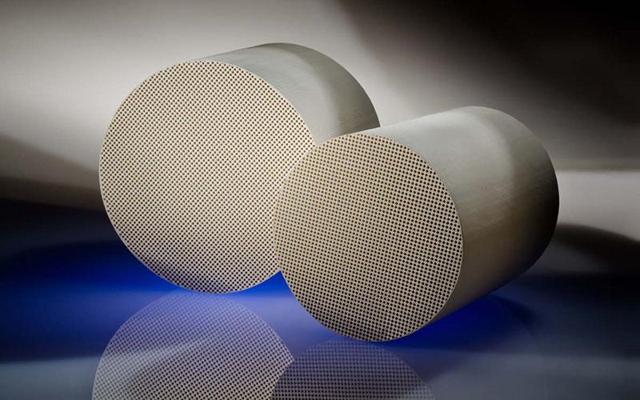 Credit: Corning
New emissions restrictions are on the way in Europe (2017) and China (2020), and these will call for car manufacturers to provide suitable filters for their GDI vehicles. GLW has developed a gasoline-particulate filter for the task and it has already taken a significant chunk of the market. Factories are increasing capacity to meet the expected demand.
Specialty Materials
We get to the famous Gorilla Glass segment. This department has made significant progress in the last year and 2017 Q1 sales increased 32% year-on-year.
GLW is especially bullish about this product line as phone manufacturers design handhelds with even more glass, some of it on both sides of the device like the Samsung Galaxy S8. Given the recent injection of cash from Apple, it's likely that the latest iteration, Gorilla Glass 5, will be used for the upcoming iPhone 8. Corning has also moved into moderately priced devices in India and wearable tech.
Life Sciences and Other
Corning's well-established lab equipment continues to grow slowly, but a burgeoning area of growth revolves around the automobile industry.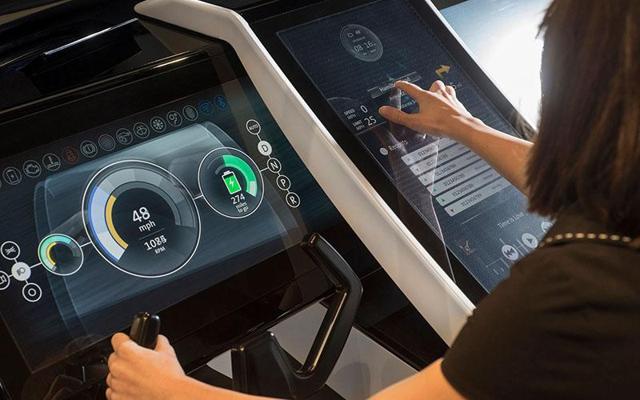 Credit: Corning
Gorilla Glass, tailored for exterior and interior use, has already been applied to car models. In the recent earnings call, CEO Wendell Weeks was cagey about profit expectations but nonetheless enthused:
So, with regards to auto, we'll start seeing revenues quickly, already have some, okay? So, the real question isn't will we penetrate that market, that has happened. The real question is, how big does it get? And I don't think we'll have deep insight on that until we get a little further through the relatively long design platform time cycles of the car companies.

...We don't have the new deep insight on that question yet, that can sort of only be adjudicated by actual decisions by customers that they then in turn become public about. But we're not only - the reason we're so highly confident about revenues is we're getting them.
Debt
Corning is a very well-run operation when it comes to managing its balance sheet.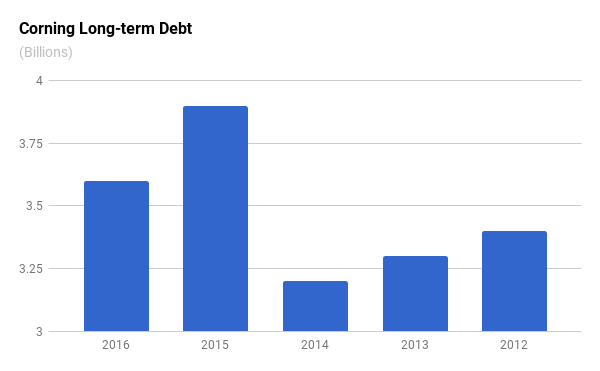 Credit: High Plains Investor
With a current ratio of 3.3, quick ratio of 2.5 and debt-to-equity ratio of 0.23, it's clear that GLW can comfortably handle its debt load. The debt-to-EBITDA score is less than 1 so it's no surprise that Morningstar gives the company a strong credit rating of A-.
Dividend
If you love the flow of dividends like myself, this is probably the area you are most concerned with. Thankfully, Corning's management has committed to solid dividend growth backed by a safe payout ratio.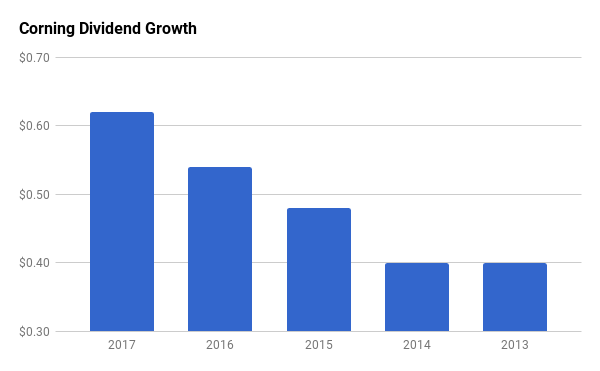 Credit: High Plains Investor
For 2017, GLW will pay an annual dividend of $0.62. This is an increase of 14.8% on last year's amount. Over the past five years, the dividend has risen by 55% with more increases scheduled.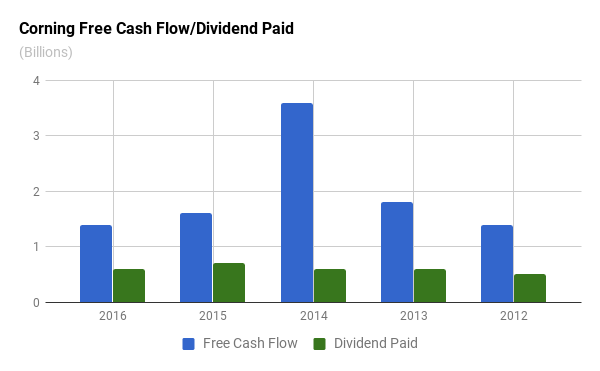 Credit: High Plains Investor
Corning is in the middle of a multi-year capital allocation plan that promises to raise $26-30 billion in cash, of which $12.5 billion will be used for dividends and share repurchases.
24% of shares have been retired since October 2015, while the dividend is set to rise by a double-digit percentage in each of the next two years. The free cash flow payout ratio was 46% in 2016.
Valuation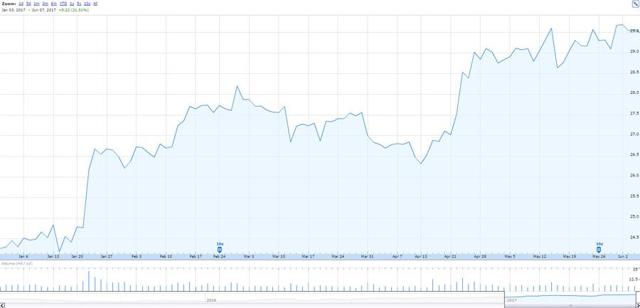 Credit: Google Finance
Corning has been a fantastic performer in the last 12 months, jumping by almost 55% from its 2016 low of $19. Year-to-date, GLW has risen by nearly 22%.
With the broad S&P 500 commanding an average P/E of 24, Corning comes in cheaper at 19 based on 2016 core earnings. According to Morningstar, the five-year average P/E for the company is 15.0. Therefore, I'll probably hang around for a pull back.
Conclusion
I've made an effort to provide objective analysis on Corning for this article, backing up my arguments with cold figures. However, I'll admit that I have huge admiration for the New York glassworks.
As a cautious investor who likes the safety of a disciplined balance sheet, and growing dividend payments, Corning fits my portfolio perfectly.
For a company to continue to reinvent itself over the course of 150 years, surviving periods of boom-and-bust, it must have something special about it. While Coca-Cola (NYSE:KO) has its formula and Exxon Mobil (NYSE:XOM) has unmatched resources, Corning survives with continuous innovation.
GLW does have some very interesting areas of growth (gasoline filter, Gorilla Glass for automobile) but I think it is primarily one of those safe stocks that you can put in your portfolio and forget about.
It seems that as long as we continue to use devices with screens, more often than not, Corning will get the call.
Disclosure: I am/we are long GLW. I wrote this article myself, and it expresses my own opinions. I am not receiving compensation for it (other than from Seeking Alpha). I have no business relationship with any company whose stock is mentioned in this article.