If you happened to be in a Nordstrom (NYSE:JWN) as of Wednesday's close, then congratulations - you likely already know the stock popped more than 10% on Thursday, following chatter that the retailer's primary owners/shareholders are thinking about taking the company private by selling it back to the Nordstrom family.
Now get out.
It's not a premise that's going to be embraced by some, though others have almost certainly already made their way out the door, capitalizing on the bullish surge. But, it's a realistic assessment of how much more plausible upside is left assuming the struggling retailer does actually manage to sell itself.
Best of Breed of a Still-Terrible Breed
Credit has to be given where it's due. Nordstrom is one of the department store industry's more viable names. Whereas rival Macy's (NYSE:M) is now into its fifth year of shrinking sales and shrinking profits.
Nordstrom has pulled off the unexpected trick of continuing to grow the top line all the way through last year. Granted, the bottom line has been steadily dwindling, but at least the company is able to draw customers in and make sure they're leaving with bags in hand. Analysts are even modeling for a fiscal turnaround, though they haven't explained why anyone should expect one.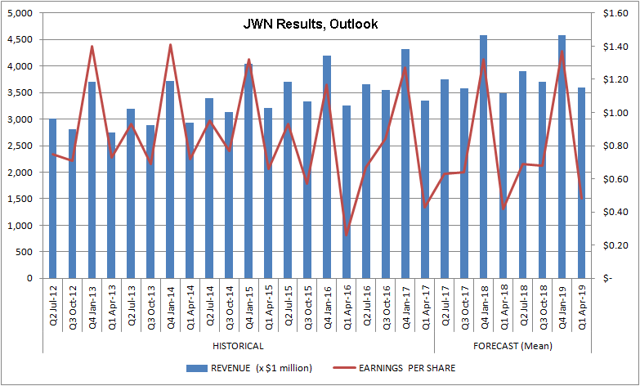 Source: Thomson Reuters Eikon, image made by author
Speaking realistically though, the Nordstrom family - the six that are reportedly interested in acquiring the business - has its finger on the pulse of the modern retail environment, and realizes that even the venerable Nordstrom is about to enter the heart of the storm that's battering Macy's and has effectively obliterated Sears (NASDAQ:SHLD).
Inasmuch as it's the one standout in a sea of retailing misery, the premise of taking the company private seems as if it's the missing ingredient for greatness. As Fitch Ratings senior director David Silverman explained it, "For a retailer, a go-private transaction can allow the company to execute an operating strategy with a longer-term mindset, given the quarterly earnings focus of many equity investors."
In other words, if the company was allowed to think and plan in years rather than in quarters, it could arguably take the hits it needs to take in order to build a bigger, better retailing machine.
The department store chain may not be worth trying to revive though, as the underpinnings for the headwind are immutable and unavoidable.
It's not the advent of e-commerce either. Sure, the rise of Amazon.com (NASDAQ:AMZN) and other online retailers hasn't helped. That's not the direct reason Nordstrom has reached its tipping point though. There's a myriad of other reasons the Nordstrom family isn't apt to be interested in paying a premium for the company, if they're interested in buying it at all.
Things Really Are Changing
In the 80s and 90s, the 30-somethings and 40-somethings who were most apt to have the disposable incomes needed and the reason to consistently buy new clothing and accessories made a point and priority of shopping. Brand names and logos were a status symbol, and shopping in itself was an adventure.
Now the 30-year-olds and 40-year-olds then are in their 60s and 70s, and have little to no interest in the hottest fashion looks. And, today's 30-somethings and 40-somethings who may be in their high-spending years with incomes that support those habits aren't spending that disposable income on apparel the way their parents did. Their priority? Experiences and technology.
Morgan Stanley (MS) crunched the numbers a couple of years ago. In 2002, millennials spent just a little more than 4% of their after-tax income on clothes, and now that spend is just a little over 3%. Consumers regardless of age spent just a little less than 4% of their post-tax earnings on clothing and apparel, and now that proportion is less than 3%. That spending money has been mostly redirected to rent and cell phones.
It's not going to get better as the millennial crowd grows up either. The average 20-something would rather have an experience than an item. Specifically, 72% of consumers in their 20s would rather spend money making a memory than purchasing something material.
And, it's not apt to improve for the apparel-retailing industry down the long-term road either. Business Insider recently polled a group of teens about their clothing preferences. The most important factor in a purchase was "style," according to 56% of those polled. The weakest consideration was "brand," which mattered most to only 4.5% of the group.
It's the kind of data that spells trouble for retailers that were built for - and still rely heavily on - the sale of higher-priced branded clothing. A couple of generations' worth of consumers just aren't interested.
Perhaps more important, it's hard data that backs up what most investors have been sensing for a while, and seeing in retailers' numbers of late.
And just for the record, the notion that apparel retail is struggling while other retail arenas are holding up isn't just a feeling. Clothing and accessory sales have been stagnant since 2015 while sales at somewhat-related general merchandise stores have as well. U.S. spending on other goods has continued to grow.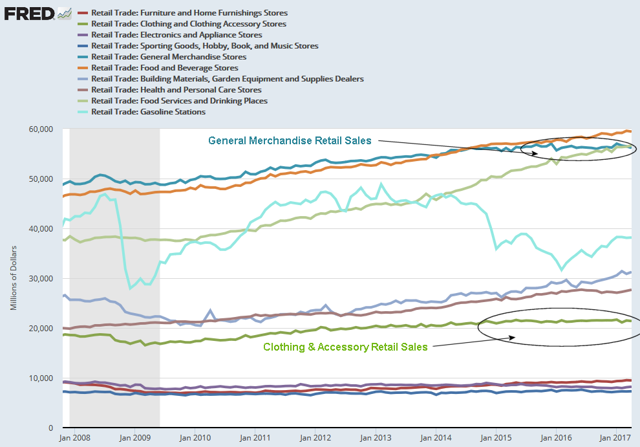 Source: St. Louis Federal Reserve [FRED]
Bottom Line for Nordstrom
The remaining Nordstrom family insiders have to be proud, and as such have to want to continue the namesake legacy. They also have to see the writing on the wall, though, and be aware that the challenge is likely insurmountable.
Indeed, taking the department store private could be debilitating at a time when every penny counts.
While the idea is only in its infancy, going private would add to the company's debt, as Nordstrom would have to raise cash to facilitate the deal. While it's far too soon to be talking about a specific debt figure for Nordstrom's privatization, with $2.7 billion worth of long-term debt on the books costing the company $48 million per quarter as of the most recently reported quarter. Relative to net income of $63 million last quarter and net income of only $371 million for the past four quarters, there may not be room for any new debt... especially knowing the bottom line continues to shrink.
In other words, you may want to take the recent post-privatization pop as an opportunity to make an exit, if you were waiting on that chance. The odds of all of this panning out as suggested today aren't exactly rock-solid.
Disclosure: I/we have no positions in any stocks mentioned, and no plans to initiate any positions within the next 72 hours. I wrote this article myself, and it expresses my own opinions. I am not receiving compensation for it (other than from Seeking Alpha). I have no business relationship with any company whose stock is mentioned in this article.