Most data center related stocks delivered solid numbers in Q4 2011 and met analyst expectations for more growth in 2012, confirming the strength of the sector.
Here is a complete look at how the companies under our radar screen performed on their report date last quarter: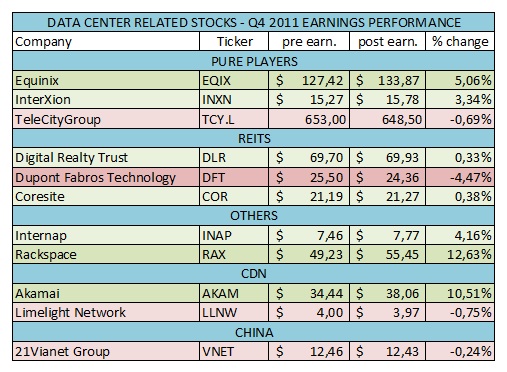 Let's quickly analyze these numbers by sub-sector.
All network-neutral data center providers delivered solid growth in Q4 2011 and for the entire year, and guided for double-digit growth going forward.
Equinix (NASDAQ:EQIX) was up 5% after earnings, in spite of an immediate sell-off after hours. The stock is up more than 38% in 2012 (YTD data are as of February 29, 2012).
Interxion (NYSE:INXN) also delivered good numbers for the quarter and in 2011, and the stock was up more than 3% the day after announcing earnings. It is interesting to note that both Interxion and TeleCity Group guided for strong growth in 2012, in spite of the economy in Europe, confirming that demand for outsourced data center services may even benefit from a weak environment.
TeleCity group was slightly negative after earnings, but it must be noted that the stock recovered the next day, gaining more than 4%. Interxion was also up in excess of 5% after its positive report date move, a sign that some investors may have needed additional time to dig into European data center providers numbers.
Both Digital Realty (NYSE:DLR) and CoreSite (NYSE:COR) were slightly positive after earnings, confirming a trend that has seen their stocks up 9% and 20%, respectively, since the start of the year.
Dupont Fabros Technology (NYSE:DFT) is the only stock that disappointed investors, as the company issued weak guidance for 2012. The stock was down almost 4.5% on its report date, and is also negative since the start of the year (-5%).
Cloud computing companies continue to perform very well. Rackspace (NYSE:RAX) delivered a strong quarter, and gained more than 12% on its report date - this single move making more than half of its gain since the beginning of the year (+21%).
Internap (NASDAQ:INAP) also had a nice move after earnings, gaining about 4%. The stock is up 26% in 2012, while the company expands its data center footprint and increases its cloud computing offering.
CDN providers received a completely different reaction to their earning releases. Akamai (NASDAQ:AKAM) was up 10.5%, while Limelight Networks (NASDAQ:LLNW) was slightly negative, losing less than 1% on report day. Their performance since the beginning of the year has been quite strong, with Akamai up 11.5% and Limelight up 27%. Both companies had lost ground in 2011, as investors started worrying about growth rates and margins going forward. As a reminder, Akamai lost about 30% in 2011, and Limelight saw its share price almost cut in half in the same time frame.
21ViaNet (NASDAQ:VNET), the Chinese provider of data center services, had a tepid reaction to its earnings report, losing 0.24%, but also experienced a nice run up before earnings, having gained about 33% since the beginning of the year. In a similar situation to CDN providers, VNET, which had its IPO in 2011, had seen a decrease in its share price in 2011, closing the year at -39%.
In summary, the market for data center providers, both in the multi-tenant and REIT sector, seems to remain quite strong, with demand exceeding others in most markets. Cloud computing companies are benefiting from a secular shift toward these new services, while the CDN sector is trying to find new product offerings to regain past growth rates and improve marginality.
The year 2012 could represent another interesting time to take a serious look at some of the companies in our coverage for those investors who are looking for key players in the Internet infrastructure sector and double-digit revenue growth even in an uncertain economic landscape, like in Europe.