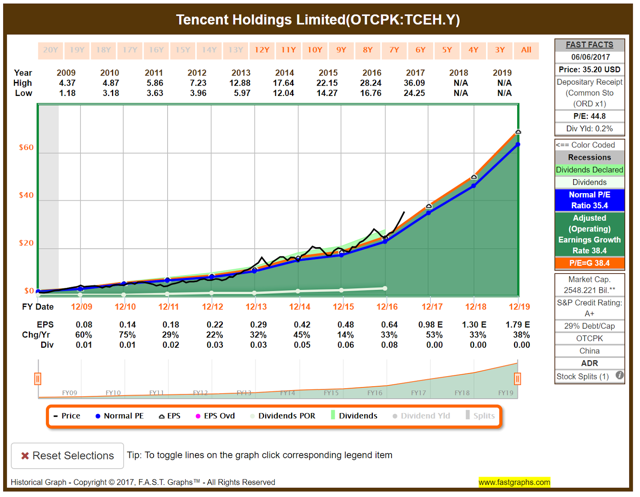 Tencent (OTCPK:TCEHY) is one of the largest Internet companies, as well as the largest gaming company in the world. Its many services include social network, web portals, e-commerce, mobile games and multiplayer online games. In May 2017, Tencent's market value grew to USD $343 billion, shortly after surpassing Wells Fargo to enter the world's top 10 most valuable companies. The company is a strong buy after an impressive Q1 Earnings report, analyst optimism and operations in many sectors of the emerging Chinese economy.

While some investors have heard about TCEHY in the US, most don't understand how huge this company really is and its massive growth potential. As previously stated, in May the company surpassed Wells Fargo to enter the world's top 10 most valuable companies and is the world's fourth-largest internet company by revenue. "With 938 million active Weixin and WeChat users and 861 million active QQ users, Tencent has become a primary enabler of the digital economy in China with value exceeding $3.6 trillion, ranking second behind the US, according to Tencent Research Institute," states this article. The company ranks 8th in BrandZ global brand rankings and has has done over 600 million transactions via its payments systems.
The company holds a wide range of subsidiaries ranging from social networks, web portals, e-commerce platforms, mobile games, media companies and multiplayer online games that enable this already massive company to grow and innovate. In addition Tencent invests in many startups and companies, creating a huge investment portfolio ranging over many industries. BCG ranks Tencent as a highly innovative company and large analysis firms think very highly of the stock, as discussed later in this article.
Growth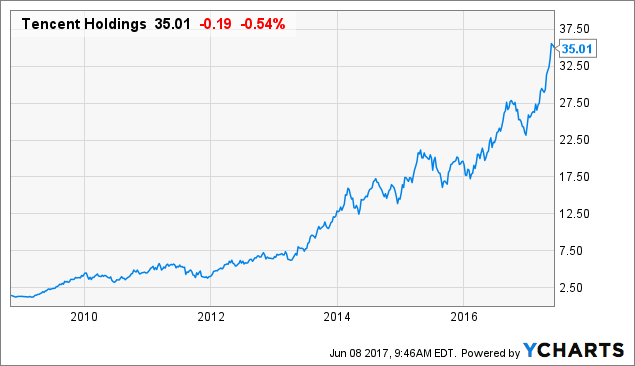 Despite being a large cap company, Tencent's innovative nature has allowed it to grow rapidly for the past five years. YTD return is 44.87%, massively outperforming the S&P 500s YTD yield of around 10%. For long term investors, 5-Year return is a nice 43.84% which outperforms the S&P 500 5-year yield of 15.54%. For the short term, 1-month return is 10.72% and 3-month return is 28.65%. For investors looking for both short and long term growth, based off return data, Tencent should be a strong buy.
Being situated in China, Tencent is poised to take advantage of the country's growing internet demographic. As China grows in GDP, TCEHY will see corresponding growth.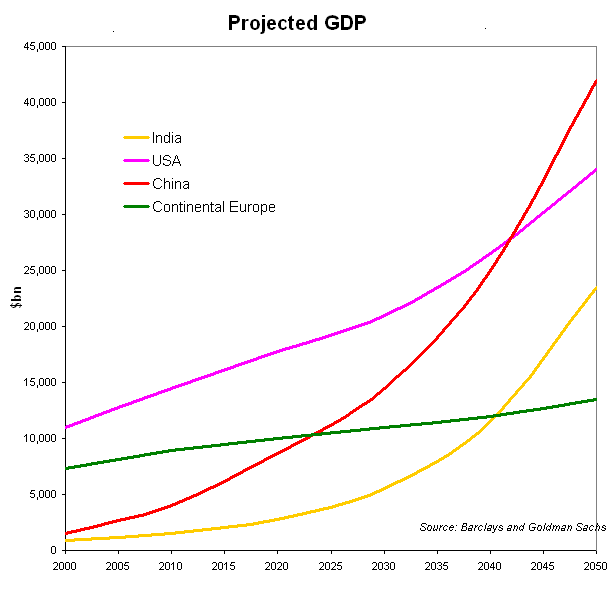 Like we wrote in our article on Alibaba (BABA), by 2020 China's e-commerce market is forecast to be bigger than the existing markets in America, Britain, Japan, Germany and France combined. And rather than just focusing on one sector of the Chinese online marketplace, Tencent focuses on all of them - and has solid businesses. Below is an extensive list of what sectors of Chinese economy they do business in with what companies/deals.
Gaming - Supercell (84% stake), WeGame (live in July), MiniClip Gaming, Riot Games, Epic Games (For the complete portfolio, click here)

Software Development - Tencent PC Manager, Tencent Mobile Manager, Tencent Open Platform

The Cloud, IOT - Tencent Cloud, Tencent Cloud Computing, Tencent Weiyun

Music Distribution - Deals with Universal Music Group (OTCPK:VIVHY), Sony (SNE), Warner Music Group and YG Entertainment, QQ Music

Search Engines/Information - QQ.com, Tencent News, Tencent Video, Tencent Microblog, QQ Mail, SOSO, Tencent Technology

E-Commerce/Online Payments - Weixin/Wechat Pay, TenPay, QQ Wallet, WeBank

Media (Films, TV) - Tencent Comic, Tencent Pictures, QQ Live,

Mobile Software/Social Networks - QQ, Weixin/Wechat, QZone

Investing - Red River Investments, Tencent Holding

Navigation - Tencent Map
In addition, the company holds a 5% stake in Tesla (TSLA), and is working with Nvidia (NVDA) for their cloud computing segment.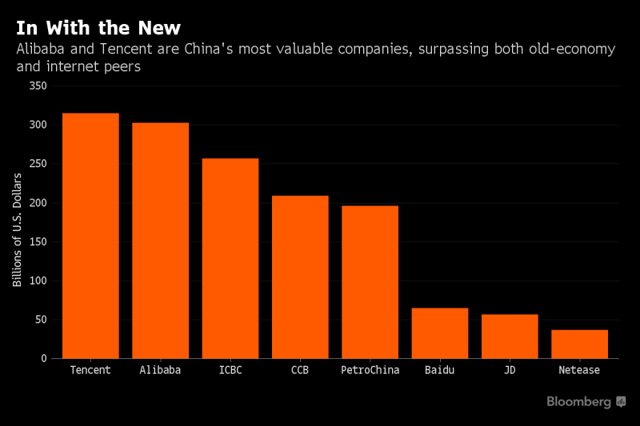 Tencent Compared With Peers - While BABA sees more publicity in the US, Tencent is larger.
Tencent is affiliated with most aspects of the Chinese online economy with little to no competition in most segments. Because the Chinese economy has massive potential and is expected to grow quickly in the next 10 years, TCEHY is expected to grow with the economy. On the below YChart, Tencent closely mirrors the Hang Seng Index but outperforms it on positive growth.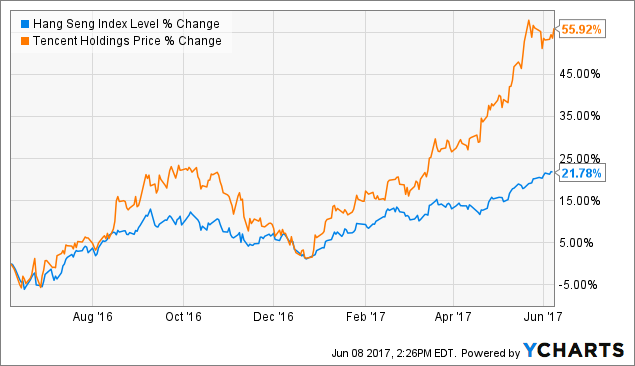 Earnings
Since Q1 earnings were released, Tencent stock has risen around 12% a four point increase. Mr. Ma Huateng, Chairman and CEO of Tencent stated that, "We delivered a strong set of operating and financial results for the first quarter of 2017. Financially, our smart phone games, payment related services, digital content subscriptions, PC games and social advertising businesses all contributed to our broad-based revenue growth. Operationally, our entertainment services benefited from the Chinese New Year holiday, and several of our products achieved notable growth during the quarter. We will continue to invest in new technologies, quality content and innovative products to bring increasingly better experiences to our users."
For investors, the Q1 report was nothing short of amazing, resulting in 12% share value growth since it was released. Total revenues were RMB 49,552 million (USD 7,182 million), an increase of 55% over the first quarter of 2016 ("YoY"). Operating profit was RMB 19,272 million (USD 2,793 million), an increase of 44% YoY. Operating margin decreased to 39% from 42% last year. Profit for the period was RMB 14,548 million (USD 2,109 million), an increase of 57% YoY. Net margin was 29%, the same as the first quarter of 2016.
Revenues in the Gaming segment grew 34% YoY while Social Networks revenue grew 56%. Media revenue increased 20% and Other (mainly cloud and payment) revenue grew a whopping 224% since last year. Capital expenditure was RMB 2,108 million, down 49% YoY. Free cash flow was RMB 24,229 million, up 74% YoY.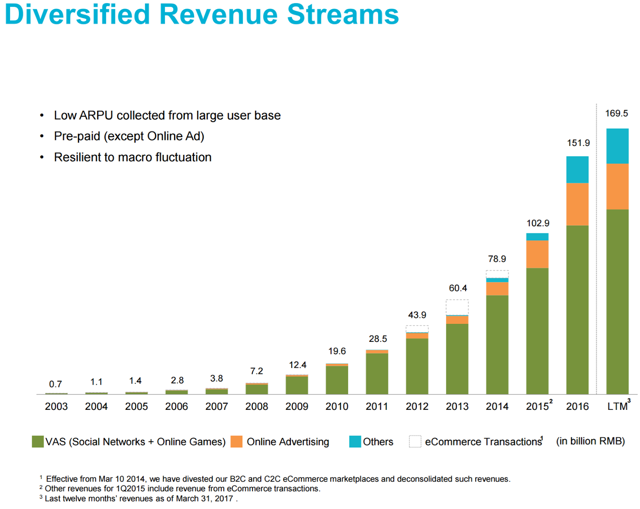 Analysts
Due to this stellar Q1 report and strong potential for growth, analysts are optimistic about TCEHY. "Chinese internet giant Tencent has been added to UOB Kay Hian's top picks for June, with the broker seeing around 14% upside," states this article by Barron's. "UOB added three new stocks to its buy list: IMAX China (OTC:IXCNY), pharma play United Laboratories (OTC:ULIHY) and Tencent." UOB stated this about Tencent future analysis; "We expect the cloud business will continue to show the fastest growth among Tencent's businesses for a few years and expect operating margin for the segment at negative single digit in 2017. We model in revenue CAGR of 21% and EPS CAGR of 26% for 2017-20. Our target price of HK$312.00 [for company stock trading in the HKEX] is based on the SOTP model."

According to Marketwatch.com, 37 out of 44 analysts rate TCEHY a 'buy' while 4/44 rate the stock 'overweight'. Only 3 out of 44 analysts rate Tencent stock a 'hold'. For the past 3 months consensus has been an overwhelming 'buy'.
Conclusion
Tencent is a strong buy, being suitable for long or short term investors. Because the company is operating in many sectors of the growing Chinese economy, the company can see massive future growth. In addition its many partnerships with companies such as Tesla and Universal Music will allow it to expand into new sectors in the future. The recent Q1 2017 earnings report has investors and analysts optimistic and posts a 55% revenues increase since Q1 2016.
Disclosure: I/we have no positions in any stocks mentioned, but may initiate a long position in NVDA, TCEHY over the next 72 hours. I wrote this article myself, and it expresses my own opinions. I am not receiving compensation for it (other than from Seeking Alpha). I have no business relationship with any company whose stock is mentioned in this article.
Editor's Note: This article discusses one or more securities that do not trade on a major U.S. exchange. Please be aware of the risks associated with these stocks.