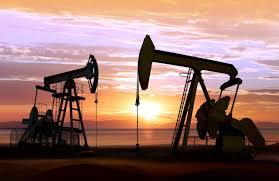 Investment thesis.
Ultimately, oil prices fluctuate because of changes to supply and demand, but the challenge for investors is that there are multiple factors at play that can affect those fundamentals, many of them often highly intertwined.
These factors include weather phenomena, supply interruptions due to strike or conflicts, broader man-made demand trends such as increase in renewable energy, OPEC and non OPEC decisions to cut production to a certain level, or other events that can have an immediate effect on supplies or demand.
The psychological aspect is also important and fascinating. For instance, the fear or hope that a future event might happen could in turn affect supply or demand, and by extension the price of oil. This is where geopolitical risks get "priced in", such as potential escalation of conflict in the Middle East, turmoil in Venezuela, Libya or future election results of oil exporting nations or the seemingly unstoppable production increase in the US Shale.
This is due because the oil market as we know it, runs almost exclusively on the so-called "paper oil" market (paper barrels), and not by the "real oil" market (wet barrels).
Analysis of the recent drop in oil prices.
Oil prices dropped below the level not seen since OPEC and non OPEC decided to cut production by 1.8 MBOPD in November last year.
On May 25, OPEC and non OPEC decided to extend the deal until March 2018 but were shy to announce any deeper cuts to balance the market. The results have been a two-week slide that puts WTI back in the mid-$40's.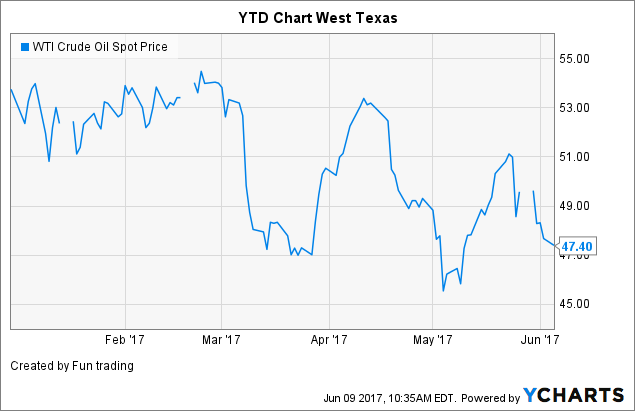 WTI Crude Oil Spot Price data by YCharts
We are in a middle of an existential dilemma again.
The recent EIA inventory report was definitely bearish, with both crude oil and gasoline inventories increasing by 3.3 million barrels each when stocks typically decline heading into the driving season. Adding salt to injury, EIA issued a statement explaining:
That it is growing more confident that U.S. oil production will surge past 10 million barrels per day (mb/d) by 2018.
It expects relatively unimpressive drawdowns in inventories this year, projecting declines of just 0.2 mb/d worldwide in 2017.
Finally the EIA also sees inventories rising again in 2018 by 0.1 mb/d.
More problems and worries on the horizon seem to pile up.
Nigeria: Royal Dutch Shell just lifted its force majeure on its Forcados oil shipments on June 6. A potential of 250K barrel per day of new supply back on-line.
Libya's largest oil field the Sharara field temporarily shut down on June 7, due to a workers' strike. However, the 270K BOPD the field is producing will probably come back online in H2 2017.
Russia recent comments creating some doubts about the Country long-term commitment to its promised production cut.
On the positive side, we have the diplomatic "Qatar"strophe. Tension in the Middle East is always bullish for crude. However, the consensus is that it will not have any significant impact on production.
Well, in short, the market sentiment turned extremely bearish, again.
But, can we really consider all the "street noise" as a good representation of the oil market situation or just a biased psychological rhetoric to simplify an unsolvable model, to manipulate and to profit?
Anyway... Strategy is not about whether the glass is half full or half empty, it's about who is winning the next round and who will pay for the drinks. Always been the basic idea.
Investors like you and me have a limited understanding of the global problem and we are forced to read what is available, which is a mix of half-facts and colored assumptions depending on where the "opinion du jour" comes from. Let's admit it, we are blind and this is how the market wants us to be. The more blinds walking the same dusty path, the better.
The only possible silver lining I see, is by interpreting how the market profit from this volatile environment and decide a strategy. We can either determine a metamodel for modeling investments in stocks, so they can be solved by planning algorithms, or just simply looking at the chart and analyze the patterns.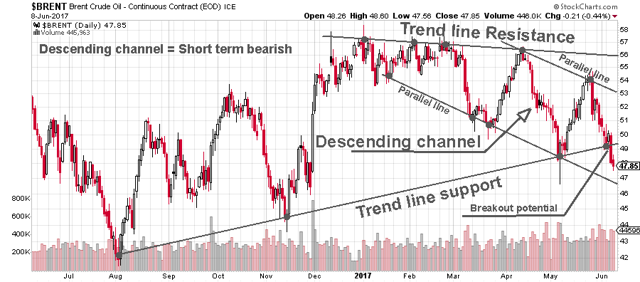 A quick interpretation of the Brent crude oil price 1-year chart is showing an interesting recent event.
We can see that Brent price was showing a falling wedge pattern (generally 70% bullish) until a few days ago. This pattern ended up by a negative breakout when Brent crossed the trend line support due to the surprised EIA inventory report.
We are now in a new descending channel pattern with a dropping price to a potential parallel line support at $46.50. A descending channel or downtrend is the price action contained between two downward sloping parallel lines.
Descending channel patterns are short-term bearish in that a stock moves lower within a descending channel, but they often form within longer-term uptrends, which means that it is likely that Brent will trade back to $53 soon, in my opinion.
Important note: Do not forget to follow me on the oil sector. Thank you for your support.
Disclosure: I/we have no positions in any stocks mentioned, and no plans to initiate any positions within the next 72 hours.
I wrote this article myself, and it expresses my own opinions. I am not receiving compensation for it (other than from Seeking Alpha). I have no business relationship with any company whose stock is mentioned in this article.