Closed-End Funds ("CEF") are an income-investor favorite because many of them pay big steady distributions to their investors. However, before jumping in headfirst, there are a variety of risk factors that should be considered such as distribution sustainability, discount/premium, leverage, derivatives, and fees. After reviewing the risk factors, this article highlights seven specific +7% yield CEFs that we consider particularly attractive and worth considering if you are income-focused investor.
What is a CEF?
A closed-end fund, or CEF, is an exchanged traded product that can offer a big attractive distribution yield. Its price fluctuates throughout the course of the trading day based on a combination of its net asset value (the aggregated market value of the individual holdings within the fund) and supply and demand. The supply and demand dynamics of a closed-end fund can cause it to trade at a significant premium or discount versus its net asset value ("NAV") throughout the course of the day (and over time).
Note: Unlike CEFs, Exchange Traded Funds (ETFs) have creation units where ETF management can create more shares of the ETF through the open market which helps keeps the discount/premium on an ETF small (generally only a few basis points). On the other hand, CEFs have no creation units (they're closed-end) and therefore CEFs can trade at large discounts and premiums relative to their NAVs thereby creating opportunities and risks.
For reference, the following table shows a variety of CEFs offering big yields and trading at various discounts and premiums relative to their NAVs.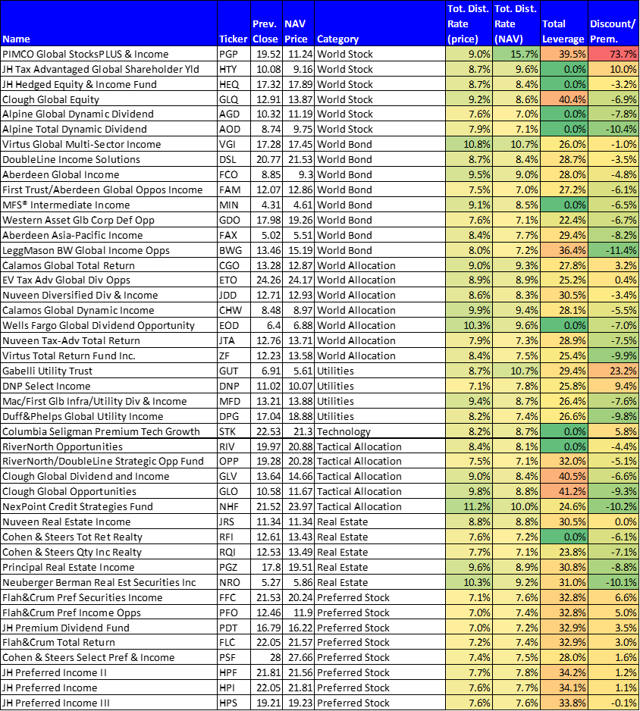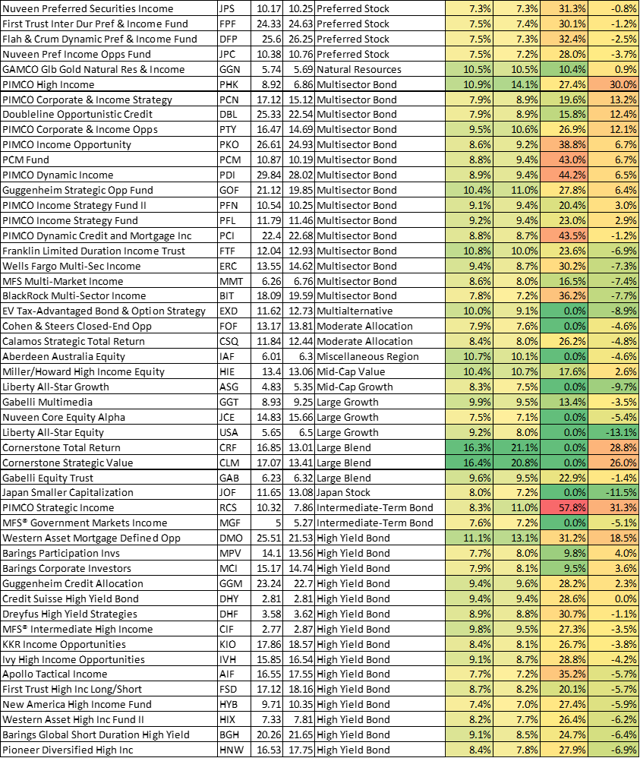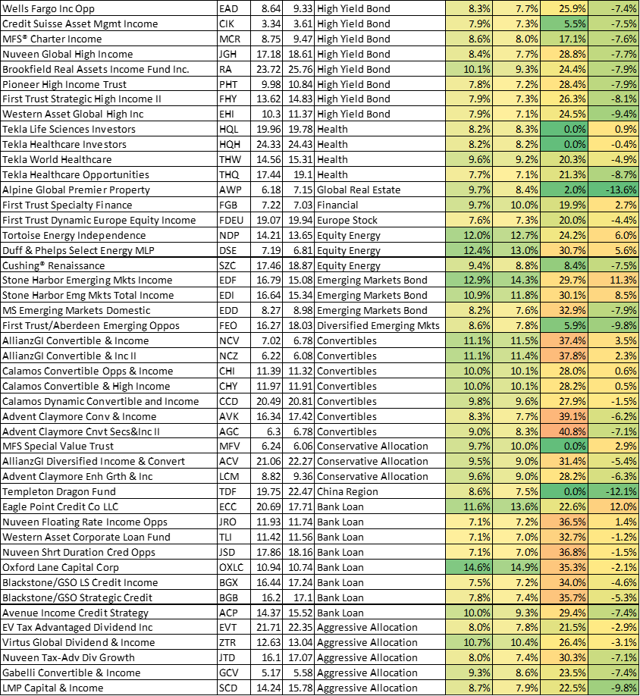 (data source: Morningstar CEF Quick Rank)
And as the "Category" column in the above table suggests, CEFs come in many different types (more on this later).
Distribution Sustainability
Distribution sustainability is one big risk factor that investors should consider before investing in CEFs. For example, you may be wondering how CEFs are able to offer such big distribution payments (7% and above in our table), when the securities they hold only offer dividend yields and coupon payments in the general range of 2% to 4%. The answer is a combination of dividends, capital gains, return of capital (as well as leverage and derivatives). Specifically, a lot of CEF distribution payments are comprised of a combination of dividends and capital gains/returns. For example, the following table shows the distribution payment breakdown for the Nuveen Core Equity Alpha CEF (NYSE:JCE).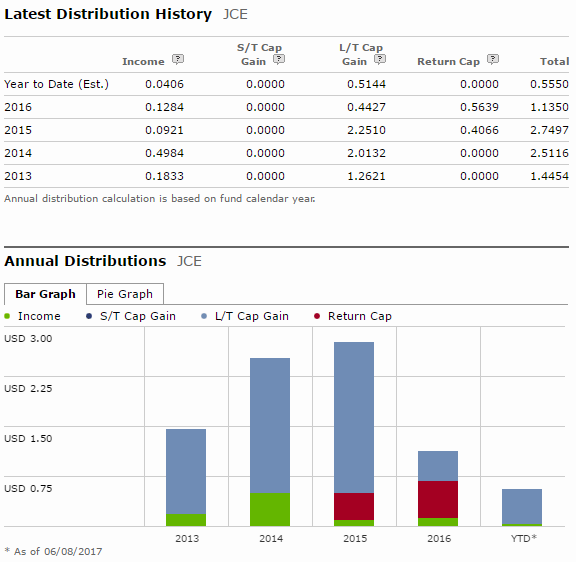 (image source: Morningstar)
And as you can see in the above graphics, "Income" (e.g. dividends and interest) make up only a small portion of the distribution. "Capital gains" (i.e. selling some of your winners) make up the largest portion. And it is the capital gains distributions that help JCE achieve its 7.5% yield. However, investors should invest with caution because in years where there are no capital gains left to return to investors the fund may be forced to return capital and/or cut the distribution payment.
Leverage
In addition to the contributors described above, leverage can be significant contributor to the distribution yield. For example, the "Total Leverage" column in our earlier table shows CEFs use leverage generally ranging from 0% all the way up to above 50%. Leverage (or borrowed money) can help boost your return too. For example, using 30% leverage can add 30% to your distribution yield. Leverage is a nice way to boost your returns in the good times, but in the bad times leverage can magnify your losses. Plus leverage is not free. Using leverage generally requires the borrower to pay interest, which will detract (a small amount) from net returns.
Derivatives
Derivative instruments (such as put and call options) are often used in CEFs, and this can increase risk. For example, there is a cost to buying or selling an option, and depending on the type of options strategy the CEF uses (e.g. selling puts), it can result in large losses if the market moves against you. If you're going to invest in a CEF, make sure you understand what exactly that particular CEF is investing in, and if it includes derivatives, make sure you are comfortable with the risks that may bring.
Fees
Fees are another risk factor when investing in CEFs. For example, CEF fees are generally higher than ETF fees. More specifically, the fee on the Nuveen Core Equity Alpha CEF (our earlier example, ticker: JCE) is 1.03%. This is very reasonable for a CEF, but it is also higher than most ETFs. As a do-it-yourself investor, you probably despise management fees because you know they compound over time and significantly detract from long-term performance. We do our best to avoid all unnecessary fees and expenses, but we also understand that fees can be acceptable if an investment delivers the things (for example steady income) that you need.
7 High-Yield CEFs Worth Considering
When identifying the seven attractive CEFs for this article, we not only tried to minimize the risk factors described above, but we also tried to take advantage of specific market-wide themes (such as contrarian opportunities) that we consider particularly attractive right now based on current market conditions.
1. Nuveen Core Equity Alpha , Yield 7.5%
The Nuveen Core Equity Alpha CEF offers broad exposure to the US stock market and a high distribution yield of 7.5%. And importantly, the fund does not use risky leverage (the leverage ratio is 0.0%). Also, this fund charges only 1.03% in management fees (very reasonable for a closed-end fund). And as we described earlier, this fund is able to pay its big distribution yield through a combination of dividends (on the 220 stocks it owns) and capital gains (as the stock prices appreciate, the fund returns some of those gains as distributions). Also, the fund operates with an automatic dividend reinvestment plan if you'd like your distributions reinvested.
From a style perspective, the fund falls into the "large cap growth" category. Large cap growth has performed particularly well this year, as the Trump rally carries on. The fund's top holdings include: NVIDA (NASDAQ:NVDA), Lockheed Martin (NYSE:LMT), Spectra Energy (NYSE:SE) and Applied Materials (NASDAQ:AMAT). You can lookup a variety of other statistics for this fund here. Overall, JCE is a reasonably prices equity CEF (it trades at a 5.5% discount to its NAV), it offers significant long-term capital appreciation potential, and the distribution yield is big (7.5%) and steady.
2. Nuveen Diversified Real Asset Income Fund (NYSE:DRA), Yield: 7.4%
If you are worried the strong performance of large cap growth stocks (such as those held in CEF JEC, as described above), then you might want to consider the Nuveen Diversified Real Asset Income Fund. Real Estate Investment Trusts (REITs) and Utilities are the two largest sector allocations in this particular CEF. And not only are these two sectors traditionally high-income and low-volatility, but they are also both attractive contrarian investment opportunities right now considering they've been underperforming the rest of the market as shown in the following chart.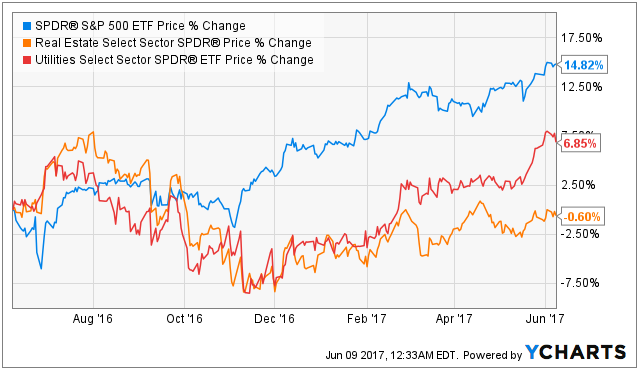 We first wrote about this CEF back in January (Real Asset CEF, Yields 8%, Pays Monthly, Big Discount To NAV), and since that time the sectors have only gained moderately compared to the rest of the market (i.e. we believe they're still attractive). Also compelling, the price discount versus NAV is still significant, and the fee is relatively low (1.12%) for a CEF. If you're looking for more data points on this fund, check out Morningstar's CEF Quick Rank, but we like it because of its strategy, holdings, discounted price and big distribution yield.
3. BlackRock Multi-Sector Income (NYSE:BIT), Yield: 7.8%
If you are still nervous that the stock market has climbed too much in recent years and it may be due for a pullback, then you might want to consider investing in bonds via the BlackRock Multi-Sector Income Bond CEF. This objective of this fund is to provide high current income with capital preservation through investment across multiple sectors of the fixed income securities market. It also offers a big distribution yield off 7.8%. The fund does use leverage, and with a 36.3% leverage ratio, it is fairly consistent with other bond funds. However, unlike many of its peers, this BlackRock ETF trades at a discount (-7.9%) relative to its NAV. For example, as shown in our earlier table, many PIMCO "Multisector Bond" CEFs actually trade at very large premiums to NAV. And while PIMCO is a highly respected fixed income shop (so is BlackRock), we just can't get comfortable with the idea of paying a 30% premium as is the case with the popular PIMCO High Income CEF (NYSE:PHK), another "Multisector Bond" CEF. Morningstar provides more detailed stats on this attractive BlackRock CEF here.
4. Nuveen Real Estate Income (NYSE:JRS), Yield: 8.8%
If you noticed in our earlier 1-year price performance chart (in the DRA section above), real estate securities have actually performed worse than utilities. However, we believe many REITs continue to offer safe investment opportunities and high yields that are worth considering. With that in mind, we like the Nuveen Real Estate Income CEF. In particular, we like its specific REIT holdings (for example, it's largest holding, Simon Property Group (NYSE:SPG), is very safe, in our view), its discounted price (versus NAV), and its reasonable 1.31% expense ratio. We wrote about the attractiveness of this fund back in January (This 9% Yield Real Estate CEF Is Attractive), and we still like its big yield and discounted price today.
5. GAMCO Gold Natural Resources & Income (NYSEMKT:GGN), Yield: 10.5%
Sticking with our real assets theme, if you are a contrarian, income-focused investor, and you're concerned about inflation, then you may want to consider the GAMCO Global Gold, Natural Resources & Income Trust. This is a closed-end fund ("CEF") that offers a 10.5% yield (annualized), paid monthly. It also trades at a reasonable price (small premium) relative to its NAV.
The fund holds a diversified basket of "metals & mining" and "energy & energy services" investments. These allocations are attractive from a contrarian standpoint (i.e. these categories have underperformed the market as shown in the chart below). And if you are concerned about protecting your assets from the threat of inflation, real assets, such as gold (NYSEARCA:GLD), are often used as an inflation hedge. Plus protecting against inflation may become increasingly important soon considering the extreme monetary policies since the financial crisis.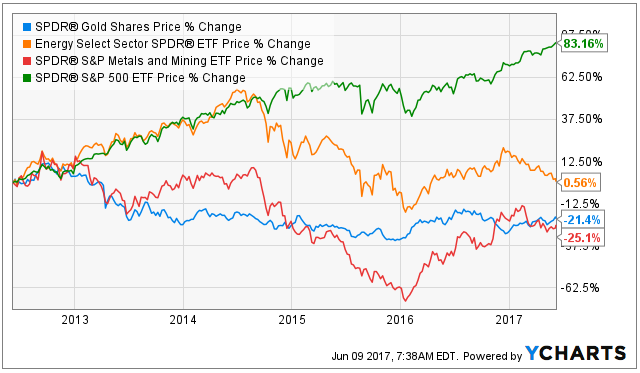 You can read our more detailed write-up on GGN in this recent report: 10 Attractive 10% Yields Worth Considering (GGN is #8).
6. First Trust New Opportunities MLP & Energy (NYSE:FPL), Yield: 10.0%
If you like big distribution payments and you believe in the long-term power of the energy sector, then you might want to consider the First Trust New Opportunities MLP & Energy CEF. This particular fund pays a 10% distribution yield (paid monthly), and it owns a portfolio of cash-generating securities, with a focus on investing in publicly traded master limited partnerships ("MLPs") and MLP-related entities in the energy sector.
As you may or may not know, MLPs often offer big distributions, but the sector has been very volatile. This particular fund allows investors to own a diversified portfolio of MLP and energy securities thereby reducing most of the stock-specific risks. And if you are curious, the following table lists the top 10 holdings (many of which are names you may have heard of):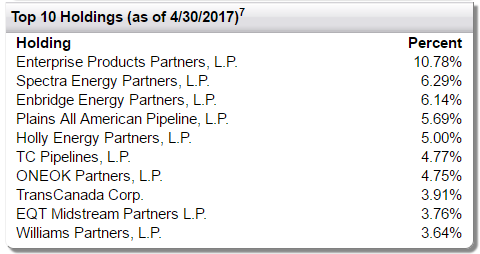 (image source)
As you are likely aware, the energy sector is underperforming the rest of the market in recent years which makes for an attractive contrarian opportunity, in our view. And the First Trust New Opportunities MLP & Energy CEF is a compelling way to invest in the sector, especially if you are an income-focused investor.
7. Gabelli Equity Trust (NYSE:GAB), Yield: 9.6%
The Gabelli Equity Trust invests in equity securities, and it also pays a big 9.6% distribution yield. And as we've described earlier, this fund is an example of how a combination of dividends, capital gains and leverage can be used to generate big distribution payments. Specifically, this fund has a 23% leverage ratio (significant, but less than some of its peers), and the following table shows the breakdown of distribution sources of capital.

(source: Morningstar)
The fund has outperformed the S&P 500 this year (due in part to its style bias towards large cap growth, which has been a top-performing style), but it still trades at a discount (-0.16%) to its NAV.
Further, GAB's total expense ratio (1.10%) is very reasonable for a closed-end fund, particularly a fund managed by Gabelli. Gabelli is the firm founded by Mario Gabelli, and it is highly respected for its long track-record of prudent management. You can read more about the Gabelli team (and this fund) here. And overall, if you are looking for a relatively low cost CEF, with a strong management team, a discounted price, and a big distribution yield, the Gabelli Equity Trust is worth considering.
Conclusion
As described in this article, closed-end funds can be a very attractive way to generate big steady income payments, but investors should be aware of the risks involved. We believe the seven CEFs highlighted in this article are attractive and worth considering if you are an income-focused investor. However, you can view Our 5 Favorite CEFs (we own all five) within our Seeking Alpha Marketplace service, The Value & Income Forum. And most importantly, if you are an income-focused investor, it's critically important to understand what you are investing in, and to only allocate investment dollars to strategies that fit your own personal investment needs and objectives.
Disclosure: I/we have no positions in any stocks mentioned, and no plans to initiate any positions within the next 72 hours. I wrote this article myself, and it expresses my own opinions. I am not receiving compensation for it. I have no business relationship with any company whose stock is mentioned in this article.