General Motors (NYSE:GM) crushed David Einhorn and his Greenlight Capital's quest to create two classes of General Motors shares, and its quest to get on the Board of Directors. Despite this being good news, the reaction has been muted. In large part, this comes as General Motors still has plenty to worry about, from auto sales slowing to Ford (NYSE:F)'s growth strategy.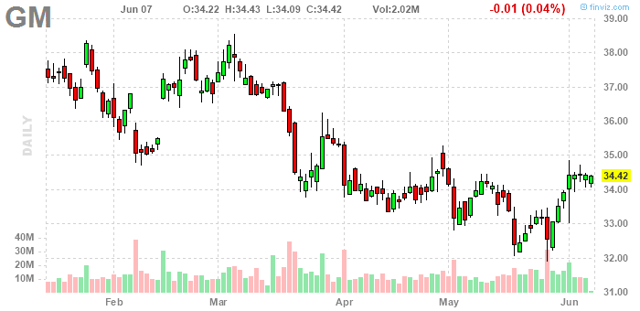 The numbers don't lie.
Virtually no one was interested in Einhorn's plan. All of General Motors' board nominees were elected with between 84% and 99% of votes. 91% of shareholder votes were against Einhorn's dual-class proposal - and upwards of 96% if you exclude Greenlight's shares.
Part of this, I believe, is that shares have been relatively muted since the last activist investors battle. Back in 2015, General Motors went to battle against Harry Wilson and Appaloosa Management, ultimately settling by introducing a hefty buyback that appeased the activist investors.
But in the end, that's done little to fundamentally move the stock price and done nothing to help it sell more cars. General Motors CEO Mary Barra will likely get to keep her job a bit longer because of this. Meanwhile, top competitor Ford just make a big change in the top ranks, promoting a guy with digital and robotics experience to run the company. They are gearing up for the future of driverless cars.
Instead, General Motors has been fending off a "creative" idea put forth by an activist investor. As Einhorn noted, "We decided to bring a creative idea to GM's shareholders and nominate directors to help fix GM's inefficient capital structure and unlock significant value for all shareholders ... We are disappointed that shareholders have elected to maintain the status quo. We congratulate GM's management on their win today."
Then there's Einhorn's short, Tesla (NASDAQ:TSLA), which also recently had its own boardroom battle. With Tesla, the Connecticut pension funds were pushing to get board director re-election done annually - instead of every three years. The proposal failed.
Finding your alpha.
Einhorn's hedge fund has been struggling in recent years together with the vast majority of the hedge fund industry. His ability to exercise his will on Wall Street also appears to have taken a hit. Per Greenlight's 1Q investor letter, the fund returned just 1.3% while the S&P 500 was up 6.1%. The fund was up 8.4% in 2016, but Einhorn is still trying to recover from the 20% loss the fund saw in 2015.
General Motors is by far Greenlight's largest holding on the long side, making up a quarter of its long-only public equity portfolio. The question becomes now, does Greenlight hold onto shares. He's still a major holder of Apple (OTC:APPL) even after he lost a similar battle to create a class of preferred shares. But it is likely that Greenlight reduces its General Motors stake, after all, there's no material near-term catalyst that will boost General Motors' shares. And Greenlight still has some big losses to recoup.
Much of its top holdings are stocks it's owned for a few years. Einhorn will likely have to find a new 'big' idea or make one of its newest starter positions a core holding. This could mean that either Conduent (NYSE:CNDT) or Perrigo (NASDAQ:PRGO), both of which were new holdings for Einhorn last quarter.
For Conduent, this is the Xerox (NYSE:XRX) spinoff that is a business process outsourcing company. It has commercial and government customers. There is an activist opportunity here, which includes right-sizing the Conduent portfolio, which is burdened with underearning contracts. Management can either exit these contracts or let them runoff without renewal.
For Perrigo, this drug company has fallen 30% in 2017.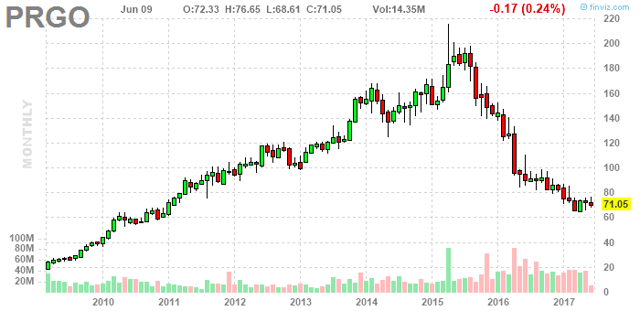 Perrigo is the largest maker of private label OTC drugs in the U.S. The company rejected a buyout bit by Mylan in 2015, which was worth $175 a share. The stock now trades at $70 a share. The company thought it could grow to beyond $175 a share on its own with strong earnings growth. But the company was too optimistic, including its CEO, who has since left the company. Perrigo has been undergoing guidance cuts since then, but the new CEO team is at least setting attainable earnings goals. Then there's some restructuring charges that won't repeat this year - including the charges on its European OTC brand - Omega. The company has to focus core US OTC business, which still has growth potential. Then there's Starboard Value, which is also an activist involved with Perrigo.
In the end, Einhorn won't be able to fully recover from his 20% loss in 2015 with a sizable position in General Motors, as this major automaker appears to be dead-money for a few years. Instead, it'll could be either Conduent or Perrigo that help juice returns for Einhorn going forward.
Disclosure: I/we have no positions in any stocks mentioned, and no plans to initiate any positions within the next 72 hours.
I wrote this article myself, and it expresses my own opinions. I am not receiving compensation for it (other than from Seeking Alpha). I have no business relationship with any company whose stock is mentioned in this article.