I don't know if Goldman got up Friday morning with the intention to ruin anyone's weekend, but they certainly released a bombshell of a note today about the stocks that are responsible for 40% and 55% of the S&P (NYSEARCA:SPY) and Nasdaq's (NASDAQ:QQQ) YTD performance, respectively.
I've written a couple of posts lately about the fact that a disproportionate percentage of the market's return is attributable to just a handful of names. Here are a couple for anyone who cares to peruse them:
One of the important takeaways there is that what we've seen this year in terms of a few names driving returns isn't normal.
Specifically, if you look at years in which the S&P rises 5% or more, the average contribution of the top 10 performers is 30%. Currently, that figure is closer to 50%: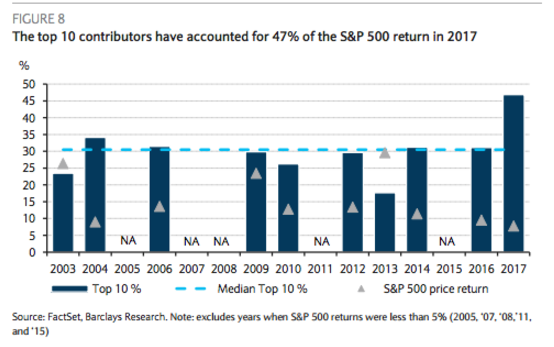 (Barclays)
The other thing to note about this dynamic is that hedge funds and mutual funds, no longer able to find any real alpha in a world where broad indices only rise and tracking those indices is as easy as paying 10bps to an index ETF manager, are simply overweighting tech in order to outperform benchmarks. Just call it "stupid alpha."
Recall this out last week from Goldman (more here):
Both mutual fund and hedge fund returns in 2017 have benefited from high allocations to the Information Technology sector, which has surged by 21% YTD and contributed 46% of S&P 500's YTD return. Our analysis of $1.9 trillion of long and short hedge fund positions revealed a 25% net exposure to the Tech sector. Our review of $1.3 trillion of large-cap mutual fund assets showed growth funds with a 37% Tech weight (422 bp overweight vs. Russell 1000 Growth index), and value funds with a 13% weight (277 bp overweight vs. Russell 1000 Value benchmark).
Basically, "tech" has become synonymous with "growth" which has become synonymous with "momentum" and while that's in some sense tautological (if you know markets), the relationship has become self-feeding of late. If you want to see how this developed, I encourage you check out this and this.
That's the setup for the biggest note out of the Street on Friday:

Here's the breakdown you've seen before - that is, here's the visual that depicts just how important these names have been in terms of driving the rally: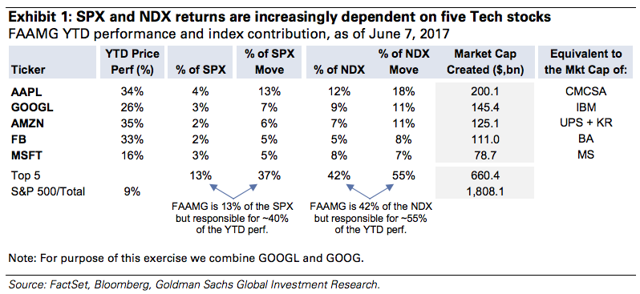 (Goldman)
Goldman starts with this (do note the ridiculous stat about South Africa and Hong Kong):
In the absence of growth, you buy growth. Makes sense. Indeed, notions of fiscal stimulus, pro-cyclical policy and central bank tapering have fallen to the wayside as quickly as they came into the narrative in Q4:16. It is against this backdrop that five companies poised to dominate disruption - Facebook, Amazon, Apple, Microsoft and Alphabet - have added a total of $600 bn of market cap this year (Exhibit 1) or the equivalent GDP of Hong Kong and South Africa combined. Parallels to the "NiftyFifty" and 1999-2000 are growing as their performance is even more pronounced on a risk-adjusted basis. However with this success have come unintended portfolio consequences for investors.
But here's where the real problem comes in (again, from Goldman):
While not exactly a Fields Medal worthy observation, we note that FAAMG is positively correlated with Growth and Momentum and this relationship has strengthened in recent months. The bigger anomaly, however, is that FAAMG is almost as highly correlated with Low Vol (as measured by standard deviation of 1Y daily price returns), which is not a characteristic typically associated with cyclically driven TMT names.

If FAAMG was its own sector, it would screen as having the lowest realized volatility in the market. How can low vol create a problem? Investors are increasingly focused on "volatility-adjusted" returns as they are deciding which stocks to invest in. We believe low realized volatility can potentially lead people to underestimate the risks inherent in these businesses including cyclical exposure, potential regulations regarding online activity or antitrust concerns or disruption risk as they encroach into each other's businesses.

Mechanically, we expect that as the realized volatility of a stock drops, more passive "low vol" strategies buy the stock, pushing up the return and dampening downside volatility. The fear is that if fundamental events cause volatility to rise, these same passive vehicles will sell and exacerbate downside volatility.
Now do you see why I'm always talking about systematic strats and mechanical deleveraging?
What's implicit (actually it's almost explicit) in the above is that this setup isn't just dangerous because these stocks are shouldering a disproportionate share of the burden when it comes to sustaining the rally, but also because by becoming more highly correlated with volatility, they've effectively become their own volatility control fund.
The higher they go, the lower the volatility and the more levered up people get. It's the exact same self-fulfilling loop that's driving CTAs and risk parity to lever up their positions.
And if Goldman is right, we should be just as worried about what happens when that loop reverses itself in FAAMG as we are about what happens when the programmatic crowd is forced to unwind.
You're encouraged to think carefully about everything said above and you'll also note that CNBC dedicated an entire segment to Goldman's piece this afternoon.
That's not to say that you should look to CNBC for investment advice. Rather, it's more to say that "even CNBC gets it."
Disclosure: I/we have no positions in any stocks mentioned, and no plans to initiate any positions within the next 72 hours. I wrote this article myself, and it expresses my own opinions. I am not receiving compensation for it (other than from Seeking Alpha). I have no business relationship with any company whose stock is mentioned in this article.