Note: Members of Value Investor's Edge had access to a version of this commentary prior to market open.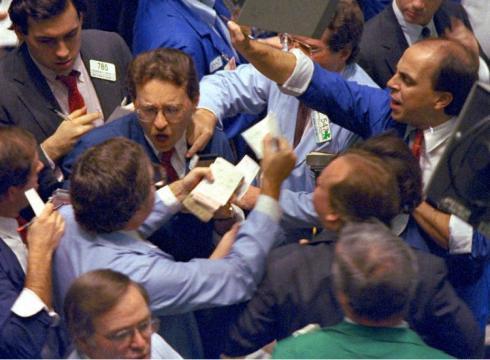 Image Credit: USA Today
Our Prior Research And Price Moves
We've written extensively about Teekay Corporation (NYSE:TK) in public and private research channels. Our most recent public report was the release of our 'Top Idea for 2017' in early November 2016 (when TK was close to $6/sh), where I shared my belief that TK could reach an end-2017 target of $18/sh.
This target was based on Teekay LNG Partners (TGP) restoring its distribution to previous levels ($0.65 to $0.70/qtr) by the end of 2017, and it also required Teekay Offshore Partners (TOO) to stabilize. Oil price momentum helped carry TK above $11 during both January and February of 2017, but this momentum reversed strongly, and TK started to fall back.
In the Q1-17 results, TOO reported a failed charter with Petrobras (PBR) for an offshore support vessel, the "Arendal Spirit," which led to the potential loss of around 18 months of charter hire and brought $112M of debt into current status, due by October 2017. Additionally, TGP management seemed to suggest a major distribution hike was off the table until mid-2018.
Due to previous concerns with TOO, I had reduced my fair value target to $15/sh. I began an additional analysis, reviewed the upcoming cash flow, and concluded that $15/sh still made sense, with some fluctuation for underlying prices and performance at TOO and Teekay Tankers (TNK).
Shock Downgrade from Morgan Stanley
I've been working on a comprehensive update report for the past couple weeks and was planning to have a full-length report out soon; however, a shock report dropped early this morning. Morgan Stanley (MS), led by analyst Fotis Giannakoulis, released a massive downgrade on the entire Teekay Enterprise. Most notably, it shifted its price target on Teekay Offshore from $5.50 to $1.50 and it smashed its price target on Teekay Corporation from $8.00 to $3.00.
It released a 66-page report, which I was able to review early this morning prior to market open. I was shocked by the massive price cut, so I expected to see some new piece of information or some massive disclosure that I had potentially missed in the SEC filings. Nope. Nothing new besides the previously public information, updated with commentary from the Q1-17 results at TOO, which were reported over three weeks ago.
Analysis Flawed?
Although I mostly agree with the MS view on Teekay Tankers and I also share some major concerns about Teekay Offshore, the major shocker comes from its two major viewpoints on TK's underlying valuation and risk, both of which I disagree vehemently with:
MS believes the TGP distribution won't improve for a minimum of two years, and even then will only grow to $0.32/qtr by 2021.
I disagree 100% on this conclusion. I expect a massive increase during 2018, which will lead to a major revaluation of TK due to its levered exposure with general partner units and incentive distribution rights ("IDR").
MS believes TOO's financing is at crisis levels and that TK itself has default risk because of a corporate guarantee on a term loan.
Although I agree TOO has a challenging financial situation and TK will likely need to help it bridge the minor gap this fall, I believe there is little risk to TK itself (beyond the lost value in the daughter units).
I believe MS grossly overstates the actual corporate guarantee risk involved and that its extremely panicked research report and confusing approach to TGP's finances have created a massive trading opportunity.
Critical Review: MS Report vs. Sources & Models
I've reviewed the 66-page MS report (heavily layered with appendices, the majority of its analysis is included in a few pages), and I've also previously reviewed and now re-reviewed the key source documents listed below:
TGP Distribution Difference of Opinion
As mentioned above, the MS report, written by Fotis Giannakoulis, comes to a totally different conclusion regarding TGP's underlying distribution capacity and debt maintenance requirements. Its completely different viewpoint leads to a TGP price target on its end of $15/sh versus our target of $25/sh. Not an enormous gulf, but the implications on TK are huge.
Because TK's future valuation depends on its major levered-upside to TGP's cash flow, this is the most important aspect of the entire enterprise. Ironically, it seems MS agrees nearly completely with our analysis on the growth aspects (page 13):
"We see however no funding risk for its newbuilds given that all of them have profitable long- term contracts."

"While near-term liquidity remains tight, TGP's cash flow is expected to grow in a meaningful way over the next 3 years as a serries (sic) of 18 fully contracted newbuild LNG carriers are expected to hit the water (incl. 10 partially owned. We therefore expect, TGP's cash flow from vessel operations, including its share in the partially owned ships, to increase by over $350m between 2017-20. That should allow TGP's operating cash flow to grow from ~$200m in 2017 above $360m by the time all the newbuilds are in operations."
I actually expect operating cash flow to reach even higher levels given redeployment of the YLPG ships and the return of two charters from TK into a strong 2018-2019 market, combined with a restore of the Awilco LNG ships, but let's not quibble, the fact is that we both think the growth is secure and the growth in operating cash flow is massive.
The key difference in opinion is that MS thinks the near-term distribution hike is a nonstarter (page 13-14):
"Dividend capacity is constrained through end-2018 until newbuilds hit the water and maturing debt is refinanced. While the entire remaining capex should be funded with debt, TGP's liquidity is expected to remain tight over the next two years and while its newbuildings are still under construction. During 2018, TGP has to refinance ~$650m of maturing debt, preventing it from raising its distribution until the terms of these refinancings have been firmed up. These include ~$280m of secured revolvers, ~$160m of debt backed by the two Awilco vessels whose contracts were recently revised at $10.6-20.6kpd lower until end-2019, and ~$105m in Norwegian bonds."
I completely disagree with the MS conclusion on cash needs. I believe its report widely misses the mark on these financings and has created a huge dislocation opportunity in TK shares. Based on its comments, quoted above, Giannakoulis believes that around $500M in operating cash flow during 2017 and 2018 can only support a payout of under $100M ($0.14/qtr for eight quarters). He seems to believe TGP will need to retain $400M of its operating cash flow to handle the $650M of maturing debt.
To illustrate what I believe are clear fallacies on the debt maturity logic, I've broken down the three key aspects of Giannakoulis's concerns and addressed a fourth refinancing task (note: all valuation indications are sources from VesselsValue.com, the preeminent source for independent valuation metrics):
1. $280M of secured revolvers. These are two separate secured credit instruments, backed against 4x LNG carriers, dating back to 2006 and 2008. TGP has already been steadily repaying these facilities from their original levels of $500M. The collateral is listed below along with the vessel's current charter-free market value and secured employment.
$188.7M Due in 2018 - 2006 Facility Collateral:
2004-Built Galicia Spirit: $95M Value/Charter to June 2029
2002-Built Hispania Spirit: $84M Value/Charter to September 2022
$56.6M Due in 2018 - 2008 Facility Collateral:
1993-Built Polar Spirit: $35M Value/Charter to April 2018
1993-Built Arctic Spirit: $36M Value/Charter to April 2018
Although the second facility might be a little tighter since the ships are mid-size and older, there is a clear coverage. I'd expect any future credit facility to be employment-bound, so this one might become mostly due. Worst case, TGP re-delivers these ships into a weak market and decides to simply demolish both assets, receiving around $20M, $37M net cash is needed.
The first facility is a clear-cut extension candidate. Both charters are heavily profitable and the underlying charter-free value is rather irrelevant since cash flows are what matter. The counter-parties are rock-solid, essentially Shell (Spanish subsidiary) and ENI (Union Fenosa JV). Worst case scenario is that banks limit the LTV to 80% D/A (very unlikely as banks almost always look at charter net discounted cash flows in these scenarios), but even in that case $46M is net cash needed.
References for the secured facilities:
Original 2006 Agreement for the $330M facility
Original 2008 Agreement for the $172.5M facility
2. $105M of Norwegian unsecured bonds. These are standard unsecured instruments. TGP is a credit-solid firm as referenced by no difficulty in financing the growth aspects. Additionally, it placed preferred equity (lower than unsecured debt on the collateral chain) recently at 9% ($25 par) and the relevant TGP-A instrument trades well above par. With TGP-A trading above $25 par, common sense dictates these unsecured bonds are easily extendable.
In fact TGP just recently sold $110M of unsecured Norwegian bonds in October 2016 at 7.75%. It sold another $35M in these same 7.75% bonds in January 2017. It used these proceeds to redeem NOK bonds due in 2017. It seems Morgan Stanley wasn't paying attention to obvious market conditions if it thinks the far smaller 2018 maturities are suddenly a challenge.
3. $160M related to 2x Awilco-operated ships. Similar to the debt question in #1, TGP also has a secured credit facility backing their lease agreement to Awilco LNG. Due to tough market conditions, Awilco needed to complete a recent restructuring agreement, which pushed its vessel repurchase obligations from November 2017 and October 2018 back to December 2019. This agreement also reduced charter hire in the interim by between $10.6k/day and $20.6k/day and deferred the entire amount to December 2019. The positive note is that Awilco raised $25M in fresh equity and the repurchase obligation remains the same (same repurchase, but the vessels will be a year older and stay a year longer on elevated lease hire, so TGP makes a higher end-profit).
Related reference: TGP Q1-17 supplement page 20.
All the reduced charter hire is now deferred into December 2019, making for a massive payment due to TGP at that time. Additionally, Awilco had an option to extend each vessel by one year anyways, so the actual pushback is 13 months and three months, respectively, which is far less than the initial news suggested. The Morgan Stanley report conveniently ignores all of the positive restructuring news and suggests this $160M of debt is a grave concern. The reality is that the combined collateral is worth nearly $330M:
2013-Built Wilforce: $164M Value/Lease to December 2019
2013-Build Wilpride: $165M Value/Lease to December 2019
The worst case is that Awilco is unable to complete the purchase obligation, so TGP simply takes re-delivery of the assets themselves. The vessels are modern, so a 60% D/A secured facility should be easily attainable, but all TGP needs is around 50% D/A to cover the entire amount. $0 cash required.
4. $104M Euro-Denominated Secured Facility. Morgan Stanley seemed to miss this one, but since we're on the topic of figuring out 2018 cash flow needs, we might as well be conclusive. This relates to a December 2011 facility intended to finance the "Madrid Spirit."
2004-Built Madrid Spirit: $84M Value/Charter to December 2024
The charter counter-party is Shell Spain, so the cash flow is rock solid, and the DCF likely exceeds the nominal loan value by a wide margin, but it depends on how high the banks will allow the LTV to float. I've seen well over 100% in some cases (since the asset value drops faster than the DCF in a weak market), but assuming the worst-case of an 80% LTV, cap, then TGP will need around $37M net cash.
Recap: Morgan Stanley believes TGP will need to retain around $400M in operating cash flow to handle $650M of maturing debt through 2018. My analysis shows they will need closer to $120M, and I was fairly conservative across the board.
If my analysis is accurate, then Morgan Stanley is extremely off the mark here. Teekay LNG Partners could be set to massively boost its cash distributions as soon as mid-2018, perhaps even by a factor of up to 5x.
In the MS report, it concludes no increases for two full years and then only a payout to around $0.32/qtr by 2021. It agrees it is not in line with consensus, here's a chart illustrating this (from their report, released this morning):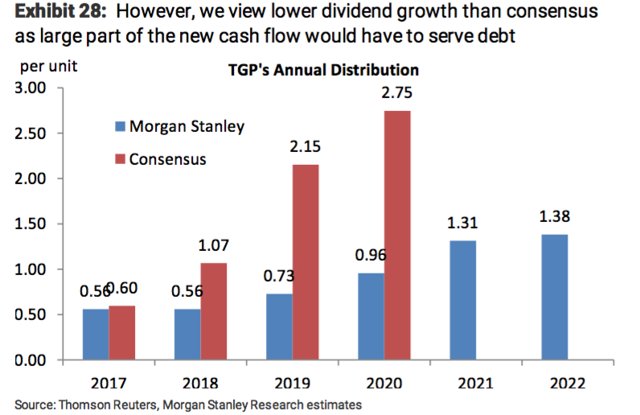 The TGP thesis is the crux of the entire value in TK, but Morgan Stanley completely wipes away its dividend capacity via its absurd assumptions of cash flow needs. However, this wasn't enough. The report goes on to insinuate that TK itself is somehow a default risk due to refinancing concerns at Teekay Offshore Partners. This is after they have the audacity to suggest that TGP might not even be able to maintain its $0.14/qtr payout, even after keeping around $400M in extra cash on the side. The math just doesn't work.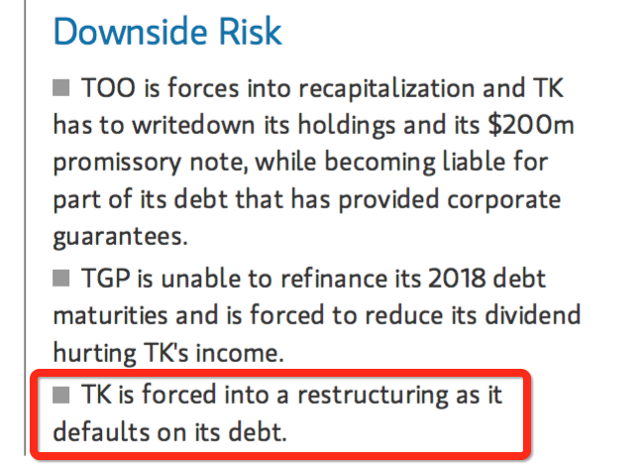 Difference #2: TK Guarantee of $323M of TOO Debt
This leads into another angle of the report, which suggests that TK is on the hook for significant debt amounts. This headline was quickly absorbed by the market, and it led to massive pre-market and open-market declines of the stock. Thankfully, I knew better due to our analysis and was able to load up heavy. However, I believe it is unfortunate that such a misleading headline was ultimately submitted to clients and the broad market.
What is this $323M about? Can TK go bankrupt from it?
As we learned from our review of the TGP refinancing concerns, there was a clear disconnect between the research team at Morgan Stanley and the underlying debt market fundamentals we've seen. This seems to be another case of a lack of clarity.
This guarantee is discussed in the TOO Q1-17 supplement (page 10), emphasis added:
As at March 31, 2017, three of the Partnership's 50%-owned subsidiaries each had an outstanding term loan, which in the aggregate totaled $108.6 million. The term loans reduce over time with quarterly and semi-annual payments and have varying maturities through 2018. These term loans are collateralized by first-priority mortgages on the three shuttle tankers to which the loans relate, together with other related security. As at March 31, 2017, the Partnership had guaranteed $23.9 million of two of these term loans, which represents its 50% share of the outstanding term loans, Teekay Corporation had guaranteed $30.4 million of one of these term loans and the other owner had guaranteed $54.3 million of these term loans."

As at March 31, 2017, the Partnership had term loans outstanding for six shuttle tankers, for three East Coast of Canada shuttle tanker newbuildings, for the Suksan Salamander and Gina Krog FSO units, for four FPSO units, for ten towing and offshore installation vessels and vessel newbuildings, and for the Arendal Spirit UMS, which totaled $2.1 billion in the aggregate. For the term loans for two shuttle tankers, one tranche reduces in semi-annual payments while another tranche correspondingly is drawn up every six months with final bullet payments of $29.0 million due in 2022 and $29.1 million due in 2023, respectively. The other term loans reduce over time with quarterly or semi-annual payments. These term loans have varying maturities through 2028 and are collateralized by first-priority mortgages on the vessels to which the loans relate, together with other related security. As at March 31, 2017, the Partnership had guaranteed $1.8 billion of these term loans and Teekay Corporation had guaranteed $292.1 million."
For background, TOO was facing a serious liquidity gap and a financing shortfall in 2016. At the same time, Teekay Offshore was trying to arrange secured debt for 3x shuttle tanker newbuilds, planned for Eastern Canada work (reference Q4-16 presentation slide below). These tankers are chartered to a consortium of oil majors that include Exxon Mobil (XOM) through May 2030. Although these assets are heavily backed by rock-solid counterparties, the banks naturally were wary of having TOO as the sole guaranteer considering its financial straits.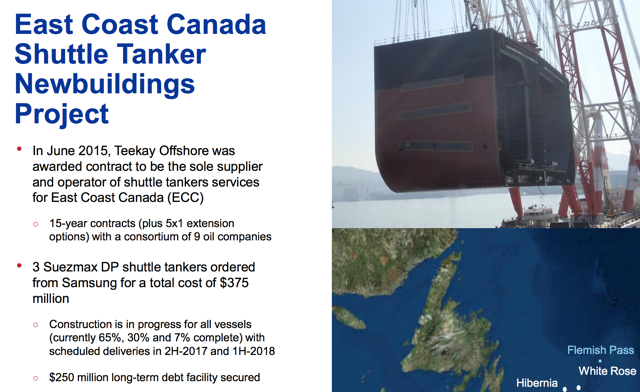 TK agreed to guarantee part of these facilities to ensure the financing was accomplished, and it also agreed to back some of the interest rate swaps. In the case that TOO would default on their secured debt, TK would then need to take over the relevant credit facilities. This 'inside baseball' is disclosed in the most recent TOO annual report (20-F, page 68).
"As part of the financing initiatives, Teekay Corporation provided financial guarantees to us for liabilities associated with the long-term debt financing relating to the East Coast of Canada newbuilding shuttle tankers and for certain of our interest rate swap and cross currency swap liabilities. The guarantees cover liabilities totaling up to $495 million and have been provided at no additional cost to us."
What MS doesn't discuss is that TK had actually guaranteed a total of $364M as of 31 December 2016, and this amount was reduced to $322.5M as of 31 March 2017. It would seem TK's exposure is actually declining from that metric.
Conclusion
I believe that Teekay Corporation is one of the best values on the stock market today. It remains my top idea for 2017 and my price target range is $13-$15/sh with the underlying range depending on how TOO performs, which will likely correlate to oil prices to some extent.
I plan to release an even more detailed research report in the near-future. I pushed this response out early today in light of what I view as a heavily misleading research report leading to wild market conditions. It seems the market has already started to correct a bit, but a response is still needed in a public forum. Although I agree with Morgan Stanley's concerns about TOO, the very confusing analysis on the entire Teekay LNG enterprise along with the fear-mongering angle to Teekay Corporation was an unfortunate inclusion that doesn't seem to be properly supported by analysis.
My money is where my mouth is. This is my top idea for 2017 and I believe it is the best deep value buy on the market today. I added heavily to my TK position this morning between $5.25 and $5.40, more than doubling the position to more than 50% of my speculative account. I believe TK is bound to shoot far higher in the future as investors are able to separate fact from fiction. Mispricings like this don't come often. Those of us who have a chance to act should be grateful that Morgan Stanley decided to post it and to give us the gift of a panic bargain.
Disclaimer: This research report is solely the opinion of J Mintzmyer acting via Mintzmyer Investments LLC. This report was compiled in rapid order in response to perceived misinformation on the market. Maximum effort was given to substantiate all valuations and sources, but errors may exist. All investors should always do their own due diligence. This report does NOT constitute investment advice or an investment recommendation in any shape or form.
Latest Research and Reports
If you find my research reports helpful, please consider following me on Seeking Alpha for free access to future content. This can be accomplished by clicking on the "Follow" button next to my name at the top of the article. If you desire access to the latest research, income ideas, speculative plays, and a rapidly growing community of deep value and maritime sector investors, we invite you to join Value Investor's Edge. Feel free to send me a private message at any time for more information; here's a link to our reviews.