Since my last "weak buy" rating in February, gold has been up 4.1% so far. I generally post either a monthly/bimonthly update on my ratings but there were fewer updates and my rating essentially remains unchanged. Much of my opinion is based on observing trends in supply and demand, so it's been interesting reading some of the event based investment theses on Seeking Alpha. In this piece I critique them while expounding my continued basis for my rating.
Markets are becoming more and more resilient
The growing resilience of markets is one of the biggest reasons I believe the next rally in gold is not coming out of a crisis. After the Brexit vote was out, markets suffered a setback on day one only to recover in the next. In fact as stock markets were reaching record highs, gold prices were declining precipitously. How many times did you see television pundits predicting a stock market crash if Donald Trump were to be elected president? That never happened. The markets have become so used to the hysteria surrounding the next big event that they are simply brushing it off like a simpleton dusting off dandruff over his shoulders.
The frequency of such events
An additional reason why an event specific investment thesis on gold is doomed to fail is the relative rarity of crisis events. And if an event is rare one would at least hope to make a killing out of getting it right. Let's be honest no one can predict such developments with absolute certainty. Just to play devil's advocate though, assume that there's a modern day incarnation of Nostradamus. He can accurately predict market moving events with one exception – he can only predict events and not the reaction of the market to its occurrence. He uses his own judgment rather than psychic abilities to make money in the markets. He takes a long position on gold, gets it right on a Brexit like event and is now sitting on a decent return. But because the markets are so resilient, gold will most certainly be expected to correct. In order to avoid the prospect of catching falling knives, he takes the safer option of closing his position. Such events are not structural sources of demand that compound over time and we did see this happening last year.
The structural part of the demand is in recovery mode
Much like my previous articles, I believe the demand generated by the jewelry and technology industries are much sticky and tend to dictate the long term direction of gold prices. And since much of the jewelry industry demand is located in India and China, I looked at trends in these countries. For my views on technology industry demand, investors can check out my previous articles as my opinion on it remains unchanged.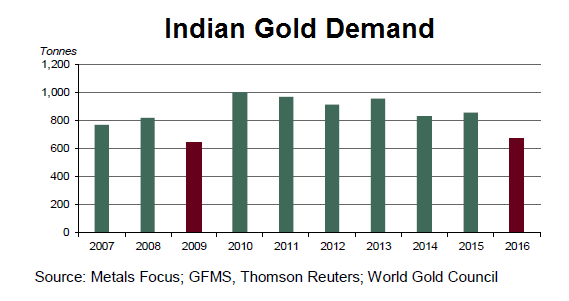 While the Chinese demand was down in the first quarter of 2017, the Indian demand was up 16%. The Indian case continues to intrigue me as there is a confluence of positive factors brewing up in that country. The jewelry industry was uneasy due to expectations of higher taxes under the new Goods and Services taxation policy. However, in a sigh of relief, compared to expectations of 5%, the taxes were maintained at 3%. The liquidity shock caused by the mammoth and largely negative exercise of demonetization is largely over. The monsoon rains, important for the rural economy as most of India remains unirrigated are expected to be normal this year. The dollar is weaker and therefore supports gold's prices in Indian rupee. I want to wait a little more for these factors to play out before I issue a "strong BUY" on gold. Especially since the Indian GDP grew at a much slower pace of 6.1% in 1Q17 compared to 7.1% in the quarter before that. The lingering effects of demonetization on economic growth, if any could further delay the uptick in demand in the upcoming quarters. I would therefore like to be cautious and maintain my "weak BUY" rating.
Disclosure: I/we have no positions in any stocks mentioned, and no plans to initiate any positions within the next 72 hours.
I wrote this article myself, and it expresses my own opinions. I am not receiving compensation for it (other than from Seeking Alpha). I have no business relationship with any company whose stock is mentioned in this article.