I must say that Home Depot (NYSE:HD) has definitely fooled me with regard to how much the stock has rallied since the start of the year (up 16% year to date). This is why selling short in a market like we have at present is so difficult. I still find it surreal that Home Depot stock is trading at almost $156, considering that it's a home improvement company and not a tech or biotech stock, which usually have much more expensive valuations. In 2016, I wrote extensively about the company when the stock was trading around the $125 handle and I recommended investors lightened up on their positions, mainly because of the company's valuation and debt load at the time. However, over the past several quarters the retailer has consistently surprised with its earnings announcements to the upside.
In fact, we saw the company's strength and momentum particularly in the first quarter of this year when the retailer surprised the Street again, with a 4% gain with respect to what analysts had predicted. Home Depot announced earnings per share of $1.67 on revenues of $23.9 billion, which were well ahead of the $1.62 predicted on a top line of $23.7 billion. Furthermore, bulls must have been pleased to see that the company's recent consistent earnings beats have led to an increase of $0.02 in earnings guidance for 2017 ($7.15 in earnings per share).
However, at this juncture, I really think that investors need to be mindful of how this stock has exploded to the upside as the valuation seems out of sync. For example, in 2008 the company reported revenues of over $77 billion, which is less than $20 billion than the current take. Furthermore, in 2008 the stock was trading down around $25 a share, which is more than six times less than the current share price.
To make a long story short, over the past decade revenues are up around 23% and net income has more or less doubled, but the share price is up by more than a factor of 6. Is this sustainable? I'm not so sure. After all, we are not dealing with a manufacturer or a high-flying tech stock here. We are dealing with an intermediary, which means that external factors could easily stop the share price rally in its tracks.
Traffic grew by 1.5% in the first quarter. The average ticket size grew by almost 4% and e-commerce sales grew by a whopping 23%, which means that online sales now make up 7% of total revenue. Am I saying that Home Depot will not rally more from these levels? Absolutely not. But what I do know is that as an overvalued stock gets more and more overvalued, the risk/reward ratio definitely changes. In fact, bulls seem to believe that Home Depot is Amazon-proof because of the specialized knowledge of its employees plus the weight/size ratio of these online orders. However, when you really dig into the numbers, it becomes apparent that almost half of e-commerce sales in Q1 were actually not delivered, but were picked up from the store instead. So by saying that Home Depot is increasing and improving its digital channels sales is not telling the truth entirely.
Real e-commerce transactions for me are when goods get delivered, and Home Depot has to make inroads here as I still see this segment as a real threat going forward. Why? Because when the next downturn strikes, Home Depot's footprint of stores wont be as potent a collection point as they are at present. Home Depot is still only an intermediary, and it goes without saying that manufacturers invariably look for additional channels to sell their wares when demand decreases, which usually includes going direct to the customer. The average ticket order in Home Depot is quite high, which would definitely encourage customers to seek out cheaper alternatives -- especially online -- if the U.S. housing market suddenly came to an abrupt halt.
Moreover, instead of paying down debt, the company has decided to focus on merchandising, distribution and obviously its digital channel, which every retailer seems to be focusing on at present. Taking advantage of an apparent trend is fine when the balance sheet is not adversely affected, but Home Depot's debt/equity ratio, for example, in its latest quarter reached 565% -- which is by far the biggest number we have seen over the past decade. Personally, I believe it is a false pretense to believe that Home Depot's consumer sales (which makes up the lion's share of its top line at present) will not fall when the housing market starts to decline.
In fact, with a current earnings multiple of over 23 (which is well over 25% above the retailer's 10-year average), I would be looking at other stocks to take advantage of the probable blow-off top in U.S. equities over the next 12 months. I feel as if management is being too confident with respect to a sustained trend in the U.S. housing market (where house prices are rising much faster than wages), although the addition of Interline Brands might help smooth out the cyclicality of Home Depot's business to some degree. Nevertheless, when the housing market declines, the maintenance side of the business will also be adversely affected. I think this is an issue that Home Depot long investors are missing at present.
The company's lack of diversification outside the Americas has to be a disadvantage. Why hasn't the company either paid down its debt or invested internationally? This would have reduced the risk over the long term. Technically, it pains me to say it, but we actually look oversold on the chart. The company's slow stochastics are oversold and sentiment, believe it or not, is actually down near its annual lows.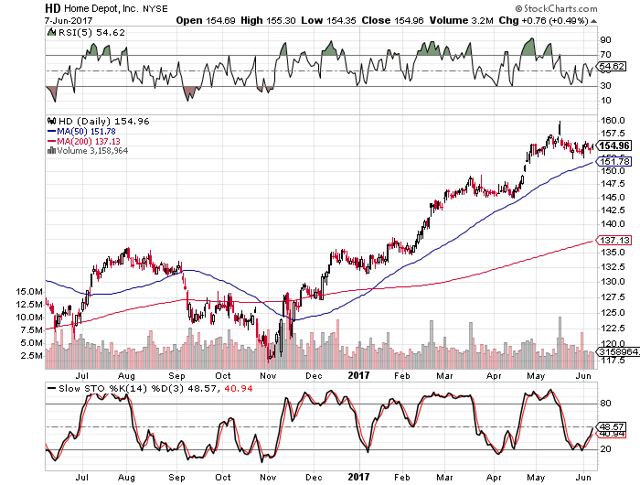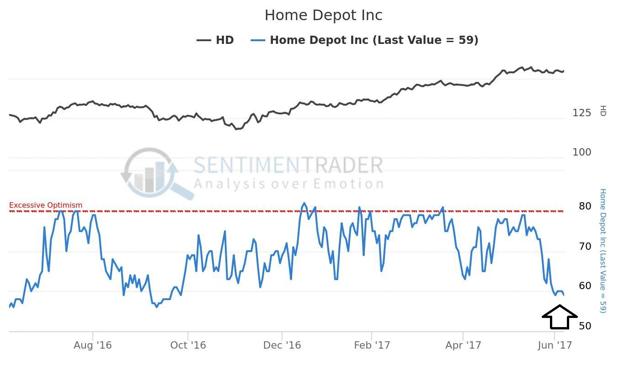 Source: Sentimentrader.com
However, timing the top is the extremely difficult part. Because of Home Depot's lack of diversification in terms of what markets it operates in, its huge debt load and strong correlation with the U.S. housing market, I believe there are better stocks in retail that offer considerably less downside risk at present.
Disclosure: I/we have no positions in any stocks mentioned, and no plans to initiate any positions within the next 72 hours.
I wrote this article myself, and it expresses my own opinions. I am not receiving compensation for it (other than from Seeking Alpha). I have no business relationship with any company whose stock is mentioned in this article.