Last year, EVs made up about 1% of total global auto sales, with 777,500 units sold, versus a global total sale of 77.3 million cars. It is an impressive threshold that was breached last year, which makes EVs still a niche product, but a niche product that is about to exit that category and become a widely-accepted consumer option. I still do not buy into some of the more aggressive forecasts out there, which increasingly cater to the objective of headline-grabbing, rather than providing an objective analysis, but I do believe that it is possible for EVs to see collective global sales in the one million range this year, which will be yet another milestone that will once more confirm this technology's increased acceptance. Even though we are reaching and surpassing such milestones however, it is important in my view to remain grounded and not get carried away with extrapolating imminent consequences.
The three main markets are all looking good for the year.
There are three main markets for EVs, the US, China and Europe. These three entities together made up over 90% of total global sales last year.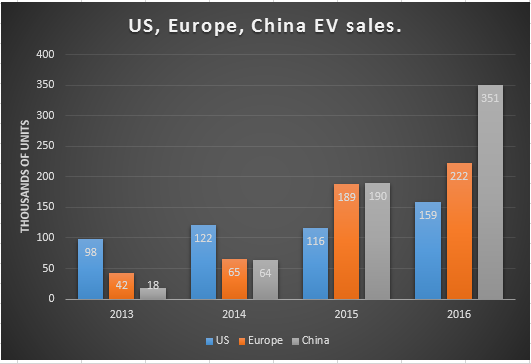 Data sources: EV obsession, EV-volumes, InsideEVs
As the chart shows, one of the main drivers of this growth towards the one million mark has been the explosion of sales in the Chinese market, due in large part to heavy subsidies for domestic EV brands. As I pointed out in a recent article, China was off to a weak start of the year, in part due to the fact that it decided to roll back some of the incentives. The EV market seems to have since recovered, recently posting a strong monthly sales tally for the month of March, after two months of disappointing sales. While a single month or even a quarter cannot be a reliable guide in regards to what to expect for the rest of the year, it is nevertheless an indication that China's odds of improving on last year's sales tally have increased.
While China's odds of beating last year's EV sales tally has improved with the latest data, I do not expect it will have a huge positive impact on global EV sales growth this year. If there is one place which is likely to greatly contribute, it will be Europe. Unlike China, where sales have seen a lot of ups and downs only in the first three months of the year, Europe's EV sales to date have been reliably posting year on year gains in the 30-40% range, and it is currently forecast to be on track to surpass 300,000 units sold for the year.
While in China it is the very generous subsidies which primarily led to a boom in EV sales, in Europe it is a combination of subsidies and relatively high gasoline prices, which actually leads to some of the EVs on offer to be economically favorable from a consumer's perspective. Some of the best selling models in Europe, such as the Renault Zoe, are offered for a price ranging between $26,000-31,350, not including the battery lease cost, as well as the subsidies offered in various countries in Europe. The subsidy in France for instance is about $7,000. When we factor in the fuel cost savings involved in owning such a car, it is actually close to being comparable in price/quality to many similar sized cars on offer on the European market.
The fact that it has a significant 400 km range as measured by NEDC (300 km, real driving) is one of the features which helps the Renault Zoe become a viable option for the average driver, given that range anxiety is not as much of an issue once we get into performance of about 200 miles per full charge, especially in Europe where distances between destinations tend to be smaller. Just to provide an idea in regards to the fuel savings, a test run of 2,300 miles has found that fuel costs were around $60-110, compared with a conventional car with a 50 mpg fuel efficiency, which would have cost about $300 in England. For an assumed 10 year driving total of 100,000 miles, the comparable fuel savings would be a maximum of over $10,000. Within this context, an EV, such as Europe's best-selling Renault Zoe actually starts to make economic sense. without having to pay for it though major inconvenience, due to issues such as range.
While we can expect Europe to be depended on to deliver on the estimated 300,000 EV sales for the year, and there is growing hope for China surpassing last year's sales volume, perhaps leading to total sales of about 400,000, the US is a bit of a wild card. As the chart above shows, it went from being the world's top EV market in 2014 and before that, to becoming a relative laggard in the past few years, falling back to third spot. Whether the US will catch up and surpass the other two major markets in terms of EV sales, will depend to a great extent on Tesla's (NASDAQ:TSLA) model 3 release outcome.
For the year so far, US EV sales have been quite impressive compared with last year. In 2016 the Jan-Apr total was over 38,000 units, while for the corresponding period of this year, sales are at almost 55,000 units. That is an increase in sales of almost 45% compared with last year. This pace of growth alone should be enough to lead to an increase in total US EV sales to about 230,000 units for the year, which would perhaps be enough to get global EV sales within the one million range, when also adding up the current trends in the other two major markets. If model 3 deliveries will start and ramp up, it could potentially add to the already positive trend we are seeing in terms of sales volume increase. Thing is however that no one really knows for sure at this point what we should expect in terms of model 3 deliveries for this year. A successful launch of the model 3 is what would most likely push us past the one million global EV sales mark for 2017.
Investment implications.
The continued growth in global EV sales has become a source of much speculation in regards to the future of the global car industry, the global oil industry and so on. I personally started taking interest in the global EV trend because I am interested in figuring out what effect it will have on global oil demand. I am sure that most who follow oil related news have come across the argument of peak demand in some form. One of the top arguments for imminent peak oil demand has been the growth in EV sales. In this respect, I urge people to take a step back and contemplate the actual facts.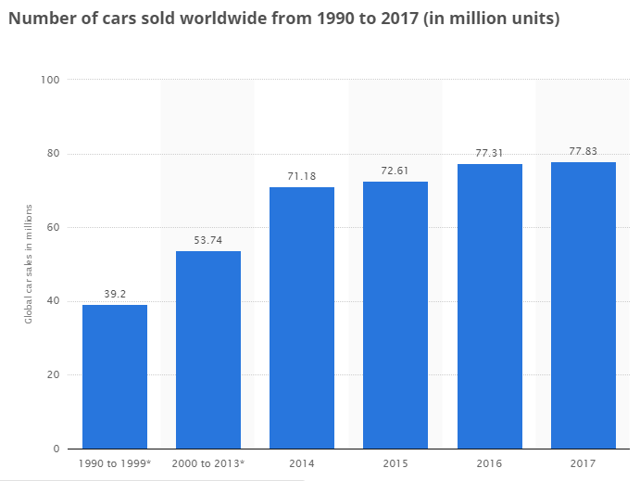 Source: Statista.
The starting point in analyzing the validity of the theory of imminent peak oil demand due to major factors such as the growth in EV sales is to look at the number of cars sold on average in the 1990's which represents the most likely approximate number of cars being retired world wide every year at the present time. Then we have to subtract that number, in this case about 39 million, from the number of cars being sold this year, which will be about 78 million. The difference of 39 million is the approximate growth in the number of total cars on the world's roads. Subtracting 1 million EVs from that 39 million increase still yields an increase of 38 million liquid fuel powered cars.
I should note here that my estimate is just a rough approximation. There are other reference points out there which suggest that the number of total vehicles on the road is in fact increasing by about 50 million per year, based on the estimate of 1 billion cars in the world in 2010, which increased to 1.2 billion by 2014. When looking at scrappage data for the US & EU and we compare with yearly sales, we see that currently about two cars are being sold in the EU for every car being scrapped, while in the US about three new cars are sold for every two cars being scrapped. In China on the other hand, a plan was announced in 2014 to scrap 6 million cars, while 18 million new cars were sold. In other words, even under a somewhat forced scheme, three times more cars were added than scrapped. Looking at these main markets, may not give us a precise indication in regards to global growth in total cars on the road, but it does give us an approximate, which does suggest that most likely more than twice as many cars are added to the road than there are being removed each year, which is more or less what my own estimate shows, based on the assumption that most cars being scrapped are from the 1990's period. In this regard, my own estimate may in fact be somewhat conservative when estimating the yearly growth in total cars on the global roads.
Even if we are to adjust for global ICE efficiency gains, it does not come close to making up for the continued growth in ICE's on the road. As I pointed out, there are twice as many cars being sold as there are being retired. But efficiency gains in mileage per unit of liquid fuels since 2000 has only gained 20-30% in most countries. What this means is that in the absence of some more significant gains in ICE efficiencies going forward, we may need to see annual sales of EVs of about 20-30 million per year before it can actually act as an oil demand killer in personal vehicle road transportation.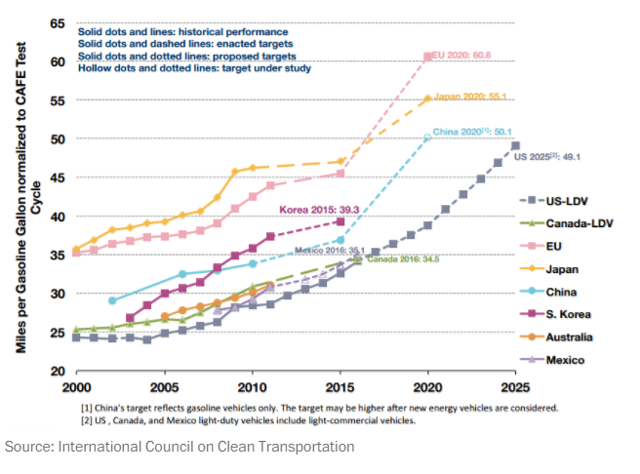 Source: Washington Post.
In addition to personal vehicles, which is where EVs can eventually make a significant difference, there are also other uses of oil where EVs will have no impact. There is the air transport industry, which is currently far from running on electric batteries and it is forecast to continue growing at a robust pace. Industrial machinery, cargo ships, industrial applications, all will continue to remain unaffected by EVs and most of these industries are growing.
One industry which stands to be affected in a positive way is the electricity generation and distribution industry. With more EVs on the road every year we have an additional source of electricity demand growth, in addition to the growth in the number of households that are connected to the electrical grid each year as well as the growth in household appliances found in houses worldwide. Today there might be approximately 2 million EVs on the global roads, while in a few decades there might be a few hundred million of them, with all of them needing to be plugged in every night and along highways as people will travel in such vehicles. This will have long term implications not only for utilities, but also for miners of electricity generating fuels, such as natural gas, coal, uranium, as well as providers of minerals involved in building wind and solar installations, such as silver, and rare earth minerals. Not to mention the lithium demand that will go into producing hundreds of millions of EV batteries.
Then of course we have the Tesla story, which has become the poster child of the EV industry, being the only pure EV carmaker. Some Tesla enthusiasts are proclaiming their company to be the next auto giant, which will crush all ICE-based competitors. This euphoria caused a great deal of Tesla market bullishness in the past few years, where a carmaker that last year sold less than 100,000 cars is beating companies which sell over a million or even two million cars in terms of market cap. Reality is however that Tesla currently has about 10% of the global EV market share, and about .1% of the global car sales market. The release of the model 3 should help to greatly improve on that, but we should remember that the competition is not sitting idly by either.
EVs may be gradually eating into the market share of ICE cars, but it does not mean that it is going to be all about the Tesla show. While Tesla has been claiming a technological lead in the EV market in past years, with its range and other features (which generally came with a much higher price), there is a real chance that its competitors may leapfrog it in certain areas. As I already pointed out, Renault (OTC:RNSDF) is offering an EV with similar range to the model 3, which is significantly cheaper in price. Nissan (OTCPK:NSANY) is promising an updated Leaf model by 2020, with a range of as much as 340 miles as measured by the Japanese standards, which would mean more like under 300 miles in real life driving conditions. If they can offer this while keeping the price of the car below, or at least at a similar level to the model 3, it will undoubtedly prove to be a formidable competitor on the EV market.
Some trends that are flying under the radar in terms of emerging EV competition, include Daimler's (OTCPK:DDAIF) preparations to compete on the EV market. As I pointed out in an article last year, it includes a flex production line in Hungary, which is being complemented by a Samsung (OTC:SSNLF) battery plant in Hungary as well. In Germany, it is investing about $560 million in building a new EV battery plant, which will be ready in about a year. In my view, most current car makers are not yet in EV market share competition mode. Many companies do offer an EV now or even several EV options. But the objectives in doing so had less to do with EV market share and more to do with probing consumer preferences, gaining experience with the technology as well as other considerations. The only one competing is Tesla, because it is a pure EV company.
The danger is that whether people are getting over-enthusiastic about Tesla stock, or about the prospect of peak oil demand caused by EVs, is that some people may get way ahead of themselves. Yes, EVs have the potential to change many aspects of the oil and car industries, as well as potentially causing global electricity demand to soar. All of this will take time however, so when it comes to oil companies for instance, it is not time to declare their imminent demise yet. Profitability issues arising from higher production costs are currently the enemy of many of those companies, not shrinking demand. Global oil demand is still rising and will continue to do so for a very long time.
It will not be the end of ICE car producers any time soon either. ICE technology will still be used for decades to come, and most companies will make the gradual transition to EVs and perhaps other technologies as well. Some will be better at transitioning than others, and there are already some early signs which may give some early clues in regards to which are headed in a good direction and which are not. Even those which may not be headed in the right direction right now still have time to re-adjust, given that it is still very early in this game. If this year the one million EV sales milestone will be reached, it will grab a lot of headlines and will probably lead to some trading on the news. I personally think that it is wiser to take a step back and examine its significance overall. At this point, it is not yet very significant in terms of most investment trends. It is just another sign of coming significance, which is something to keep an eye on.
Disclosure: I/we have no positions in any stocks mentioned, and no plans to initiate any positions within the next 72 hours.
I wrote this article myself, and it expresses my own opinions. I am not receiving compensation for it (other than from Seeking Alpha). I have no business relationship with any company whose stock is mentioned in this article.
Editor's Note: This article discusses one or more securities that do not trade on a major U.S. exchange. Please be aware of the risks associated with these stocks.