Welcome to another edition of "Elroy's Elliott Wave Weekly". The aim is to review possible scenarios in various markets using Elliott Wave, fractals, and other technical analysis.
Equities
The S&P 500 (NYSEARCA:SPY) traded in a 16-point range for most of the week, and just as I was about to give up on any movement, there was a quick plunge on Friday afternoon. This decline set up notable divergences as the S&P 500 closed flat, the Dow Jones (DJI) closed +0.42%, and surprisingly the Nasdaq (NASDAQ:QQQ) closed -2.5%.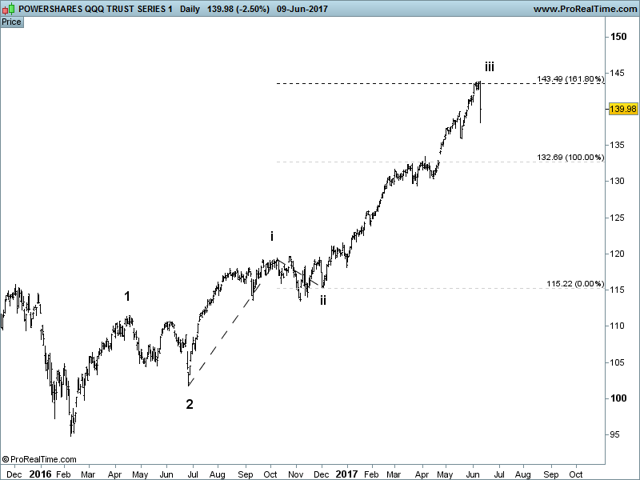 The fall came right on the wave iii target of 161.8* wave i.
However, there may be limited downside as the 23.6% retrace at $137 has nearly been met already. The 38.2% retrace and gap fill at $133 is a better place to buy for the next leg higher, but there's no guarantee it gets there.
As QQQ corrects or moves sideways, the S&P 500 may still drift higher to the wave iii target at 2,490.
I am monitoring a 60-minute chart for additional clues, but at this stage, the waves are hard to identify. If anything, the way they are configured suggests this wave is shaping up like its bigger brother on the daily chart.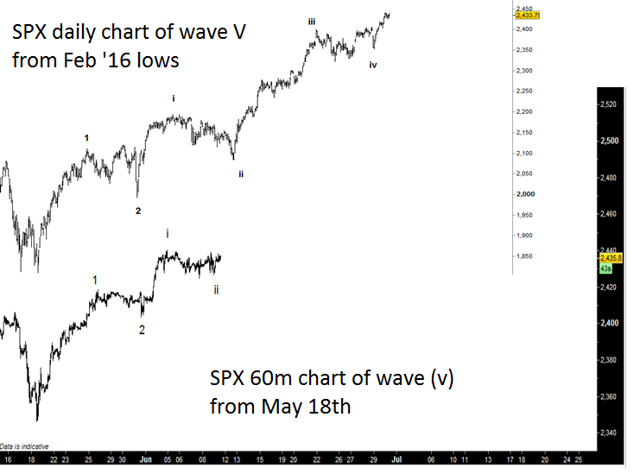 Actually I made this chart before Friday's drop, but strangely enough the fractal suggested there should be one last decline and a quick recovery, and that is exactly what happened soon after.
I will be monitoring for continuation or a break down in the similarity. A move below Friday's low would be a significant divergence so that is my inflection point for now.
Precious Metals
Gold (NYSEARCA:GLD) pulled back from resistance after briefly faking out above the trendline. The odds for a clean break ahead of next week's FOMC meeting were never very good.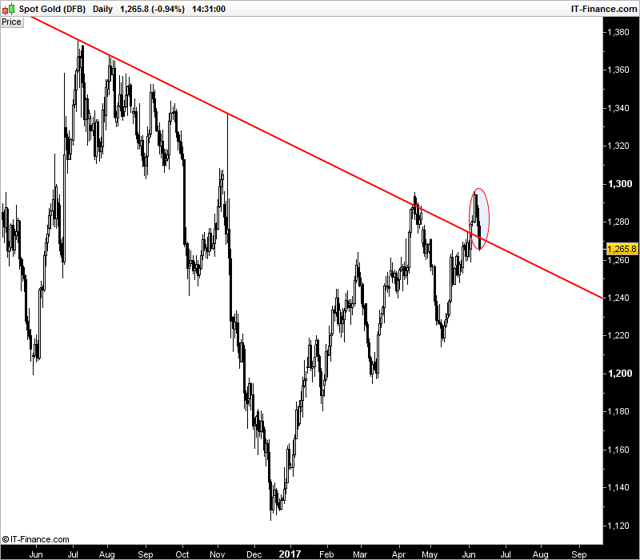 But should we buy the dip?
I'm sticking to the idea gold is consolidating in a triangle so my answer is "yes".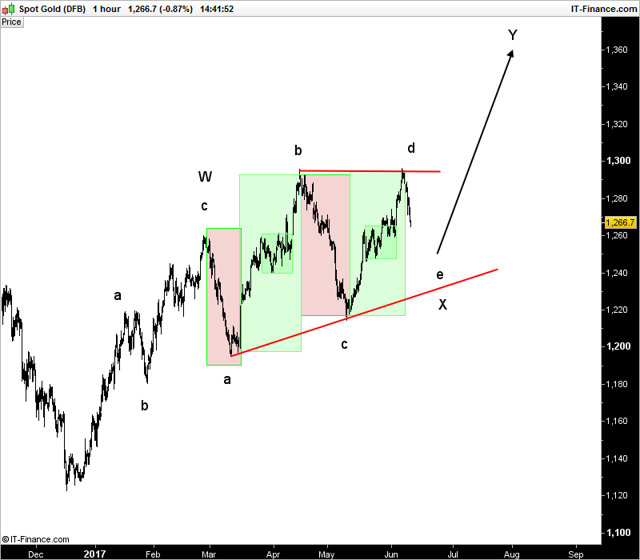 The way the advances and declines in the triangle are related gives the pattern added weight. And as long as gold holds the May lows, we can expect a rally in proportion to wave "W" in the chart above.
Unfortunately gold is also following the path set out by oil (NYSEARCA:USO) I pointed out a few weeks back. The cycles are very similar in timing and structure.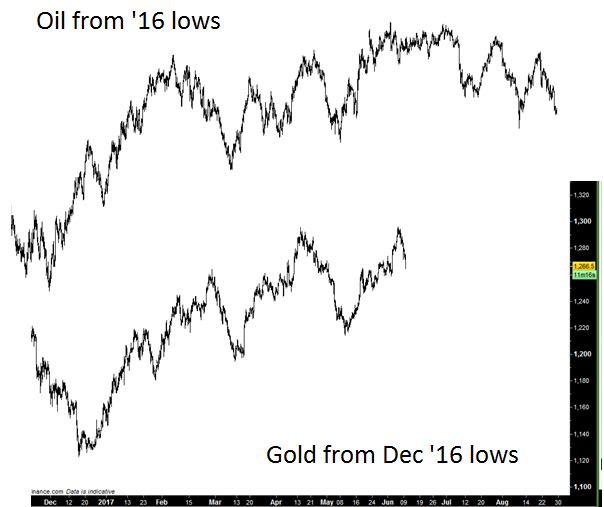 I say "unfortunately" as the oil map suggests a choppy, frustrating few months.
Silver (NYSEARCA:SLV) and the gold miners ETF (NYSEARCA:GDX) could also likely pull back, although I expect the May lows to hold in both.
Oil
Oil made a further decline this week and looks to have completed this correction proposed two weeks ago.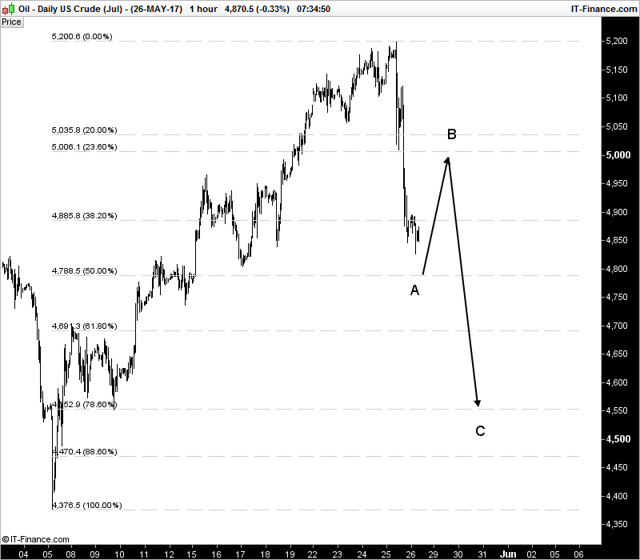 There hasn't been much of a bounce from the $45.20 low yet, but we are in the right area for a reversal and the May low should hold for an eventual move to the $60s.
The Energy ETF (NYSEARCA:XLE) has also come into the $64 target given back in March.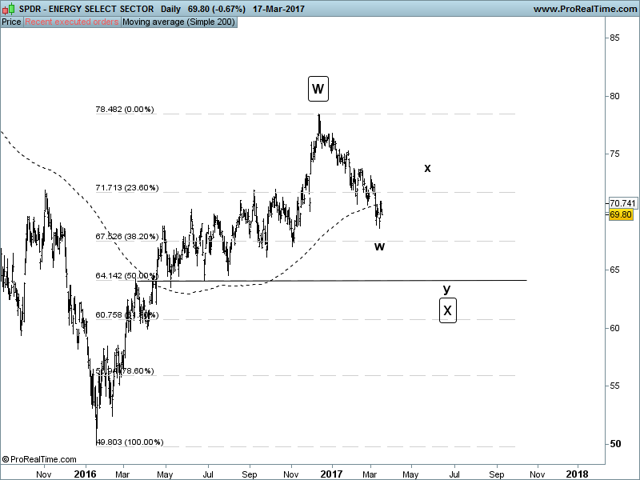 Natural Gas (NYSEARCA:UNG)
Natural gas has recovered from below $3 as expected. But again, there is not enough information to say the low is in. I usually look for a small 5 wave rally and some sort of signal of strength or reversal pattern, but so far the reversal is a bit messy.
So while I am hopeful (and long), we have to accept another low is still possible.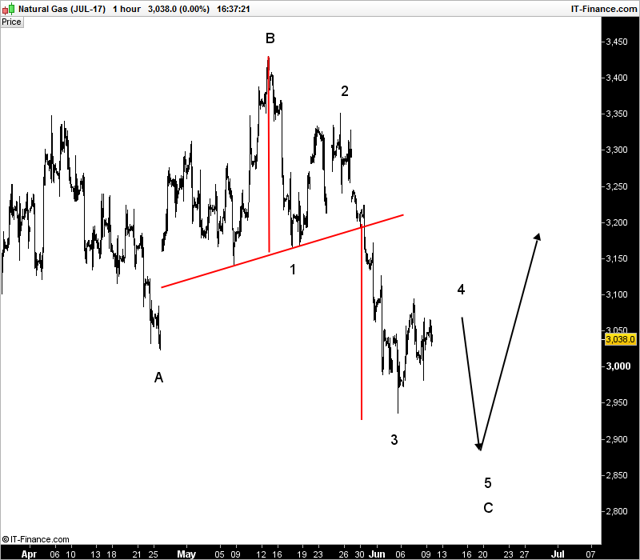 I am not saying gas is certain to follow the above path, but it helps us prepare for different scenarios. A final decline would not shake me out of my position too easily, and I may even buy more, especially if prices were to recover over this week's low of $2.93.
The Dollar (NYSEARCA:UUP)
The dollar reversed from its Wednesday low and faced with three major risks on "Super Thursday" put in a solid recovery.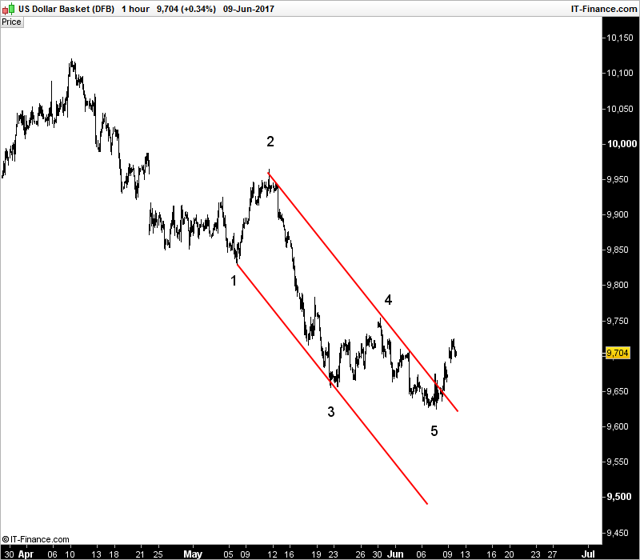 The wave 5 looks a little short, and the decline reversed before the 95.5 target, but readers should know by now we should always be wary of reversals in the wave 5 position. I hope no-one was pressing shorts at new lows.
The expected path is now sideways after a tag of 97.40.
Conclusions
The best opportunities seem to be in energy with oil and gas seemingly near a medium-term bottom.
Stock indices are diverging and Tech may finally pull back while the S&P 500 drifts higher. We can monitor the fractal in the article for any early signs the S&P 500 is breaking down too.
Precious metals are vulnerable going into next week's Fed meeting, but in the medium term should continue higher in a choppy rally.
Please note I will be on holiday for the next few weeks so will not be around to comment and probably won't get a chance to write updates.
Disclosure: I am/we are long GLD.
I wrote this article myself, and it expresses my own opinions. I am not receiving compensation for it (other than from Seeking Alpha). I have no business relationship with any company whose stock is mentioned in this article.
Additional disclosure: I am long gold, UNG calls and NG futures. I am long SPX Jun puts and various stocks