Last Time Out
In any event, whether any of the above is by design or error, there may be another reason the PBOC might be firming the RMB. The PBOC is getting ready for a June FED raise and any potential market, currency, cost of loan funds and economic instability resulting thereof...

This would include any potential fall out should the schedule for the big punch bowl removal (Fed balance sheet reduction through bond purchase taper) be made public in the details of the June 14th FOMC announcement or July 5th release of the minutes. As they say, Beezlebub is always hiding in the minutia and Out. - Dollar Woes: Big Trouble In Little China?
The Spanish-American philosopher George Santayana observed that
"Those who cannot remember the past are condemned to repeat it."
Finding the Devil in the details is just another case of....
History Repeating?
In 1997, when Shirley "Means" Bassey, at the age of 60, was approached by the Propellerheads to record "History Repeating", she initially turned them down and suggested that they give the song to Tina Turner. However they insisted that the song was written and arranged for her, and Bassey finally agreed to record it.
The track is a fusion of several different styles of big beat, breakbeat and jazz combined with the powerful vocals of Shirley Bassey. The single was also a #1 hit on the UK Dance Chart, and was Bassey's first top ten appearance on any US chart since 1973's "Never Never Never", making #10 on the US Dance Chart.
In 1998 the song became part of the soundtrack for the movie "There's Something About Mary", was used in a Jaguar commercial in 2000, was used in the movie "It's Complicated" in 2009, as well as a Pantene shampoo commercial.
This hip dancible Propellerheads/Bassey jazz hit has helped to re introduce Bassey's booming voice to a whole new generation who are too young to remember her signature "Goldfinger" and "Moonraker" of Bond film theme song fame.
By coincidence? The Propellerheads had previously worked with the James Bond composer David Arnold on the Bond tribute album Shaken and Stirred: The David Arnold James Bond Project, when they remixed the John Barry composition "On Her Majesty's Secret Service".
Timber?
Below are lumber futures prices which had seen a doubling from the Oct 2nd low @214 to an April 10 high @ 417. Anticipation of an April 24th Trump administration tariff on Canadian lumber ranging from 3% to 24% precipitated a lumber futures and housing stock pullback. Witness the sudden drop to a May 31 low @ 340 for a 18% pullback. History Repeating?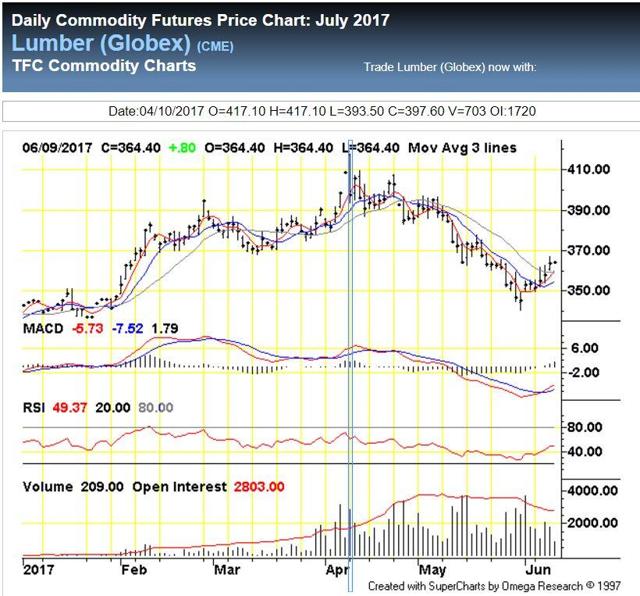 Timber must be cut (labor) then transported (gasoline, oil), milled (electricity, labor) into lumber, stored and shipped again. Lumber prices reflect multiple economic inputs, and give a leading indication for interest rates, housing starts, and other important economic data.
Oil Leak?
Note below, WTI light sweet oil or /CL July
Jan 3 High @ 58.15 - June 8 Low @ 45.20 = Almost -$13, a decline of 22%.
May 25 High @ 52.00 - June 8 Low @ 45.20 = -$6.80 = over half of the action since Jan 3rd in the last two weeks; History Repeating?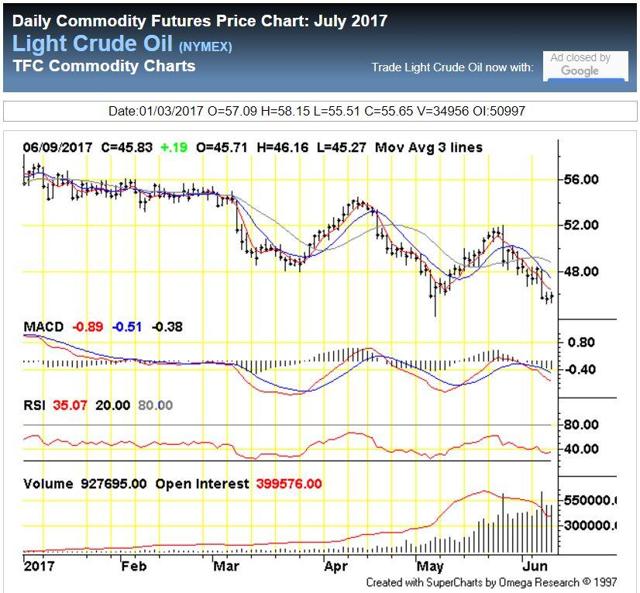 The last three years for /CL - not June but July - have delivered declines of 7%, 12% and 7% respectively. Perhaps the July decline is early? If this were Q1, it could be seasonally explained away by economorons.
This should be when price strength from spring to summer is growing and showing. It's not and /CL needs to get a rise up going into July 4th (which has been cancelled due to dwindling consumer funds and tightening credit), lest this be a straight nose dive until August and History Repeating?
Ninety Day Dogs?
Below are the worst performing industrial indexes for the last 90 days. Note the semis index, which is not down 70%; all we can figure is this was affected by an index recalc in March.

Pullbacks in the WTI oil contract -22%, lumber -18%, automotive, retail -20%, along with the above who's-who of leading economic indicators are whispering something.
The demographics of wage inflation are not skewed to the majority, who spend out of necessity, rather than discretionary, and are getting squeezed. So aside from the semis - History Repeating?
March 2000 Redux?
Date OPEN HIGH LOW CLOSE VOL
Jun 09, 2017 6330.25 6341.70 6137.68 6207.92 2,688,657,982
Mar 10, 2000 5060.34 5132.52 5039.35 5048.62 1,992,170,000
Mar 13, 2000 4879.03 5027.73 4839.26 4907.24 1,736,270,000
Total drop
Jun 09 open to close 123 = 1.9%
Jun 09 high to low 204 = 3.2%
Mar 10 high to low 93 = 1.8%
Mar 10 open to Mar 13 close 153 = 3.0%
Mar 10 high to Mar 13 low 293 = 5.7%
As a single day, just an afternoon sell off? Post-weekend follow-through selling in Monday's action might indicate a questioning of valuations, or History Repeating? Short covering highlights.
Hiding in The Minutia?
The ECB rates shall "remain at their present levels for an extended period of time" - which means no further cuts or raises. More important, ECB bond buying is still in full swing and could be stepped up if the economic outlook worsens. However, much like the FOMC, many suspect that verbiage will be changed next month, which could cause History Repeating?
As of May 30th - Commercial positions are NET LONG on 3 month ED (Eurodollar) futures at CME. In doing so, they have gone from net short to net long, in the EXTREME, as in $3T notional net long which is almost 35% of the OI (open interest).
Being long means you are buying the contract and betting that interest rates (90 day LIBOR) are going to decline. Not a harbinger of good economic times, but perhaps a hedge against a flight to safety, in the bond market. And a flight from what? Economic decline and or a correction in equities valuations?
There is a 99.6% chance the Fed raises June 14th. Should the FOMC indicate in its minutia when the big punch bowl is getting taken away (tapered bond buying, reduction of balance sheet), or other circumstances increase the cost of LIBOR (short term loan funds), those bets or hedges with $3T notional will be on the wrong side of the fence, near term. Unless of course a countervailing equities reevaluation appears. TBD.
Watch for Beezlebub in the minutia of the FOMC June 14th announcement and/or the release of those notes on July 5th, then witness what could be History Repeating?
I've seen it before, and I'll see it again, history repeating and Out.
Happy Trails?
Hope you folks enjoyed yourselves, catch you later on down the trail. Would like to thank you folks fer kindly droppin' in. You're all invited back again to this locality. To have a heapin' helpin' of Nattering hospitality. Naybob that is. Set a spell, take your shoes off. Y'all come back now, y'hear!
This is our 120th in a series of thematically related missives which will attempt to identify the macroeconomic forces with potential to adversely effect capital, commodity, equity, bond and asset markets.
I wish to dedicate this missive to one of my mentors, Salmo Trutta, who is a prolific commenter on SA. Without Salmo's tutelage, and insistence on not masticating and spoon-feeding the baby ducks, as in learning the hard way by doing the leg work and earning it, this missive would not have been possible. To you "Proximo"... "win the crowd and win your freedom" - Spaniard.
Disclaimer?
Investing is an inherently risky activity, and investors must always be prepared to potentially lose some or all of an investment's value. Past performance is, of course, no guarantee of future results.
Before investing, investors should consider carefully the investment objectives, risks, charges and expenses of an investment vehicle. This and other important information is contained in the prospectus and summary prospectus, which can be obtained from the principal or a financial adviser. Prospective investors should read the prospectus carefully before investing.
Market Plays?
As for how all of the above ties into the potential and partial list of market plays below... the market as a whole could be influenced, and this could tie into any list of investments or assets. Those listed below happen to influence the indices more than most.
There are many macroeconomic cross sector and market asset correlations involved that affect your investments. Economic conditions, the eurodollar, global dollar debt and monetary policy all influence the valuation of the above and market plays below, via King Dollar's value, credit spreads, swap spread pricing, market making, liquidity, monetary supply and velocity, just to name a few. For a complete missive series listing covering those subject and more, click here.
The potential global economic developments discussed in this missive could affect numerous capital and asset markets, sectors, indexes, commodities, forex, bonds, mutual funds, ETFs and stocks.
A List of Potential Market Plays (Long or Short?):
Apple Computer (NASDAQ:AAPL); Google (NASDAQ:GOOG); Facebook (NASDAQ:FB); Microsoft (NASDAQ:MSFT); Citigroup (NYSE:C); General Electric (NYSE:GE); Cisco (NASDAQ:CSCO); Bank of America (NYSE:BAC); Amazon (NASDAQ:AMZN); Tesla (NASDAQ:TSLA); SP 500 Trust ETF (NYSEARCA:SPY) ; Ford (NYSE:F); Starbucks (NASDAQ:SBUX); Intel (NASDAQ:INTC); ATT (NYSE:T); IBM (NYSE:IBM); Exxon Mobil (NYSE:XOM);
Disclosure: I/we have no positions in any stocks mentioned, and no plans to initiate any positions within the next 72 hours. I wrote this article myself, and it expresses my own opinions. I am not receiving compensation for it (other than from Seeking Alpha). I have no business relationship with any company whose stock is mentioned in this article.