Foot Locker's (NYSE:FL) stock had been trading near all-time highs, but recently they have lost about 23% of their market capitalization due to a slight miss on earnings. Foot Locker reported $1.36 EPS while expectations were set at $1.38 EPS. The reason I and my team believe they will recover has a lot to do with sales at large being down in the retail industry. Many retailers like Foot Locker have pinpointed these troubles to tax refund delays during their quarterly conference call. With unemployment numbers getting better every month in 2017, it is no question that people have overreacted. As per the labor statistics, unemployment this year fell to an all-time low of 4.3 percent in the month of May. When the economy runs as strong as it is today, one should expect an increase in consumer spending, which is always good for business.
Foot Locker Is Not Your Ordinary Mall Retailer
Foot Locker's online presence is a major reason why they differentiate from normal mall retailers. We have seen it with companies like Best Buy Co. (NYSE:BBY), where although they occupy large spaces in these so called "dead malls", they are able to attract customers through their websites. The reason Foot Locker is able to attract customers is due to the timing of their popular releases. Popular releases are usually offered in limited quantities and customers usually have to come into the store to enter raffles or visit their website. In Q4 2016, we were all spectators of the slaughter of many mall retailers. Foot Locker's same-store sales grew and store traffic rose at a time where other retailers suffered a loss in either one of these categories.
Same-store sales grew 5 percent on top of a 7.9 percent gain in the same period a year ago. November and December comps were up mid-single digits and January rose high-single digits, said Lauren Peters, EVP and CFO, on a conference call with analysts. Average selling prices were up and traffic in the U.S. increased low-single digits.
It's fairly obvious that Foot Locker is here to stay, even with average prices of sneakers continuing to rise. Millennial consumers like what's hot and trending and apparently don't mind paying top dollar for a pair of their favorite sneakers. Resellers continue to make top dollar in a growing reselling market. With the NBA season coming to an end, one should expect to see some impact in the Basketball area, as we have high caliber athletes who carry multi-million dollar contracts in the finals selling their products through Foot Locker. Stephen Curry sponsored by Under Armour (NYSE:UA) and Kevin Durant sponsored through Nike (NYSE:NKE) will be a big opportunity to increase sales for Foot Locker. We have seen it before when Stephen Curry caused Under Armour's stock to rally due to his popularity after winning the NBA Finals. I truly believe that Foot Locker will be the big beneficiary by being able to profit from both ends.
Foot Locker's Margins
Foot Locker's CFO:
"we believe our inventory is still well positioned to drive improved top line results over the balance of the year. At the same time, we are aggressively reviewing and implementing opportunities to lower expenses as we work to achieve a mid-single digit EPS increase for the full year."
Margins continue to increase year over year which has been key in the retail environment and has helped pinpoint retailers that are struggling. I say that because many retailers have been forced to lower prices. At times you see retailers lowering prices and killing their margins in order for them to continue meeting expectations. Foot Locker, on the other hand, has done a pretty good job managing their inventory and increasing their margins greatly over time.
Below I will show some key financial data for you to analyze:

As one can see, both revenue growth and margins have grown excessively over time. EPS have also grown due to both increase in earnings and less outstanding shares.
Outstanding shares: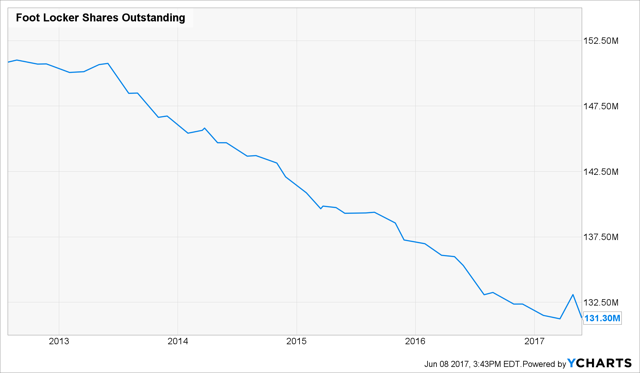 Foot Locker's online presence has been significant because of customer growth in the e-commerce area. Being able to sell to consumers worldwide is great. A lot of Foot Locker's releases have been sold out in a matter of minutes through their websites. Foot Locker's websites saw a Compound Annual Growth Rate (2011-2016) in their e-commerce business of 16.9%.
I truly believe this is an opportunity to take and advantage of as Foot Locker's shares are currently trading at a discount. I carry a conservative price target of $68/share. Foot Locker's relationship with manufacturers gives them a competitive advantage over other online retailers. All the points stated throughout this article present reasons why Foot Locker is a great buy due to the current risk/reward their stock price offers. I don't see any current potential challenges from preventing them to continue growing.
Disclosure: I am/we are long FL. I wrote this article myself, and it expresses my own opinions. I am not receiving compensation for it (other than from Seeking Alpha). I have no business relationship with any company whose stock is mentioned in this article.