CEO Ken Chenault recently highlighted American Express's (NYSE:AXP) success in overcoming challenges posed by slow global growth, a strengthening dollar, and the loss of their Costco partnership at the Bernstein Thirty-Third Annual Strategic Decisions Conference. He also reaffirmed the company's ambitious 2017 guidance. While some may doubt leadership confidence in its ability to continue growing in an increasingly competitive environment, AXP's strengths in its data, network, and customer service make it worth considering at the right price as a long-term investment.
Data
AXP's years of doing business with card members and merchants have given it a broad and deep data base that should enable it to design differentiating rewards programs and profit-optimizing fees.
Network Strength and Expansion
Despite the Costco setback, American Express continues to pursue network growth via acquisitions and partnerships that allow third parties to issue cards. Though not material to earnings, the latest example of this is their co-brand partnership with Hilton. The company also points to the facts that over 90% of billings are on charged products and that over one-third of billings are generated outside of the United States as evidence of its network strength and diversity and as keys to its continuing profitability. In fact, its international billings growth has demonstrated exceptional strength, growing nearly 13% while the commercial billings growth has accelerated to 10%. Additionally, the high switching costs associated with its corporate card program help to solidify a significant portion of its client base.
Customer Service
Superior customer service is closely associated with the American Express brand, giving it an intangible asset that retains customers even when other companies offer better financial terms. American Express has been able to use its wealth of customer and business data to push its customer service to the next level in the digital age.
Valuation:
The company currently trades roughly even with the analyst consensus price target ($83.44), and its DCF model at analyst projected 5-year growth rates (7.29%) and a 3% terminal growth rate yields an expected annual return rate of 14.8%. Warren Buffett's Berkshire Hathaway recently requested permission to boost its stake in the company due to AXP's impressive share buyback program, granting a de-facto endorsement of the firm's valuation. Jitta.com (whose model has accurately tracked the company's price movements in the past) says it is roughly fairly valued: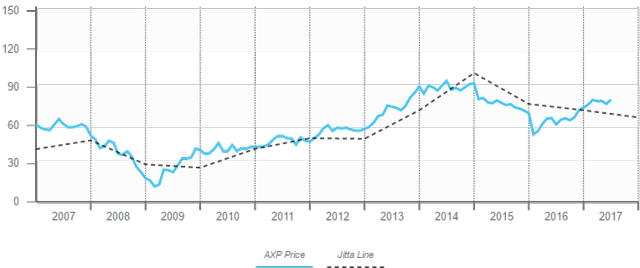 Investor Takeaway:
Some will say that mobile technology and increasing competition will erode American Express' market share. However, the company has already proven itself adept at competing in the mobile technology space through special offers through its user-friendly mobile app and its high switching costs combined with its own robust cost-cutting initiatives help it to sustain its high profitability: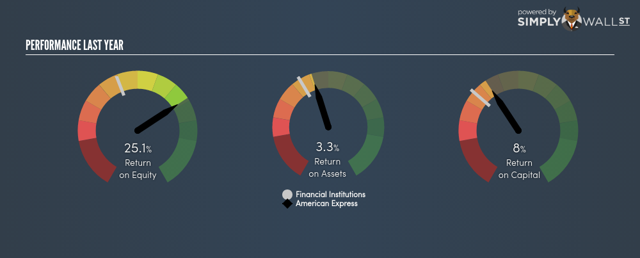 Furthermore, its strong financial position leave it plenty of flexibility to make acquisitions as necessary to grow and strengthen its network: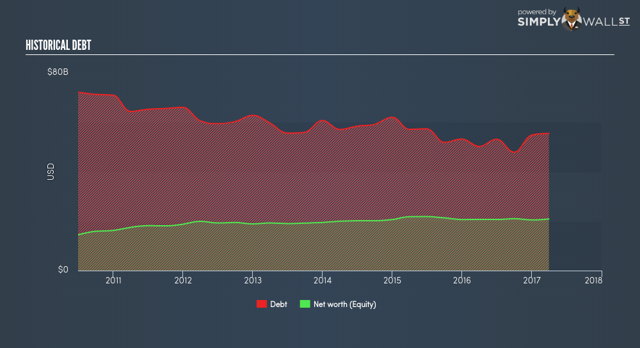 With a solid dividend yield and consistently high buybacks supporting EPS growth, this is certainly a company I would love to own. However, I believe its surging share price since February 2016 has brought it to fair value, making fellow financial stock Discover Financial Services (NYSE:DFS) a more compelling buy at present. I recommend adding AXP to your watch list and waiting for a pullback to $70 before adding.
Disclosure: I am/we are long DFS. I wrote this article myself, and it expresses my own opinions. I am not receiving compensation for it (other than from Seeking Alpha). I have no business relationship with any company whose stock is mentioned in this article.