By FS Staff
Tech stocks saw a big hit on Friday with most headlines still speculating on the exact cause. Regardless of the reason, the tech sector was simply due for a pullback given the "strong positive bubbles" appearing in the U.S. Nasdaq composite, as Didier Sornette reported on our show two weeks ago.
As he explained in Using a Supercomputer to Trade the Market, Didier and his team of researchers at ETH Zurich in Switzerland programmed one of the world's most powerful supercomputers to scan 25,000 assets around the globe each day for "bubble signals" - accelerating oscillations combined with faster than exponential moves in price.
Here's a clip of that interview:
We asked him to provide an update on FS Insider recently because of an alarming trend noted in their May report:
"There is the tendency for the appearance of new positive bubbles in equities... in addition, the strongest signals are found for the U.S. Nasdaq composite."
As Didier explained, many of the stocks with strong positive bubble readings were exhibiting deteriorating fundamentals, classified as "Quandrant 2 stocks," or contrarian sellers.
In last week's Global Bubble Status report, released on June 1st, they cited "an abnormally large number of stocks in this Quadrant," including familiar tech names like Apple (NASDAQ:AAPL), Amazon (NASDAQ:AMZN), Alphabet (NASDAQ:GOOG) (NASDAQ:GOOGL), Microsoft (NASDAQ:MSFT), Tesla (NASDAQ:TSLA), and many others. Here's one of the tables from that report with a list of names.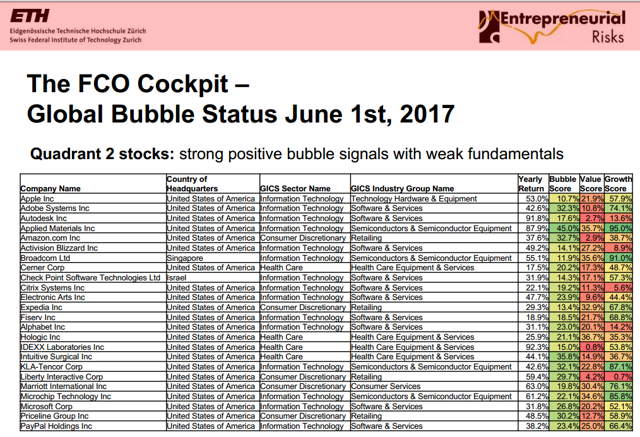 Source: Global Bubble Status report
When we asked him how closely investors should use this data for their own trading decisions, he said that it is better suited to use as a screen for further research on what you hold or may want to hold.
Just because a stock shows up in one category or another doesn't automatically mean that it should be bought or sold based on that alone. However, it is useful for identifying trends, he said, also noting that they have programmed the supercomputer to implement a fully automated trading strategy based on a much larger scan of global assets.