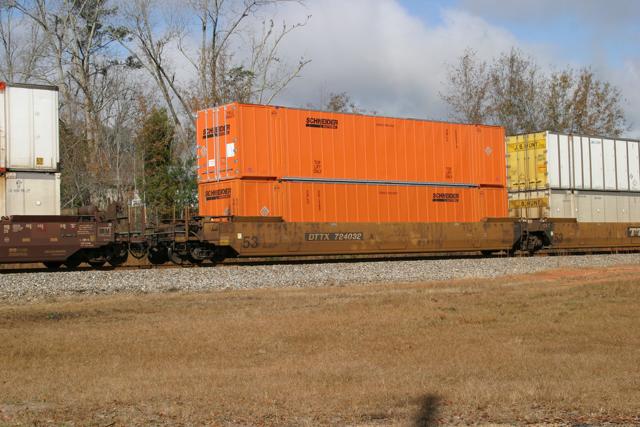 Source: Google Images
Review
I wrote an article a while back speculating on a Berkshire Hathaway (NYSE:BRK.A) (NYSE:BRK.B) BNSF - JB Hunt Transport Services (NASDAQ:JBHT) deal. Obviously, BNSF would not be interested in acquiring JB Hunt's truckload services, nor the company's asset light business.
But JB Hunt is the largest intermodal capacity provider, including for the number of chassis. For this reason alone, BNSF could grow its owned/leased intermodal capacity to better compete with Union Pacific's (NYSE:UNP) Streamline service. There is already a competitive contractual relationship between BNSF and JB Hunt, separating these two companies from Union Pacific from an intermodal capacity perspective.
I still stand by this speculative deal regarding the benefits for BNSF, including the ability to raise cash through the liquidation of the truckload and asset light services. Ironically, BNSF and JB Hunt have been in arbitration recently as disputes have risen regarding the cost for JB Hunt to use BNSF's intermodal rail network. JB Hunt is not alone in feeling the pinch from Class Is as many intermodal capacity providers have witness substantial purchased rail transportation costs of late.
On paper, a deal between JB Hunt and Schneider National (NYSE:SNDR) is a clean fit. Both companies provide the same three general services, truckload, intermodal and asset-light. Combined and over the trailing twelve-month period, both companies could generate approximately $10.5 billion in operating revenue.
Synergies would be related to each of the general company operating segments. Increasing market share would place the combined company in a stronger position to negotiate contractual arrangements with Class Is. Similarly, the truckload and asset-light segments would benefit from greater capacity and scale.
The recent deal between Swift Transportation (SWFT) and Knight Transportation (NYSE:KNX) has set a precedent for large merger deals. As Class I railroads have more noticeably increased their purchased transportation costs, larger companies are likely thinking of ways that they can offset higher costs amidst the uncertainties surrounding the current demand environment.
Companies like JB Hunt, Hub Group (NASDAQ:HUBG) and XPO Logistics (NYSEMKT:XPO) have been focusing on managing capacity for efficiency, and have been making statements for expectations of increasing demand in the back-half of 2017. Demand will definitely be the long-term driver, especially for intermodal growth, but current headwinds are not ideal - there is no guarantee that a similar scenario will not be in the cards in the near-future.
The Swift and Knight deal was a direct response to the challenging truckload market. As I have been writing this year, the trucking industry has been one of the poorest performing industries within transports. Companies have continued to blame tepid demand and aggressive shipper contract procurements, so the deal between these two leading truckload companies has set a precedent for future merger speculation.
Aside from intermodal, JB Hunt and Schneider both provided dedicated and for-hire truckload services. JB Hunt is stronger on the dedicated side, while Schneider is stronger for for-hire, and specifically, the specialized market. Both companies have progressed towards the e-commerce driven last-mile market. And both companies offer asset-light services, with JB Hunt's focused more on capacity and Schneider's focused more on logistics.
These two companies could be highly complementing and synergistic leading to greater operating efficiencies and reduced costs, improving margins. But for a deal to become a reality, I think that there are a few core questions.
The first is the most obvious: would the deal be approved? I believe that the answer to the question would be resounding yes. The Swift and Knight deal was approved generating the largest dry van truckload company in North America. The point at issue for JB Hunt and Schneider would be the intermodal services, as this market is the most consolidated of the general three operations.
The intermodal capacity provider market is much less fragmented than the truckload market, but still fragmented enough where the Federal Transportation Commission (NASDAQ:FTC) and Department of Justice (DOJ) would not feel compelled to prohibit such a deal. Merging JB Hunt and Schneider intermodal revenue equipment would still be a much smaller portion versus the remaining market. According to the Intermodal Association of North America (IANA), the combined company would only have just under 27 percent of the first quarter market share for domestic intermodal containers, which stood at 2.1 million.
The second question for a merger between the two relates to the ability to combine each company's respective back office systems. Schneider has been working on its load optimization system, Quest via Oracle Corporation (NYSE:ORCL), while JB Hunt has been developing its new 360 systems. This point could lend itself to a major headache as both companies would need to figure out how to combine and/or chose one system for integration.
The fact that both companies have been spending time and resources on developing their own internal systems is a strong indication that each company feels that it should and will compete for market share independently. Both companies have significantly invested into their respective businesses for all operating business segments.
The final question for me would concern how the deal would be financed. Neither company has much cash on hand as both companies have been investing heavily due to the asset-intensive nature of these businesses. Stock could be used, similar to what we saw in the Swift-Knight deal, but neither company has a history of making such deals for financing purposes. JB Hunt specifically has not made any deals over the previous 17-plus years, as organic growth has been the core driver.
Both companies combined would total just under $1.6 billion in debt. Assuming JB Hunt were to acquire Schneider, a price tag from today's valuation would likely fetch an enterprise value of around $5.2 billion at the lowest, or $27 per share reflecting a 26 percent premium from today's close. Combined EBITDA would be around $1.6 billion. Assuming a scenario where leverage would be used to finance the deal, and the combined entity would have debt (approximately $6.8 billion) at 4.3 times EBITDA.
Despite the combined company generating $10.5 billion in operating revenues, a combined enterprise value of $16 billion, and property and equipment at $6 billion, I think that the financing of the deal via cash, would be the biggest challenge. In past deals utilizing leverage, there have been consequences of being restricted from investing into the business due to debt obligations. This is a situation that neither company would prefer to get into.
Summary
Consolidation will continue in transports, and specifically in the trucking industry. The recent large deal between Swift and Knight is an indication that larger companies are not opposed to growing significantly bigger. While more smaller bolt-on deals will represent the majority of action in the near-term, another larger deal may occur as there are multiple headwinds and uncertainties facing the trucking industry.
As this relates to JB Hunt and Schneider, I see substantial synergies and strengths for a combined entity. In fact, I would view a combined JB Hunt and Schneider as a much more formidable presence in the trucking industry than Swift and Knight. The strongest benefits would be the increasing scale for intermodal from both a customer and capacity service provider perspective.
However, the challenges related to merging back office systems and the financing of the deal serve as tangible barriers. I am sure that JB Hunt could finance the deal via stock instead of leverage. But majority ownership would need to be considered in order to structure any financing.
Likewise, integration of multiple back office systems is never impossible. But with the investments both companies have been placing back into their businesses, a strong message is being conveyed that each company intends to vigorously compete within all operating segment markets.
For these reasons among others, I do not see a deal of this magnitude being likely in the near-term. However, in the event demand for the trucking industry faced further declines or prolonged weakness, or if a significant recession were to occur, I would not be surprised to see these two companies consider a deal.
For the time being, investors should expect both JB Hunt and Schneider to continue to use their strong operating cash flows for significant investments back into their businesses to grow market share as the trucking industry continues to witness further consolidation over time.
Disclosure: I am/we are long HUBG, JBHT, SNDR, XPO.
I wrote this article myself, and it expresses my own opinions. I am not receiving compensation for it (other than from Seeking Alpha). I have no business relationship with any company whose stock is mentioned in this article.