Plenty of business development companies ("BDCs") are currently below my Short-Term target prices, providing investors with:
Higher dividend yields
Potential for capital gains
Total returns that are very likely to beat the S&P 500
BDC Market Update
As mentioned in previous articles, I am constantly watching for entry points into the BDC sector to maximize my yield on cost. General BDC prices have been rising since February 2016 with only two major pullbacks (October/November 2016 and May 2017), allowing investors to make additional purchases.
I am expecting a "see-saw" pattern between now and November 2017.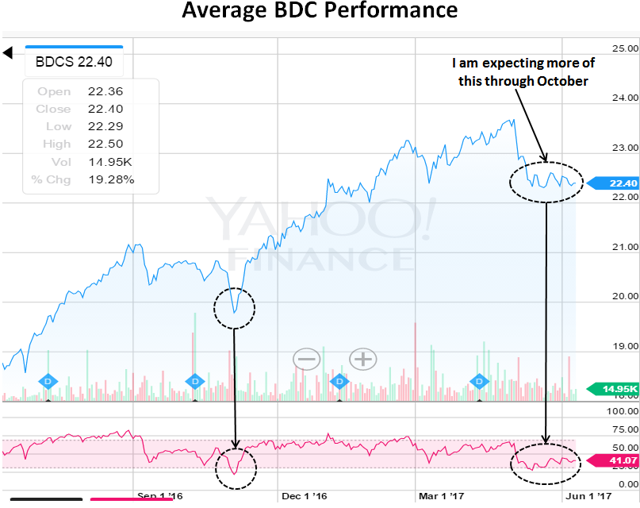 Average BDC Dividend Yields
The average BDC is currently yielding around 9.71% and is up from the recent low of 9.21% set on April 28, 2017.

Are BDCs Overbought or Oversold?
I closely watch the yield spreads between BDCs and other investments including the "BofA Merrill Lynch US Corporate B Index" (Corp B). The current spread is around 4.10% (the difference between 9.71% for BDCs and 5.61% for Corp B).

Yield spreads are important to monitor as they can indicate when a basket of investments is overbought or oversold compared to other yield-related investments. However, it is also important to point out that general market yields can change at any time. Also, spreads change over time depending on perception of risk and that these are only averages that then need to be assigned a range for assessing individual investments/BDCs. BDCs can be volatile, and timing is everything for investors who want to get the "biggest bang for their buck" but still have a higher-quality portfolio that will deliver consistent returns over the long term.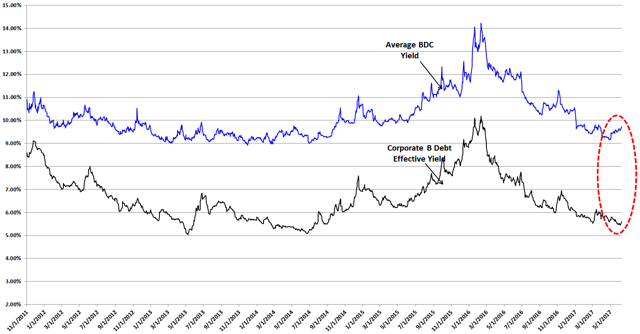 The following chart uses the information from the previous chart showing the average yield spread between BDCs and Corp B. I consider BDCs oversold when yields approach 4.5% higher and overbought when yields are closer to 2.5% higher.
As mentioned earlier, the yield spread between Corp B and BDCs is around 4.1% compared to 3.6% in April, indicating that we are heading into oversold territory.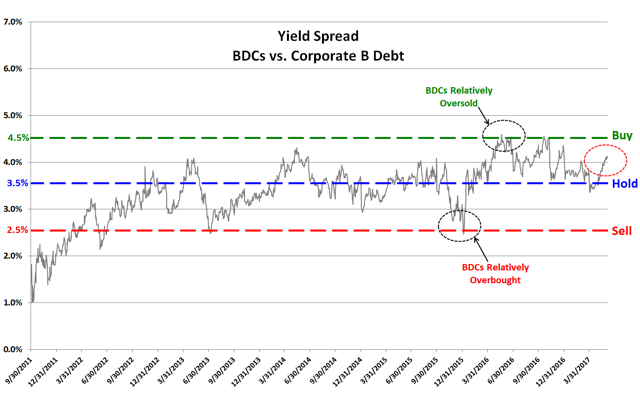 Maximizing Your Total Return Potential
Please read "Building A Higher Yield BDC Portfolio: Part 1" that discusses building a higher yield portfolio using recommendations based on investors' needs. Here is what I have done to maximize my total returns over the next 12 months:
Identified 5 to 10 BDCs that fit my risk profile as discussed in my previous "risk articles".
Set price targets for each BDC based on risk and dividend coverage potential. As discussed in my recent "dividend coverage articles", some of the BDCs with higher yields shown in the first table will likely be cutting dividends in 2017, resulting in lower total returns.
Timing of purchases looking for discounts during periods of volatility, which is standard for BDCs especially over the coming months.
It should also be noted that some BDCs have recently had equity offerings that provided discounts for investors over the last few weeks including Monroe Capital (NASDAQ:MRCC), Golub Capital BDC (NASDAQ:GBDC) and Goldman Sachs BDC (NYSE:GSBD).
Personal note: I have updated my positions to reflect changes in my holdings, but please keep in mind that this includes stocks and/or Baby Bonds and some are very small (not meaningful positions) for contacting Investor Relations for additional information and honestly disclosing that I am a shareholder. There are over 50 publicly-traded BDCs and I try to cover as many as possible, but I do not have the bandwidth to include each company for each article.
Disclosure: I am/we are long ABDC, ACSF, AINV, ARCC, BKCC, FDUS, FSFR, FSIC, GAIN, GARS, GBDC, GLAD, GSBD, HCAP, MAIN, MCC, MRCC, MVC, NEWT, NMFC, PFLT, PNNT, PSEC, SAR, SCM, SLRC, SUNS, SVVC, TCAP, TCPC, TPVG, WH.
I wrote this article myself, and it expresses my own opinions. I am not receiving compensation for it (other than from Seeking Alpha). I have no business relationship with any company whose stock is mentioned in this article.