The Japanese yen and gold have gone hand-in-hand most of the year. In other words their moves have been highly correlated or directly inversely correlated, depending on how you look at it. More importantly, the two seem to be flirting with key trendlines - which, if either are broken, could have huge ramifications for global markets.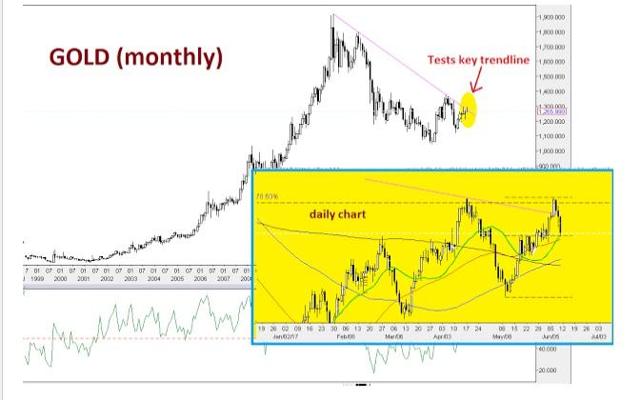 Gold futures are testing a huge (down) trendline that goes back roughly 6 years, during the end of the great bull run that the "yellow metal" enjoyed over several decades. The monthly chart shows several relevant touches, most recently last July when gold prices drove to 1375 (an exact Fibonacci retracement of the prior decline) and failed.
Since then, Gold has gyrated in a large range, but is testing the psychological 1300 region, which has capped now twice over the past few months. Depending on how you draw trendlines (I tend to intersect as many price points as possible), the trendline on a daily chart basis has been broken but failed to hold. The ensuing decline, however, paused exactly at a 38.2% Fibonacci retracement level and the 20-day MA (which can be seen in the daily chart).
On a monthly chart, bulls have only managed to probe the trendline, failing thus far on a monthly closing basis. If risk aversion increases as seen by various metrics on Friday, gold could easily break and close above the monthly trendline. With political uncertainty and a lot of the month of June still to go, we'll have to monitor closely whether this calls for an upside breakout or whether this trendline stays intact.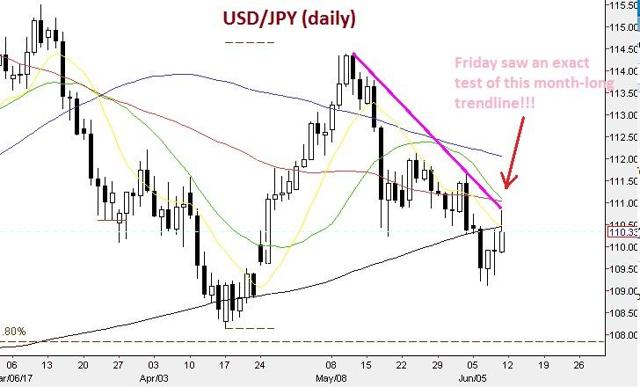 The Japanese yen tested a key trendline last week too, but not nearly on the scale of gold's long-term downwardly sloped trendline. On Friday, the USD/JPY touched this line for the third time, thereby validating a 1-month bear trendline. This also occurred, coincidentally, while gold was retracing its move off the recent cycle's high and bottomed (for the time being) at the 20-day MA and a key fib retracement.
Unfortunately, both these trendlines will not likely hold up due to the way the correlation between the two (gold and yen) have held for some time. That said, a break in either of these trendline situations is likely to not only affect the other, but also have impact on all markets given the importance of both of these technical formations.
Supporting Documents
Disclosure: I/we have no positions in any stocks mentioned, and no plans to initiate any positions within the next 72 hours.
I wrote this article myself, and it expresses my own opinions. I am not receiving compensation for it (other than from Seeking Alpha). I have no business relationship with any company whose stock is mentioned in this article.