Investment thesis
Even though recent weeks have been relatively volatile for Vestas Wind Systems (OTCPK:VWDRY) as U.S. President Donald Trump decided to withdraw from the Paris climate accord, long-term prospects of the world's biggest wind turbine maker still look very optimistic. With several fundamental drivers and untapped opportunities in two future renewable powerhouses - China and India - Vestas seem to be an undervalued gem that can surprise many investors.
Strengthening leadership position
According to data compiled by Bloomberg New Energy Finance and MAKE Consulting, Vestas solidified its leadership position in 2016 and currently accounts for more than 16 percent of all onshore installations. Besides that, the company is also active in the offshore market through its 50-50 joint venture with MHI, which recently unveiled an upgrade of the biggest offshore wind turbine.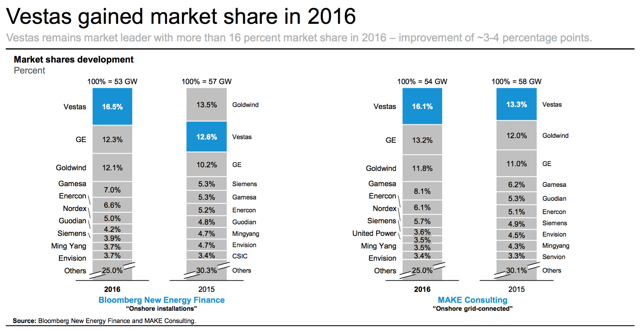 Source: 2017/Q1 earnings call presentation
Long-term tailwinds remain intact
Surprisingly, Vestas has not yet fully penetrated two most crucial renewable markets - China and India. The latest issue of EY Renewable energy country attractiveness report shows that the above-mentioned countries have pushed the United States down in the rankings for the first time since 2015. In China, the government is currently executing its 13th 5-year plan with a cumulative target of 210GW wind turbine installations by 2020 and India is running a program to build 60GW wind generation capacity by 2022. Over the last year, Vestas recorded a significant percentage order intake increase in both markets as it opened its first blade factory in India and further advanced its business presence in China.
Widespread support among famous investors and billionaires
Apart from the untapped markets, wind turbine manufacturers have also finally caught the attention of several legendary investors such Warren Buffett and Charlie Munger. During Berkshire Hathaway's (NYSE:BRK.A) (NYSE:BRK.B) annual shareholder meeting last month, Buffett indicated that they have got a big appetite for wind and solar and that they are ready to invest. Needless to say that Berkshire Hathaway already owns a small wind farm in Iowa. A big plan to support renewable energy projects was also earlier revealed by Bill Gates who launched a fund called Breakthrough Energy Ventures, which includes financial backing from well-known Silicon Valley venture capitalists such as John Doerr and Vinod Khosla as well as founders of famous internet giants Jack Ma and Jeff Bezos.
Strong Financials
Looking at Vestas' financial statements, one quickly finds out that the company has little debt and superior profitability metrics. In the first quarter of 2017, return on invested capital jumped to 353.3 percent and profit margins (gross, EBIT and net) increased to 21.2, 14.5 and 10.2 percent respectively. SG&A costs reached a record low of 6.6 percent of revenue which demonstrates the management's ability to improve efficiency despite an overall increase in activity over the given period. Lastly, Vestas managed to maintain the largest R&D investments in the industry and generally asset-light, flexible, low-cost manufacturing footprint.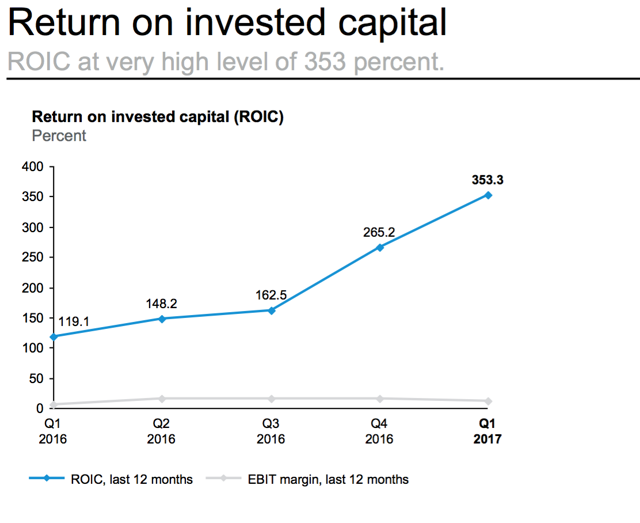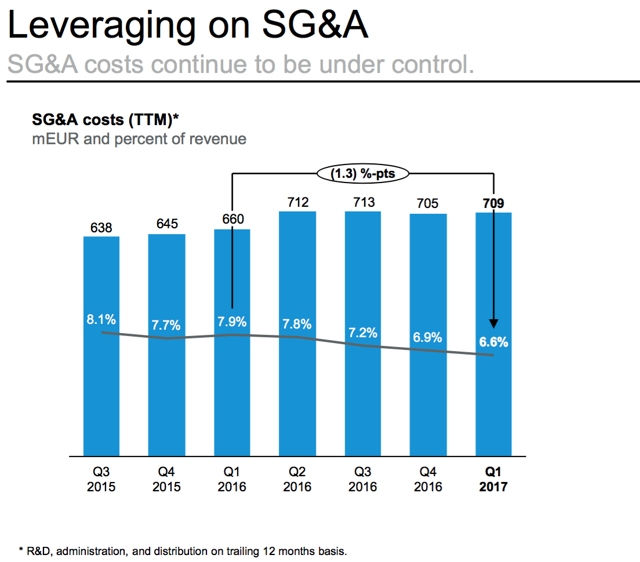 Source: 2017/Q1 earnings call presentation
Valuation
Based on my blended DCF model, Vestas' shares currently offer more than 70 percent upside potential. Under the perpetuity growth version, fair value of the stock is 933 Danish Krones, assuming terminal growth rate in perpetuity of 2 percent. Under the EBITDA multiple approach, the intrinsic value is 1140 Danish Krones if we assume that the appropriate exit EV/EBITDA multiple is around 10.

The bottom line
To sum up, Vestas Wind Systems emerged as a global leader in the wind turbine industry, which is perfectly positioned to reap the benefits of global transition to green energy. In particular, developing renewables markets in China and India present a massive growth opportunity that can considerably boost Vestas' revenues. With ongoing and new support from many governments and legendary investors, wind turbine manufacturers' best years are undoubtedly yet to come.
Author's note: To bring similar articles to your attention, please consider subscription of my SA feed by clicking on the ''Follow'' button at the top of this page, or alternatively, connect with me on Twitter.
Additional disclaimer: Please note that this article has an informative purpose, expresses its author's opinion and do not constitute investment recommendation or advice. The author does not know individual investors' circumstances, portfolio constraints, etc. Readers are expected to do their own analysis prior to making any investment decisions.
Disclosure: I am/we are long VWDRY. I wrote this article myself, and it expresses my own opinions. I am not receiving compensation for it (other than from Seeking Alpha). I have no business relationship with any company whose stock is mentioned in this article.
Editor's Note: This article discusses one or more securities that do not trade on a major U.S. exchange. Please be aware of the risks associated with these stocks.